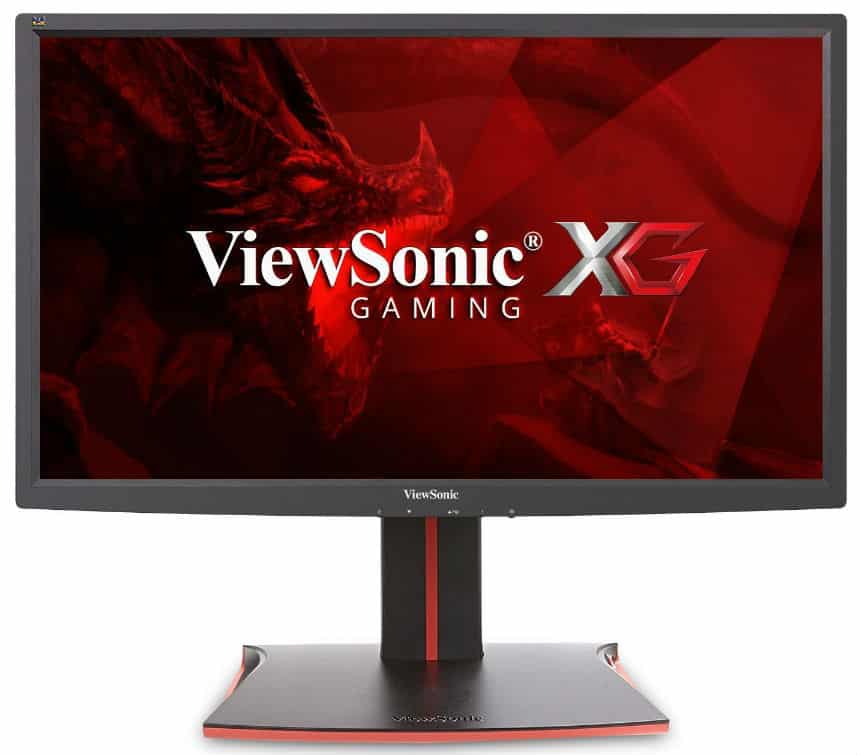 | | |
| --- | --- |
| Panel and Size | TN – 24 inch –  Aspect ratio: 16:9 |
| Resolution | 1920 x 1080 |
| Refresh rate | 144hz |
| Adaptive sync | Freesync |
| Response time | 1ms |
| Speakers | 2 Stereo |
| Connections | 1 x DisplayPort 1.2a, 2 x HDMI |
| Brightness | 350cd/m2 |
| Warranty |  3 Years |
ViewSonic XG2401 is a gamer-oriented display that was one of the first attempts of its kind when it came out. This is a monitor that caters specifically to hardcore gamers with its high-tech specifications and the makers of the display claim that it has everything a game requires to be played in the right way.
Let's take a closer look at the abilities of this monitor and understand what it's  capable of.
Pros
Highly adjustable stand
AMD's FreeSync support
Reasonable price for the Game-oriented features
Multiple connection ports
High Response time and Refresh Rate
Cons
Few features on this monitor are extraneous
The Panel used is a TN Panel, and the viewing angles are not very wide
The inbuilt speakers are weak regarding sound level and quality
The color accuracy of the monitor is slightly skewed
Bottom-line
The ViewSonic XG2401 is a moderately-priced 24-inch monitor that supports most features a gamer wants for low-latency gaming. If that is your priority, then this is a display you would not want to miss out on.  However, the color accuracy and viewing angles of the monitor can be better, which ViewSonic tries to make up for by providing a lot of bells and whistles like adjustability and customization options. Louder speakers and side-mounted ports for USB would have been great too. But even with all that being said, the ViewSonic XG2401 is an excellent display in the price range of $250-$300 if you want to do high-speed gaming and don't wish to drain your bank account.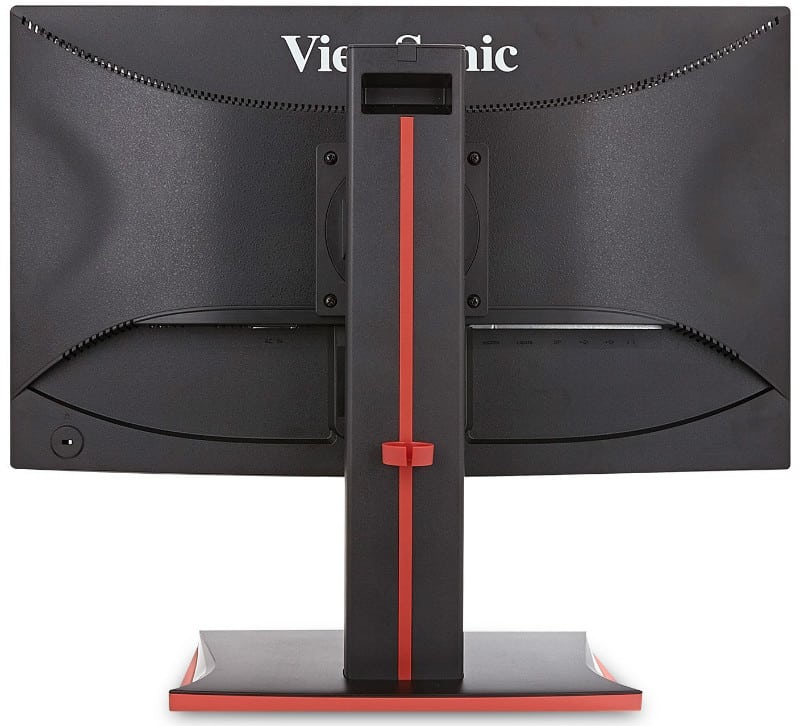 Technical Specifications
The ViewSonic XG2401 comes in black and the Panel used is a TN Panel. The stand is highly adjustable and has sport red stripes to give it an attractive touch. Other than that, the design of the monitor isn't too flashy but makes up for it in other areas. The 24-inch LED ViewSonic XG2401 display comes with a 1920X1080p native resolution. It offers a refresh rate of 144Hz. This is a feature that makes it hard to resist when coupled with the fact that the monitor supports AMD's FreeSync technology. The ViewSonic XG2401 is surprisingly smooth for a gaming monitor and can be navigated easily. You can also simply tap the "1" button which brings up the monitor's robust menu, lets you tweak the audio and video and also activate extra features such as the FreeSync. The response time of the monitor is 1 ms.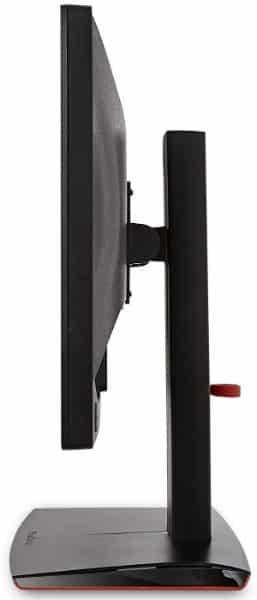 The brightness of the display is a standard  350 cd/m2. However, the XG2401 offers FPS 1 mode which gives out duller colors to prevent eyestrain while the FPS 2 mode makes it viable to spot every single detail of the game on the screen. It registers an overall brightness of 355 units which easily tops the 238 net average of every other gaming monitor. With a Delta-E rating of 2.34, this monitor exhibits a good color accuracy with all of its 16.7 Million True life colors. Though, one con here is that ViewSonic XG2401 offers only 91 percent of the sRGB color gamut. Additionally, the color accuracy is slightly skewed in nature and can be improved. This makes it not a great choice for professional image editing.
The ViewSonic XG2401 comes with a high adjustability of 120 mm. The display can be tilted 5° forward and 22° backward while allowing you to raise or lower it by 4.7 inches. You can play in portrait mode that tilts the display at 90 degrees. Another feature that this gaming monitor offers is that you can swivel it to 175°. Also, if you want to keep the stand aside and put the monitor up on the wall, it's 100 x 100 mm VESA – mounting capability will be of much help.
With this gaming monitor, you are awarded quite a few connections for your PC or console. The ViewSonic XG2401 offers two HDMI inputs as well as a Display Port which lets you access the monitor's FreeSync mode. For your accessories, you will be getting two USB 3.0 ports, one USB 2.0 type B port and a standard 3.5mm audio jack for your convenience. The monitor also comes with a red circular ring near the panel which can be used for coiling up all of the wires connected to it.
There are built-in speakers in this monitor, and it comes with a 3-year Warranty. You can get the ViewSonic XG2401 for around $280, with the ability to save some money on the quoted price depending on your choice of purchase. This reasonable price essentially makes this monitor the best pick in this price range.
Special Features and Gaming experience
The ViewSonic XG2401 monitor comes with a ridiculously fast response rate which tops the average that is provided by other monitors at this price range. That provides you with a fluid game time without even activating ViewSonic's 'Low Input Lag mode' that this model supports. The Black Stabilization feature of this display heightens the visibility of black areas very cleverly, making the on-screen content excessively sharp which helps gamers spot sports allies and enemies quicker during games.
The ViewSonic XG2401 automatically chooses the best refresh as well as the response time for every game that's played on it and cranks up the sharpness and brightness accordingly. Additionally, the Game Mode function of this monitor opens up a list of pre-calibrated settings that you can use per your convenience. These settings include FPS 1 mode, FPS 2 mode, RTS mode, and MOBA mode settings that deliver the best blend of color and technology for user-tailored gaming.
Another good example of the features tailored for users is the ViewSonic's unique ViewMode. This feature offers a mode for Game, Movie, Web, Text and Mono. Every mode has calibrated presets that enhance the Gamma curve, Color Temperature, Contrast, and Brightness suitable for accessing relevant content.
The  Flicker-Free technology and Blue Light Filter are two features of the ViewSonic XG2401 that are put in there to make viewing comfortable as fatigue-free as possible. The Flicker-Free technology uses a high frame refreshing rate so that there is no visible flickering during the frame changes that take place on the monitor at all times. ViewSonic's flicker-free technology, instead of using PWM (Pulse Width Modulation) and high-frequency backlights like most traditional flicker-free screens, uses a constant LED light source and a high Refresh Rate to eliminate flickering at all brightness levels. The Blue Light Filter helps regulate the brightness levels of the Blue light output from the monitor. It reduces eye fatigue during long sittings. Couple that with the 3H Anti-glare Panel surface, and you have yourself a display that is as easy on the eyes as one can be.
And finally, is the elephant in the room – the AMD's FreeSync. The ViewSonic XG2401 supports this adaptive synchronization technology developed by AMD that eliminates Image Tearing, Ghosting, Stuttering and eliminates other relevant issues during motion gaming in HD. The FreeSync synchronizes the frame rate output between the graphics card and the monitor. With an Ultra-fast response rate of this monitor and the FreeSync at a Refresh rate of 144Hz, there is nothing left to say about why this is a screen for the hardcore gamer. The fact that the FreeSync can be used through multiple ports makes for a huge selling point!
Now that we have addressed the features and the performance, it is time to have a look at the pros and cons of the ViewSonic XG2401 in a nutshell.