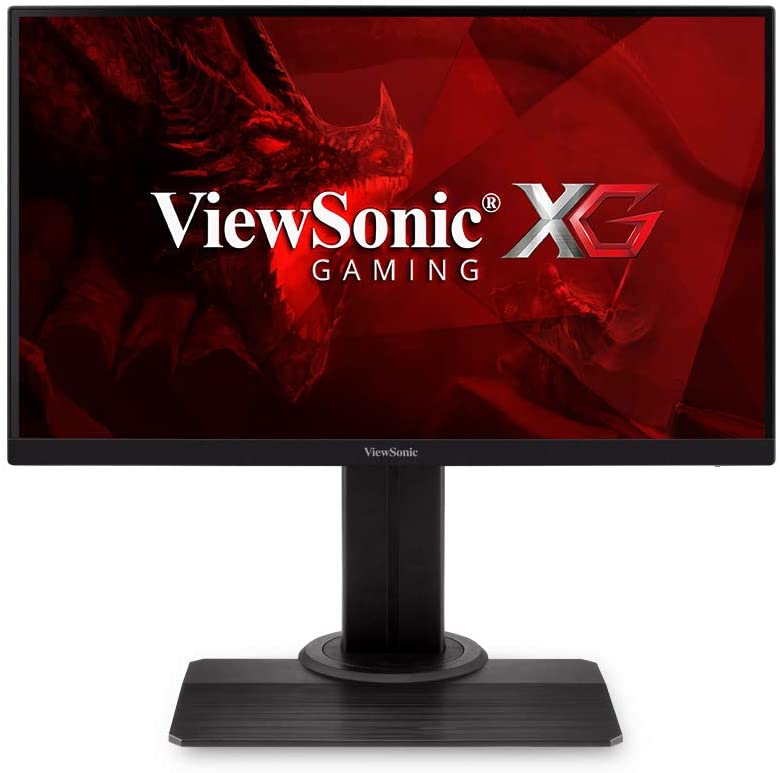 The ViewSonic XG2405 is another easy to own 144Hz 1080p monitor that offers a vibrant IPS panel instead of the usual TN types that flooded the market in recent years. The segment is currently one of the most competitive, since many established options like the AOC 24G2 offer fantastic performance at a very low price point. Let's see if the ViewSonic XG2405 comes out at the top with superior qualities that will upgrade your visual experience.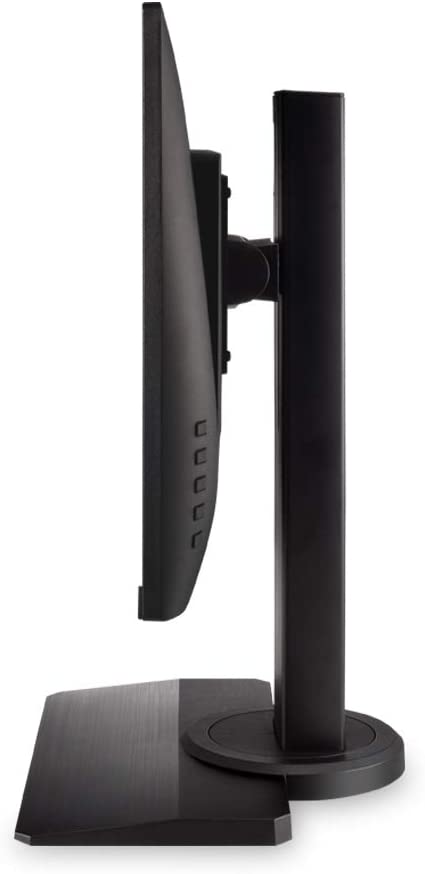 ViewSonic XG2405 Specifications
Screen Size: 24 Inches
Resolution:1920 x 1080 FHD
Aspect Ratio: 16:9
Panel Technology: In-Plane Switching (IPS)
Refresh Rate: 144Hz
Response Time: 1ms MPRT
Contrast Ratio: 1000:1 (Static)
Brightness: 250cd/m²
Speakers: Yes (2 x 2 Watts)
Stand: Height -Yes
Stand: Tilt – Yes
Stand: Swivel – Yes
Stand: Pivot – Yes
VESA Compatibility: Yes (100 x 100)
Connectivity: HDMI 1.4 x 2, DisplayPort 1.2 x 1, 3.5mm Jack
Dimensions (W x H x D): 21.26" x 20.51" x 9.41"
Weight: 14.77 lbs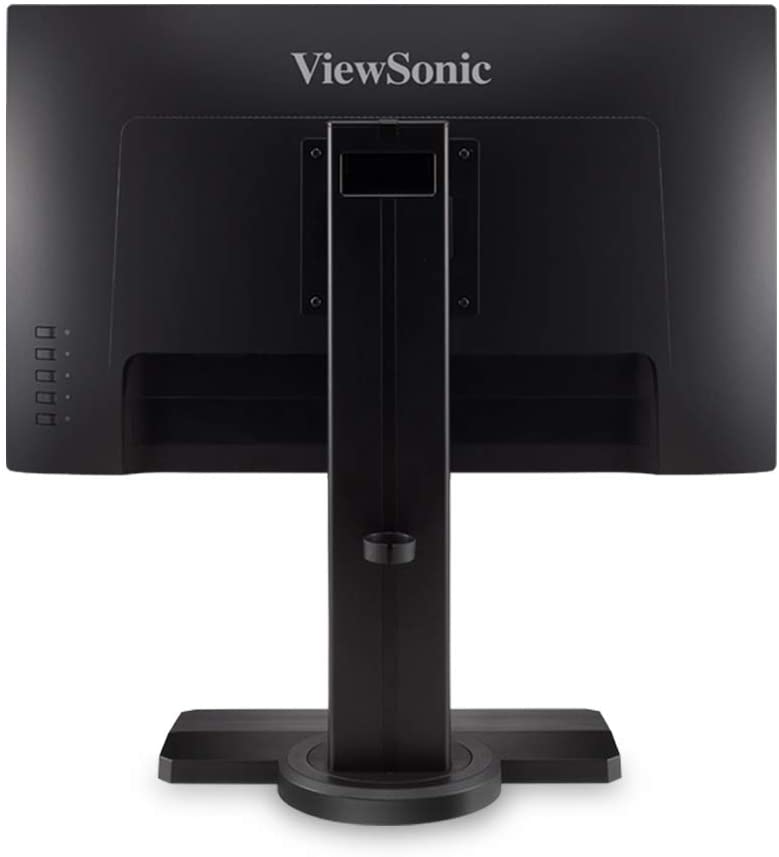 Design and Features
The ViewSonic XG2405 looks just like the XG240R, but it does have a few improvements in its design. The monitor has a matte black finish that doesn't have the red streaks of its predecessors so users with themed setups won't have to think twice about adding it to their setup. This variant is bezel-free on three sides with minimal panel borders, unlike the XG240R.
It's a 24-inch monitor, so we don't think anyone will have trouble finding room for the ViewSonic XG2405. The stand does need a bit of depth, but we think it won't mess with your keyboards and other peripherals unless your desk is very small. You will also notice that the ViewSonic XG2405 is a bit heavier than some similar models, but we think its because of added reinforcement which makes the monitor extra durable.
Build quality is excellent and the ViewSonic XG2405 feels like it is built like a tank that will outlast a few upgrade cycles. The plastics are thick and rigid, plus there are no cosmetic defects such as uneven seams on the product. It also stands stable once propped up on your desk so you won't have to worry about it toppling over with minimal force.
One thing we dislike about the ViewSonic XG2405 is it still uses OSD buttons to access its functions and features. The keys are responsive, but it is easy to mistakenly press the wrong button if you haven't familiarized yourself with the layout. Most monitors now use joysticks or even software for this aspect, and those are considerably easier to use even for beginners.
The stand with the ViewSonic XG2405 looks sleek while offering a complete range of ergonomics to make it easy for the user to get a comfortable view. The mechanism allows you to tilt, swivel, pivot, and adjust the height of the display so you can set it the way you want to. VESA mounting is also possible, but it isn't entirely necessary unless you want to save desk space.


The connectivity layout on the ViewSonic XG2405 is basic, but it includes enough ports for your PC and up to two secondary devices. The panel at the rear includes DisplayPort 1.2 for 144Hz operation and two HDMI 1.4 slots which you can use for gaming consoles. There are no USB receptacles with this model, but there is a 3.5mm jack for headphones.
The ViewSonic XG2405 doesn't have speakers, but those are rarely missed by the monitor's intended users. Headphones are almost always preferred for their immersive properties, but built-ins can come in handy if you simply want to listen to background music or anything similar. We've also noticed an uptick in users asking for recommendations with speakers since work from home use is part of their agenda.
Display and Performance
The ViewSonic XG2405 sports a 24-inch IPS panel with a 1920 x 1080 resolution, 144Hz refresh rate, and a boosted 1ms response time. The backlight is limited to 250 cd/m2 while the contrast ratio sits at 1000:1 like most IPS panels. This model doesn't promise special features such as HDR, but it aims to offer excellent colors, viewing angles, and responsiveness for fast-paced gaming.
Many users are already used to 24-inch 1080p screens since they are so common, so we reckon there won't be any issues with the pixel density. The ViewSonic XG2405 isn't the sharpest monitor we've seen, but its decent enough to offer a clear and clean image. Office work and browsing won't be tiring on your eyes as well, although the space the resolution offers is quite limited in today's modern standards.
The ViewSonic XG2405 provides excellent color thanks to around 105% sRGB coverage and around 89% for DCI-P3. Default accuracy has a deltaE average of 2.53 which is acceptable for daily use, including gaming. The color temperature is slightly under the 6500K point, so there is a hint of warmth which we think will not be bothersome for the user.
Calibrating the ViewSonic XG2405 improved the deltaE average to a fantastic 0.85 which is already suitable for professional use. However, buying the gadget to attain this isn't worth it and you can get away with a few minor tweaks to the OSD. Take note that results will vary between every unit, so you might not get the exact same numbers with your XG2405.
The main weakness of the ViewSonic XG2405 lies in its backlight and contrast ratio which are limited to 240 cd/m2 and 980:1 respectively. The screen can't get bright enough to fight glare at times, while the average contrast can sometimes make it look slightly washed out when it is used in a dark room. Only VA variants are better with the latter, but some IPS models have raised the bar and improve black luminance and other image properties.
Panel uniformity for the ViewSonic XG2405 was excellent since there are no leaks and clouding issues that are common with IPS monitors. There are some variances in the backlight's spread and the color temperature of the adjacent quadrants, but they are only detectable by a colorimeter. This aspect also varies between every unit due to manufacturing tolerances, so there are better and worse samples out there.
The ViewSonic XG2405's responsiveness is great for an IPS monitor, but like many models, it still is prone to a bit of persistence. The regular overdrive doesn't change anything, but the 1MS Mode or backlight strobing of the monitor is quite effective. However, it lowers the brightness of the screen considerably, so it should only be used as needed for fast-paced competitive games like CSGO.
The ViewSonic XG2405 is a FreeSync gaming monitor, but it also works with Nvidia's G-Sync Compatible Mode. This duality makes it a great buy since you don't have to ditch it if in case you change GPU brands during an upgrade cycle. Input lag sits at 5ms, so there is no need to worry about delays between your buttons and the screen.
Thoughts on the ViewSonic XG2405
The ViewSonic XG2405 is a great choice if you want a 144Hz monitor with excellent color and viewing angles. It has a comparable calibration result with the AOC 24G2 along with a functional and simplified design that just works. Its $180 price tag is more than reasonable, beating its predecessors like the XG2402 by a considerable amount.
However, the ViewSonic XG2405 isn't without imperfections starting with its dim backlight and limited contrast. You also need to use its 1MS strobing mode if you want a completely blur-free screen, but activating it will further lower the screen's already limited brightness. It's a great gaming monitor overall, but it could use a few tweaks which would make instantly make it one of the top options out there.
Pros:
Functional Design
Vibrant Colors
Great Factory Calibration
FreeSync/G-Sync Compatible
Cons:
Limited Contrast
Overdrive Doesn't Do Anything
Dim Backlight
-About the Author: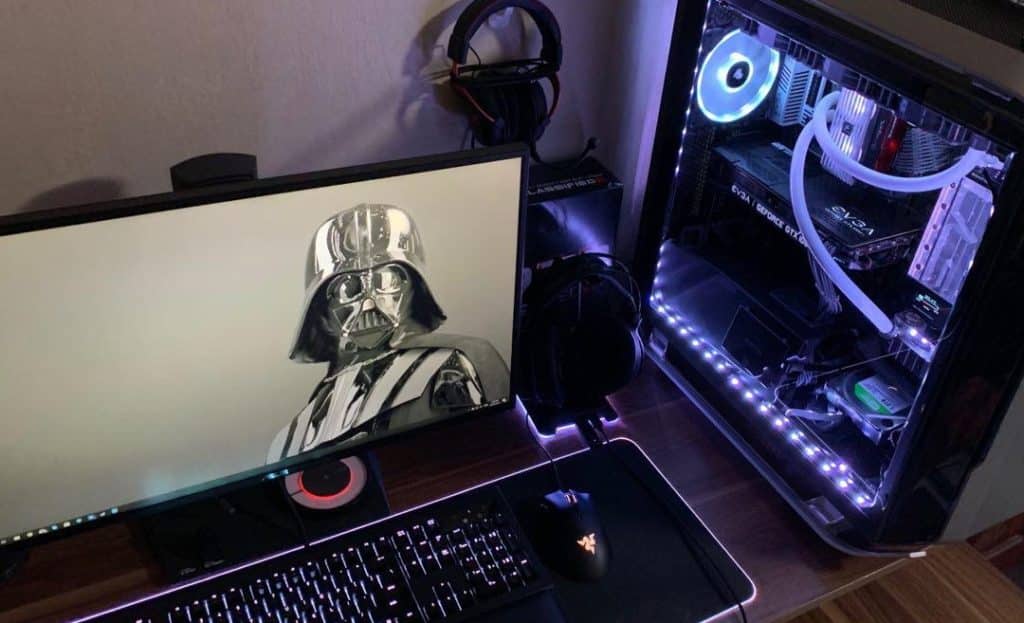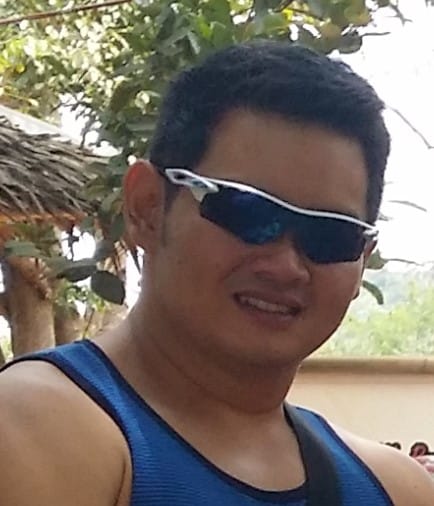 Paolo is a gaming veteran since the golden days of Doom and Warcraft and has been building gaming systems for family, friends, and colleagues since his junior high years. High-performance monitors are one of his fixations and he believes that it's every citizen's right to enjoy one. He has gone through several pieces of hardware in pursuit of every bit of performance gain, much to the dismay of his wallet. He now works with Monitornerds to scrutinize the latest gear to create reviews that accentuate the seldom explained aspects of a PC monitor.