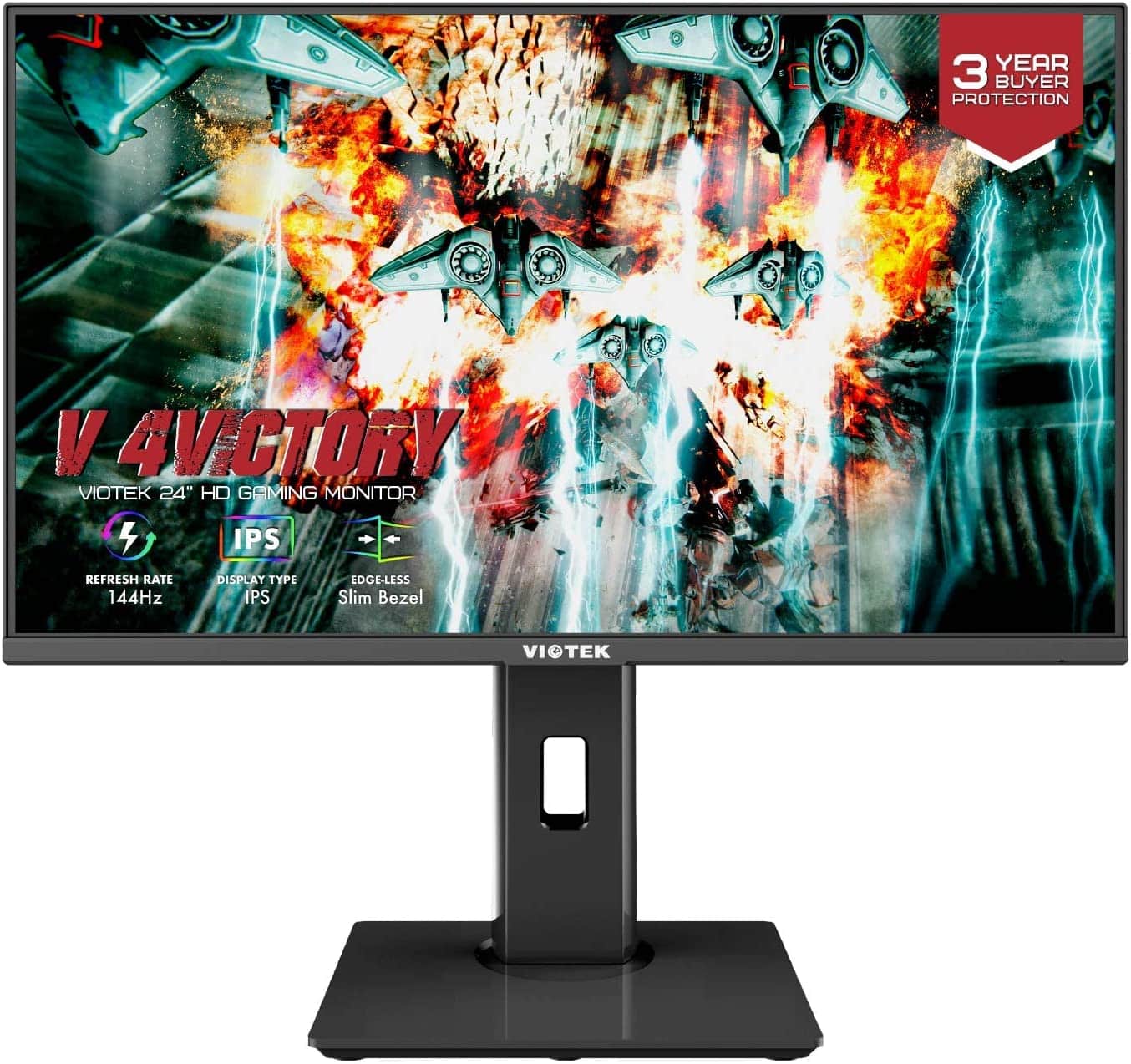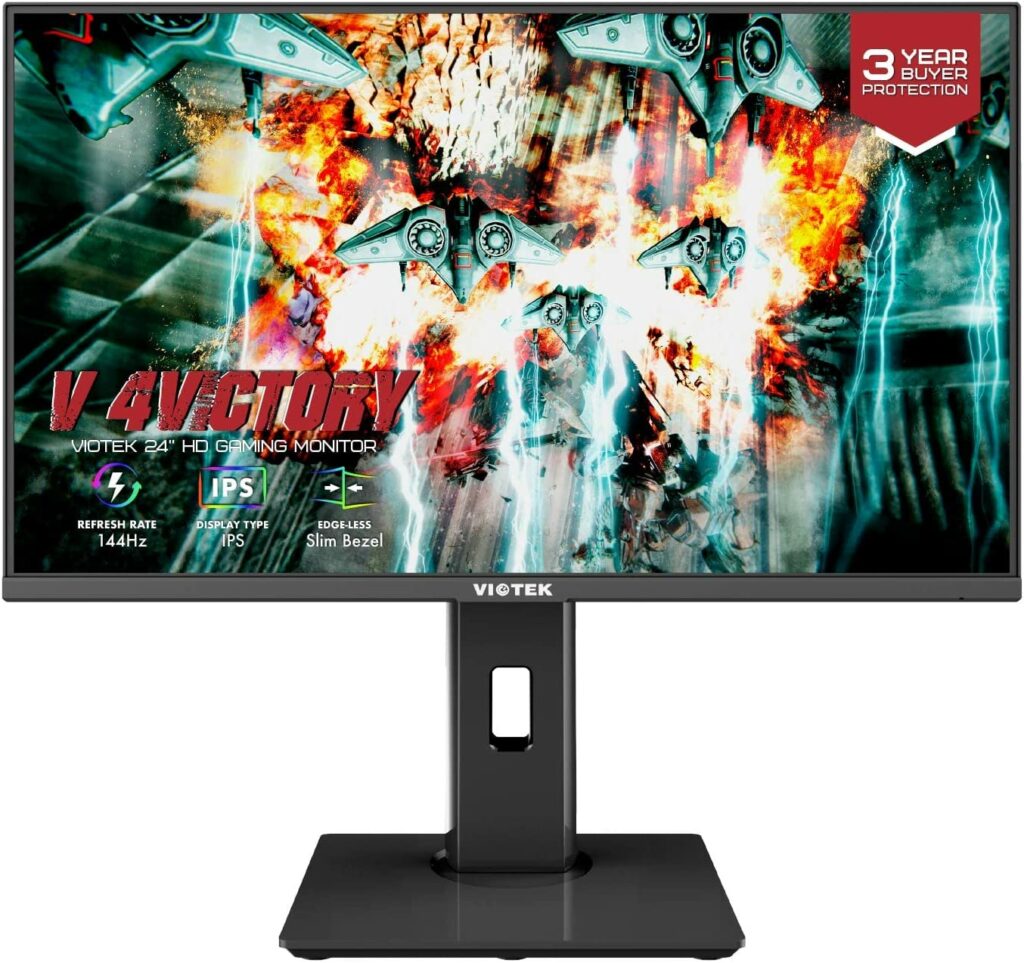 The Viotek GFI24CBA is possibly the cheapest 144Hz IPS gaming monitor with decent performance in the market right now. It sports a more vibrant IPS panel, unlike older models which were stuck with a 60Hz TN panel for the same amount of money. Let's see if the Viotek GFI24CBA is a superb value pick that performs well for our favorite hobby while punching above its price tag.

Viotek GFI24CBA Specifications
Screen Size: 24 Inches
Resolution:1920 x 1080 FHD
Aspect Ratio: 16:9
Panel Technology: In-Plane Switching (IPS)
Refresh Rate: 144Hz
Response Time: 4ms (1ms MPRT)
Contrast Ratio: 1000:1 (Static)
Brightness: 300 cd/m²
Speakers: None
Stand: Height -Yes
Stand: Tilt – Yes
Stand: Swivel – Yes
Stand: Pivot – Yes
VESA Compatibility: Yes (100 x 100)
Connectivity: HDMI 1.4 x 1, HDMI 2.0 x 1, DisplayPort 1.2 x 1, 3.5mm Jack
Dimensions (W x H x D): 21.2" x 19.3" x 7.5"
Weight: 10.7 lbs

Design and Features
The Viotek GFI24CBA looks like a regular office monitor at a glance, but that's okay since performance matters more in this category. The monitor has a matte black finish all over, except it has a red ring at the back that accentuates the stand's attachment point. The display has a bezel-free design, but you still get inner borders on the top and side edges.
One of the reasons why 24-inch monitors are still popular is because of how compact they are by today's standards. This model only needs 7.5 inches of depth, and its width will not be an issue unless you buy three. It is also very light at 10.7 pounds so it's easy to move around or pack for a LAN party at your buddy's place.
Its build quality is solid and better than its predecessors' thanks to its improved materials and simple, yet functional design. The plastics used are comparable to what premium brands have and there were no cosmetic defects on any of its parts. Its stand also features major improvement since it is very stable and firm so the screen won't lose the angle you've set.
We're also glad that the Viotek GFI24CBA features an OSD joystick even if it sits at the low end of its category's price spectrum. Most budget monitors have buttons that are less intuitive and convenient than the latter. It's located at the back of the monitor so you can't see it, but it is easy to reach even if you don't lean in too much.
The stand included with this model is a much-needed upgrade over what older models like the GFV24C have. It has tilt, swivel, pivot, and height adjustments unlike many of the brand's monitors which were very limited in this regard. You can swap it out with a VESA mount, but that will only break the value proposition of this device.


However, its connectivity layout is watered down as expected, although that's understandable because of the low price. You get a slot each for DisplayPort 1.2, HDMI 2.0, and HDMI 1.4, along with a 3.5mm jack for convenience. It doesn't have other valuable extras like USB ports, so cable management enthusiasts might have to live with a few compromises.
Another missing feature with this product is a pair of speakers which would be handy for a budget setup. However, most built-ins aren't good or powerful enough for gaming purposes, so maybe its okay that its they aren't included if the omission helps lower the price. Avid gamers will have headsets anyway, so this shouldn't be a deal-breaker.
Display and Performance
The Viotek GFI24CBA sports a 24-inch IPS panel with a 1920 x 1080, a 144Hz refresh rate, and a 4ms response time. The backlight has a 350 cd/m2 maximum while the contrast ratio is listed at 1000:1 like most IPS panels. This model doesn't have special features like HDR, but that's okay since it's a budget model.
24-inch 1080p monitors are still in circulation since they sell the most units and users are very familiar with them. They don't have the largest display space, but it's easier to read, browse, and process documents with them since you don't need scaling. It's also very easy to reach high framerates at 1080p nowadays, so even budget graphics cards can be used for an affordable build.
The Viotek GFI24CBA renders a little over 100% sRGB and 70% DCI-P3 so it's capable of decent colors in any type of use. It is not the most vibrant, but its biggest issue is its default accuracy which had a high deltaE average of 3.97. Most users won't have an issue with that, but the variances will be noticeable if the user has handled other monitors.
Calibrating the monitor with the help of a colorimeter reduced the dE average to 2.05 which is considerably better than the stock settings. However, we've seen better results from its competitors so it is not worth spending the extra on the color tool. We recommend sticking to personal tweaks to find what you like instead.
Its backlight reached a healthy 345 cd/m2 at 100% so it can fight off a decent amount of glare in well-lit rooms. Its contrast ratio reached 1021:1 at 60% brightness, but that doesn't mean that the monitor is capable of deep blacks. It is still bound by the limitations of IPS technology, so getting a VA variant instead will be your closest solution if this bothers you.
Panel uniformity for the Viotek GFI24CBA had some issues in the backlight's spread since the lower edge of the screen was dimmer than the rest. It's most noticeable when the screen has a dark scene or a black background on. Note that this can vary between every unit due to tolerances, so it is possible to get a better or worse screen.
The Viotek GFI24CBA is comparable to premium offerings like the BenQ EX2510 when it comes to pixel response time. It doesn't have any noticeable blurring or ghosting so you don't need to use too much overdrive. It's not completely free from things like persistence in some instances, but only TN or OLEDs are better in this regard.
The Viotek GFI24CBA is compatible with both FreeSync and G-Sync so you can use either GPU brand if you want Adaptive Sync. Monitors with exclusive VRR are a thing of the past since flexibility is now a primary consideration for display products. Input lag sits at 4ms at 144Hz so the monitor is suitable for fast-paced or competitive gaming.
Thoughts on the Viotek GFI24CBA
The Viotek GFI24CBA is the best 1080p monitor they have offered since it addressed many limitations. It's not the most accurate IPS gaming monitor out there, but its overall gaming performance makes up for that. It's also very affordable so more gamers can enjoy fast-paced gaming without too many compromises.
However, there is still room for improvement even if it's unfair to ask for more from an already affordable product. It could use a little calibration from the factory so its color quality wouldn't be all over the place. Other complaints like its lack of USB ports are minor, and we'd be willing to live with them based on the monitor's price-to-performance ratio.
Pros:
Affordable
Fast and Responsive
Fully Adjustable Stand
FreeSync and G-Sync Compatible
Cons:
Limited Connectivity
Dismal Contrast
No USB Slots and Speakers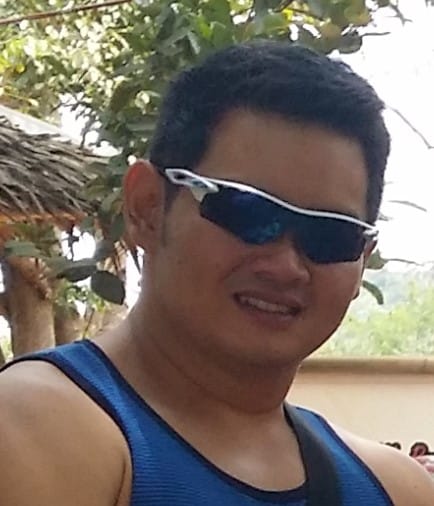 Paolo is a gaming veteran from the golden days of Doom and Warcraft. Since junior high, he has been building gaming systems for family, friends, and colleagues. High-performance monitors are one of his fixations; he believes that every citizen's right to enjoy one. He has gone through several pieces of hardware in pursuit of every bit of performance gain, much to the dismay of his wallet. He has also spent half a decade researching, reviewing, and writing about these products and now has over 1400 articles about the best gaming tech under his belt.