In this category, we will present our list of gaming monitors for the competitive gamer. All monitors include 144hz monitor, in this category. We recommend you to read in our buyers guide for gaming displays, so you know how we have qualified monitors for competitive gamers. You can also check our list of gaming monitors for average gamers with a limited budget, but still qualified.
Editor's choice for the competitive gamer:
Read our comprehensive review of Acer Predator XG270HU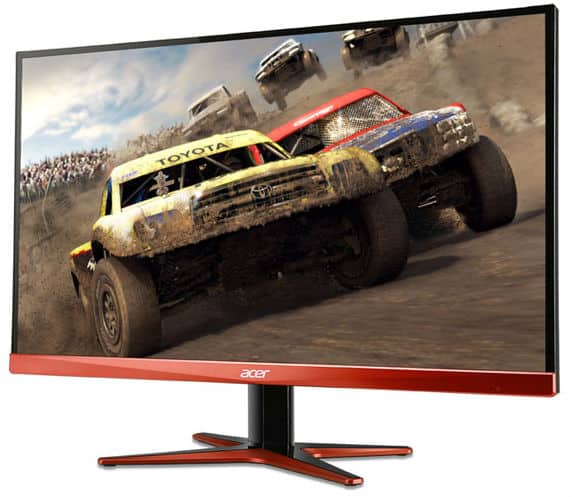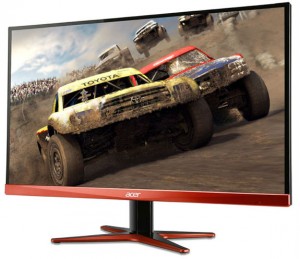 This editor's choice was, to be frank, quite easy to make. For less than $450, Acer gives you a gaming monster compatible with most high-end gaming monitors, which they have baptized the Predator XG270HU. This 27" WQHD 1440p, with 1ms GTG response time has also the lowest lag time within its category (5ms). The closest one will be the BenQ XL2720Z with an input lag time of 10ms (twice as much). Add to that its magnificent design of the matte-black and red color and the highest contrast ratio and brightness in the category (of competitive gamers) of 100,000,000:1 and 350cd/cm2. Luckily, they also managed to put a low blue light feature on it, so you can play as long as you are not dead or sleeping, with minimal eye irritation. The tradeoff has been on the ergonomic as it can only tilt but if you are creative enough, you can solve your way around this minor flaw. As the topping on the ice, it comes with Free-Sync, an adaptive sync feature that eliminates screen tearing and reduces the input lag time further as well. We think this is one of the WQHD for the price until now. For $450, it would be ignorant to ask for more in a gaming monitor. See it on Amazon.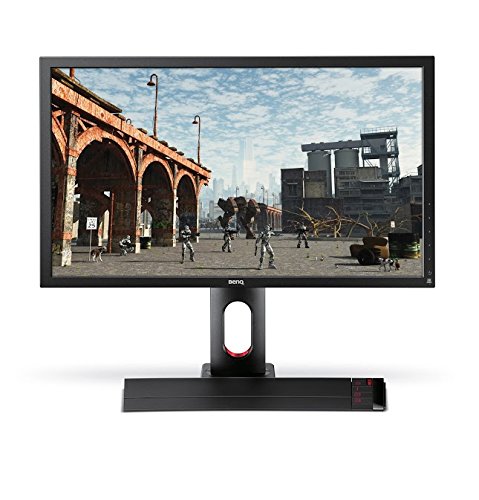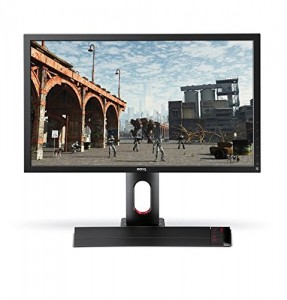 BenQ's reputation for providing high-quality gaming experience through their gaming monitors also puts a limit on the price they can offer. The XL2430T is the cheapest BenQ monitor that still comes with BenQ's famous quality minded features and technology. Not equipped with an adaptive sync technology, screen tearing is highly dependent on your GPU – a tradeoff necessary for the price of $370. Besides that this is a 144Hz monitor, it has a minimal response time of 1ms and an input lag time of only 10ms, you get the BenQ specific features like the S Switch (which we are quite fond of), the Black Equalizer for sharper contrast for blacker pixels, Flicker Free and Motion Blur Technology that significantly reduces the motion blur during gameplay. To further enhance the gaming experience, the XL2430T also comes with Sense-Eye 3, which dims the blue light emission, thereby reducing the effect gaming may have on your eyes. The numerous ergonomic options typical for BenQ has also included in this model as well as a variety of I/O ports. This is also a good choice for a 144hz monitor for gaming. See it in Amazon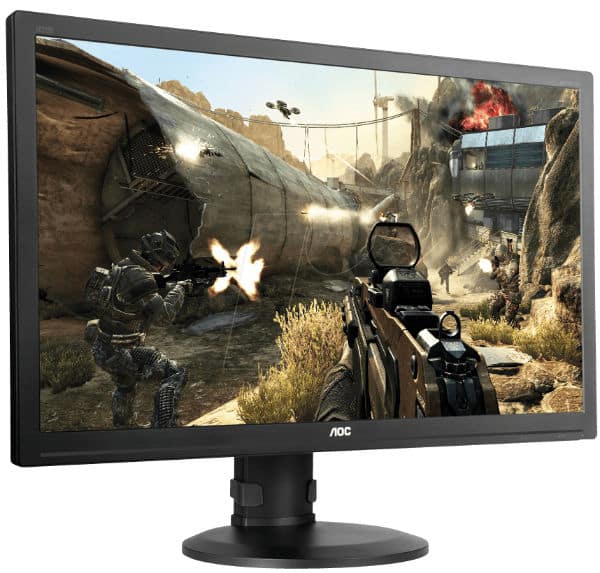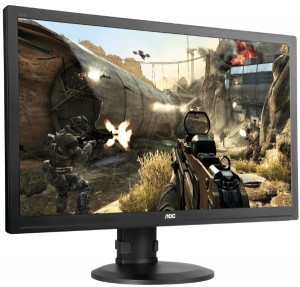 Usually, when something is too good to be true, it is. However, AOC has in their G2770PF a very competitive gaming monitor in terms of price to specs ratio. For less than 300$ (amazon), you get a 144Hz monitor, 27" very stylish matte black and red colored monitor with quite a bunch of gaming features. Besides the 1ms response time, this suspicious piece of hardware includes FreeSync technology, which is an adaptive sync technology designed to eliminate screen tearing completely as well as a significant reduction of input lag time. It is hard to say where the tradeoff between price and specs has been since it includes ergonomic features such as low blue light emission and a fully adjustable stand (height, pivot, tilt, and swivel). The I/O is plentiful as well and includes 4 USB 2.0 ports and a headphone jack beside the VGA port, the HDMI port, the dual link DVI-D port and the DisplayPort. For the competitive fps gamer who knows when to make a great deal. Check price and ratings in Amazon here.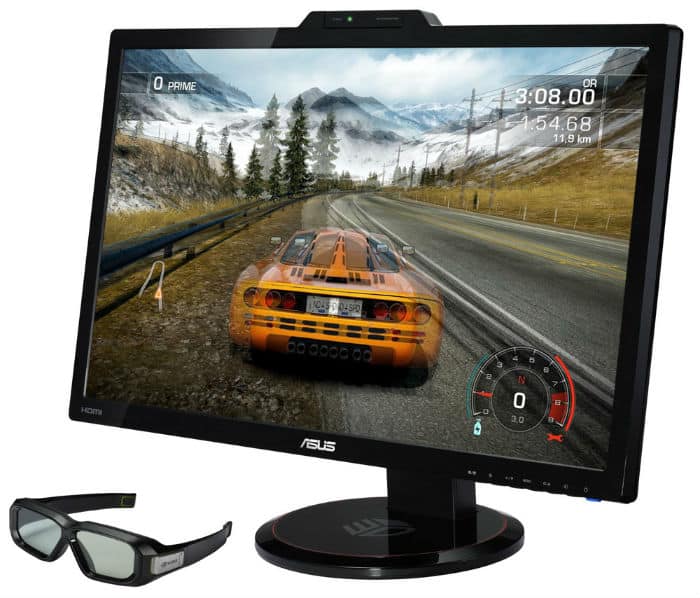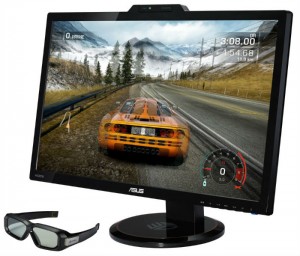 This 27" Full HD screen from ASUS comes with NVidia's 3D Vision kit 2 as well as NVidia's Lightboost 3D technology for exceptional 3D gaming experience. The 3D feature takes quite a chump of the price, but ASUS still manages to keep the value at about 350$ despite being equipped with 144Hz refresh rate and a 2ms response time. Ergonomics is good with low blue light emission feature and adjustable height, swivel, and tilt. No USB ports are allocated on the monitor, but it does come with a headphone jack. This is for the 3D gaming enthusiast who still wants a proper quality when playing fps games without feeling screwed financially. See it in Amazon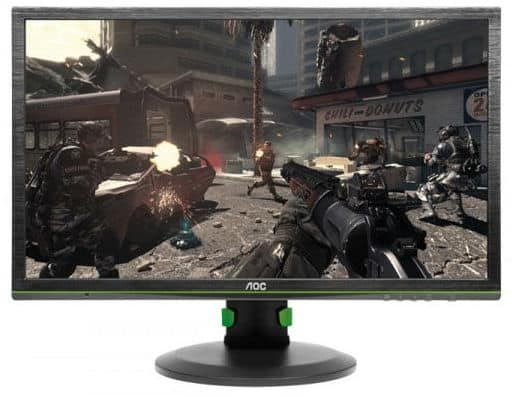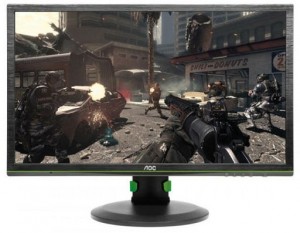 This beautifully crafted piece of art comes with G-Sync (an adaptive sync technology to eliminate screen tearing), besides that this 144Hz monitor`s refresh rate and 1ms response time makes it an excellent choice for heavy graphical fps gaming on a competitive level. Besides G-Sync, it has another gaming feature from NVidia, the Ultra-Low Motion Blue, which is capable of reducing motion blur if your eye is fast enough to catch it in the first place. Although there is no headphone jack there is 2 USB 2.0 and 2 USB 3.0 ports on the screen and since many new headphones do come with USB connection, this tradeoff is no biggie. But the lack of extra connection options can be a bother to some as it only comes with one DisplayPort, so I guess they really want you to game with the G-Sync feature enabled. Speaking of a lack of options, the adjustability comes with the same amount of options (1) which is tilting only. No blue light reduction feature is installed neither, but there is software available online that can work around this issue. Although being a bit more expensive than both BenQ XL2430T and BenQ XL2720Z I believe, it is that much better simply because of the adaptive sync feature, which both the previously mentioned BenQ's are missing. AOC makes some of the cheapest 144hz monitors on the market. See it in Amazon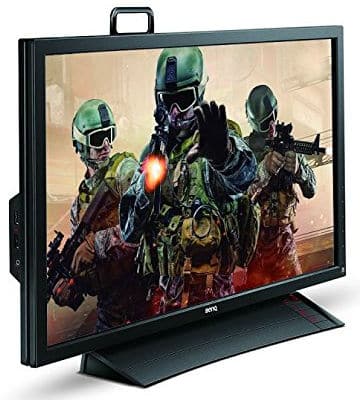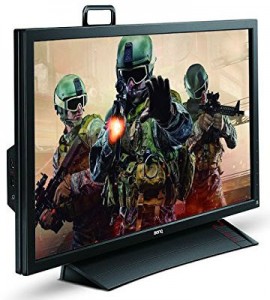 This older BenQ monitor (2013) comes with NVidia's 3D Vision 2 kit and NVidia's LightBoost technology and within its 2 years on the market, we have seen the price drop to below 450$ making it available for the competitive gamer category (407$ last time I checked). It comes with the required 144 Hz refresh rate and 1ms response time but, as known for BenQ, their niche is in their dedicated gaming features – and the XL2720Z is no exception. Equipped with (my personal favorite) the S Switch module, you are able to switch monitor preferences in an instant depending on the game you play or whatever you are doing. Black Equalizer for brightening up the details of darker pixels (for detecting campers hiding in the mud), the Flicker-Free Technology as well as the Motion Blue Reduction are the most valuable ones I believe. The physical aspect and design of the BenQ XL2720Z are not to be ignored, as it comes with its typical and pleasant matte black and red colors. Ergonomic features such as low blue light emission from its Sense-Eye 3 feature and a fully adjustable stand (height, pivot, swivel and tilt) makes this a great purchase for the gamer who likes to sit for hours playing a variety of online games. See it in Amazon You can visit BenQ XL2720Z