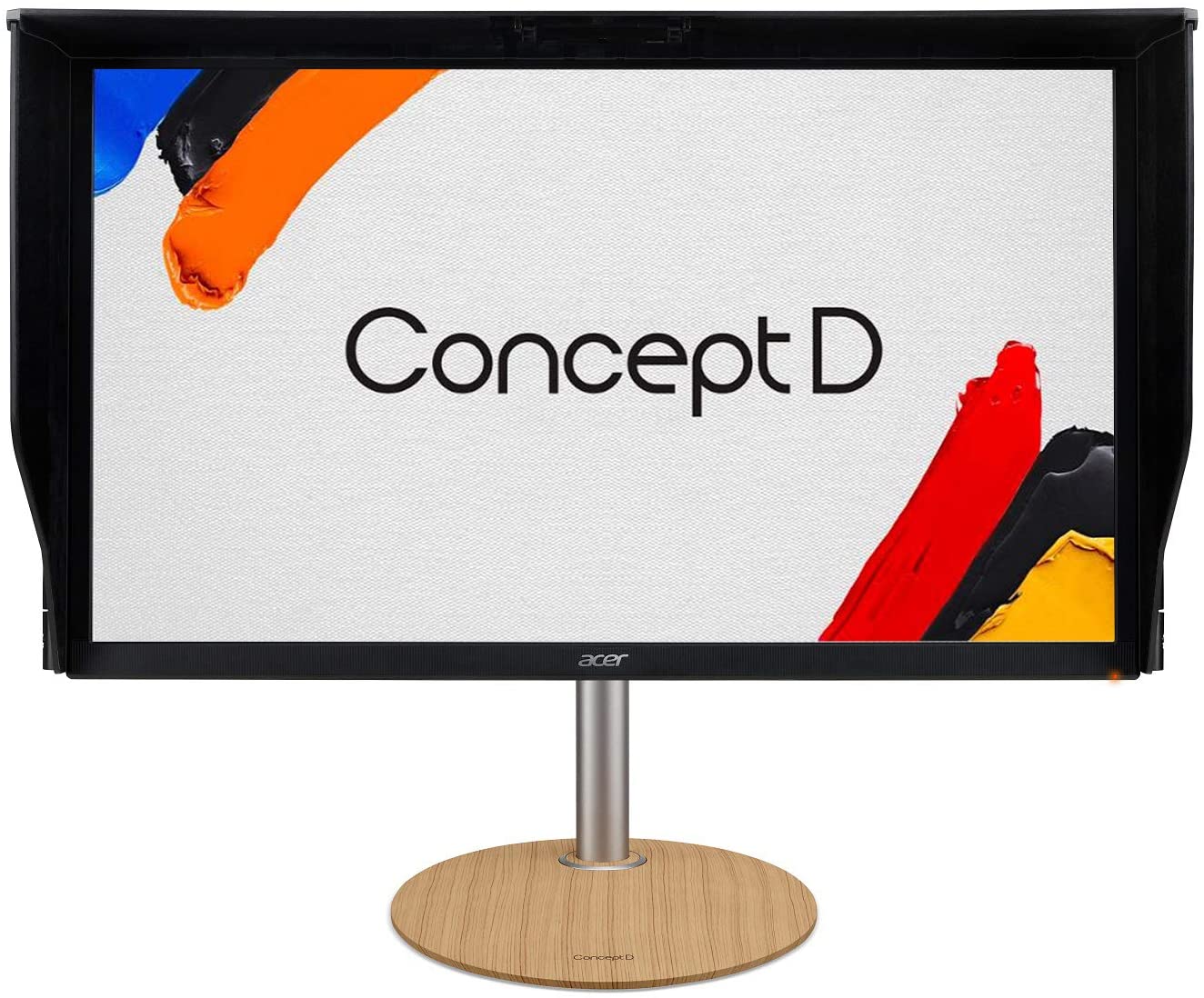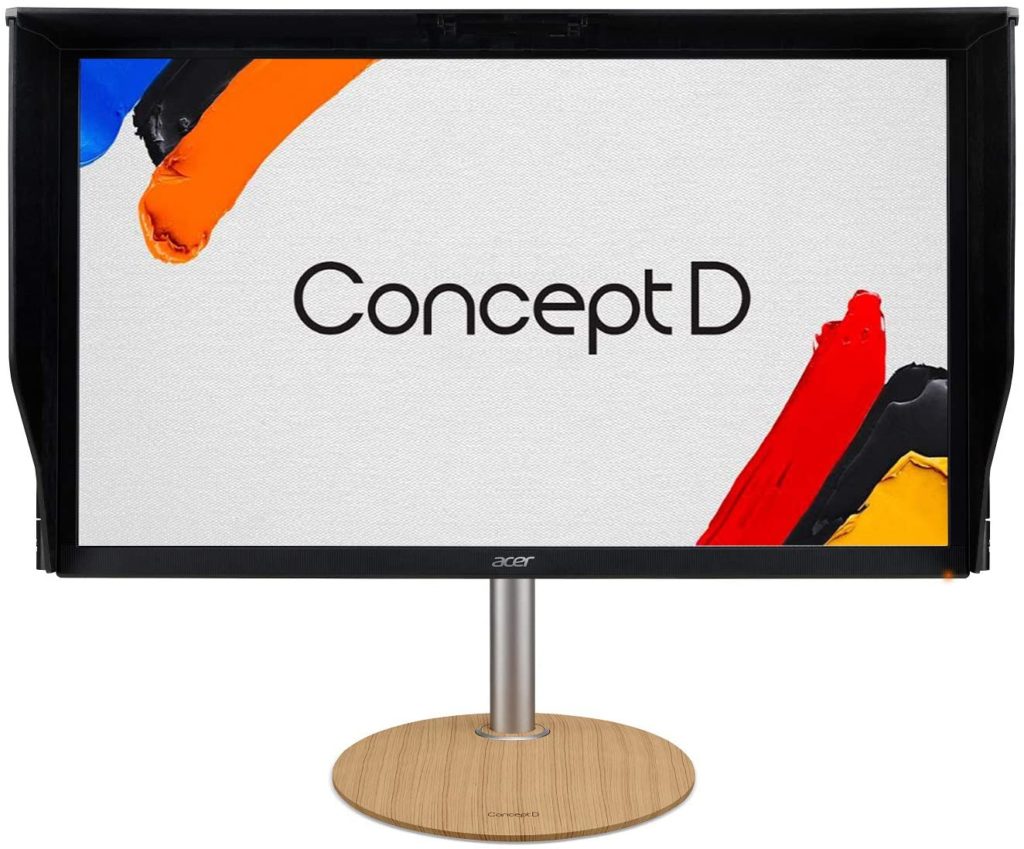 The Acer CP7271K includes affinity for both content creation and extreme gaming thanks to its incredible, flagship-level specs that deliver a unique experience. The monitor is pre-calibrated for spot-on accuracy, but it also carries the G-Sync Ultimate tag which describes the absolute best specifications for gaming. The Acer CP7271K is a refined spin-off of the Acer X27 from the Predator line, so let's check out if it has advantages in key aspects.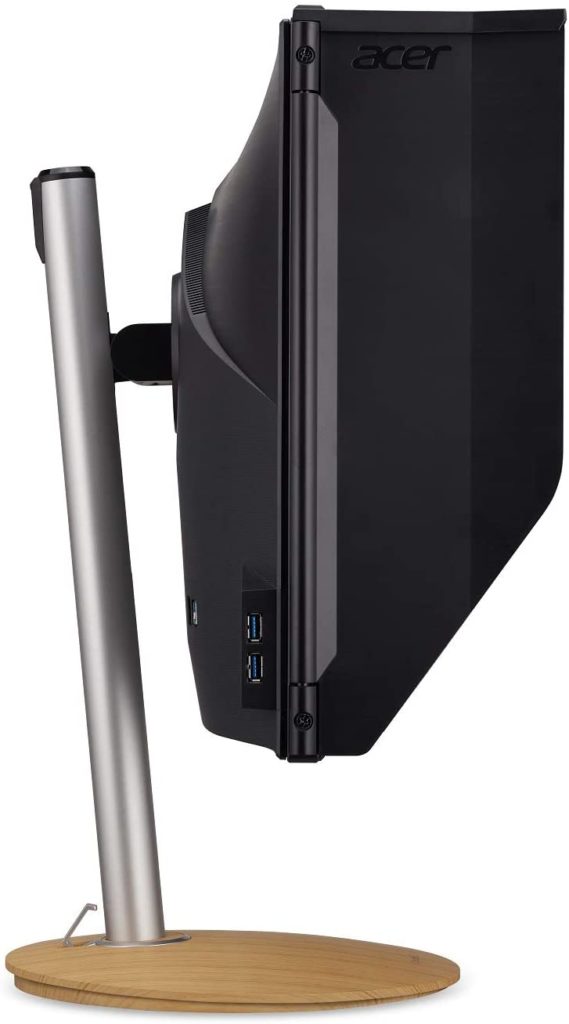 Acer CP7271K Specifications
Screen Size: 27 Inches
Resolution: 3840 x 2160 4K UHD
Aspect Ratio: 16:9
Panel Technology: In-Plane Switching (IPS)
Refresh Rate: 144Hz
Response Time: 4ms
Contrast Ratio:1000:1
Brightness: 600cd/m (1000 cd/m²peak)
Speakers: Yes (2 x 4 Watts)
Stand: Height – Yes
Stand: Tilt – Yes
Stand: Swivel – Yes
VESA Compatibility: Yes
Connectivity DisplayPort 1.4 x 1, HDMI 2.0 x 1, USB 3.0 x 5
Dimensions (W x H x D): 24.6" x 23.9" x 10.6"
Weight: 18.2 lbs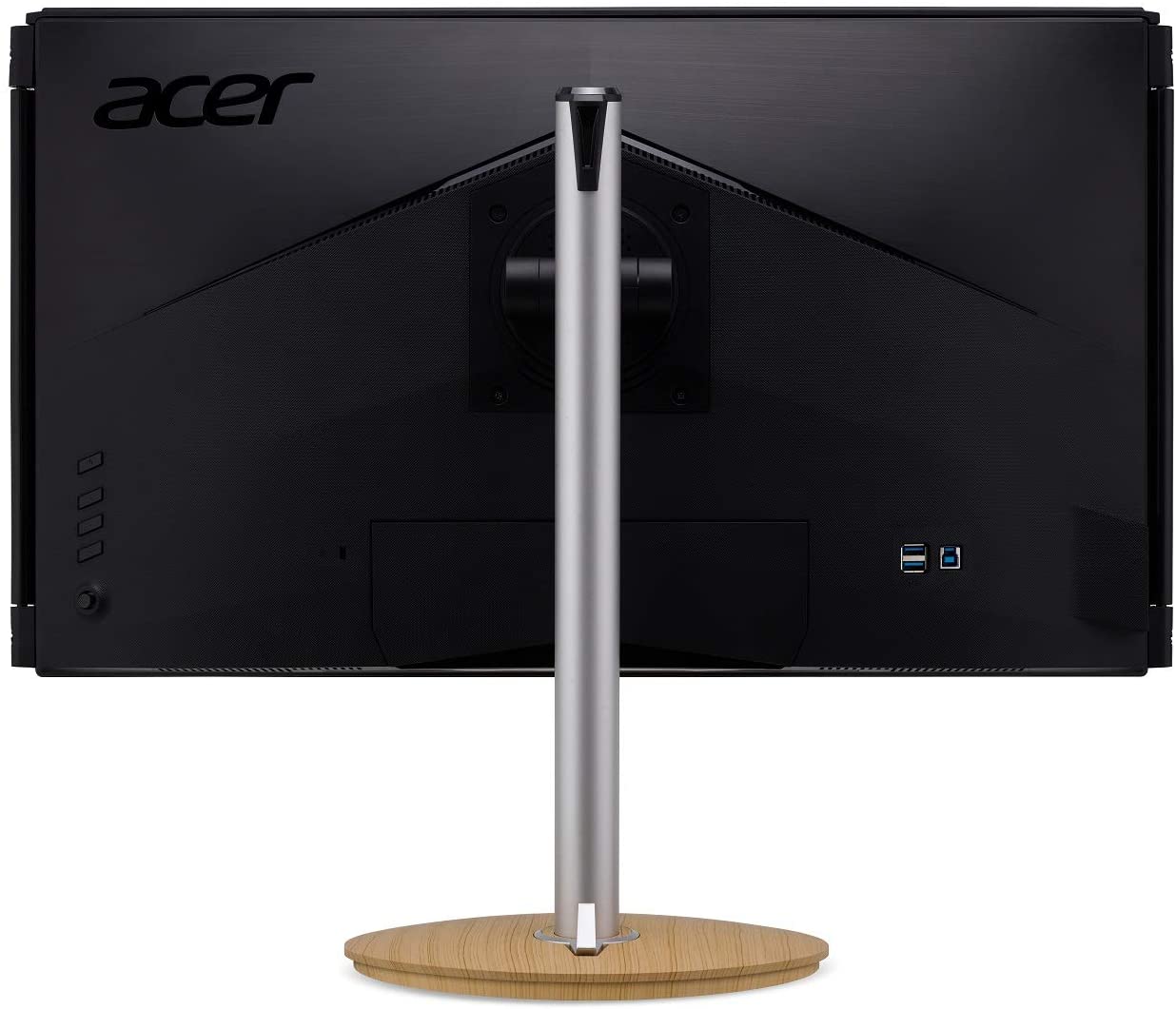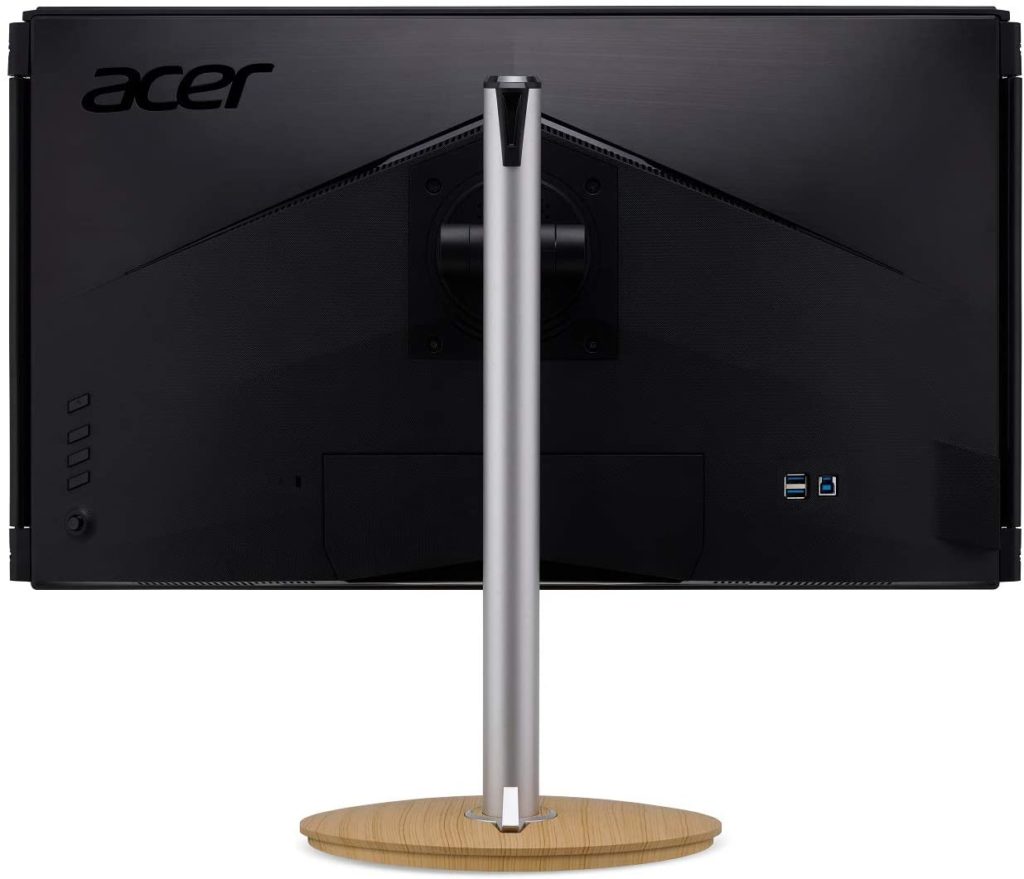 Design and Features
The Acer CP7271K has a 360-degree difference in aesthetic compared to the gamer-centric Acer X27 which has sharper edges and lines. This monitor is finished in matte black, but what helps it stand out is its simulated woodgrain base with aluminum pillar which you don't normally see on any monitor class. The display isn't bezel-free, but they are within reasonable limits and are textured to reduce glare.
The Acer CP7271K's proportions are just right for a 27-inch monitor, but you have to account for its hood or shades which folds outwards. The device is almost comparable when these flaps are not in use, but you can also remove them. However, we see many users using this part since they can become useful if the room is well lit to help fight the resulting glare.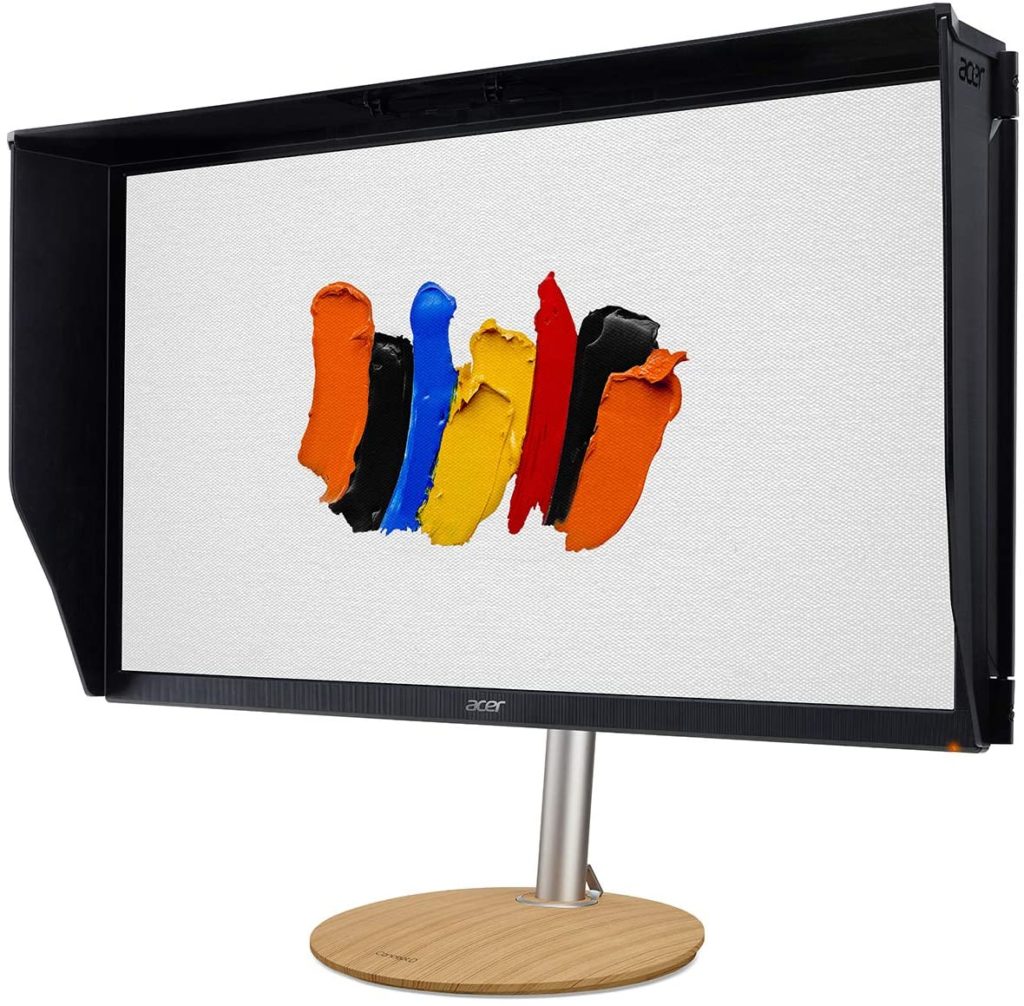 There is also a sensor on the top bezel of the Acer CP7271K which detects your ambient lighting so it can adjust the backlight accordingly. The monitor's Auto Black Level and Auto Brightness features utilize this add-on so you don't have to adjust the backlight manually if in case your room is too bright. However, we recommend leaving it off for HDR content or when calibrating the monitor so you can get the best possible accuracy.
Build quality is nothing short of excellent for the Acer CP7271K since there are no defects or signs of weaknesses on the monitor. All the materials used feel premium, and the construction feels solid with careful attention to quality control. The adjustment mechanism moves smoothly, but its firm enough to retain the view angle you've set indefinitely.
The Acer CP7271K utilizes a unidirectional joystick to control the OSD instead of the regular buttons which can be confusing to use. It's handy to use especially since the Acer CP7271K has a ton of settings with it that you can manipulate to maximize the screen. It also might not see a lot of use since the monitor should be accurate out of the box, but it's nice to have a tool that's user-friendly if in case something as basic as brightness needs to be tweaked.
The stand with the Acer CP7271K features a unique aesthetic that is difficult to place with themed builds but is refreshingly welcome in our opinion. The circular base in woodgrain looks unique, plus it provides excellent stability. The aluminum upright, on the other hand, offers reliable stability, while having, tilt, swivel, and up to 7.1 inches of height adjustment.
The monitor is also VESA-compatible, but frankly, that ruins the look and can be considered unnecessary since the stand is already quite flexible. The only way that can justify spending on a separate mount is if you need the space or you have multiple display setups.
The Acer CP7271K is a G-Sync Ultimate monitor, so it includes the second generation G-Sync module which limits a monitor's connectivity layout. The I/O includes a slot each for DisplayPort 1.2 and HDMI 2.0, but there are five USB 3.1 ports as well. Two of the latter are located on the side in a hub to make them easy to reach for USB headsets or even thumb drives.
There is also a pair of 4-watt speakers on the Acer CP7271K, but it feels out of place in an ultra-premium package. The built-ins are decent enough if you only want to listen to background music or for video conferencing, but it isn't ideal for entertainment purposes such as movies. We wish manufacturers would align the speaker quality with the caliber of the monitor, but this is just a minor complaint on the grand scale of things.
Display and Performance
The Acer CP7271K sports a 27-inch IPS panel with a 3840 x 2160 4K resolution, 144Hz overclocked refresh rate, and a 4ms response time. The FALD backlight with 384 zones has a typical 600 cd/m2 brightness level for SDR and a 1000 cd/m2 peak for HDR with a 1000:1 contrast ratio. The 4K panel only has a 120Hz native refresh, but it can be pushed readily to 144Hz with the help of G-Sync Ultimate and its hardware.
A 4K screen squeezed into a 27-inch screen offers fantastic crispness and level of detail that will upgrade your visual experience. Its ideal for both high-end gaming and editing, but some may complain that text can become difficult to read. 4K is much more comfortable to view in a 32-inch screen, but we recommend this type if you are after an extra-sharp display for maximum eye candy.
The Acer CP7271K is impressive when it comes to color, rendering over 100% of the sRGB gamut and around 106% of the DCI-P3 standard. That's beyond what many monitors can offer when it comes to color coverage, putting this model ahead of the list. Color accuracy by default sits at DeltaE 1.5, and you can even push it to DE .7 if you have the proper tools.
SDR performance is average since the contrast is limited to 980:1, but the backlight is brighter than a typical monitor at 540 cd/m2. However, the backlight can pulse to 1190 cd/m2 while contrast breaches past 10000:1 easily when HDR is active, showing the display's true capabilities. This model is one of the best options if you want true HDR, and only a select few along with OLEDs are better.
The Acer CP7271K performs brilliantly in HDR-compatible games like the latest Modern Warfare which has varying lighting scenarios. The dark rooms in the campaign's Clean House mission look eerie with the inky blacks, but you can clearly see the well-defined flashes of the weapons and the IR patches on the soldiers. Regular images also look extra saturated, while you have a large gamut to play around with while doing color grading work.
Panel uniformity for the Acer CP7271K didn't do so well due to hotspots in the screen's upper corners which can become noticeable in darker images. You lose a bit of contrast and vibrancy in those areas, but it's difficult to truly notice unless you have a colorimeter. Take note that this aspect will vary between every unit due to manufacturing tolerances, so make sure that you can return and exchange the monitor if you get a bad one.
The Acer CP7271K is also capable of excellent pixel response times, so blurring and smudging won't be a massive issue. There are a few trails here and there when your frames drop considerably, but it's not disturbing enough to be considered a deal-breaker. One thing with 144Hz 4K monitors is it's easy to ignore these flaws since the screen's eye-popping quality will most likely keep your peepers busy.
The Acer CP7271K is a G-Sync ultimate monitor with a functional range of 30Hz all the way up to 144Hz. You are going to need the best Nvidia GPUs to maximize this model, but this feature will already safeguard your visuals from tearing and stuttering without any penalties to the HDR performance. Input lag sits at 10ms, so there is no need to worry about delays while gaming.
Thoughts on the Acer CP7271K
The is a fantastic 4K 144Hz monitor that's equipped to handle both professional applications and enthusiast gaming. The screen's color quality enables it to be a top-end reference monitor for color grading and content creation, but the 144Hz operation with minimal blurring and input lag enables it to be one of the best for our favorite hobby. We can say that it's even better than the Acer X27 in all aspects, making it the better buy for the latter.
The monitor also offers one of the best HDR performances we've seen, pitting the monitor against some of the best that is dedicated to professional use. It's difficult to consider a flaw if you consider all of these, especially when the price, although still expensive, is more reasonable for a 4K 144Hz option. The Acer CP7271K is your best pick if you want extreme color quality and gaming performance rolled into a sleek and sophisticated package.
Pros:
Unique Design
Extra Wide Gamut
Fantastic Color Accuracy
Fast and Responsive Gaming Monitor
Strong HDR Performance
Cons:
Pricey
Limited Contrast in SDR Mode
Uniformity Needs Improvement
About the Author: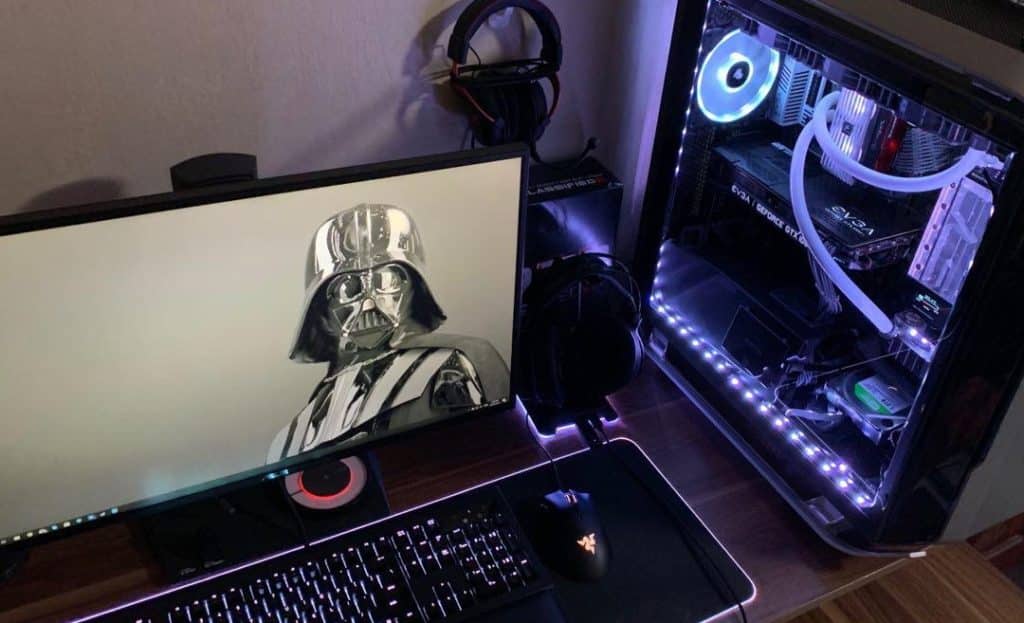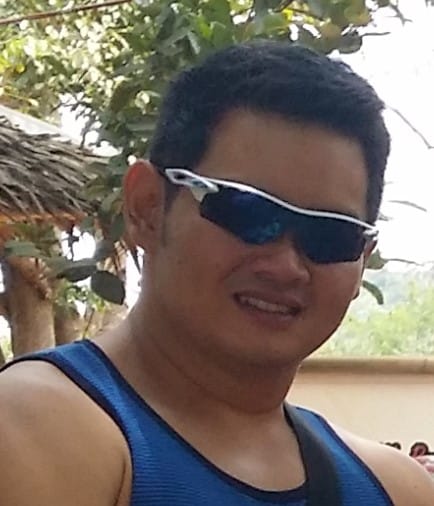 Paolo is a gaming veteran since the golden days of Doom and Warcraft and has been building gaming systems for family, friends, and colleagues since his junior high years. High-performance monitors are one of his fixations and he believes that it's every citizen's right to enjoy one. He has gone through several pieces of hardware in pursuit of every bit of performance gain, much to the dismay of his wallet. He now works with Monitornerds to scrutinize the latest gear to create reviews that accentuate the seldom explained aspects of a PC monitor.