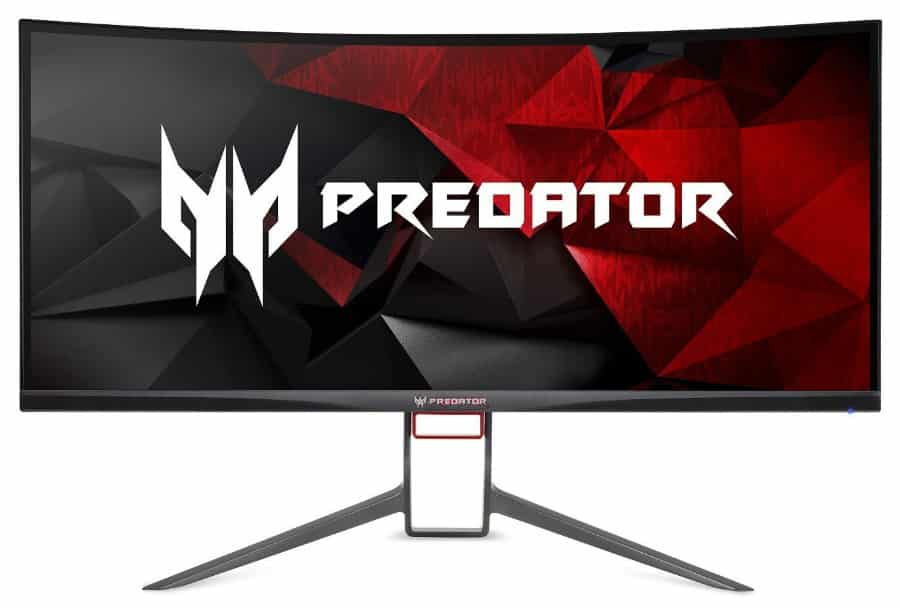 The Acer Predator X34P represents the Predator line's advancement to keep up with today's gaming standards by offering a massive screen with high-refresh rates. This variant is a spin-off of the acclaimed Acer X34 which had a lower refresh rate and a gentler curve. We're still waiting for 200Hz ultrawides, but the Acer Predator X34P could be your best bet if you are upgrading now.

Acer Predator X34P Specifications
Screen Size: 34Inches
Resolution: 3440 x 1440 UW-QHD
Aspect Ratio: 21:9
Panel Technology: In-Plane Switching(IPS)
Refresh Rate: 120Hz
Response Time: 4ms
Contrast Ratio: 1000:1 (Static)
Brightness: 300 cd/m²
Built-in Speakers: Yes 2 x 7 Watts
Stand: Height – Yes
Stand: Tilt – Yes
Stand: Swivel – Yes
Stand: Pivot – No
VESA Compatibility: Yes
Connectivity: DisplayPort 1.2 x 1, HDMI 1.4 x 1, USB 3.0 x 5, 3.5mm Audio Jacks
Dimensions (WxHxD): 31″ x 22.1″ x 12"
Weight: 24lbs

Design and Features
At a glance, the Acer PredatorX34P doesn't stray too much from the original model's design, save for a few details and a tighter curve radius. The monitor appears to be bezel-free, but there are dual stage borders on the top and sides to give users a maximized view of the massive screen. When turned on, the 11mm frame will stick out, but it is flush-mounted which makes it less noticeable in the heat of battle.

The Acer Predator X34P includes several updates to its overall design which is more comparable to the XR34CK instead of the slightly more extensive and more aggressive Z35P. The new chassis also sports matte black instead of the glossy plastics used in previous models, making the product more attractive and easier to maintain.
Another aspect of the Acer X34P that received an upgrade is the sculpturesque metal stand which adds swivel to its height and tilt adjustments. The mechanism achieves this via a bearing on the middle joints. Of course, this part is entirely removable, in case you favor VESA mounting solutions.
You will also find the Acer Predator X34P's controls at the rear panel on the lower corner, which is a favorable placement based on experience. There are four buttons that include the main switch and a few hotkeys, but the OSD is accessed with an easy to use joystick. This feature is quite convenient since Acer's monitors are known to have OSDs with a ton of sub-menus.
The Acer Predator X34P is a G-Sync monitor, so it comes with a limited I/O layout which is enforced by the proprietary module embedded in the innards. Users only get down-firing DisplayPort 1.2 and HDMI 1.4 for video inputs, but there are five rear-facing USB 3.0 receptacles for convenience. You don't have to reach under the rear bulge to insert thumb drives or cables, but we reckon the hub would be easier to access if it was at the sides.
There is also a pair of 7-watt speakers which are considerably more potent than what we are used to, but are still mostly insufficient for gaming purposes. However, you can connect a headphone or a separate set via the 3.5mm audio jack at the rear.
Display and Performance
The Acer Predator X34P sports a 34-inch IPS panel with a 3440 x 1440 resolution, 120Hz refresh rate, and 4ms response time. A contrast ratio of 1000:1 along with a 300cd/m2 WLED backlight with Edge Array LEDs. The curvature is also set at 1900r which is considerably tighter than the X34's 3800r.
The IPS module used has 10-bit color via FRC, meaning the Acer Predator X34P can produce a substantial amount of shades. Accuracy out of the box is a bit off at Delta E 3.6, which to be honest, will not equate to noticeable errors which are detrimental to the product's primary purpose. Once calibrated, this model can offer a substantially better output of 104% sRGB volume with a Delta E of only 1.20.
The Acer Predator X34P's gamma settings take a slight hit, but a contrast ratio average of 950:1 makes it hard to complain. If you don't have a colorimeter, we suggest locking the gamma to 1.9 and lower contrast to around 40. This setting will give you the best balance in image quality, although we know some gamers prefer darker shades which can deepen vibrancy.
The Acer Predator X34P looks like it has a cherry-picked IPS panel since deviations in both brightness and color do not even reach 10%. Variations in color are too low to notice, ensuring that the whole screen appears even and balanced. Of course, this model has an IPS module so that the usual issues may manifest on some units.
There is also less blurring and ghosting on the Acer Predator X34P, thanks to its upgraded 120Hz refresh rate which is achieved via a guaranteed overclock. The display feels snappier, and we were hard-pressed to find any artifacts or image retention on screen. The improvements over the X34 are noticeable, making this newer variant a better buy.
A premium 3440 x 1440 gaming monitor isn't complete without a VRR solution. The Acer Predator X34P comes with Nvidia's G-Sync which guarantees tear and stutter-free gaming for Nvidia GPU users. However, demanding titles like PUBG might require some tweaking if you want to maximize the screen's refresh rate.
The only downside we can see on the Acer Predator X34P is its slightly lower input lag which sits at 13ms. To compare, the Acer X34 and Z35P clocks in at 9ms and 8ms respectively which makes them more popular with meticulous gamers who want nothing but the fastest. But our honest opinion is that the slight disadvantage will not matter in any gaming scenario, especially since the X35P has a quicker pixel response than its two siblings.
Thoughts on the Acer Predator X34P
The Acer Predator X34P is the ultrawide G-Sync monitor to get if you are in the market for a premium display that offers an immersive experience. A fast 3440 x 1440 is just gorgeous to look at no matter what genre you are into, whether if its RPGs or FPS titles. The slight bump to 120Hz helped the monitor to produce a snappier screen with less blurring and image retention.
The complaint we have for the Acer Predator X34P is its slightly lower input lag, which in practice, isn't a big deal. Every upgraded bit of the product from the tighter, more engrossing curve to the added flexibility of the new stand makes this a better choice than its predecessor. The X34P is more expensive by a hundred bucks over the X34, but it's a small price to pay for the improvements you will enjoy.