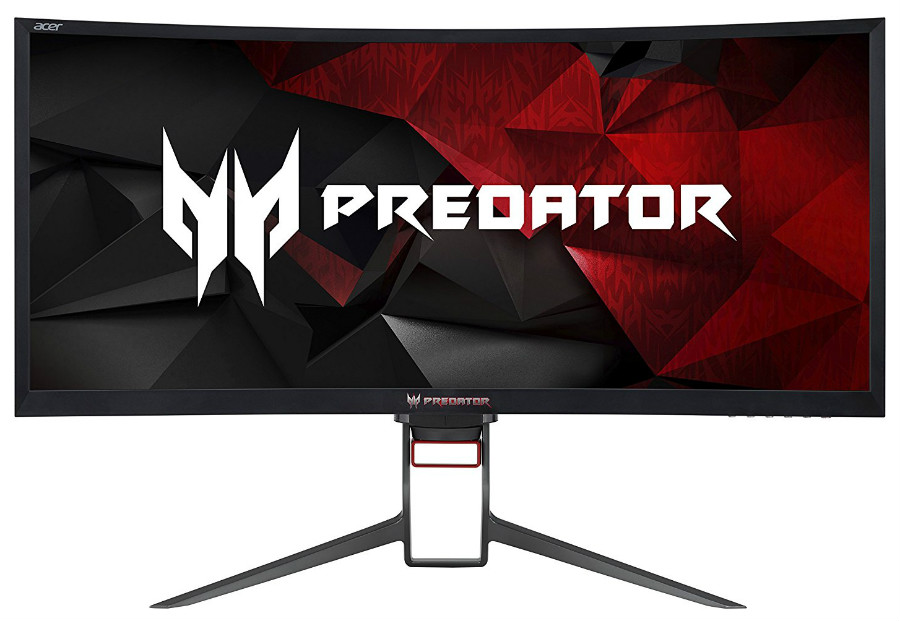 The Acer Z35P combines a gorgeous QHD ultrawide VA panel with G-Sync to enhance your gaming experience with engrossing visuals and buttery-smooth performance. This newer model also adds the ability to overclock to 120Hz to boost certain qualities beyond what its predecessor, the Acer X34 can offer. From the ground up, the Acer Z35P looks like a fantastic gaming beast, so let's find out if this is your next enthusiast ultrawide display that can match your uber power battle station.

Acer Z35P Specifications
Screen Size: 35 Inches
Resolution: 3440 x 1440  UW-QHD
Aspect Ratio: 21:9
Panel Technology: Vertical Alignment (VA)
Refresh Rate: 120Hz
Response Time: 4ms
Contrast Ratio: 2500:1 (Static)
Brightness: 300 cd/m²
Built-in Speakers: Yes 2 x 9 Watts
Stand: Height – Yes (5.12 Inches)
Stand: Tilt – Yes (-4°/+35°)
Stand: Swivel – Yes
Stand: Pivot – No
VESA Compatibility: Yes
Connectivity: DisplayPort 1.2 x 1, HDMI 1.4 x 1, USB 3.0 x 4, 3.5mm Audio Jacks
Dimensions (WxHxD): 33.24″ x 23.80″ x 12.16"
Weight: 27.56lbs

Design and Features
The Acer Z35P sports a clean minimalist design on the front with a hint of controlled aggression in some of its angles and niches. The cabinet's matte black material feels nice to the touch and sturdy, while the red accents add a familiar attractiveness that should match most gaming builds. This model, however, includes bezels which are still within reasonable limits which makes us prefer the frontal aesthetic of the X34.
The design begs to be shown-off to your co-gamers, and if it weren't much more ideal, we wouldn't place the Acer Z35P against a wall. The rear part of the chassis has a simplified design, save for the boldly emblazoned Predator logo that signifies this display's gaming prowess. Build quality is beyond brilliant since the product feels sturdy as a tank, plus its evident that Acer did not skimp on material choices.
What we love best about the Acer Z35P's design is the metallic penguin-leg stand that comes with a gunmetal finish. The device provides excellent stability to the chassis that weighs more than 20lbs without forgoing the smoothness of the adjustments plus the fit and finish. The armature includes 5 inches of height adjustments plus tilt and swivel.
The mechanism is then accentuated with a red cable tidy hole at the bottom, while a much-needed carry handle terminates the top of the upright. If for some reason you do not like this part of the product, you can fully remove it to reveal a 100 x 100 VESA bolt pattern for mounting.
Since the Acer Z35P is a G-Sync model, it comes with a proprietary control unit that limits its connectivity features. Owners get DisplayPort 1.2 and a single HDMI 1.4 for video inputs plus four USB 3.0 connectors. On the plus side, there is a pair of 9-Watt DTS-tuned speakers which includes Acer's True Harmony technology for improved audio quality.
Display and Performance
The Acer Z35P utilizes a 34.5-inch VA panel with a 3440 x 1440 native resolution, 4ms response time, and a contrast ratio of 2500:1. This panel's refresh rate only goes up to 100Hz, but the installed G-Sync module along with Acer's engineering expertise allows users to boost it to 120Hz. Users just need to turn this feature on in the OSD, so the extra headroom is pretty much guaranteed.
Using a colorimeter will reveal the Acer Z35P's true qualities when it comes to image and color fidelity. Out of the box, this screen is capable of a little over 100% sRGB or 81% Adobe RGB, enabling the extra vibrancy we all enjoy. Accuracy is excellent for almost all applications with a calculated Delta E of only 2.39 which is expected due to some oversaturation in some shades.
Contrast is as expected, on the great side since the Acer Z35P can reach a contrast ratio of around 2000:1 depending on brightness levels. Gamma sits a bit low at 2.1 despite selecting the monitor's 2.2 setting, but we did not find this detrimental to the overall image. You can push these scores further with a colorimeter. However, the Z35P is already superb right out of the box, making it suitable for plug and play use.
Simply put, the Acer Z35P should be excellent for gaming and movie watching, although you might want to check elsewhere if absolute color accuracy is critical. The 1800r curvature feels like the monitor is trying to envelop you if you sit close to it, although its effects are always subjective between each user.
The Acer Z35P is mighty excellent for all sorts of gaming thanks to its superb scores, the 120Hz refresh rate, and its G-Sync feature. We tested this beast with a GTX 1080 Ti GPU in PUBG at ultra settings, and we were able to get a decent 50-60FPS on the average. There were dips from time to time, but G-Sync's 30Hz to 120Hz range did wonders to help cure some of the annoying stuttering which would ensue without it.
We recommend users to tweak the graphics settings in titles like PUBG to get within 10 or 20 FPS of the maximum refresh of this model. Gaming at 60Hz with eye-candy settings turned up isn't ideal, since the resolution is enough to present cleaner lines and images even with lower Anti Aliasing.
The only flaw of the Acer Z35P is its inherently slower pixel transition time which sometimes produced minimal ghosting. The Acer X34 felt a bit faster in this regard, however, we find it difficult to sacrifice the extended contrast over such a minor complaint.
Finally, the Acer Z35P felt snappy and responsive where it counts, so there are no delays between your controls and the display. This monitor clocks in at an average of only 8ms of input lag at 120Hz, so there is virtually nothing standing in the way of victory.
Thoughts on the Acer Z35P
The Acer Z35P is an excellent gaming ultrawide monitor if you have close to a grand to spend on something so bespoke for extreme gaming. The design and the out of the box performance are brilliant, and we can say that this model can trade blows with some of the best such as Acer X34 and Asus PG348Q.
Even if 200Hz models are approaching, the Acer Z35P is still a reasonable choice for today's standards even if it can only go up to 120Hz. For starters, this product has seen various price reductions over the course of its existence, plus current GPU tech won't be able to push past 100FPS in AAA titles. If you are looking for an engrossing gaming experience, the Acer Z35P should at least make it to your top three choices.