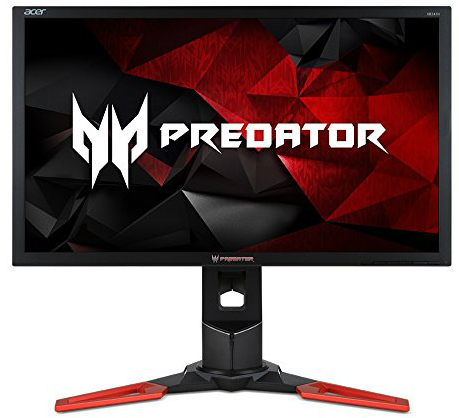 Acer Predator XB241H Review
MonitorNerds

Amazon Customers

Newegg Customers
Review of Acer XB241H
With the gaming industry now at its peak, high performing monitors have become as important as having a blazing fast graphics card. Having a perfectly working match of these two improves the gaming experience by eliminating issues such as screen tearing. Acer has produced such a monitor in the Acer Predator XB241H. With its 1920×1080 24 inch Twisted Nematic Film panel (TN film), it delivers a smooth gaming picture further enhanced by its built in G-Sync technology, 1ms response time and of course it's 144hz refresh rate which can also be overclocked to 180hz. Together with its aggressive design, this monitor evidently shares the predator pedigree with the other monitors in Acer's Predator line.
Technical Specifications of Acer XB241H
-24″ Full HD Widescreen with 1920 x 1080 resolution
-Aspect Ratio: 16:9
-Panel Type: Twisted Nematic Film (TN)
-Refresh Rate: 144Hz (Overclock to 180Hz) Using Display Port
-Response Time: 1ms
-G-Sync Enabled
-Color Supported: 16.7 Million Colors
-Brightness: 350 Nit
-Signal Inputs: 1 x Display Port & 1 x HDMI
-tilts from -5°- 35°, vertically adjust up to 5 inches and rotate up to 90°.
-LED Backlighting
-Power Consumption: 28W operational (Energy Star)
-Color: Black
-Dimensions: (Screen) 13.2" height x 22.3" width x 2.4" depth (With Stand) 21.34" height x 22.3" width x 10.55" depth
-Weight: (Screen) 8.66lbs (With Stand): 13.91lbs
Design and Features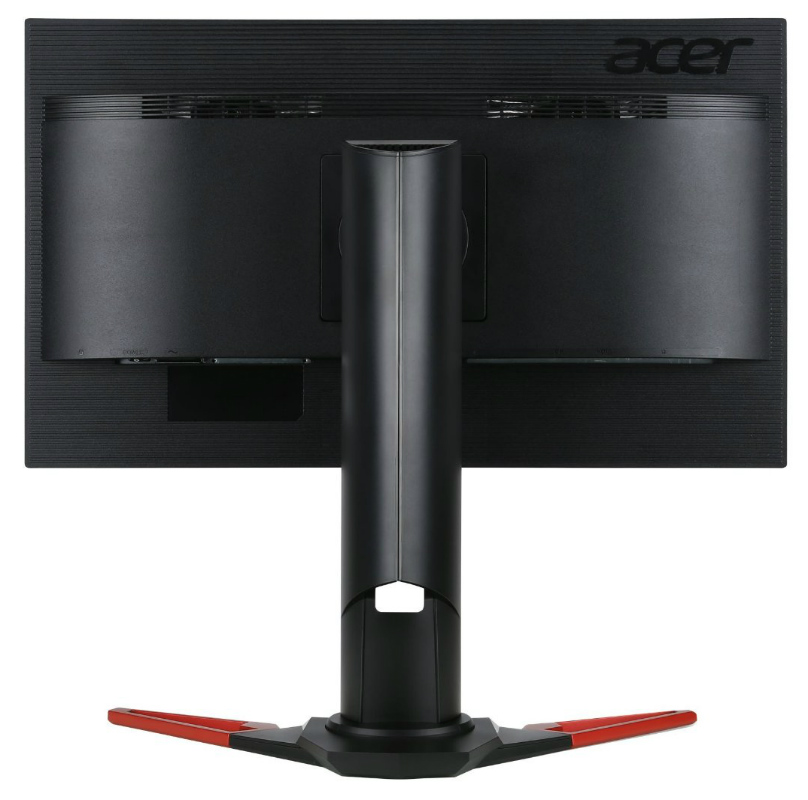 The XB241H is a sleek looking but aggressively themed gaming monitor. The 24-inch panel has a matte finish. It is encased in a matte black frame with a very minimal bezel with the predator logo embossed on the bottom trim. What I really like about this product is its V-shaped base with a red accent. It's very sturdy, and the design emphasizes on its Predator moniker. Attached to it is a heavy duty mount that can raise the screen up to 5.91" and swivel up to 30°. You can also tilt the screen 90° for portrait mode of viewing in case you might want to use this monitor in a triple monitor portrait configuration. Assembly is easy and requires minimal effort and minimal tool usage.
The XB241H comes with two video ports: one for HDMI and one for DisplayPort. It also comes with a built-in speaker and a port for a 2.5mm headphone jack. The speakers are not amazing, but their inclusion adds to the value nonetheless. Unfortunately, there are no USB ports for upstream and downstream or additional peripherals.
The five function buttons and the power button is on the lower right side of the bezel for toggling the monitor's functions. From there you can access the usual settings such as color, brightness, and contrast. It's also where you can set some of the XB241H's most important features such as overclocking the 144hz refresh rate to 180hz, setting and saving your game presets and setting other gaming features such as the crosshair pinpoint feature.
Performance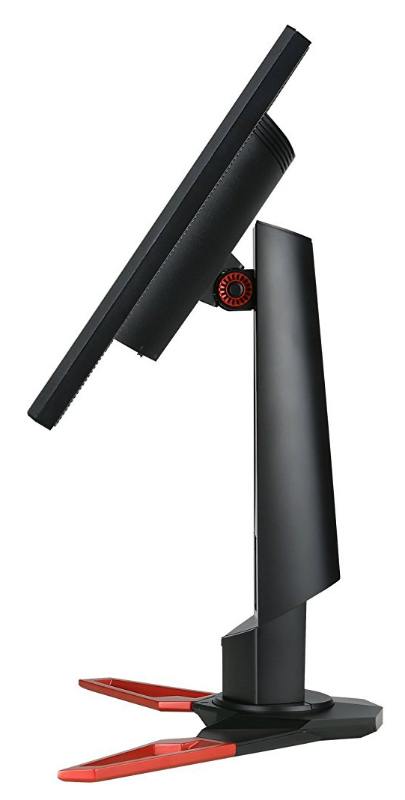 Besides the beauty of the XB241H, the monitor's performance does not disappoint. The monitor's 144hz to 180hz refresh rate feature coupled with its 1ms response rate produces vibrant and smooth pictures no matter how fast or intense the action is. The G-Sync feature also further enhances the monitor's amazingly fast refresh rate. It ensures that the high-speed monitor is well in sync with your GPU in your GeForce-powered PC. This guarantees you do not come across annoying issues such as screen tearing or smudging.
Although IPS panels today are much more ideal for better picture reproduction, the XB241H's TN panel still doesn't disappoint. It still produces better color quality than most monitors while keeping the response time down to 1ms. As long as you do not view from an awkward angle, the picture will be fine. The TN panel also helps keep the price affordable for a gaming monitor. At this point, speed is much more important compared to additional eye candy.
This monitor is a good choice for gamers because of its ability to reduce strain on your eyes for extended periods of time. The XB241H comes with EyeProtect flicker-less technology to help keep your eyes safe and less strained during extended use. These features together with the speed of the monitor will give you a smooth gaming experience without worry for your eye safety.
Finally, since the monitor is mainly focused for gamers who are going to use this for hours, the monitor is Energy Star certified and RoHS compliant. That means the monitor consumes low power and is mercury free. The LED backlighting helps in its low operating consumption of 28 watts. That is amazing for a high-performance monitor and will make this product friendlier on your electric bill and the environment.
Conclusion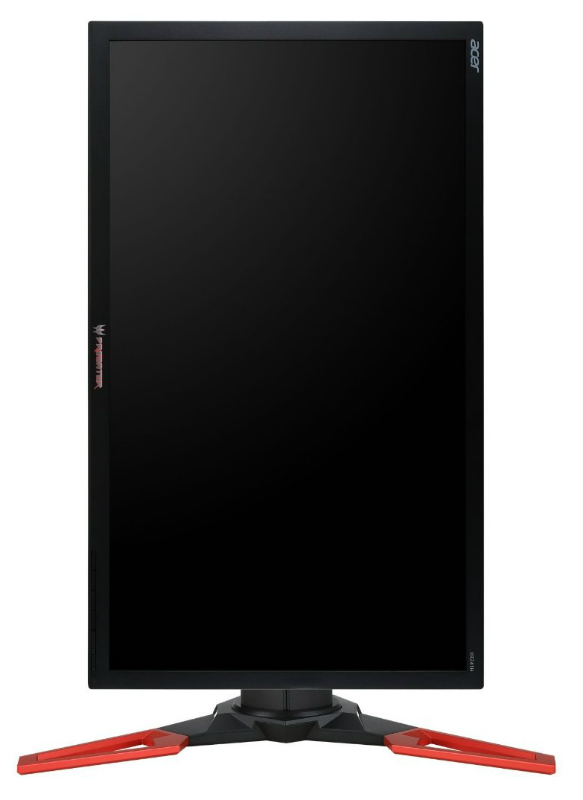 If you are serious about gaming and looking for a good budget friendly full HD monitor, the Acer XB241H is definitely recommended. It comes packed with amazing features such as an amazing refresh rate that can be overclocked to 180hz, G-Sync technology, and its 1ms response rate. Not to mention it has a sleek but aggressive design fitted with enough features to earn it the Predator name and lineage. The monitor is so good for its price; it has been used for several different E-sports events such as ESL and League of Legends world championships. For an affordable model, the Acer XB241H comes packed with features found in higher end models. This surely will not disappoint the hardcore gamer in you.