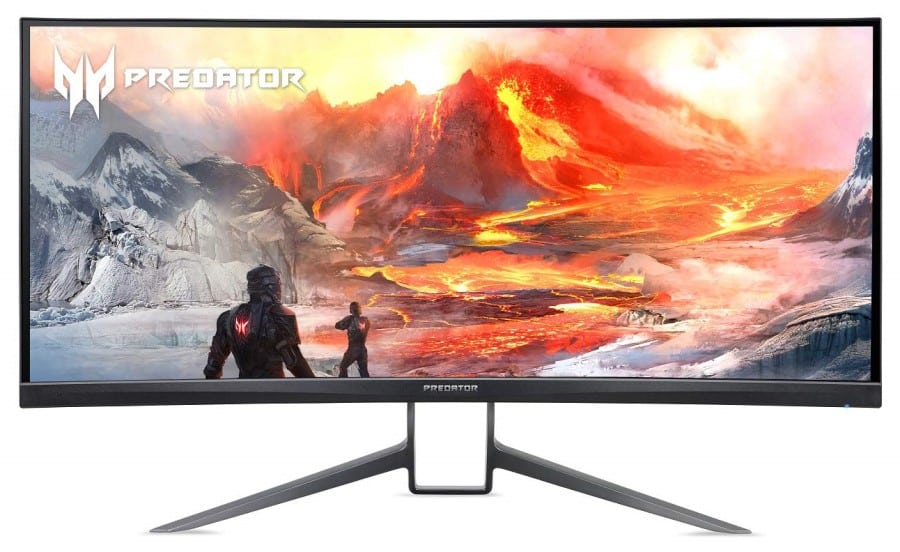 The Acer X35 is a stunning, 35-inch ultrawide that ticks all the right specifications for enthusiasts, such as its upgraded refresh rate and HDR1000 capabilities. This model along with its counterpart, the Asus PG35VQ, has been long-awaited since 2017 when it first surfaced at CES. The immediate downside with the Acer X35 is its jaw-dropping price tag, which we are wondering is going to be worth it.

Acer X35 Specifications
Screen Size: 34Inches
Resolution: 3440 x 1440 UW-QHD
Aspect Ratio: 21:9
Panel Technology: Vertical Alignment (VA)
Refresh Rate: 200 Hz
Response Time: 2 ms
Contrast Ratio: 2500:1 (Static)
Brightness: 500cd/m² (750 cd/m² – 1000 cd/m² HDR)
Built-in Speakers:Yes (2 x 4 Watts)
Stand: Height – Yes
Stand: Tilt – Yes
Stand: Swivel – Yes
Stand: Pivot – No
VESA Compatibility: Yes(100 x 100)
Connectivity: DisplayPort 1.4x 1, HDMI 0 x 1, USB 3.0 x 4, 3.5mm Audio Jacks
Dimensions (WxHxD): 79″ x 22.85″ x 12.17"
Weight: 29.52lbs

Design and Features
The Acer X35 is a more streamlined and less aggressive-looking alternative to the PG35VQ, although the two monitors share many characteristics. This model looks more subdued with its matte black and gunmetal combination, although the rear cover of the chassis sports the angular design schemes found on the latest Predator products. The expansive display is bezel-free on three sides, but panel borders are still present when the screen is in use.
One of the things you have to consider before buying the Acer X35 is its massive size which will consume most typical desks. The tr-pronged stand needs twelve inches of depth, while the cabinet needs almost three feet of horizontal space. The product weighs almost thirty pounds once assembled, so make sure you have a very durable surface for this monitor.
The Acer X35 is part of the brand's cream of the crop line, so they did not skimp in any way. The monitor is built sturdily, while every detail and sharp angle is chiseled to perfection. The device doesn't wobble, plus there are no uneven seams or creaking sounds when you try to adjust the display.
Another notable characteristic of the Acer X35 is its symmetrical layout of RGB LEDs which accentuate the vents. The feature provides ambient lighting for your setup, spreading out a gentle glow which bounces off a wall gently. The Transformers vibe is a nice touch, but many users won't be able to see this part most of the time.

Like most of the current HDR1000 monitors, the Acer X35 includes an internal system fan which will help cool the innards during full-throttle operation. It's not as loud as anyone would fear compared to your chassis fans, but its gentle hum is audible if your room is quiet enough. However, this shouldn't be an issue if you are gaming or watching movies since any speaker or headset will easily drown them out.
The Acer X35 still uses pressable buttons for presets, but most of its OSD functionality can be accessed with the multi-directional joystick. The layout is located at the bottom corner and accessible on the right from the front. We would have preferred a central position since the monitor is wider than most, especially since high-end monitors tend to get tweaked a lot.
We love the design of the Acer X35's stand which is more like a sculpture or centerpiece compared to the PG25VQ's gamer-centric take. The mechanism provides excellent stability with its tilt, swivel, and height adjustments. It's easy to get a perfect and comfortable angle, but you can also swap it out with a VESA mount if you desire.
The Acer X35 is a G-Sync HDR gaming monitor, so it comes with the requisite limitations of the technology. The I/O panel is limited to DisplayPort 1.4 and HDMI 2.0 for video inputs, but there is also a USB hub layout included. This characteristic is the biggest downside of G-Sync monitors when it comes to physical features, but it won't be an issue since you only need to connect your Nvidia-equipped PC to power it.
Display and Performance
The Acer X35 sports a 35-inch VA panel with a 3440 x 1440 resolution, 200 Hz refresh rate, and 2 ms response time. The backlight's typical brightness sits at 600 cd/m2, but the array can hit as much as 1000 cd/m2 for DisplayHDR 1000 capabilities. The contrast ratio averages at 2500:1, but HDR images can push it higher in some instances.
The crispness of the Acer X35's screen is comparable to a 27-inch 1440p display, giving users excellent balance between sharpness and visibility. The pixel pitch will lessen the need for Anti-Aliasing, but it won't necessitate the use of scaling for text or small objects. QHD is still the most practical if you want to combine a high resolution and refresh rate since 4K is still too challenging for many consumer GPUs.
The Acer X35 provides excellent color rendering, producing around 105% sRGB and 80% DCI-P3 coverage which boosts its vibrancy. Color accuracy for both sits below Delta 2.0, so miscolorations aside from the extra vibrancy shouldn't be an issue. The screen's color temperature sits very close to 6500K, resulting in a well-balanced overall image.
Contrast ratio is consistently between 2200:1 and 2500:1 for the most part, but the screen's FALD backlight can boost to as much as 7300:1 in SDR. The Acer X35 can also reach as high as 100,000:1 in HDR scenes, ensuring that you get the best image depth possible. Blacks are very inky and grayscale performance is nothing short of spectacular, and there are only a few models that can compare.
HDR-compatible games like Battlefield V look more gritty and convincing on the Acer X35, especially since even the tiniest detail is highlighted. Small objects such as rocks and rubble look almost life-like, while explosions or effects have a nice spread of glow on the screen.
Panel uniformity on the Acer X35 is at an excellent as well, with variances from the D65 standard staying well under DE 2.0. The backlight is also well-executed since there are no noticeable differences in brightness or any considerable light leaks. Of course, this could change between unit to unit, but the X35 surely went through a rigorous QC process which eliminates issues before it started shipping.
There is some noticeable blurring on the Acer X35 in fast-paced action even if it operates at a very high refresh rate. Trails and artifacts appear in some instances such as light to dark transitions, but they do not ruin the overall experience this screen can provide. The monitor includes an Overdrive setting in its OSD, but we recommend using it sparingly since anything above the normal level will induce overshoot.
There is no ULMB option for the Acer X35 since it will conflict with the FALD backlight and its individual zone control. The higher your FPS goes the less you will see blurring or ghosting, but frankly, its difficult to get 200 FPS at this resolution. This fact makes running the X35 more expensive since you will need top-end cards like the RTX 2080 Ti or RTX Titan to get decent framerates.
The Acer X35 is a G-Sync Ultimate gaming monitor which means it will provide a buttery-smooth, full HDR experience. However, as mentioned, you will need the green team's top-end cards in Nvlink to maximize this beast's screen output. Input lag is excellent at 5ms, so there are no delays from your mouse and keyboard to the display.
Thoughts on the Acer X35
The Acer X35 is a stunning piece of kit that will push the boundaries of your gaming in both visual experience and responsiveness. The product is very expensive, but its refinements in both design and performance make up for the hefty premium. Its 4K 144Hz cousin, the X27, is incredibly sharp and accurate, but the cinematic expansiveness of the ultrawide screen is a much more convincing treat.
We have very few gripes with the Acer X35 when it comes to its capabilities and characteristics. However, the two and a half grand presents a wall that many will find difficult to scale, especially since you will need an equally high-end PC to push this monster to its limits. The X35 is one of the best gaming monitors you can buy right now, but the cost isn't something many will be able to live with.
About the Author: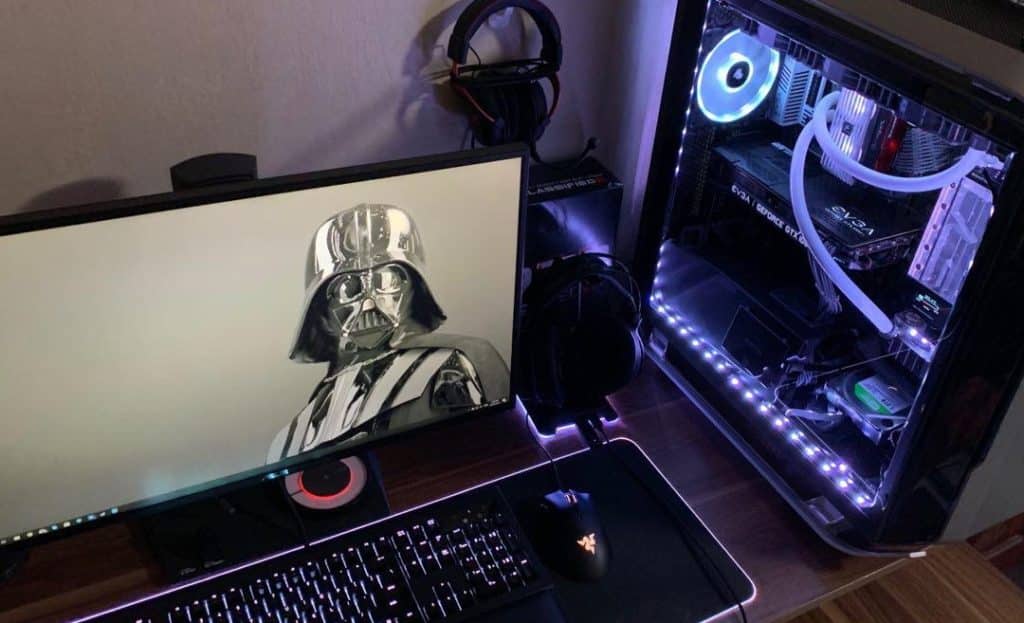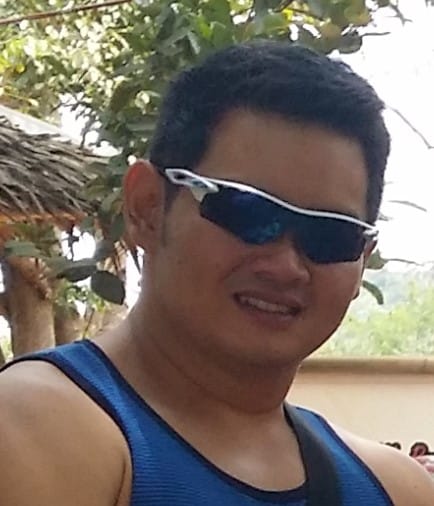 Paolo is a gaming veteran since the golden days of Doom and Warcraft and has been building gaming systems for family, friends, and colleagues since his junior high years. High-performance monitors are one of his fixations and he believes that it's every citizen's right to enjoy one. He has gone through several pieces of hardware in pursuit of every bit of performance gain, much to the dismay of his wallet. He now works with Monitornerds to scrutinize the latest gear to create reviews which accentuate the seldom explained aspects of a PC monitor.