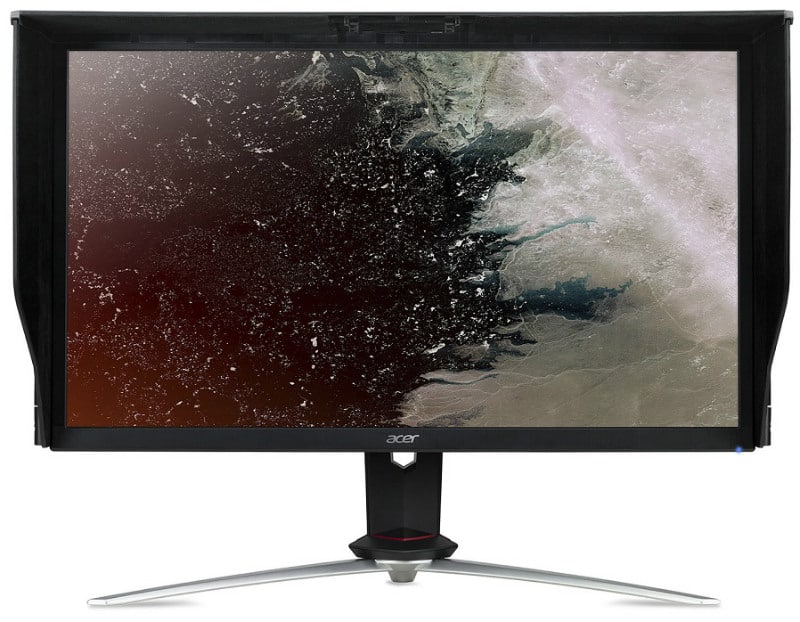 The Acer XB273K offers a simplified 4K 144Hz IPS screen that sheds the premium features of the Acer X27 to make this new offering easier to own. This variant drops the 384-zone FALD of the X27 and goes with VESA's HDR400 instead to keep it simple and affordable. The Acer XB273K is the new and upcoming 4K 144Hz gaming monitor for the middle class, but what else can it offer besides a friendlier price tag?
Acer XB273K Specifications
Screen Size: 27 Inches
Resolution: 3840 x 2160 4K UHD
Aspect Ratio: 16:9
Panel Technology: In-Plane Switching (IPS)
Refresh Rate: 144Hz
Response Time: 4ms
Contrast Ratio:1000:1
Brightness: 400cd/m²
Stand: Height – Yes
Stand: Tilt – Yes
Stand: Swivel – Yes
VESA Compatibility: Yes
Connectivity DisplayPort 1.4 x 1, HDMI 2.0 x 1, USB 3.0 x 2

Design and Features
The Acer XB273K features a redesigned aesthetic that doesn't stray too far from the Predator lineage of its predecessors. The monitor is mostly finished in matte black with a ZeroFrame bezel design made possible through a dual-stage frame. The monitor also ships with an anti-glare hood which presumably helps to preserve the screen's colors and dynamic range.
Even if the Acer XB273K is slated to fit into a lower price bracket, most of the necessary features are still there. The monitor's OSD is handled by a JOG or joystick button at the bottom right of the rear along with four hotkeys. There is also a USB hub at the opposite side and at the rear which should be perfect for your thumb drives and peripherals.
The I/O layout for the Acer XB273K isn't specified as of this time, but we're certain that it will include DisplayPort 1.4 which is required for 4K 144Hz operation. HDMI could be present as well, but if the model still uses the older G-Sync module, it will only have the 1.4 standard which is useless in this case. There is a panel cover in the initial image which hides the ports for aesthetics while doubling as a cable management solution for the product.
One of the most striking changes for the Acer XB273K is the included "Ergo Stand" whose design is unique from the previous models. The mechanism now has a broad upright which is almost similar to Asus' designs, and a three-footed base finished in silver. This part offers tilt, swivel, pivot, and height adjustments while also being removable to reveal VESA 100 x 100 holes.
Display and Performance
The Acer XB273K boasts a 27-inch AHVA or IPS panel from AU Optronics with a 3840 x 2160 resolution, 144Hz refresh rate, and 4ms response time. The screen is supported with a 1000:1 contrast ratio and a 400cd/m2 WLED backlight. What sets this model apart from the X27 is that it doesn't include a specialized 1000cd/m2 FALD unit for full HDR, dropping its compatibility to HDR400 which is the bare minimum.
This means that the Acer XB273K will still respond to HDR10 signals or content but the effects will not be as profound as those on an HDR1000 offering. Despite that, the XB273K still offers pretty decent imaging qualities with its 90% coverage of the DCI-P3 gamut. That representation is still substantial when compared to the usual IPS monitors that sometimes struggle with just a full sRGB output.
Details regarding the Acer XB273K's functions are still missing at this time, but we do know that this model will include an Acer VisionCare suite. It's worth mentioning that this model is flicker-free and will ship with safety solutions such as Low Blue Light modes in the suite. We are also expecting a refined OSD that features six-axis color temps and gamma controls just like on the previous Predator models.
The Acer XB273K is a G-Sync gaming monitor which means it can adjust its refresh rate and synchronize it with your framerates. As you've known, you need a Nvidia GPU to power this solution and enable tear and stutter-free gaming without additional latency. We're not sure yet if the product includes a G-Sync HDR package, but we know that the implementation in this model will work at 30Hz to the full 144Hz of the screen.
Thoughts on the Acer XB273K
The Acer XB273K is setting up to be an even better-selling model than the two-grand Acer X27 simply because a lot more people can afford it. The device features all the essentials such as a 4K 144Hz output, G-Sync, and a presumably excellent performance in image quality and responsiveness. Specialized treatments such as Quantum Dot and local dimming arrays are not present, but the XB273K is still capable of a lighter HDR400 output.
The Acer XB273K is scheduled to release by Q4 of this year although we all know that 4K 144Hz monitors are still very new and quite prone to massive delays. The product will launch at an initial price of $1299 which is still a lot by gaming monitor standards. Pricing will drop once supply and demand stabilize like with the brand's 2K Predator monitors.