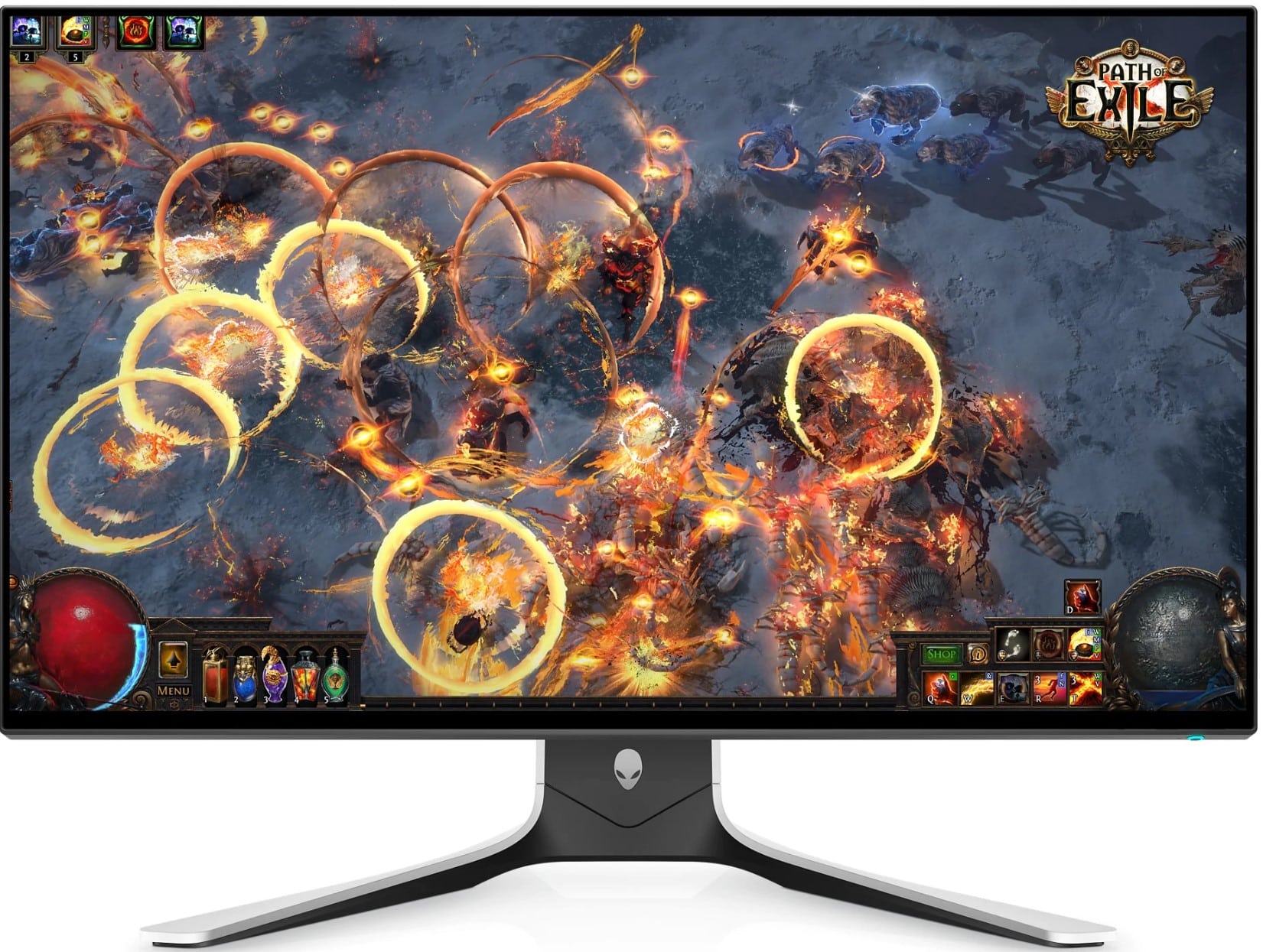 The Alienware AW2721D from Dell combines both killer looks and performance in a premium package that will elevate your gaming setup and experience. This model is the next step in Dell's exclusive gaming line up with its 240Hz 1440p screen, but it features the same attractive aesthetic that everybody loves. The Alienware AW2721D offers impressive specs and gorgeous looks, but its actual performance numbers if it can convince you that it is your next upgrade.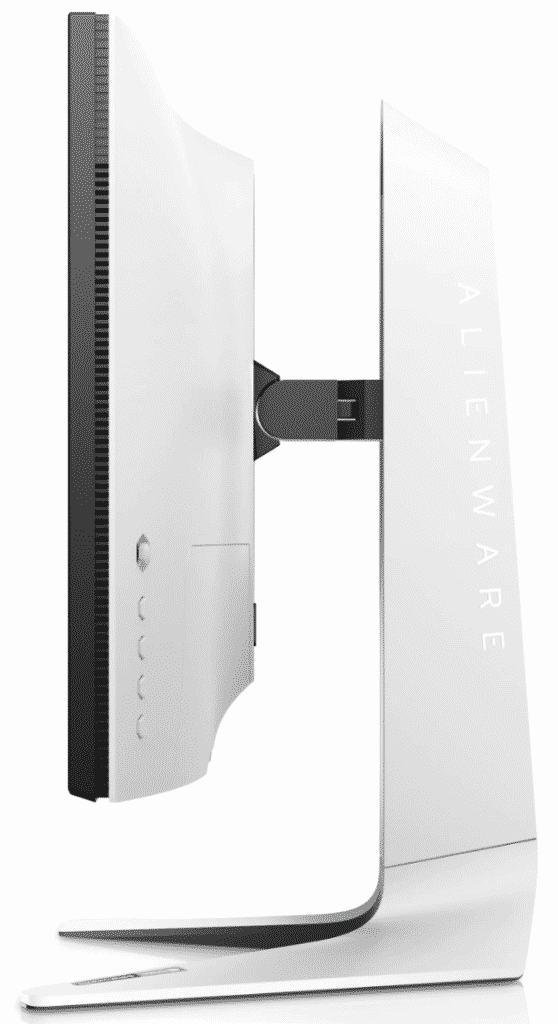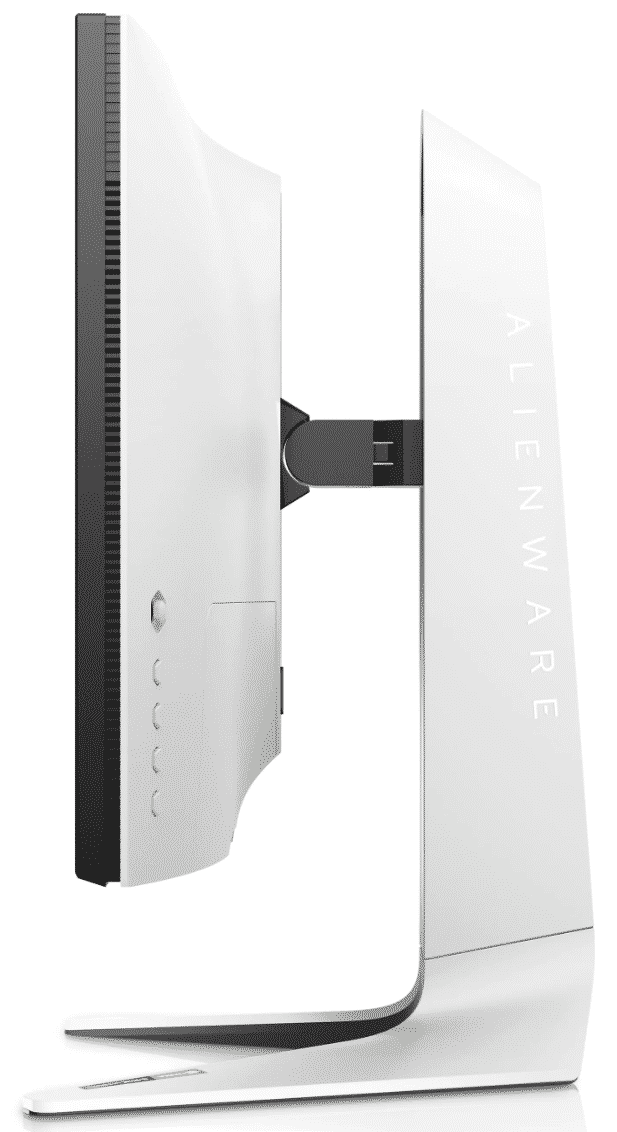 Alienware AW2721D Specifications
Screen Size: 27 Inches
Resolution: 2560 x 1440 WQHD
Aspect Ratio: 16:9
Panel Technology: In-Plane Switching (Fast IPS)
Refresh Rate: 240Hz
Response Time: 1ms
Contrast Ratio:1000:1
Brightness: 450 cd/m² (600 cd/m² Peak)
Built-in Speakers: No
Stand: Height – Yes
Stand: Tilt – Yes
Stand: Swivel – Yes
Stand: Pivot – Yes
VESA Compatibility: Yes 100 x 100
Connectivity: DisplayPort 1.4x 1, HDMI 2.0 x 2, USB 3.2 x 5, 3.5mm x 2
Dimensions With Stand(WxHxD): 23.93″ x 17.45″ x 9.92″
Weight: 24.03 lbs

Design and Features
The Alienware AW2721D looks identical to the gaming brand's recent releases, but so far, this specific variant is only available in Lunar Light. The front has a matte black finish, but the shell and the rest of the monitor are finished in an attractive matte white that matches its RGB lighting perfectly. The display is bezel-free, but inner borders are still present even if they are already very thin and almost unnoticeable.
The Alienware AW2721D is an upsized monitor, but we like that it is not oversized or overbearing on your desk like its closest competitors. The device manages to stay under ten inches deep while it's base gives you some room in between for small peripherals like stream decks. The cabinet alone is only a little over 13 pounds, but the device weighs 24 pounds when it's fully assembled.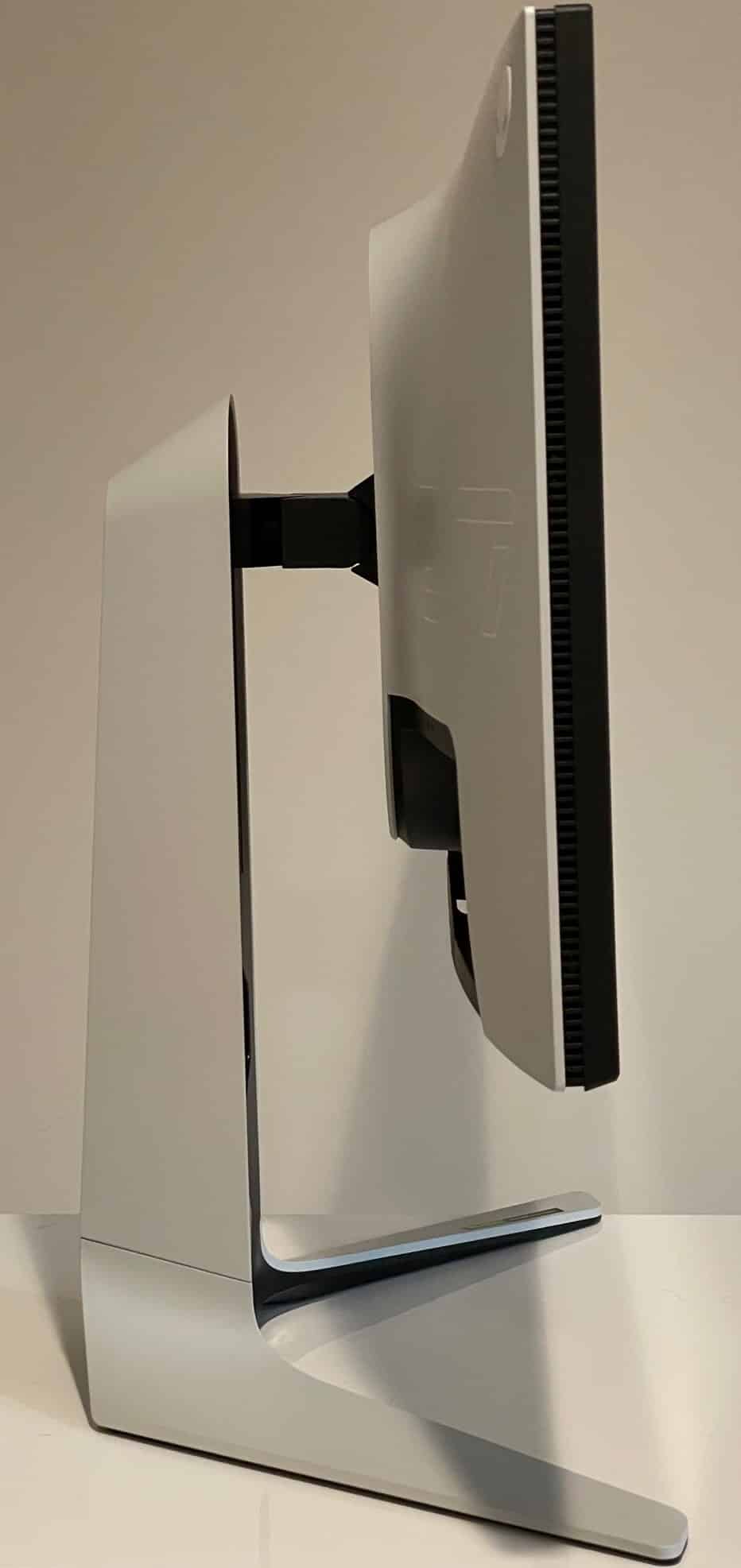 Build quality for the Alienware AW2721D is fantastic even if it's made of a lot of plastic bits and panels. The monitor feels solid and sturdy, and there are no creaking sounds, wobbling, or any sign of structural weaknesses on all of its parts. It's pristine from the box, and you'd instantly know that it's a premium model as soon as you unravel its packaging.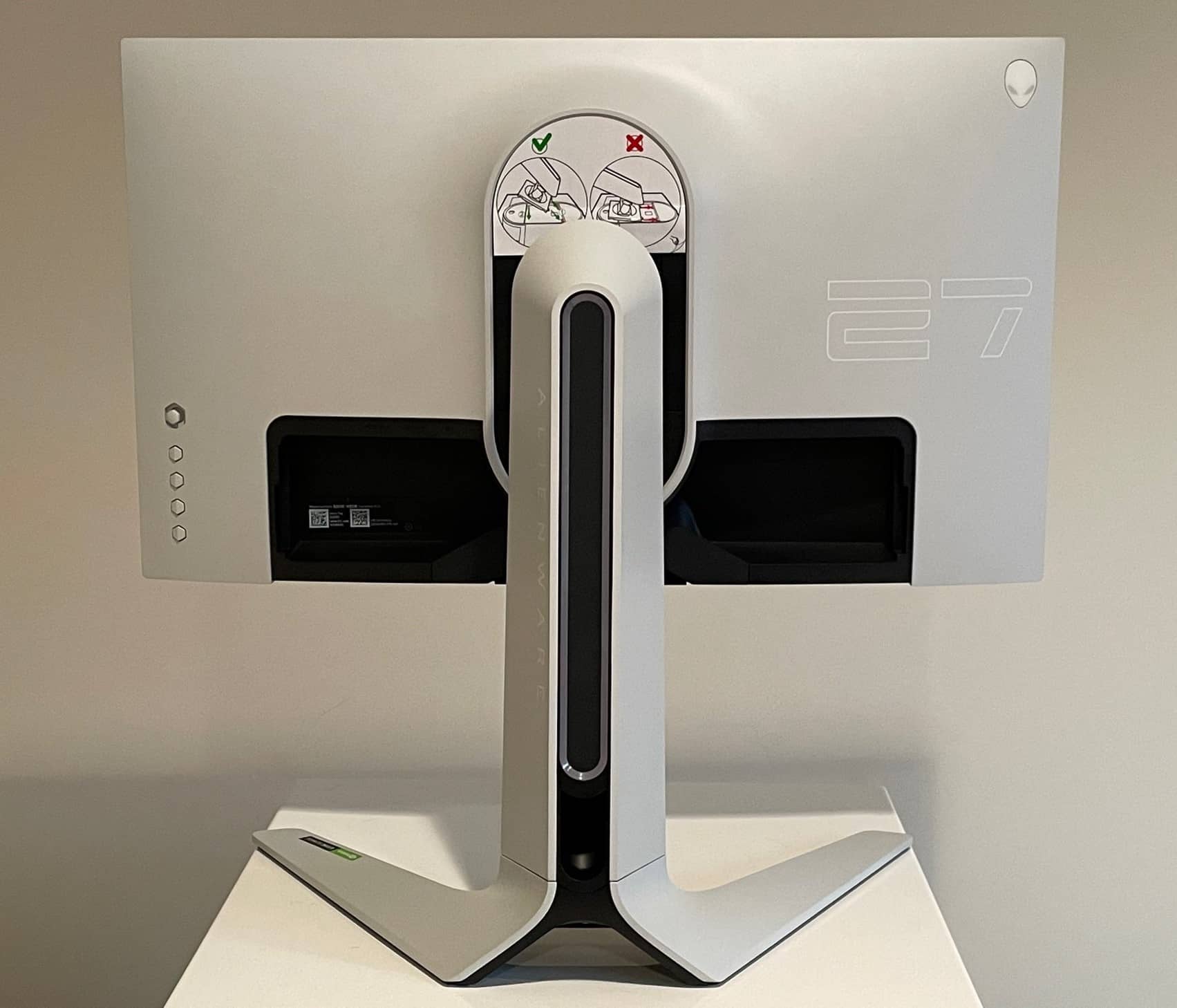 The Alienware AW2721D's control layout is accessible via an OSD joystick that's accompanied by four hotkeys. It is easy to use and reach, so adjusting something as simple as the backlight or switching between presets should be a breeze. The monitor has a dedicated power button on the bottom bezel, so it is impossible to accidentally power it down while trying to tweak a setting.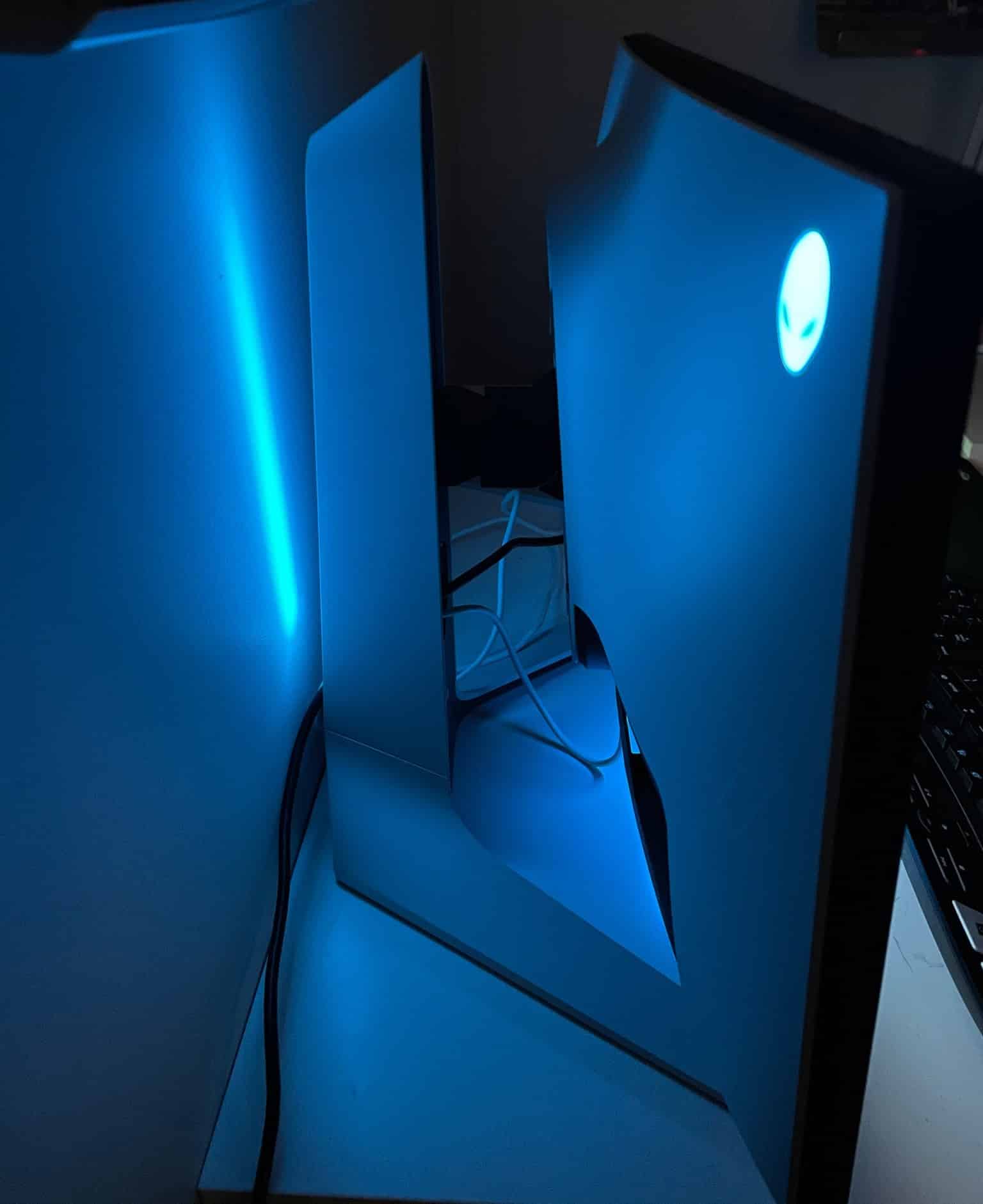 Another distinct feature of the Alienware AW2721D is its AlienFX lighting feature that's spread out over four different zones. The spine of the stand has a continuous LED strip, but the alien head logo, power button, and the ambient light at the bottom bezel can be customized. Changing color and schemes is doable with the AlienFX app, but the bad news is it doesn't work with existing ecosystems like Aura Sync.
The stand included with the Alienware AW2721D has many tricks up its sleeve, but it is essentially great since it's fully adjustable. You can tilt, swivel, pivot, and adjust the height of the screen, and it even has built-in markers so you can remember a favored setting and go back to it. You can remove it in favor of a VESA stand, but we think it is unnecessary unless you need to save space.

This part of the Alienware AW2721D also has magnetic panel covers and cable guides to help you manage the mess its connections will make on your desk. The ports are cleverly concealed, so you can maintain a neat and minimalist aesthetic that matches the monitor well. its LED strip is also bright enough to cast a bias light, provided that you place the monitor's back close to a wall. The Alienware AW2721D has plenty of connectivity options even if it's a G-Sync Ultimate gaming monitor.
The concealed panel at the back includes DisplayPort 1.4, two HDMI 2.0 slots, and a total of five USB 3.2 Gen1 ports for convenience. Two of those USB slots are located in a hub under the bottom bezel, along with the headphone jack which is easier to reach. Take note that only the DP slot supports the full 240Hz refresh rate while the two HDMI slots can only do 144Hz.
You will also find an ambient lighting sensor on the Alienware AW2721D which helps it automatically adjust the backlight according to your environment's lighting. It's quite useful for lengthy work sessions where a lot of document processing or reading are involved. However, we recommend turning it off for gaming purposes since it can conflict with your imaging settings in some instances. 
The Alienware AW2721D also doesn't have speakers, but that's understandable since gamers will often use headsets anyway. We do think, however, that the monitor should at least include an upgraded pair since its price is a bit steep compared to its competitors.
Display and Performance
The Alienware AW2721D boasts a 27-inch IPS panel with a 2560 x 1440 resolution, a 240Hz refresh rate, and a 1ms response time. The backlight has a typical brightness of 450 cd/m2 and a peak of 600 cd/m2, while the contrast ratio is listed at 1000:1 like most IPS panels. this model is capable of HDR 600 performance so it can provide a substantially better HDR experience.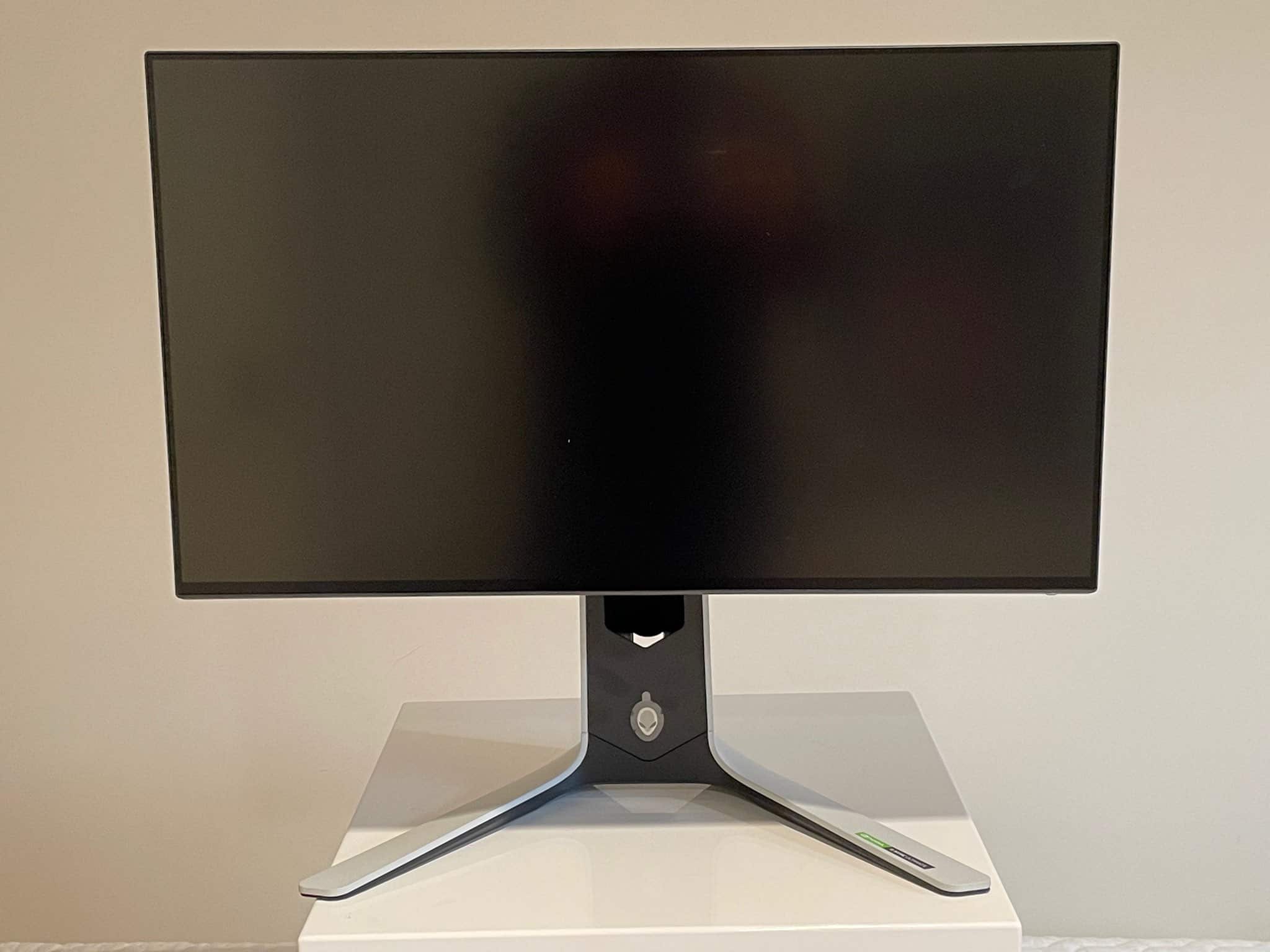 The Alienware AW2721D offers the perfect balance between visibility and sharpness with its size and resolution. Games and images will look crisper, but text won't be microscopic like they are with 4K monitors. However, QHD ups the ante compared to 1080p when it comes to GPU requirements, so need no less than the flagship cards if you want to consistently max out the screen at this resolution.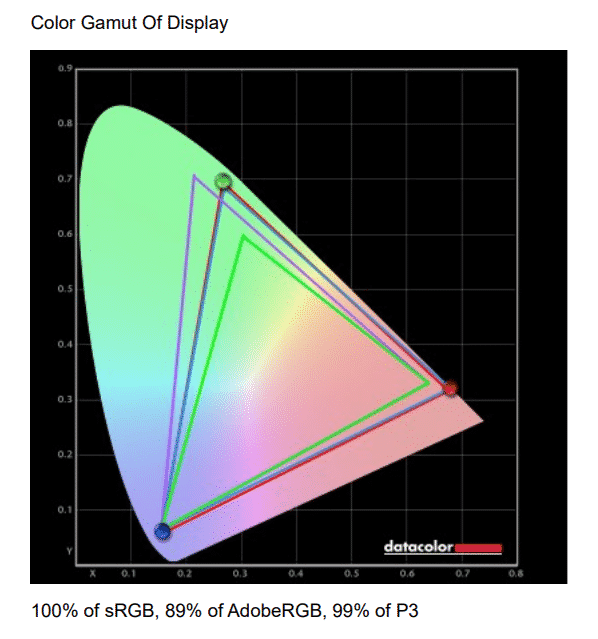 Color performance is fantastic for the Alienware AW2721D, starting with its 130% sRGB, 89% Adobe RGB, and a whopping 99% DCI-P3. Default accuracy is equally superb since the deltaE average sits at only 1.18 out of the box with the monitor's settings untouched. Gamma also almost perfectly tracks 2.2, so you would know that Dell did an excellent job in tuning this monster before it reaches retailers.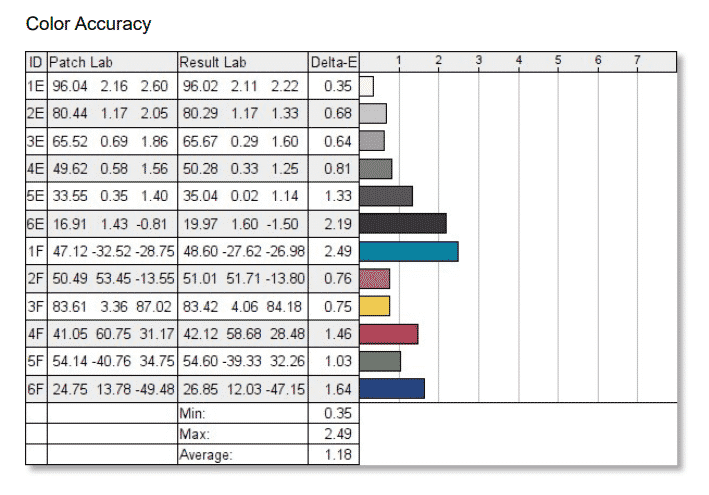 Calibrating the Alienware AW2721D with a colorimeter can lower the dE average down to 0.43 which is already fantastic for prosumer use. However, we don't think it's necessary to buy a colorimeter and calibrate it since it's already brilliant by default. Designers and creators will usually have the gadget on the side, but it is impractical for gamers to buy it just to get a bit more out of the screen.
The Alienware AW2721D can get extra bright, reaching as much as 482 cd/m2 in SDR and around 620 cd/m2 in SDR. The contrast ratio hits around 1250:1 and around 6000:1 when the monitor's local dimming kicks in. It's not as good as OLED panels or HDR 1000 monitors, but noticeable improvements in details and lighting are present.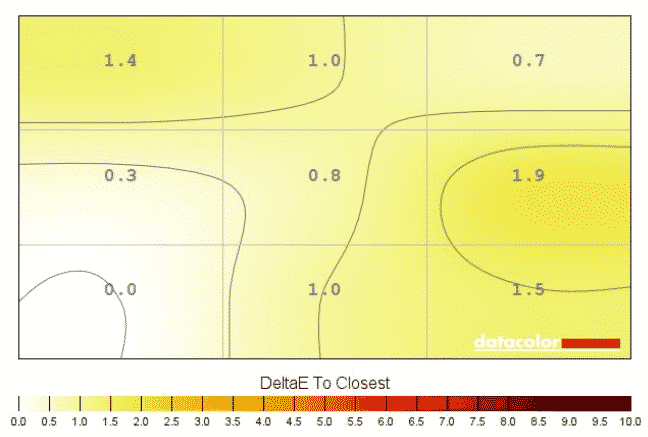 Panel uniformity for the Alienware AW2721D sample is excellent since there are no considerable clouding or discoloration issues on the screen's quadrants. The panel looked dimmer at the bottom area at 100% backlight, but it is not noticeable at more reasonable levels. Take note that this aspect varies wildly between every unit due to tolerances and the nature of IPS panels, so there are better and worse specimens out there.
The Alienware AW2721D's pixel response time is fantastic since it's practically blur-free at 240Hz and 144Hz. There is some minor persistence in contrasting transitions, but the monitor's overdrive is capable of making even more unnoticeable. The brand's True 1ms response time claim isn't particularly accurate, but it's indicative of just how fast the monitor is for competitive gaming.
The Alienware AW2721D is a G-Sync Ultimate gaming monitor, so it isn't compatible with FreeSync for Nvidia GPUs. You are going to need the top 2 cards from the brand for this monitor if you want to maximize its refresh rate, especially in demanding titles. Input lag sits at more or less 2ms at 240Hz, making it one of the fastest gaming monitors around.
Thoughts on the Alienware AW2721D
The Alienware AW2721D is a fantastic high-end gaming monitor that offers the best performance in its category. The fast IPS panel offers fantastic color coverage and superb accuracy out of the box, ensuring that games and images will always look their best. The monitor's HDR performance isn't the best we've seen, but it's a noticeable improvement compared to the lower-rated HDR 400 monitors in the market, including the similarly-equipped Samsung Odyssey G7.
It's difficult to find a fault on the Alienware AW2721D, but if there was one, it would have to be its high price tag of $1099.99. It is understandable since not a lot of models can compare, but we also know that it will drop to a more competitive point once supply and demand normalize. However, don't hesitate to upgrade to the Alienware AW2721D since it's easily one of the best gaming monitors you can buy for the new year.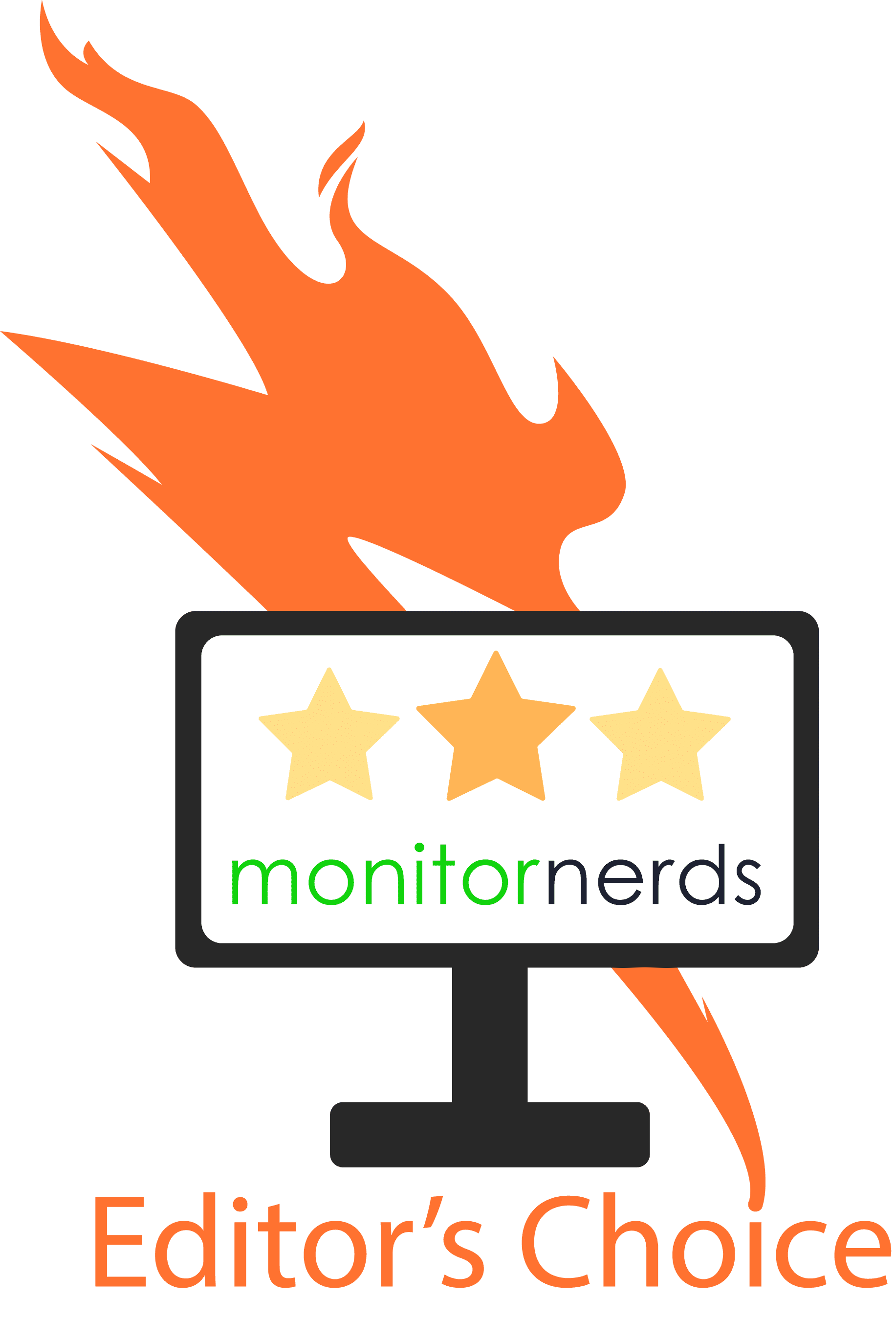 Pros:
Wide Gamut Coverage and High Contrast
Excellent Factory Calibration
Exquisite Design with RGB
Super HDR Performance
Fast Pixel Responsiveness and Very Low Input Lag
Cons:
Expensive
No Speakers
G-Sync Exclusive
 -About the Author: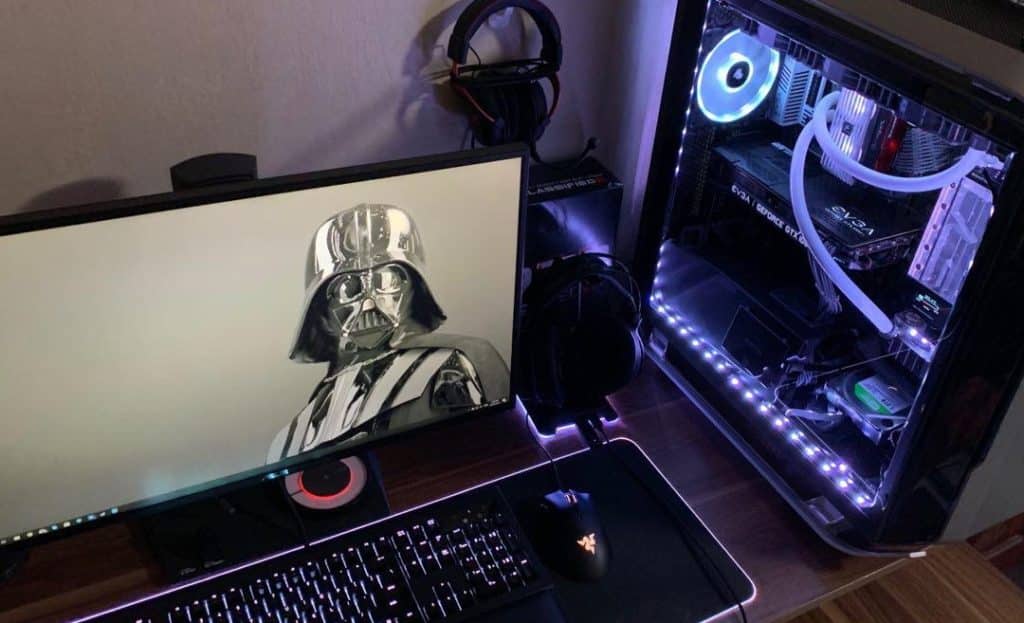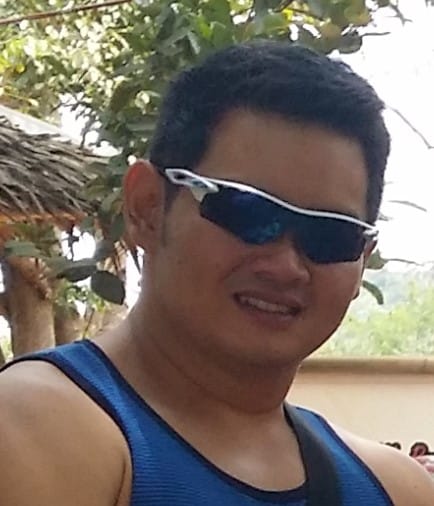 Paolo is a gaming veteran since the golden days of Doom and Warcraft and has been building gaming systems for family, friends, and colleagues since his junior high years. High-performance monitors are one of his fixations and he believes that it's every citizen's right to enjoy one. He has gone through several pieces of hardware in pursuit of every bit of performance gain, much to the dismay of his wallet. He now works with Monitornerds to scrutinize the latest gear to create reviews that accentuate the seldom explained aspects of a PC monitor.