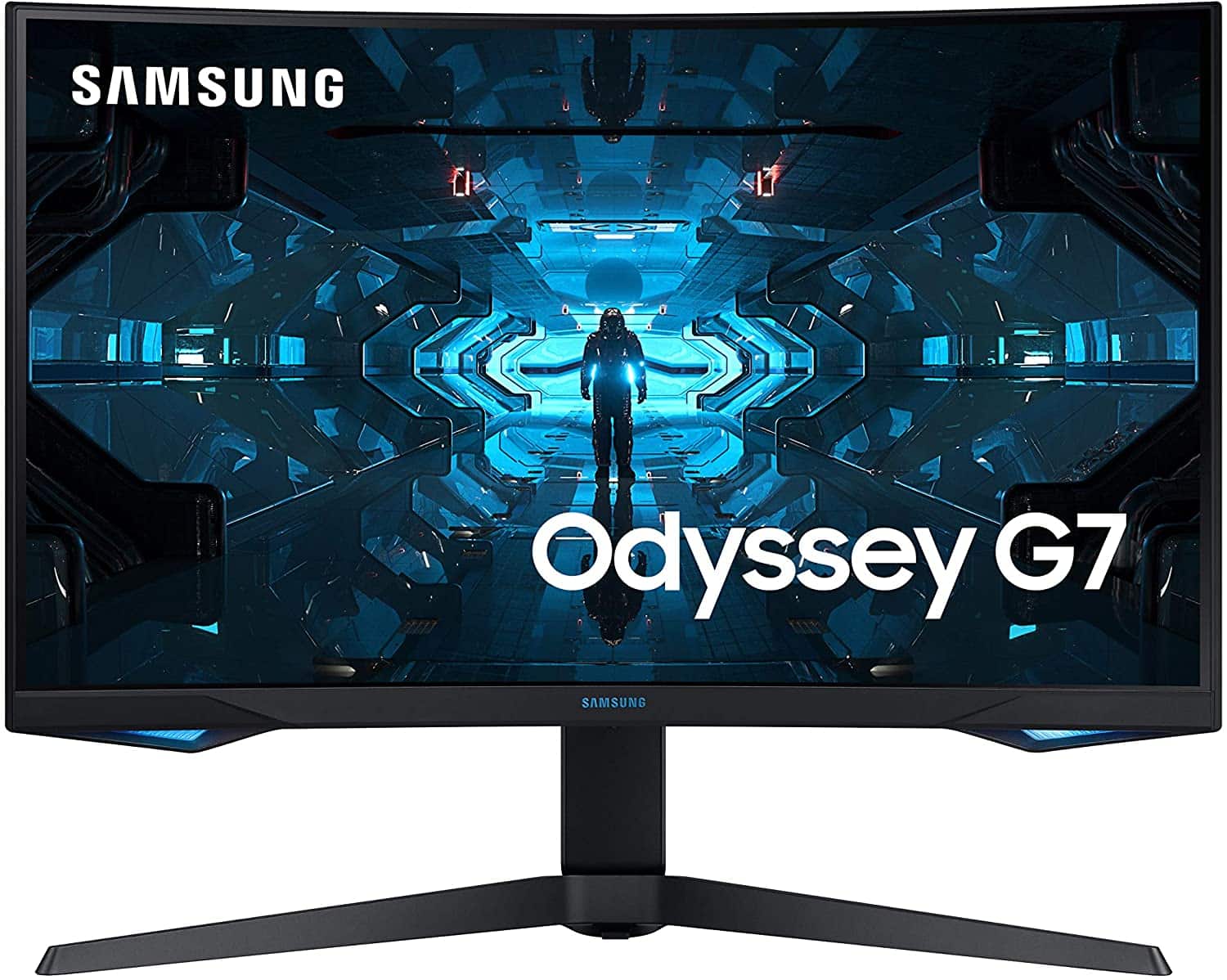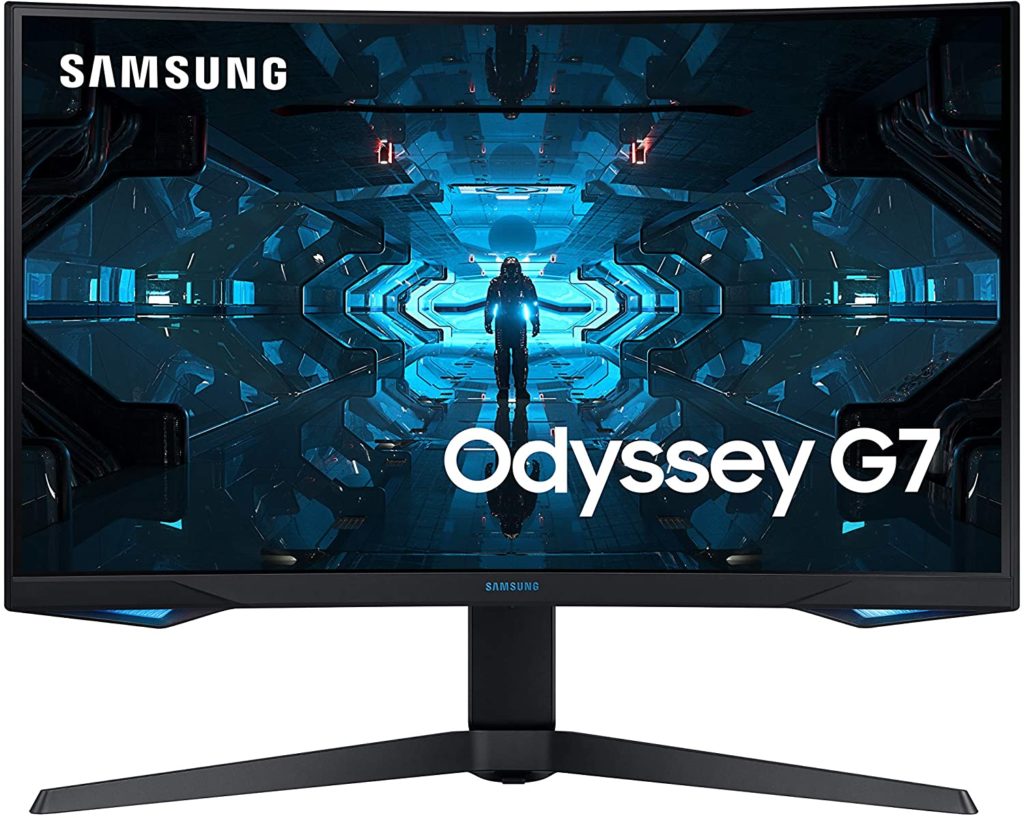 The Samsung LC27G75T is the smaller, yet similarly capable version of the LC32G75T we reviewed early that offers top-end gaming performance. This series of gaming monitors also offers steep, 1000r curvatures and Quantum Dot technology which aim to improve on their immersive capabilities. The Samsung LC27G75T is one of the most anticipated monitors this year, so let's see if it's a better option than its 32-inch sibling.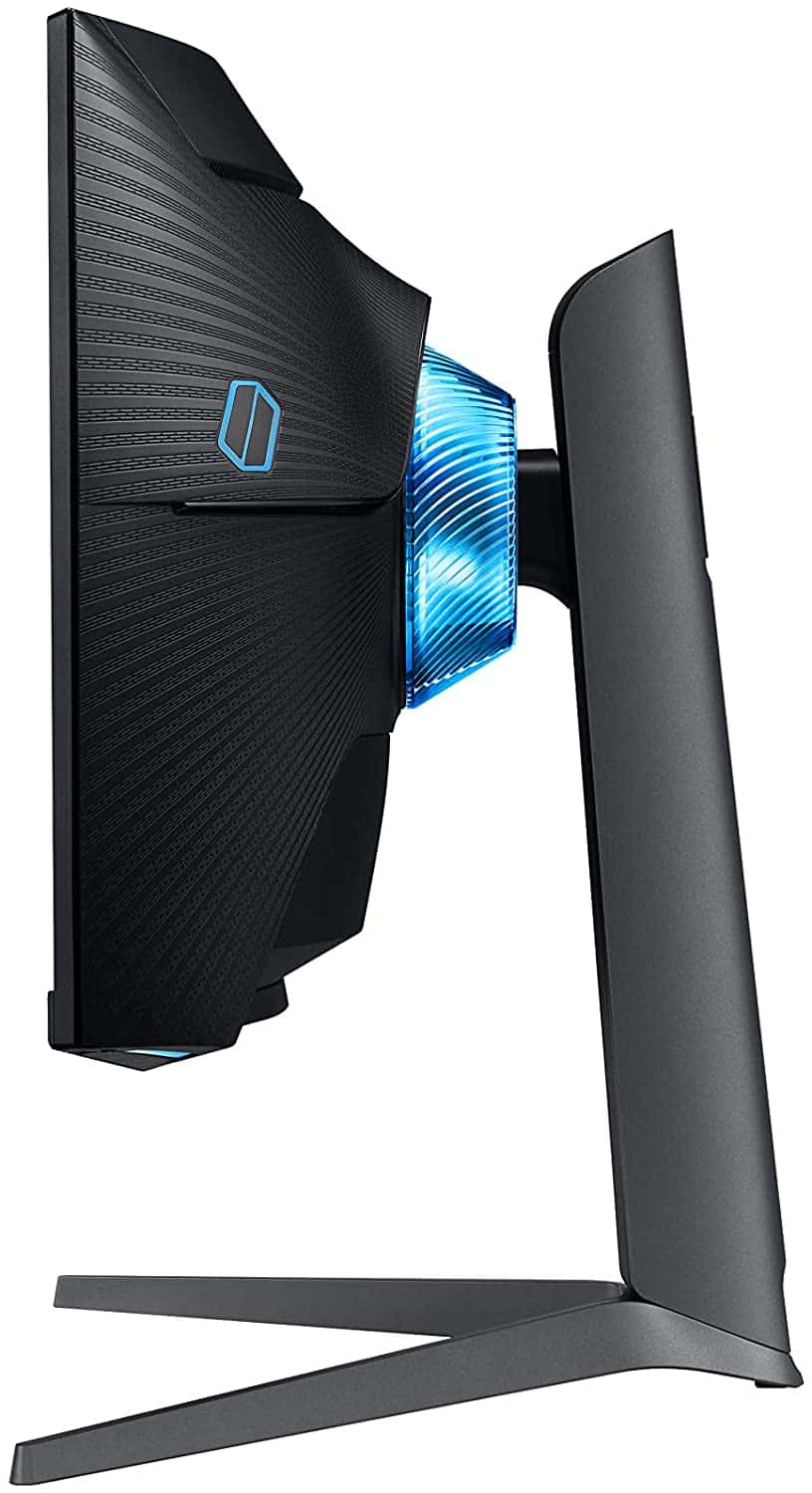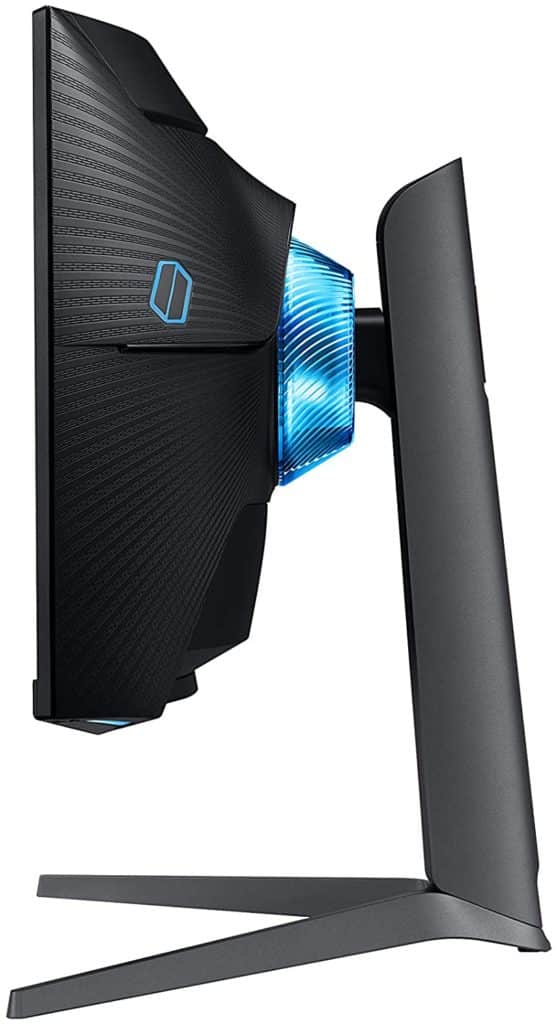 Samsung LC27G75T Specifications
Screen Size: 27 Inches
Resolution: 2560 x 1440 WQHD
Aspect Ratio: 16:9
Panel Technology: Vertical Alignment (VA)
Refresh Rate: 240Hz
Response Time: 1ms MPRT
Contrast Ratio: 2500:1
Brightness: 350 cd/m²
Built-in Speakers: No
Stand: Height – Yes
Stand: Tilt – Yes
Stand: Swivel – Yes
Stand: Pivot – Yes
VESA Compatibility: Yes 100 x 100
Connectivity: DisplayPort 1.4x 2, HDMI 2.0 x 1, USB 3.0 x 2, 3.5mm x 1
Dimensions With Stand(WxHxD): 24.20″ x 17.95″ x 12.04″
Weight: 15.87 lbs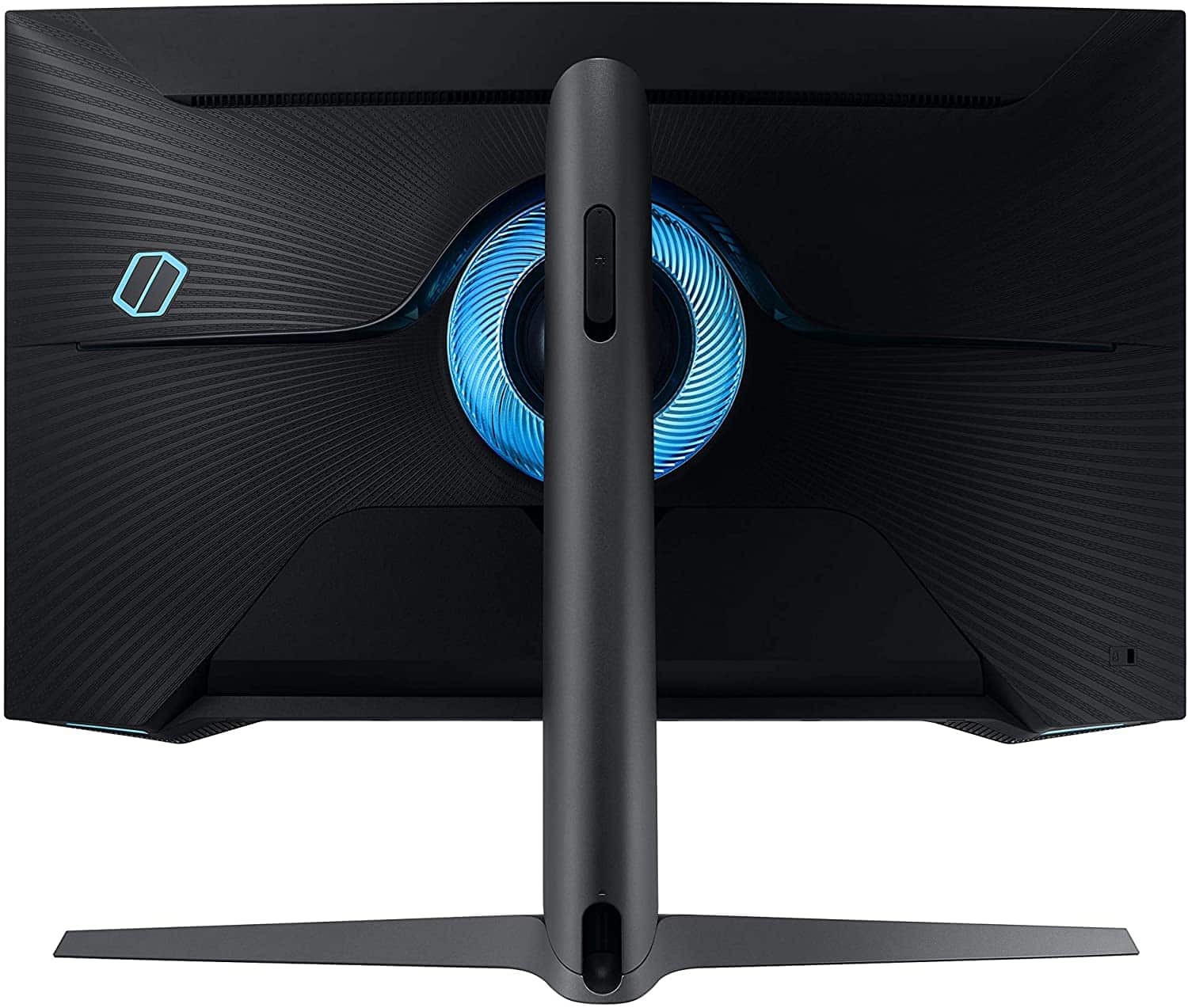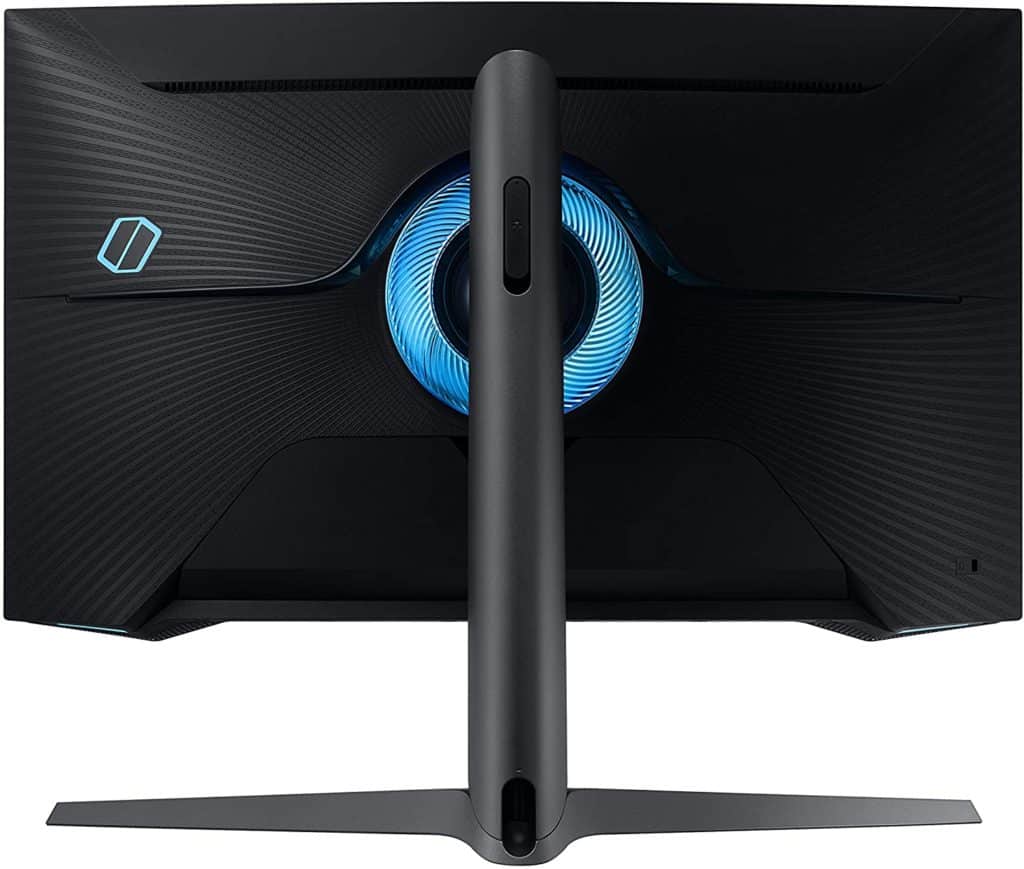 Design and Features
We seriously dig the Samsung LC27G75T's new look which conveys its gamer-centric nature without looking too overbearing. The chassis' matte black exterior is timeless, while the combed carbon-fiber texture at the back gives it an avante garde appeal. The display is bezel-free on three sides, so you get to maximize what the screen offers without distractions.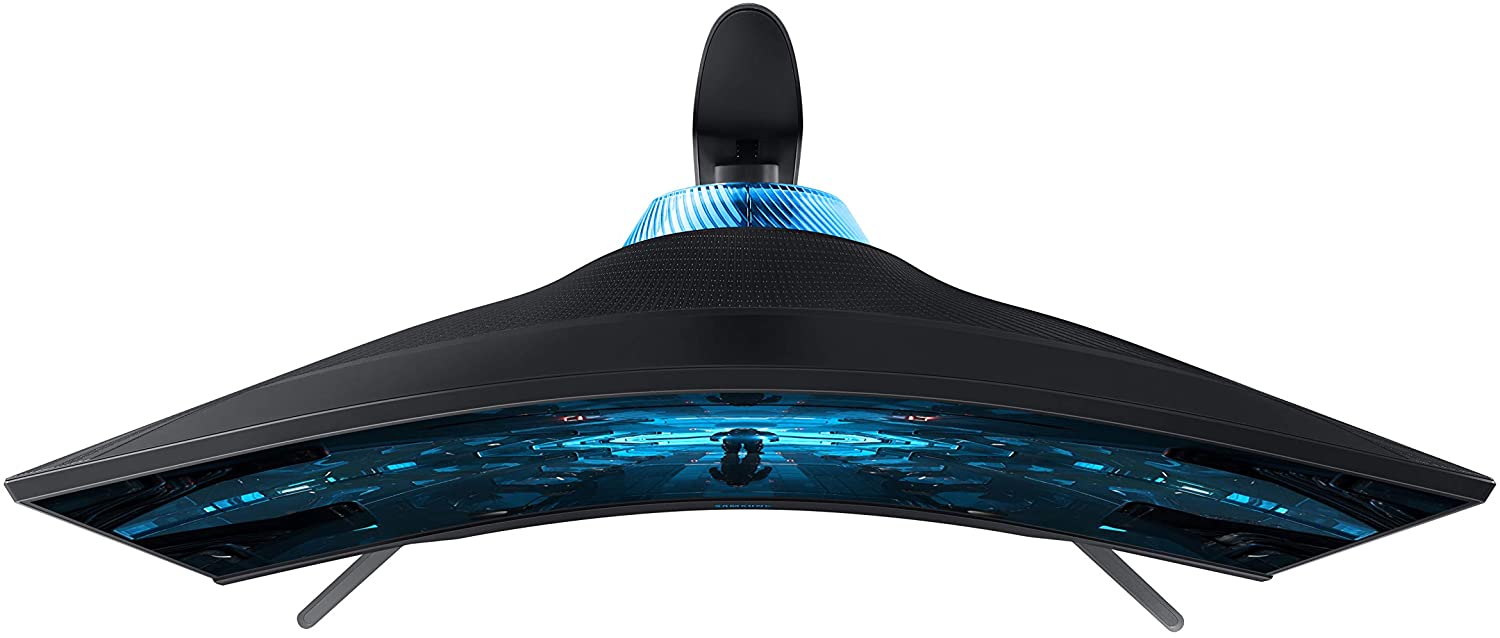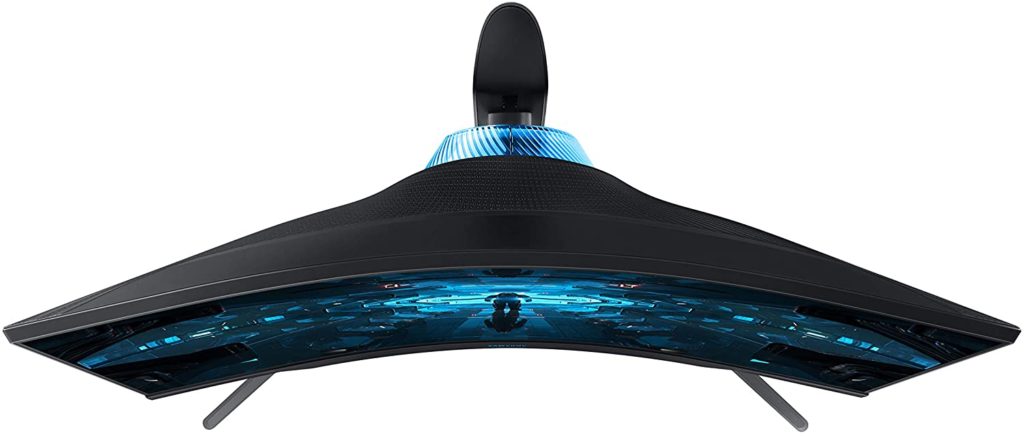 The Samsung LC27G75T doesn't feel too big by our standards, but it will still be a sizable upgrade for those who are coming from 24-inch models. That isn't necessarily bad since you get more screen real estate, but the base needs a foot of depth in total from your desk. The monitor isn't very heavy, so glass surfaces should be able to handle it safely.
Build quality for the Samsung LC27G75T is solid since there is no hint of weakness in any of its parts. The plastics used feel sturdy, and there are no cosmetic defects such as uneven gaps on any of its corners. The stand does a good job of keeping the chunky cabinet upright, so it doesn't wobble with the slightest touch.
The Samsung LC27G75T has an RGB feature called Infinity Core Lighting located at the circular vent at the center of the rear panel, along with a few smaller lights on the bottom bezel. The bad news is that they aren't bright enough to cast a bias lighting glow unless you turn off your room's light. However, we think it's still an attractive add-on since it adds a bit of flexibility which allows you to match the product to your themed setup.
We also love that the Samsung LC27G75T uses a joystick for all of its functions so you don't have to fumble around if you want to adjust something. Its central location just below the bottom bezel makes reaching it even more convenient since you don't have to lean in to reach it. Samsung's OSD for its G7 monitors are well-designed and laid out, so its almost impossible to mistakenly activate or change something.
One of the things you will immediately notice on the Samsung LC27G75T is its massive stand which looks sturdy, but a bit overdesigned for the monitor's size. It only offers tilt, swivel, and height adjustments, but that's usually all you will need for a curved monitor like this model. The Y-shaped base takes up a considerable amount of space, but you can place smaller peripherals in between the blank spaces of its legs.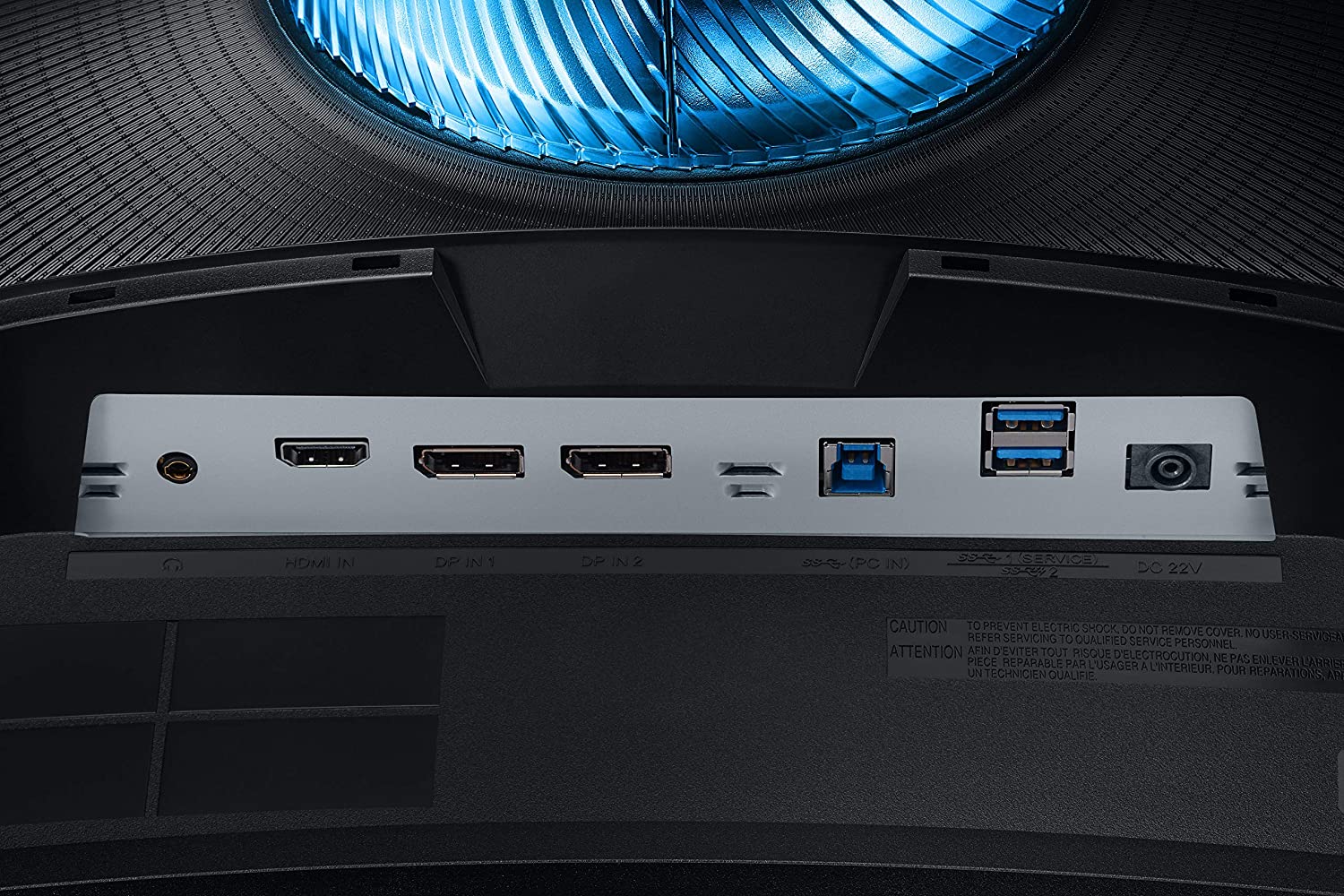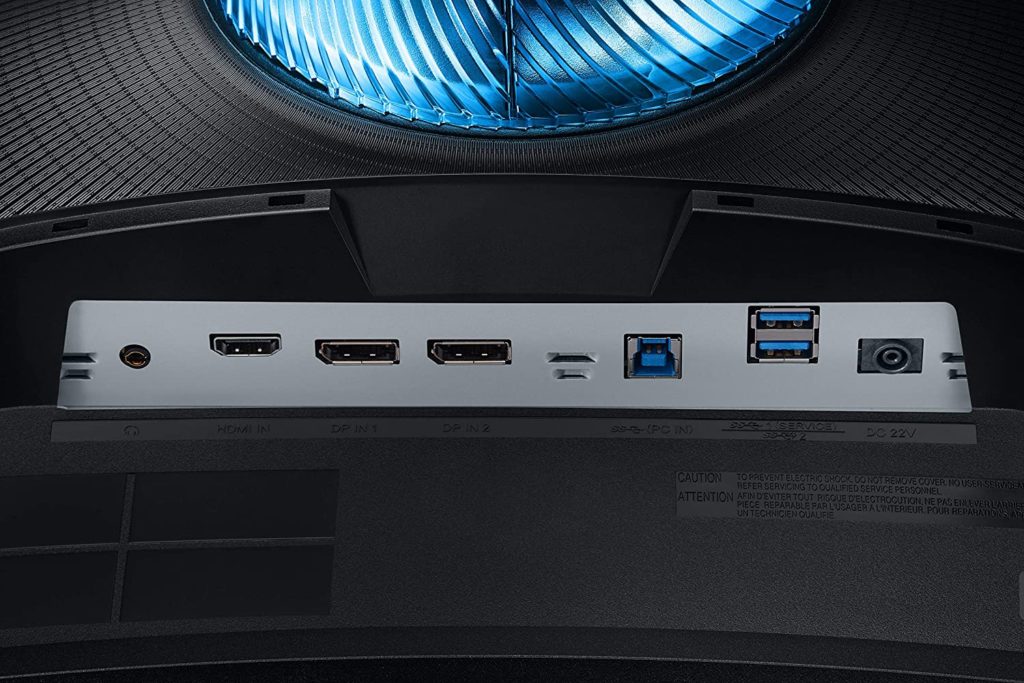 The Samsung LC27G75T isn't in the lead when it comes to connectivity options, but it has just the right amount for day to day use. The panel at the rear includes two DisplayPort 1.4 connectors and a single HDMI 2.0 for a secondary device such as a gaming console. There is also a pair of usable USB slots for your peripherals and a 3.5mm jack for speakers.
The Samsung LC27G75T doesn't have built-in speakers, so it's a missed opportunity for the brand to add them. Giving it an upgraded pair that has a bit more oomph will make its hefty price a bit more justifiable, especially for those who are also looking for a work from home monitor.
Display and Performance
The Samsung LC27G75T sports a 27-inch curved VA panel with a 2560 x 1440 resolution, 240Hz maximum refresh rate, and a 1ms MPRT response time. The backlight has a typica 350 cd/m2 brightness and a 600 cd/m2 peak, while the contrast ratio is listed at 2500:1. This model's screen has Quantum Dot technology, so it's expected to provide better vibrancy and HDR performance.
1440p screens are perfect when they are in the 27-inch format since the balance between sharpness and visibility sits at the right spot. Games will look noticeably crisper with less jagged edges, but the pixel density isn't too tight to reduce small objects to microscopic proportions. The upgrade coming from a 1080p screen will be a treat, but you won't have to struggle to adapt to the larger space.
Another aspect you might want to consider is the Samsung LC27G75T 1000r curvature. To be honest, it's better felt or perceived on the bigger version, but it can still offer immersion if you sit close enough. It is great for games, but workloads that involve straight lines such as CAD can look distorted and annoying for some.
The Samsung LC27G75T provides over 100% sRGB and around 86% DCI-P3 which is better than its larger version. Default accuracy sits at DeltaE 2.31 which is great for gaming monitors and its users since you won't have to calibrate it right away to get better colors. The color temperature is only slightly off from the ideal 6500K, so tinting isn't noticeable when viewing white backgrounds.
Calibrating the Samsung LC27G75T creates astonishing results since it tightens the color dE to an impressive 0.56 which is already comparable to some prosumer displays. However, we don't think it's necessary for most to buy a colorimeter since that will add cost to this already expensive upgrade. Gamers will be able to get away with a few tweaks to the OSD settings, so calibration is only recommended if editing or content creation is on the agenda.
The Samsung LC27G75T reaches 349 cd/m2 in SDR, but its HDR performance misses the HDR 600 standards by a few notches. The backlight can only pulse to 565 cd/m2, so the range extension it provides is limited. However, the contrast ratio for the monitor is fantastic at 2650:1 and 3870:1 for SDR and HDR respectively.
Panel uniformity for the Samsung LC27G75T is excellent since there are no leaks or clouding issues that are sometimes common on curved displays. There is a bit of black crush in dark scenes where some objects disappear into the black shades of the monitor, but we feel that it's natural for high-contrast screens. Take note that this aspect like the color accuracy results will vary between every unit since there are tolerances to consider.
The Samsung LC27G75T excels in responsiveness, unlike many other high-refresh VA screens we've tested. The screen doesn't show persistence even when the overdrive feature is at its default setting thanks to the high refresh rate. Using the Faster setting in the OSD provided even better results, pushing the monitor past some Fast-IPS models we've tested in recent times. We don't recommend maxing out the overdrive since overshoot which is detrimental to this aspect will start to appear.
The Samsung LC27G75T is a FreeSync monitor but its also certified by Nvidia to be compatible with its G-Sync feature. The monitor is an investment, so being able to keep it even if you switch GPU brands is a big plus for longevity and practicality. Input lag sits at 3ms at 240Hz, so there are no delays or de-synced instances while gaming.
Thoughts on the Samsung LC27G75T
The Samsung LC27G75T delivers when it comes to speed, great colors, and a unique design that will excite your visual senses. The Quantum Dot VA panel offers excellent vibrancy and default accuracy, so you can simply plug the monitor in and start gaming. Its performance when it comes to blur reduction and latency is also superb, so we know competitive gamers will love it.
However, we do think that there is room for improvement with the Samsung LC27G75T, starting with its design which hogs a lot of space. The backlight could also use a boost to help the monitor reach its HDR 600 certification which it misses by a few notches. However, this monitor is a fantastic buy if you are looking to upgrade to a future-proof and high-performance display that will outlast a few upgrade cycles.
Pros:
Attractive Design with RGB Lighting
Great Default Accuracy and Color Coverage
Blur-Free
FreeSync/G-Sync Compatible
Very Low Input Lag
Cons:
Expensive
Tilt and Swivel Range are Limited
Backlight Doesn't Reach Full Spec
HDR Performance Slightly Underwhelming
-About the Author: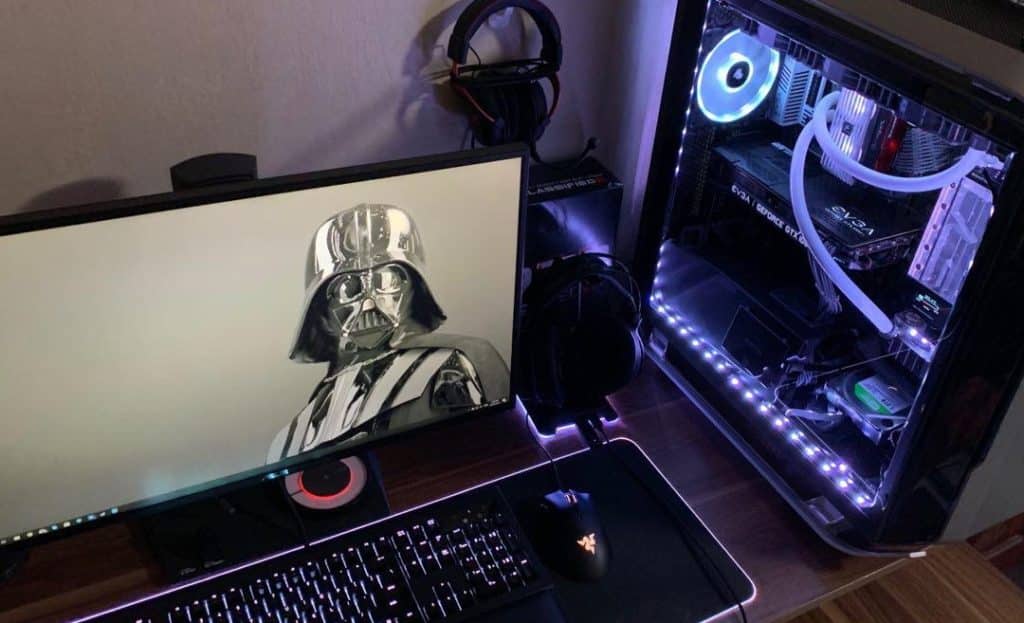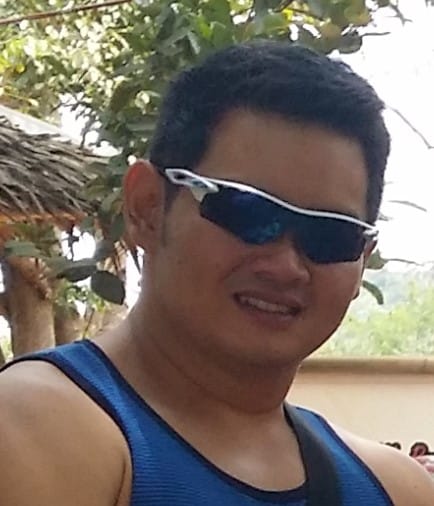 Paolo is a gaming veteran since the golden days of Doom and Warcraft and has been building gaming systems for family, friends, and colleagues since his junior high years. High-performance monitors are one of his fixations and he believes that it's every citizen's right to enjoy one. He has gone through several pieces of hardware in pursuit of every bit of performance gain, much to the dismay of his wallet. He now works with Monitornerds to scrutinize the latest gear to create reviews that accentuate the seldom explained aspects of a PC monitor.