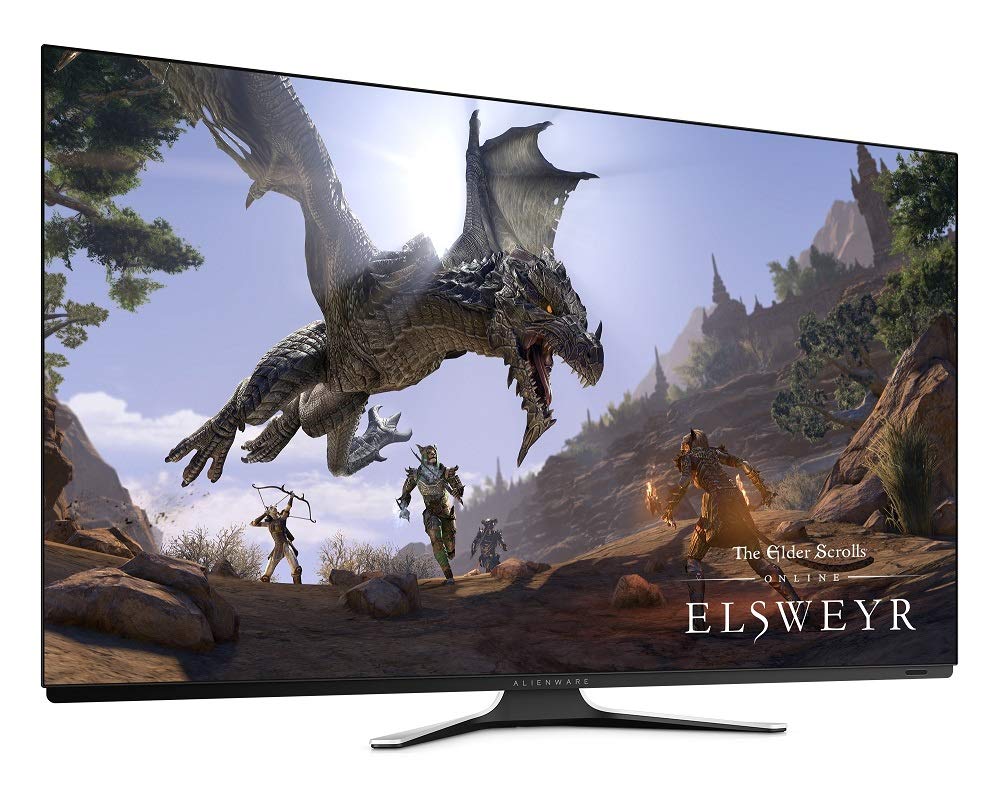 Pros:
120Hz OLED
Excellent Pixel Response Time
Low Input Lag
Wide DCI-P3 Coverage
Cons:
Expensive
Very Dim Brightness (SDR)
no HDMI 2.1
The Alienware AW5520QF is an ultra-premium 4K gaming monitor that features a 120Hz OLED panel for stunning colors and contrasts. Its also notable that the monitor is effectively a TV due to its size, making it a versatile gaming display for both PC and 4K HDR consoles. We love special monitors like the Alienware AW5520QF, but can its performance outweigh its very high price?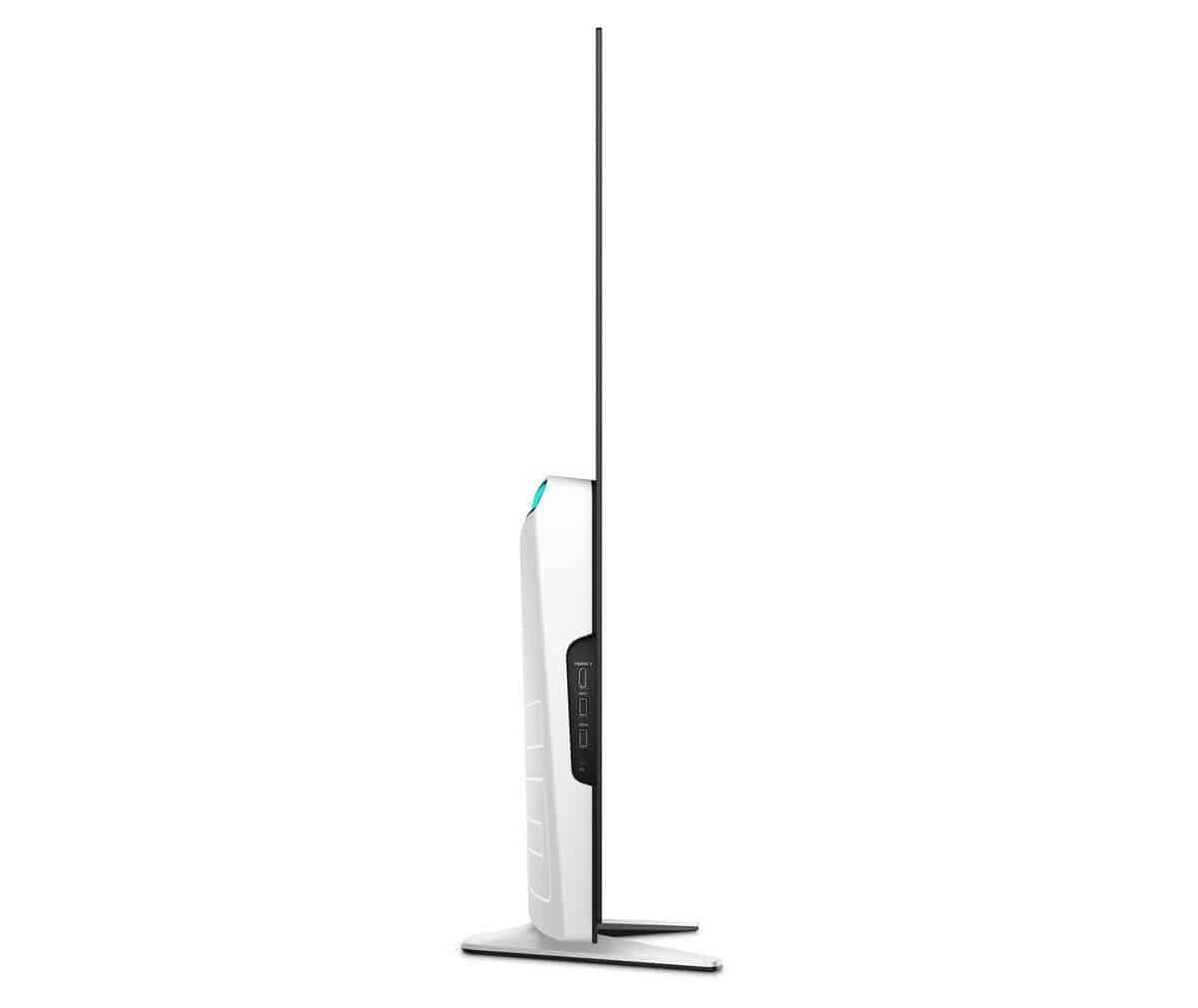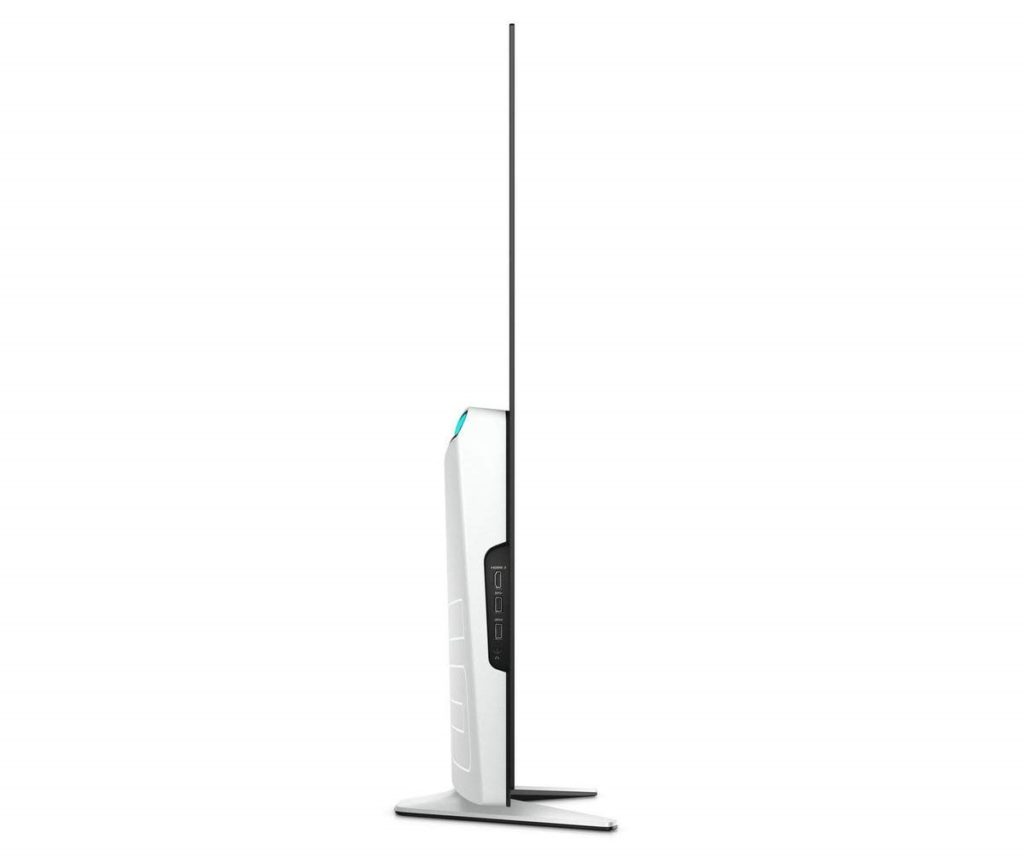 Alienware AW5520QF Specifications
Screen Size: 55 Inches
Resolution: 3840 x 2160 4K
Aspect Ratio: 16:9
Panel Technology: OLED
Refresh Rate: 120Hz
Response Time:.5ms
Contrast Ratio: 130000:1
Brightness: 400cd/m²
Built-in Speakers: Yes (2 x 14 Watts)
VESA Compatibility: Yes (200 x 200)
Connectivity: DisplayPort 1.4, HDMI 2.0 x 3, USB 3.0 x 2, 3.5mm Jack x 1, Optical Out x 1
Dimensions With Stand(WxHxD): 26″ x30.34″ x 10.39″
Weight: 5754lbs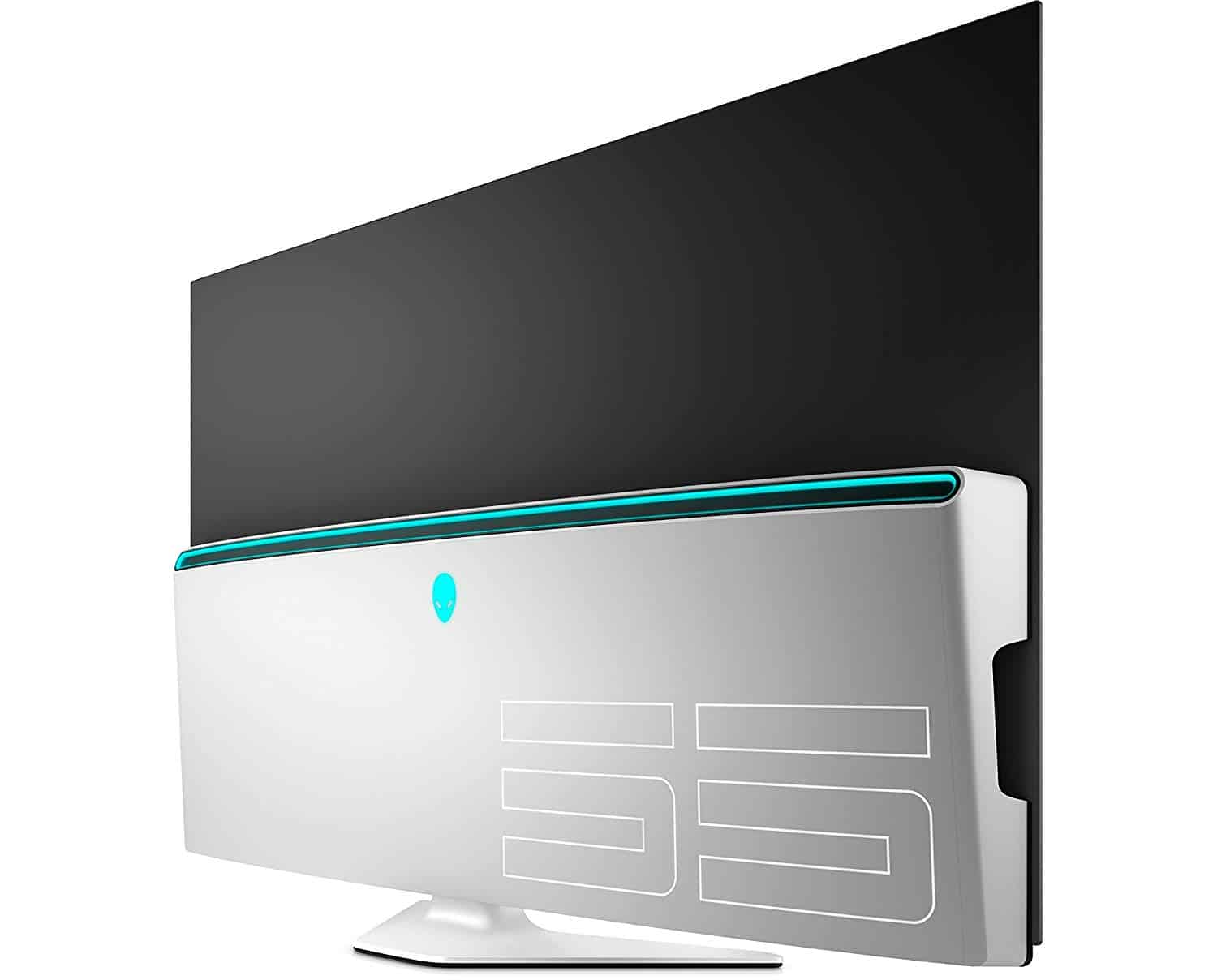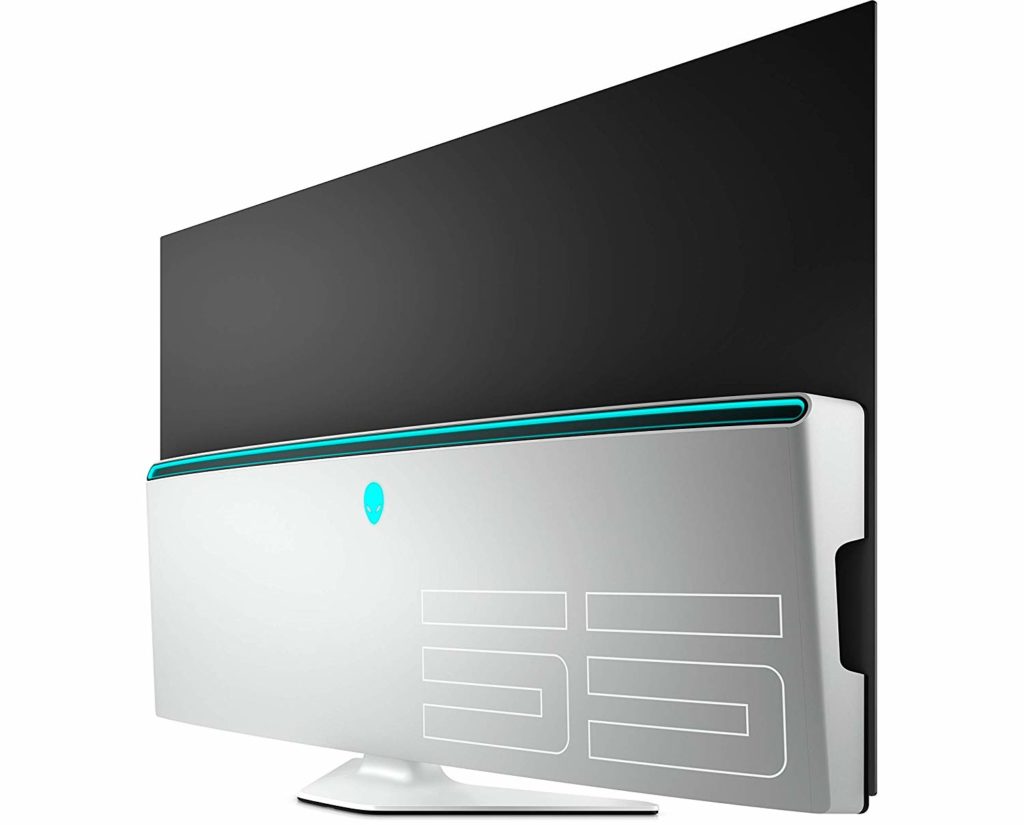 Design and Features
The Alienware AW5520QF looks like a modified 55-inch 4K TV, but the brand did add the flair of its space-age design found on its latest products. The product uses a mix of matte white and silver on the chassis which gives it a luxurious look. The massive display area has very thin, flushed bezels, so gamers will barely notice them while playing.
There are also some RGB LED accents on the Alienware AW5520QF's chassis which can get bright enough to be a bias light. The strip at the back spans the width of the monitor, so there will be a considerable amount of glow once you're all set up. The lighting feature can be controlled via the OSD where you will find multiple effects along with color customization.
The Alienware AW5520QF is relatively thicker than most OLED TVs its size because of a few reasons. The large bulge at the rear has a magnetic panel that you can remove to reveal its features, along with deep channels for cable management. It's rather easy to create a clean setup even if you have a lot of wires running into the device.
Build quality for the Alienware AW5520QF is solid thanks to premium materials and excellent craftsmanship from Alienware. The panels feel thick and smooth, and there are no physical or cosmetic defects on the premium product. We also did not notice any wobbling from the monitor, despite its hefty weight of almost sixty pounds.
The Alienware AW5520QF is limited to a tilt-only stand like every TV out there since you don't really need to swivel it or raise its height. The base has a wide reach, so you need to consider its footprint against your stand if you have enough space. You can also mount the monitor using a 200 x 200 VESA adapter, but be wary of the weight which many armatures will not be able to hold.
Connectivity is one of the most important features of the Alienware AW5520QF, but sadly, it lacks something that will make it a future proof display. The concealed layout includes DisplayPort 1.4, triple HDMI 2.0 slots, and a duo of USB 3.0 connectors for your accessories. There is also a 3.5mm jack and an Optical input slot on the monitor, so basically any audio setup will work beautifully with it.
One thing that's missing from the Alienware AW5520QF is HDMI 2.1 which would allow users to enjoy the full 120Hz refresh rate on non-PC-devices like the upcoming Xbox Series X. You can only run at the maximum refresh if you are connected to a PC which has a DisplayPort connector, severely limiting the premise of universality and being future proof for newer devices. HDMI 2.1 isn't common yet, but we reckon its something that should have been considered for a four-grand display product.
The Alienware AW5520QF also features a more powerful speaker set and a dedicated remote for convenience. The former sounds decent and comparable to most high-end TV audio outputs, while the controller makes the OSD more accessible to all. However, we reckon most will still opt for either a wireless headset or a component system that will utilize the optical output on the monitor for better gaming sound.
Display and Performance
The Alienware AW5520QF boasts a 55-inch OLED panel with a 3840 x 2160 resolution, 120Hz maximum refresh rate, and .5ms response time. The contrast ratio is rated at a typical 130000:1, with a maximum brightness output of 400 cd/m2. The latter is the perplexing weakness of the monitor, especially since most comparable OLED TVs reach 1000 cd/m2 for true HDR performance.
The Alienware AW5520QF has a massive 4K UHD resolution, but its display area spreads the pixels out considerably. The monitor is still usable at nearfield distance without suffering through pixelation, but the product is more suitable for couch gaming setups. 55-inch 4K screens are best viewed at 4.5 feet to around 7 feet away so the sharpness of the image does not deteriorate.
The Alienware AW5520QF is capable of producing 95% of the DCI-P3 color space and around 135% sRGB for extreme vibrancy in games. Color accuracy sits at DE 1.5 for P3 and around 2.75 for the latter which is excellent as far as pre-calibration for gaming displays are concerned. DE for sRGB is slightly higher since the monitor doesn't have an sRGB preset or mode, so you can't lock down the colors if in case you want to use it for editing purposes.
The OLED panel on the Alienware AW5520QF is capable of infinite contrast ratio, so users get to enjoy true blacks and excellent saturation levels. Gamma is also good at 2.15, but it would be best to push it further to balance out varying scenes. One weakness of the Alienware AW5520QF is it only sits at 130 cd/m2 for SDR content which is dim for many users.
HDR signals will bring out more or less 415 cd/m2 from the OLED panel, but that's if your media or game is properly coded for HDR. The screen doesn't look too dark for typical use scenarios, but the low SDR brightness makes it impossible for the panel to fight against ambient lighting. Make sure that lights are off or windows are curtained if you have this monitor since it cannot outshine any kind of glare.
What's fantastic about the Alienware AW5520QF is it barely showed any defects in panel uniformity thanks to the characteristics of OLED panels. Deviations in brightness are well below 5% and there are no visible clouding issues or drops in contrast and saturation on any of the massive's screen's spots.
Responsiveness also isn't an issue with the Alienware AW5520QF since OLEDs have substantially faster pixel response times. Even fast-paced games with heavy contrasting colors and effects like Modern Warfare did now show any noticeable trailing or ghosting even if we panned the screen quickly. This characteristic makes the Alienware AW5520QF perfect for competitive gaming, but the price and the requirements of the resolution are prohibitive to most.
The Alienware AW5520QF is a FreeSync gaming monitor, but it also works with G-Sync compatibility mode using the latest GeForce drivers. However, it's not certified by Nvidia, so flawless performance isn't guaranteed. Input lag sits at 4ms, so there will be no delays or "de-synced" instances during game time.
Thoughts on the Alienware AW5520QF
The Alienware AW5520QF is a beautifully designed gaming TV-slash-monitor that carries a vibrant OLED panel. The device is a fantastic choice if you want extreme color richness and true blacks without living through horrendous input lag from regular TVs. The screen size makes the product more versatile between desktop and living room use, eliminating the need for secondary displays.
However. The Alienware AW5520QF sells for a whopping four-grand which makes it twice as expensive as capable OLED TVs like LG's C9 OLEDs. There's also the dim brightness limit which severely cripples HDR and daytime performance. It's difficult to find the sense of the product in the current market, especially since non-gamer models like the C9 can be had for considerably less.
About the Author: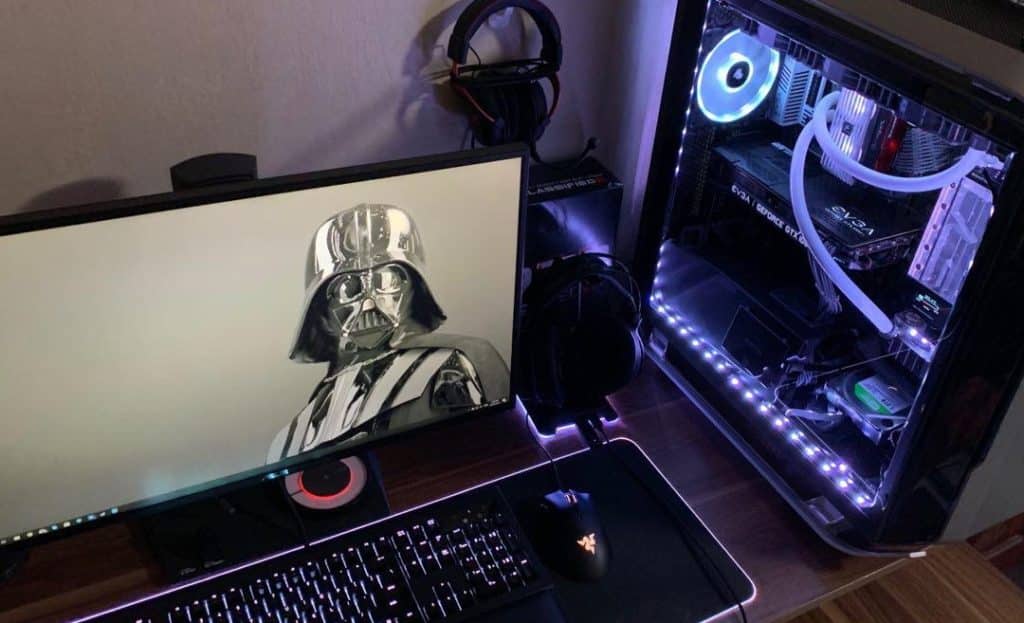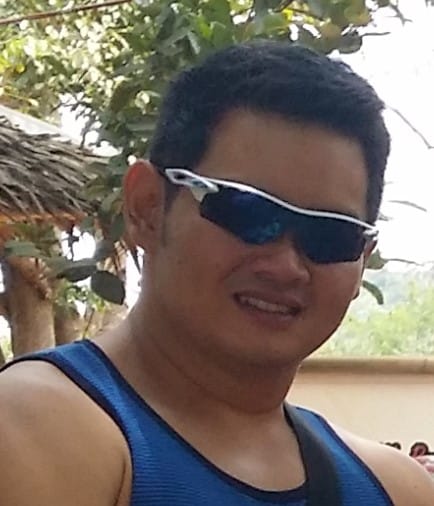 Paolo is a gaming veteran since the golden days of Doom and Warcraft and has been building gaming systems for family, friends, and colleagues since his junior high years. High-performance monitors are one of his fixations and he believes that it's every citizen's right to enjoy one. He has gone through several pieces of hardware in pursuit of every bit of performance gain, much to the dismay of his wallet. He now works with Monitornerds to scrutinize the latest gear to create reviews that accentuate the seldom explained aspects of a PC monitor.