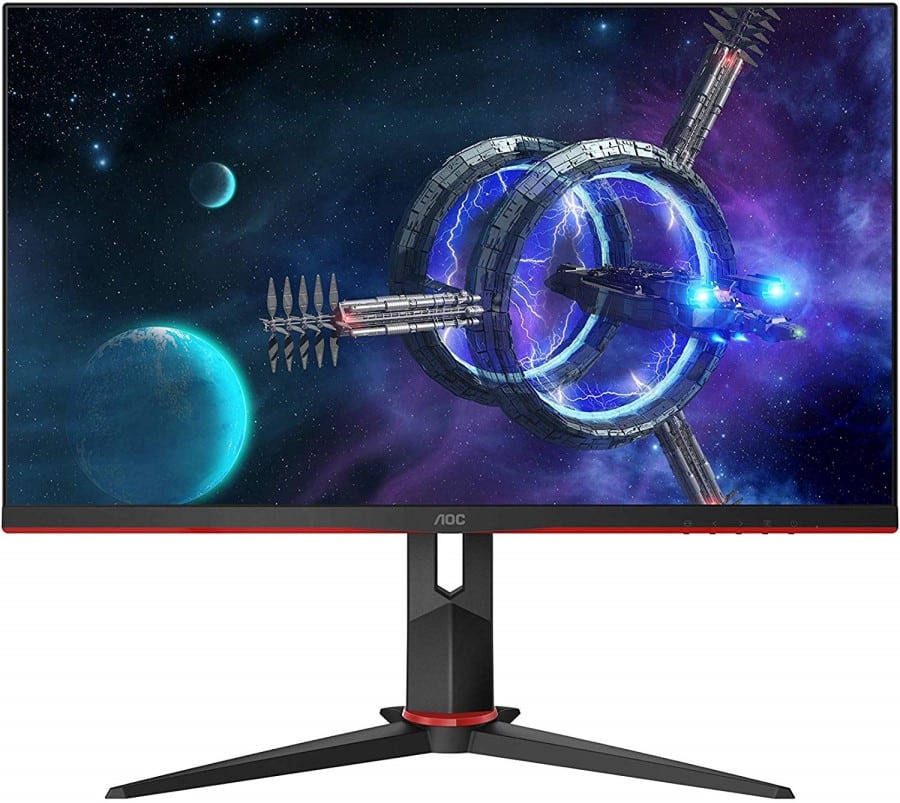 Pros:
Fantastic Image Quality
FreeSync and G-Sync Compatible
Responsive
Very Affordable and Competitively Priced
Cons:
The AOC 27G2 is an easy to own 144Hz gaming monitor with a 27-inch IPS panel that offers fantastic image quality despite the lower pricing. This model is comparable to the popular Asus VG279Q, but it's considerably cheaper with no immediately perceivable disadvantages. The AOC G27G2's characteristics seem like they are too good to be true, so let's check out if this model is indeed one of this year's finest releases.

AOC 27G2 Specifications
Screen Size: 27 Inches
Resolution:1920 x 1080 FHD
Aspect Ratio: 16:9
Panel Technology: In-Plane Switching (IPS)
Refresh Rate: 144Hz
Response Time: 4ms (1ms MPRT)
Contrast Ratio: 1000:1 (Static)
Brightness: 250cd/m²
Speakers: Yes( 2 x 2 Watts)
Stand: Height -Yes
Stand: Tilt – Yes
Stand: Swivel – Yes
Stand: Pivot – Yes
VESA Compatibility: Yes (100 x 100)
Connectivity: HDMI 1.4 x 2, DisplayPort 1.2 x 1,USB 3.0 x 4, 3.5mm Jack x 2
Dimensions (W x H x D): 24.10" x 15.59" x 8.95"
Weight: 11.24lbs

Design and Features
The AOC 27G2 uses the same sleek aesthetic as its smaller sibling which continues the design trend started by the G1 series. The monitor is finished in matte black with some polished red accents in some spots which do not overpower the stealthiness of the entire look. The display area is bezel-free on three sides so distractions or the divisions between multiple 27G2s in surround vision won't be a problem.
We also like that the brand slimmed the AOC 27G2 down without sacrificing the necessary heft that will help it stand firm on a desk. The whole device requires around nine inches of depth which means eats up a narrower area compared to its competitors. The cabinet is also modestly thick, so wall or flush mounting is still doable without any issues.
Budget monitors often have weaker materials or construction quality, but that is not the case with the AOC 27G2. The plastics feel thick and robust despite being lightweight, while the mechanism is smooth and quiet. You won't see cosmetic defects such as uneven seams on the model, indicating that AOC's quality control measures did a good job.
The biggest downside of the AOC 27G2's design is its OSD buttons which are less preferable than joysticks when it comes to convenience. Each of the keys is crisp and responsive, but it's easy to mistakingly press one especially in the dark. The low price makes this limitation forgivable, but how much more would it cost to opt for a joystick anyway?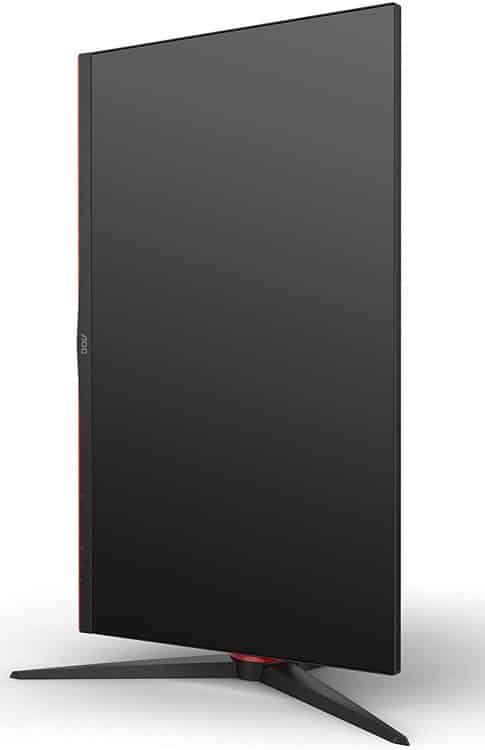 The AOC 27G2 is compatible with VESA mounts, but you won't have to spend the extra since the package includes a flexible stand. You can tilt, swivel, pivot, and adjust the height of the monitor, so getting a comfortable view angle is as easy as peas. Spending the extra on aftermarket armatures is only warranted if you are planning on a triple monitor setup, but even the default setup still makes it possible if the desk is wide enough.
Connectivity on the doesn't fall short either since the video inputs already include DisplayPort 1.2 and two HDMI 1.4 slots. That's enough to cover your gaming rig plus two 1080p devices such as gaming consoles, making the AOC 27G2 a cheap all-in-one display. There is also four USB 3.0 slots and a pair of 3.5mm jacks for your headset and mic at the rear panel.
The AOC 27G2 does have speakers, but the 2 Watts of power on each channel is not sufficient for gaming purposes. It's always nice to have built-ins on affordable variants, but their sound quality dictates that they won't get much use for gaming or entertainment.
Display and Performance
The AOC 27G2 sports a 27-inch IPS panel with a 1920 x 1080 resolution, 144Hz refresh rate, and a 1ms MPRT minimum response time. The panel's backlight is weaker than most at 250 cd/2, but contrast is still rated at 1000:1. It's worth noting that 1ms has always been inaccurate, but it denotes that the IPS monitor has some form of blur reduction such as backlight strobing.
The first complaint about 27-inch 1080p monitors like the AOC 27G2 is the lower pixel density which softens graphics and images. However, we don't think it that degrading to the visual experience, unless you look at your display at a distance less than one foot away. You get less sharpness with this monitor, but visibility is easier on your eyes since you don't have to squint to see smaller objects.
The AOC 27G2 is capable of excellent color starting with its 100% coverage of the sRGB gamut with a Delta E average of 2.46 by default. You can tweak this to DE 1.7 with a colorimeter, but it isn't entirely necessary for gaming or regular use. Color temperature only slightly exceeds the 6500K point which is actually good since it lessens the warmth of sRGB screens.
The AOC 27G2 also shows strong contrast despite its low backlight peak of 260 cd/m2. A contrast of around 1300:1 was recorded, giving users a stronger performance when it comes to black luminance. The grayish appearance of IPS screens in dark rooms is lessened thanks to this, but it still isn't comparable to VA variants.
The IPS screen's uniformity could do better since there is a backlight bleeding on the lower corners of the screen. A noticeable clouding will appear on the AOC 27G2 if an all-black image is displayed, but it isn't as visible when playing games. You will notice a slight drop in contrast when games like Modern Warfare with its night scenes are on, but most shouldn't be disturbed by the flaw.
The AOC 27G2 showed strong capabilities in pixel response times since ghosting was not as noticeable compared to other IPS monitors. Setting the overdrive to its medium setting will give you a cleaner screen, so there is no need to opt for the maximum level since it will induce overshoot. This model shows how far IPS panels have come, changing its reputation as a slowpoke when it comes to transitions and motion handling.
The AOC 27G2 is a FreeSync monitor, but it also works with G-Sync compatibility for Nvidia GPU users. This widens the audience the product covers, so no one is required to be loyal to one GPU brand. Input lag sits at 4.5ms at 144Hz, so you won't feel any delays or "de-synced" instances while gaming.
Thoughts on the AOC 27G2
The AOC 27G2 is a very capable 144Hz 1080p gaming monitor that provides excellent responsiveness and vibrancy. These two characteristics make it a viable replacement for TN-based models which are generally faster in pixel transitions but are usually handicapped when it comes to color quality. It's also great that its considerably more affordable than its competitors despite not having limitations such as a tilt-only stand.
Most of the flaws found on the AOC 27G2 are negligible but take note that IPS variants are still prone to differences when it comes to uniformity. The AOC 27G2 provides fantastic value, making it a very competitive and compelling option against more expensive options like the Asus VG279Q.
About the Author: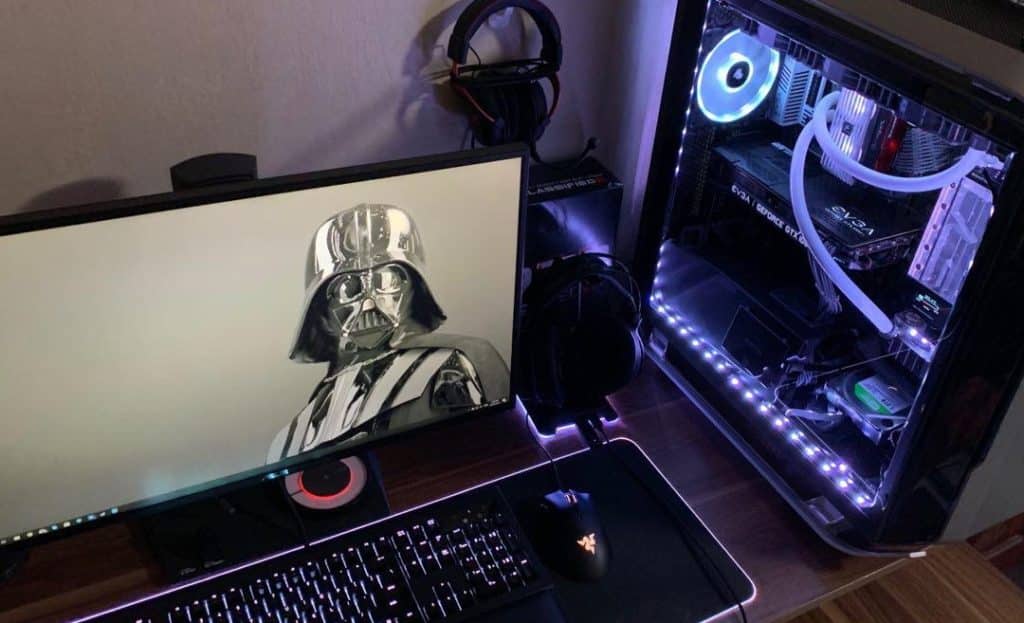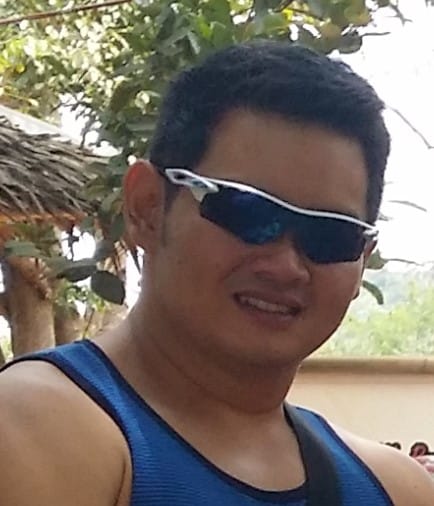 Paolo is a gaming veteran since the golden days of Doom and Warcraft and has been building gaming systems for family, friends, and colleagues since his junior high years. High-performance monitors are one of his fixations and he believes that it's every citizen's right to enjoy one. He has gone through several pieces of hardware in pursuit of every bit of performance gain, much to the dismay of his wallet. He now works with Monitornerds to scrutinize the latest gear to create reviews which accentuate the seldom explained aspects of a PC monitor.