---
Review of LG 27UD68-P
One of LG's top gaming monitors, the LG 27UD68-P is constructed for productivity, entertainment, and some light gaming. With almost all the specifications being above average and having an elegant design even after being 27-inches, LG has won a lot of hearts with this monitor because of a combination of features that aren't over the top and a design that is ergonomic. However, to erase a universal doubt first, the 27UD68 4K monitor is referred by two different SKU numbers. These are denominated as 27UD68-W and 27UD68-P. There is no functional difference between the two; the only difference that the P and W represent is the color of the model. The 27UD68-W is white, and the 27UD68-P is black. So we will be talking about the LG 27UD68 in this article, deep diving into the features and the design of it.
What's in the box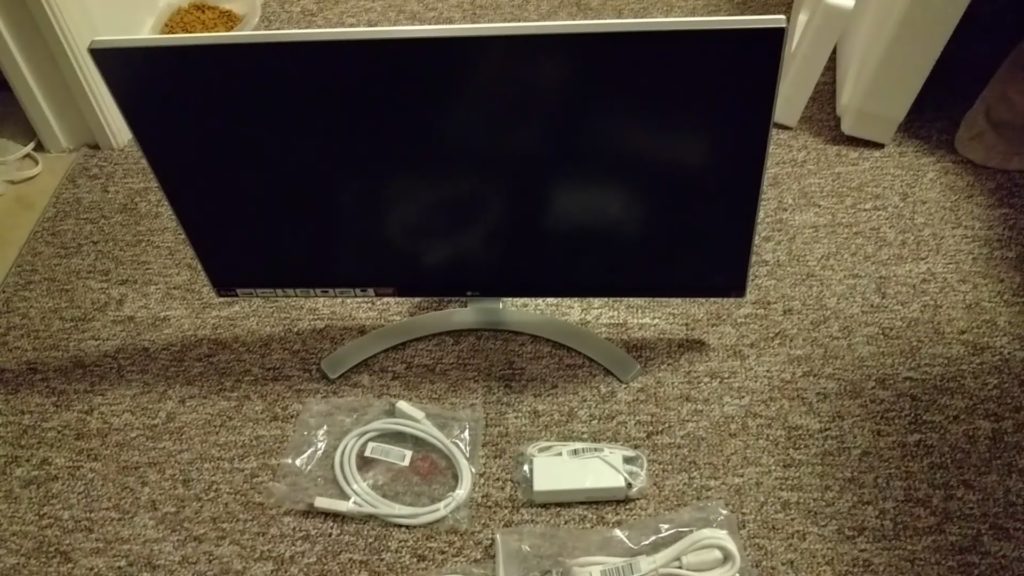 The box comes with the full display, the power chord to it, the stand, an HDMI chord, a display board cable (both are 4k capable) and a manual.
LG 27UD68-P Specifications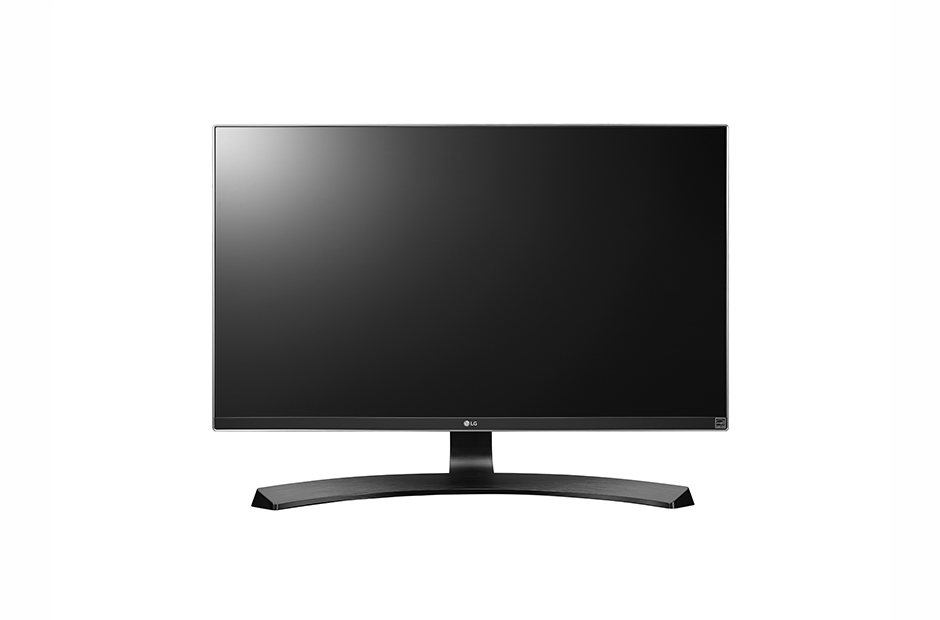 Panel Type: IPS
Screen size: 27 inches
Resolution: 3840 x 2160p
Response time: 5 ms (gray to gray)
Refresh rate: 60Hz
Dimensions: 24.2 x 7.3 x 17.9 inches
Brightness: 300nits
Color Gamut: sRGB over 99%
Color Support: 1.07 Billion Colors (10bit(8bit + A-FRC)
Aspect ratio: 16:9
I/O: DP 1.2a+ (with Adaptive-Sync), 2xHDMI 2.0
The Screen 
The 27-inch Widescreen LED display features a stunning 3840 x 2160p resolution, and while we can say 'enough said' here, there is a lot more to it than just that. One of the qualities of this monitor is to display an evenly distributed color quality and sharpness all across the display even after being 4K at a very affordable price. The 27UD68 is a UHD (Ultra HD) monitor, and it does its job quite well. The color gamut is over 99% (sRGB) at a 16:9 aspect ratio and a 10-bit color depth. There are 8.3 million pixels on the screen, and the UHD is four times sharper and better than an HD monitor.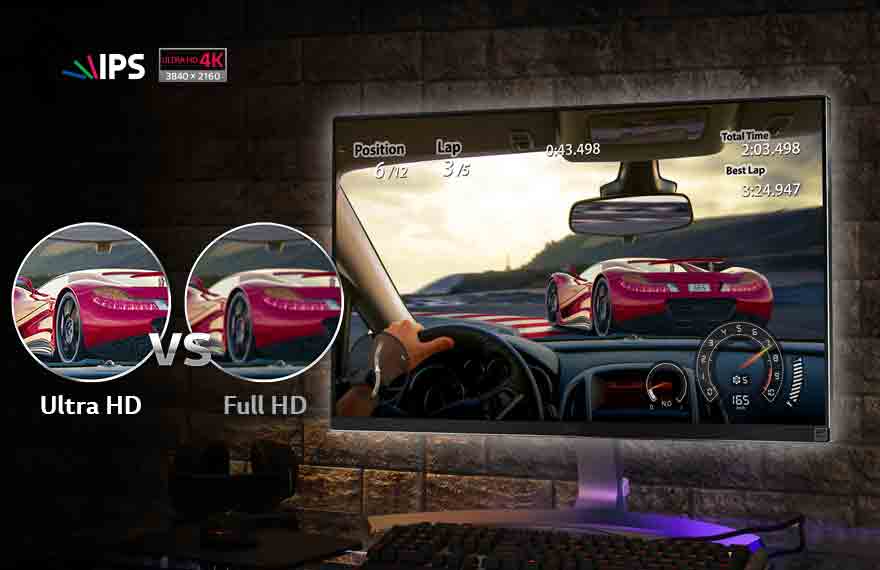 This means that this display can produce millions of colors all accurate right up to the minor details and the sharpness, and to be consistent with it using the 5ms gray to the gray response time that completely eliminates problems like tearing and stuttering. Gaming on this wide screen is made easy by the response time compensating with 1440p gaming and coupling it with the smooth 60Hz refresh rate. And now while this might look like less, the thing is it doesn't affect the gaming performance of FPS games as long as you are not a hardcore gamer, which if you are, you might want to go for a different option as the LG 27UD68 serves a lot of purposes and is not a hardcore gaming machine. However, the gaming chops of this display are further enhanced by the inclusion of AMD FreeSync technology, which pretty much takes care of most things. The Freesync, in addition to having a frame synchronization to game at high frame rates without tearing, also has an LFC (low frame rate compensation) that allows gaming at low frame rates to be tearing and juddering free as well. So that's another plus point here.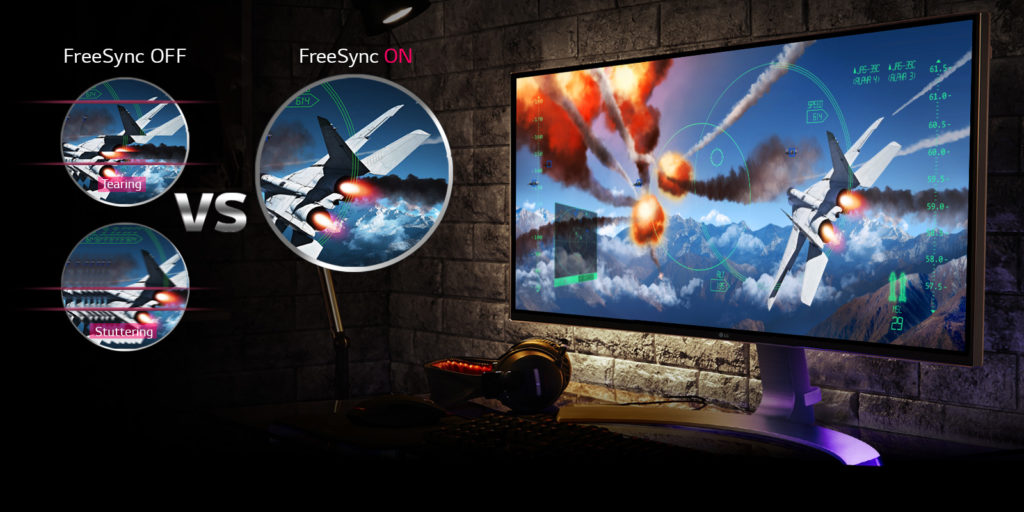 Watching movies and media on the 27UD68 is a ball. The ultra high definition lets you view the content as it deserves to be viewed – all in super high quality and the brightness of the display is pretty well-balanced. It does not affect the eyes causing eye fatigue and itching during long durations of time. The IPS panel of this display covers a lot of peripheral with wide viewing angles, and there is no bleeding on the edges of the 27UD68.
Add-ons
The LG houses many add-ons on top of the response time, and it's UHD resolution, to achieve that perfect output quality and a hassle-free experience. Let's quickly have a look at them and try to understand them independently.
Anti-glare coating
There is a type of optical coating on this display that works quite well with its contrast and brightness to reduce eye fatigue. This 'anti-reflective' coating on the panel improves panel efficiency by light absorption and by not reflecting 'stray light' onto the user's eyes.
Split screen 2.0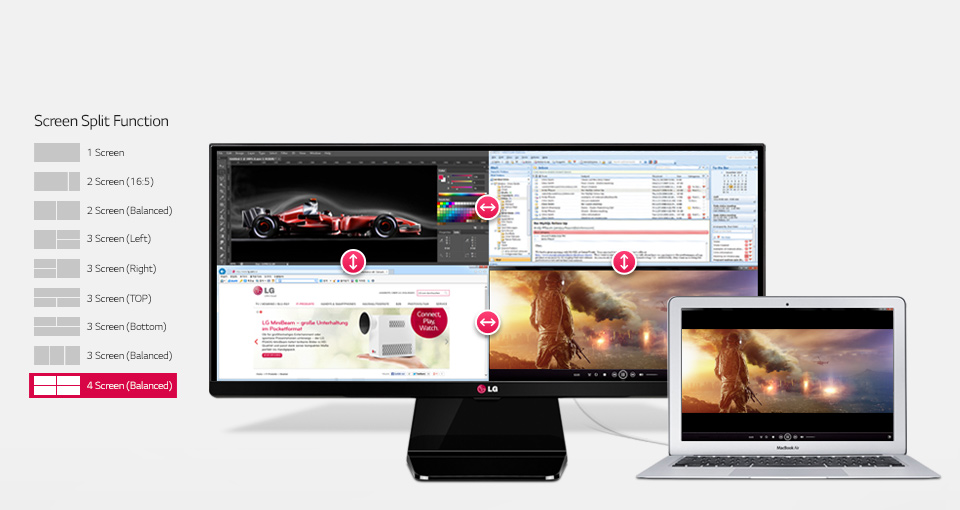 The LG 27UD68 -P is a big display. And with such a display, comes the possibility of multitasking and this is a feature the provides just that. There are four types of Picture-in-Picture (PIP) modes available among its 14 Screen Split options. You can have 2 to 4 windows to be shown in 8 different screen ratios on the display without feeling cluttered. Enough said!
Game mode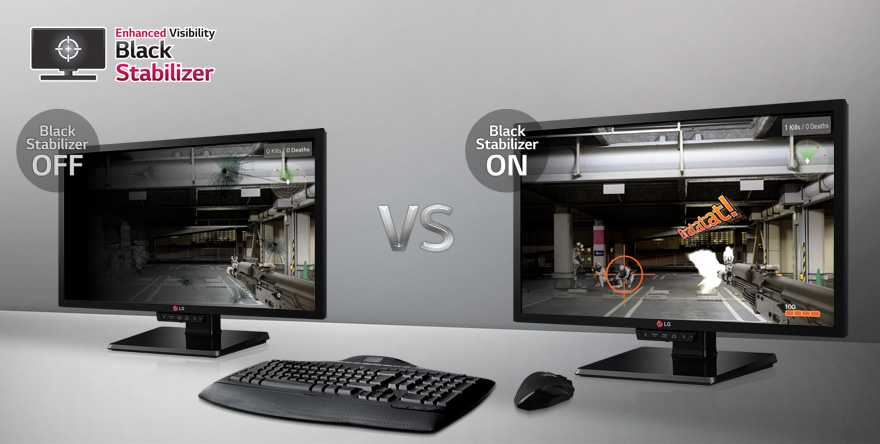 This mode is a combination of Dynamic Action Sync feature that assures smooth, fluid gaming action by syncing frames, and the black stabilizer. The black stabilizer is a characteristic helps you keep an excellent visibility even in dark gaming scenes. For gamers, LG's Black Stabilizer senses the dark scenes and helps make it brighter in a way that is subtle and efficient, so that you can find the enemies hiding and waiting to attack your player in the dark. Very useful for multiplayer and shooter games, and it complements the general purpose use too.
Design and connectivity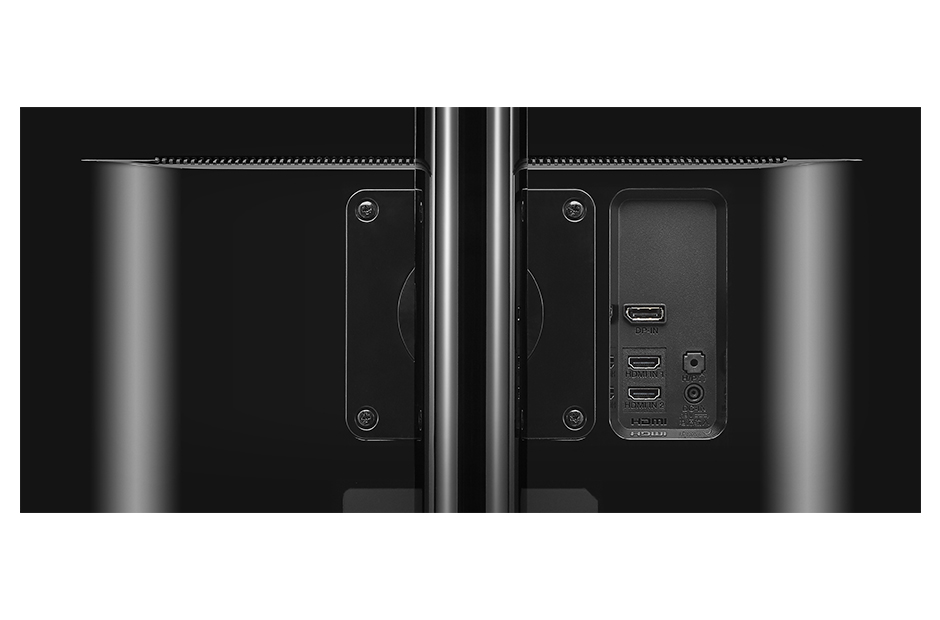 The design on the display is very simple to assemble and ergonomic in nature. The dimensions are 24.2 x 7.3 x 17.9 inches and the stand comes with the screen and is pretty basic, with no features added to it. Calling it the 'archline design,' the sleek design of LG 27UD68 is accentuated by the curved metal stand. The smooth curve of the base provides stability, assuring dependable performance with a touch of elegance. And this is what most monitors that offer UHD at 4K are missing – panache!
Finally, the DisplayPort 1.2 and the HDMI 2.0 (which is advanced than an ordinary HDMI) connectivity ports on the 27UD68 fit in just perfectly for some of the latest connectivity trends in 4K UHD gaming, and the Graphics cards that it works best with.
Bottom line
Pros
Ultra High Definition and 4K gaming
Excellent color production and gamut (1.07 Billion Colors, sRGB above 99%)
Freesync support
Sleek, no-frill design
A variety of add-on features like Split screen and game mode
Affordable price
Cons
No inbuilt speakers
High response time (5ms)
Does not rotate vertical (See the LG 27UD68P-B for adjustable base)
Priced at around $500, the LG 27UD68 -P is an absolute steal for the price, and it has been given four stars on Amazon by reviewers, and we can see why. It offers a 4k gaming experience most monitors just can't match.