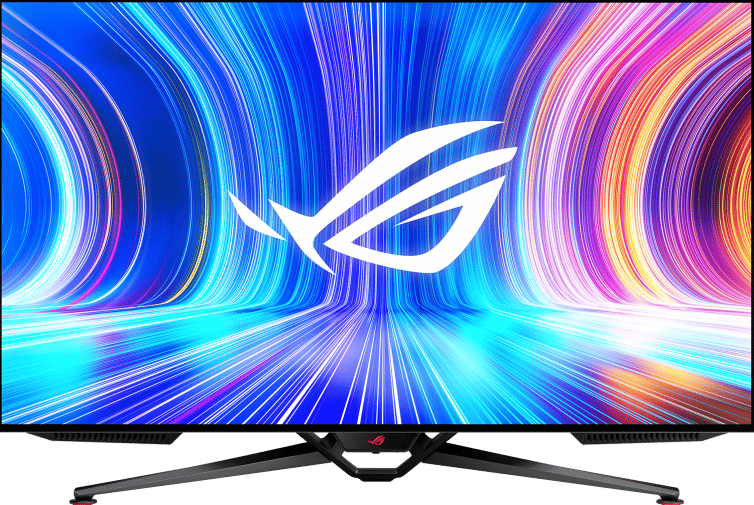 The Asus ROG Swift PG42UQ is one of the first few to offer an OLED panel as a gaming monitor instead of a high-end TV like the LG OLED C2. It has a unique 138Hz overclocked refresh rate, and it comes with all the necessary premium features like HDMI 2.1. The Asus ROG Swift PG42UQ is in numerous ways the ultimate gaming display, but can it provide a performance that's worthy of its price tag?

Asus ROG Swift PG42UQ Specifications
Screen Size: 42 Inches
Resolution:3840 x 2160 UHD
Aspect Ratio: 16:9
Panel Technology: OLED
Refresh Rate: 138Hz
Response Time: 0.1ms
Contrast Ratio: 135000:1
Brightness: 400 cd/m2 (900 cd/m2 Peak)
Built-in Speakers: Yes (3 x 10 Watts + 15-Watt Woofer)
Stand: Height – No
Stand: Tilt – Yes
Stand: Swivel – No
Stand: Pivot– No
VESA Compatibility: Yes (300 x 300)
Connectivity: DisplayPort 1.4 DSC x 1, HDMI 2.1 x 2, HDMI 2.0 x 2, USB 3.2 x 4, 3.5mm Jack x 1, S/PDIF x 1
Dimensions With Stand (WxHxD): 36.93" x 24.07″ x 10.06″
Weight: 32.56 lbs

Design and Features
The Asus ROG Swift PG42UQ still looks more like a TV instead of a desktop monitor since it lacks a tower stand like what the Dell U4320Q has. However, it is laced with ROG Swift-specific aesthetics like the unique look of its stand and ROG eye branding. The display has very thin bezels so it's not that easy to notice or get distracted by them.
It's a massive monitor, so you might want to consider your desk space first before even thinking of buying this product. It's almost 37 inches wide so it will offset your peripherals that are on the left and right sides of your desk. It is very heavy as well at 32.56 pounds so it would be wise to ask for help when you unbox and set it up to avoid an expensive catastrophe.
Its build quality is just as good as any ROG monitor out there since the brand compromises very little with its pet products. The plastics used are perfectly molded and durable so they won't flex or show uneven gaps or seams. The included stand can keep the monitor upright, but the display can slightly rock back if you nudge it with enough force.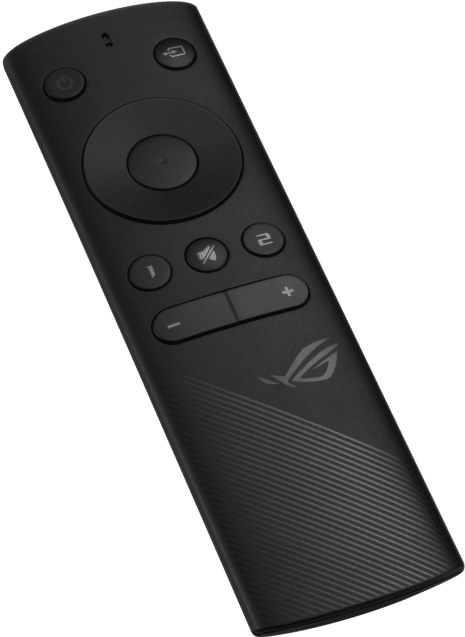 The Asus ROG Swift PG42UQ has a joystick and a dedicated remote which both come in handy for exploring its well-equipped OSD. It's easy to use both options, but the remote truly becomes necessary if you use this monitor for a couch gaming setup. Frankly, there's no better setup for tweaking and calibration out there.
The stand included with the package only offers tilt for adjustment so some may be unhappy with it. We wish it went with a true monitor stand like the Dell business monitor mentioned above, but it's a minor issue since the screen is already tall and wide enough. You can still use VESA mounts instead if you need more flexibility, but it is not going to be cheap and it should have a 300 x 300 adapter.
Another special feature of the Asus ROG Swift PG42UQ is its connectivity layout which can handle all 4K gaming platforms. It has a DisplayPort 1.4 DSC for your PC and two HDMI 2.1 slots for the latest consoles. You also get two more HDMI 2.0 slots, along with four USB 3.2 ports and a 3.5mm jack for secondary devices and accessories.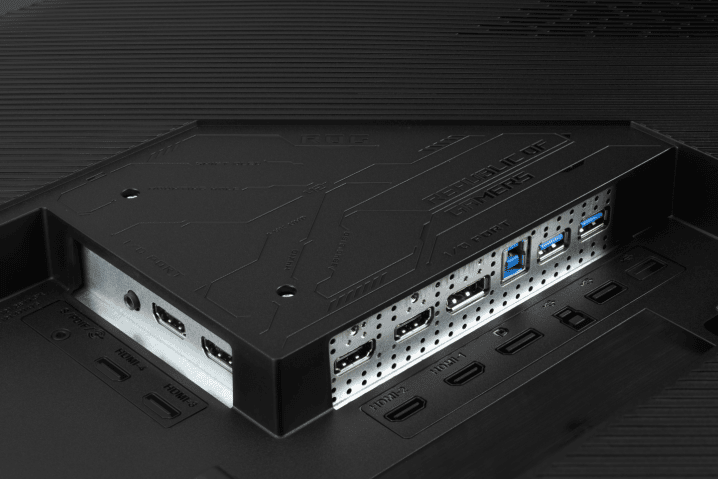 What is lacking is a powerful USB-C port which would make it even better when it comes to functional flexibility. Modern laptops use it as a single-cable connection solution, allowing users to dock workstation laptops like MacBooks. It's a minor complaint since the focus here is gaming, but it should be a standard add-on at this price range.
Another impressive characteristic of the Asus ROG Swift PG42UQ is its unique speaker set that includes three 10-watt satellites and a 15-watt subwoofer. It is wildly better than most monitor built-ins since it can provide a wider range of sound. It's one of the few monitor speakers that can actually be used for gaming and entertainment, although we know most will still prefer headsets with this device.
Display and Performance
The Asus ROG Swift PG42UQ boasts a 42-inch OLED panel with a 3840 x 2160 resolution, a 138Hz overclockable refresh rate, and a 0.1ms response time. The backlight has a typical 400 cd/m2 brightness and a 900 cd/m2 peak while the contrast is listed at 135000:1 for stunning depth and black-level performance.
4K monitors like this won't be as sharp as the smaller screens, but you have to remember the exponential increase in pixel count is still there. Games are still detailed and sharp even if you lower the graphic settings, while movies can be appreciated more since they are clearer. Productivity won't suffer too much since text and small objects do not become too small, although starting at a massive screen with white background might be too much for some.
The Asus ROG Swift PG42UQ renders 100% sRGB and 90% DCI-P3 for decent vibrancy in games and movies. Its default accuracy has a deltaE average of 1.91 which is great, although it's higher than the brand's factory calibration claims. It's not the best when it comes to gamut coverage in the OLED category, but it is one of the most accurate out of the box as well.
Calibrating it with a colorimeter reduced the deltaE average to 0.35 which is a score you'd see on the best prosumer monitors. However, getting the said gadget isn't always practical since it isn't cheap for many of us. We recommend sticking to the default or the PG42UQ's filters which are already decently accurate by themselves.
The Asus ROG Swift PG42UQ's OLED panel reached 398 cd/m2 at 100% but its HDR peak reached as much as 844 cd/m2 in some instances. OLED panels are known for very high backlight outputs since they don't have one but pushing beyond 800 nits is already an excellent result. We couldn't measure its contrast accurately, but it is guaranteed to be infinite like other OLED displays out there.
Panel uniformity from the sample was perfect since there were no backlight leaks or clouding that is usually associated with WLED-equipped monitors. This is another advantage of OLED panels, although its common issue called burn-in will ruin this aspect. You need to take care of the monitor by not leaving it with a static image for a long time to preserve the panel's pristine quality.
Another strength you could expect from this OLED display is its near instantaneous pixel response time. There is no blurring or ghosting from the monitor so it should work great for fast-paced and contrasting visuals. Some very minor smudges can still happen near highlights, but they won't be noticeable unless you know where they will pop up.
The Asus ROG Swift PG42UQ is compatible with both FreeSync and G-Sync so you don't have to worry about tearing and stuttering. It is essential to have this so you don't get stuck with one GPU brand when you upgrade. Its input lag sits at 4ms at 120Hz, so there is no need to worry about delays or a sluggish feel while gaming.
Thoughts on the Asus ROG Swift PG42UQ
The Asus ROG Swift PG42UQ is, hands down, one of the best gaming monitors you can buy right now. Its OLED panel is a dream to use for gaming and entertainment thanks to its naturally infinite contrast, great color, and issue-free lighting. We like the overall design, but this model could use an ergonomic stand to complete it as a PC monitor.
Of course, the biggest downside with the Asus ROG Swift PG42UQ is its high price which isn't practical for the masses. There are also minor flaws like the limited gamut coverage and the lack of USB-C connectivity. It's a great buy, but it lacks a few extras that can soften its price a bit more for the budget conscious.
Pros:
Accurate Out of the Box
Blur-Free and Responsive
Great Build Quality
Excellent Gaming Performance
Cons:
Expensive
No USB-C
Limited Gamut Coverage for OLED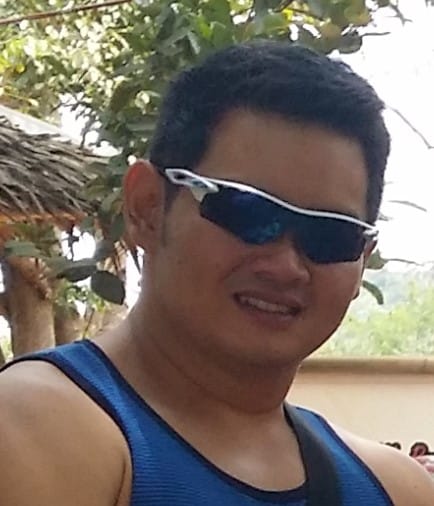 Paolo is a gaming veteran from the golden days of Doom and Warcraft. Since junior high, he has been building gaming systems for family, friends, and colleagues. High-performance monitors are one of his fixations; he believes that every citizen's right to enjoy one. He has gone through several pieces of hardware in pursuit of every bit of performance gain, much to the dismay of his wallet. He has also spent half a decade researching, reviewing, and writing about these products and now has over 1400 articles about the best gaming tech under his belt.