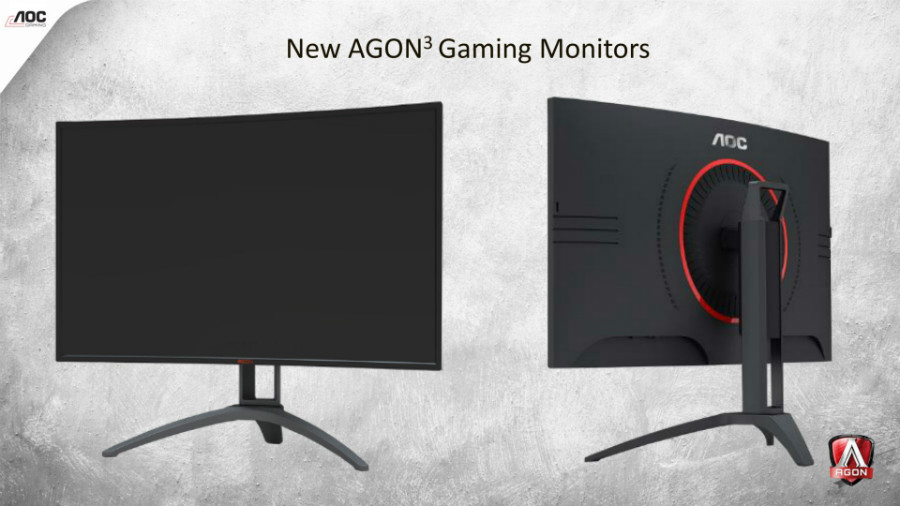 AOC, in a display of technological force, showcased their brand new AGON 3 screens during Gamescom 2017, lead by the 4K 144Hz AOC Agon AG273UG. This new batch of products also includes the AOC Agon AG35UCG which is a 200Hz ultrawide with Quantum Dot technology. Both of these models include G-Sync and HDR10 compatibility to provide gamers with the best possible performance and color reproduction unlike any we have seen before.
There are also two new curved 1440p products which are the AOC Agon AG273QCX which comes with FreeSync 2 and the AOC Agon AG273QCG with G-Sync.This new line of AOC gaming displays is the company's answer to much-awaited products such as the Asus PG27UQ and the Acer X27, which was announced during CES 2017 in January. The brand, however, is pushing to convince gamers that the new Agon 3 monitors will combine excellent speed and color fidelity at friendlier price points.
AOC Agon AG273UG – 4K 144Hz Beast With G-Sync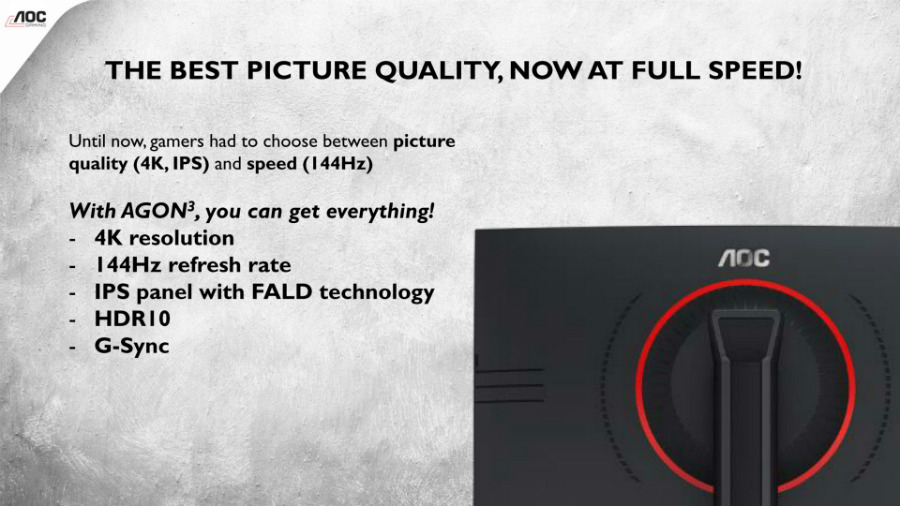 Check Availability of AOC Agon AG273UG
Playing at high refresh rates in 4K is the most anticipated technology this year, and AOC is answering the cries for capable monitors with the AOC Agon AG273UG. This upcoming product will include the latest innovations in the form of an IPS panel with Quantum Dot technology and HDR-10 to provide 100% DCI-P3 gamut coverage for fantastic vibrancy and lifelike imagery. A complete list of specs isn't available at this time, but the brand already stated that this product would have a 1000cd/m2 backlight with FALD for a true HDR output.
The AOC Agon AG273UG will also adopt a new façade which is composed of an all-black exterior and a metal stand similar to the unit with a y-shaped base found on the AG322QCX. This model along with the other offerings will drop the red chevron theme we've seen, and replace it with an RGB LED ring which adds a unique flair and bias lighting effects to your battle station. The AOC Agon AG273UCG will compete with the Asus ROG Swift PG27UQ and the Acer Predator X27 with similar performance numbers, but we can expect a lower SRP from AOC.
AOC Agon AG353UCG Ultra-Fast 200Hz Ultrawide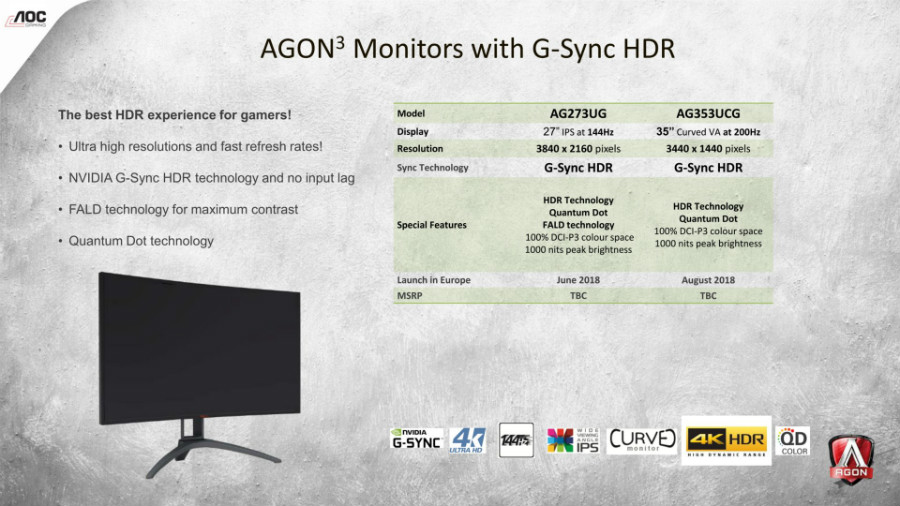 Check Availability of AOC Agon AG353UCG
The AOC Agon AG353UCG aims to take a chunk of sales away from the likes of the Acer Predator X35 and the Asus PG35VQ, both of which have a 200Hz 3440 x 1440 VA panel equipped with G-Sync and HDR compatibility. The 1800r curved screen will be supported by a 1000cd/m2 backlight with a 512 individually zoned FALD and Quantum Dot technology which enhances vibrancy. Specs aren't final as well, but AOC promises almost perfect coverage of the DCI-P3 gamut and a near zero input latency performance.
Like the AOC Agon AG273UCG, this blisteringly fast ultrawide will shed the older wing designs from the previous series of Agon monitors and instead use an all matte-black scheme with an RGB LED ring. Although the design is simplified, we think that the AOC Agon AG25UCG will sit better with enthusiasts since the product doesn't look too aggressive.
AOC Agon AG273QCX and AOC Agon AG273QCG – 1440p Aces for AMD and Nvidia Gamers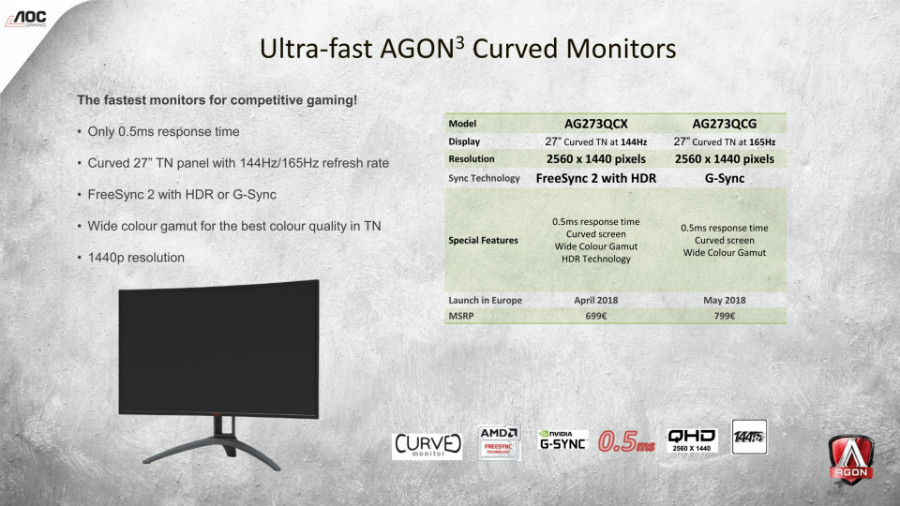 Check Availability of AOC Agon AG273QCX
The AOC Agon AG273QCX is a curved 1440p gaming monitor with a 144Hz refresh rate and FreeSync 2 while the AOC Agon AG273QCG is a 165Hz version with G-Sync. AOC specifies that both monitors will have a 0.5ms response time for improved quickness, although that number should be taken lightly since even the 1ms specs we've seen prove to be inaccurate. Both will launch with TN panels, so despite this marketing gimmick, we can still expect fast pixel transitions for reduced blurring.
What differentiates the two models is that the AOC AG273QCX will include some degree of HDR compatibility and a wider gamut. There is no mention of FALD backlighting, and combining that with TN tech's limitations and vibrancy creates a level of uncertainty as to how this model will implement its HDR output. On the other hand, FreeSync 2 is still in the works, and with AMD having its hands full with Vega's launch bloopers and the ballooning price, we can expect to hear a confirmation anytime soon.
Both will also receive the new Agon 3 treatment which comprises of a matte black finished metal stand and cabinet, accented by an RGB LED ring for ambient lighting effects. We love how far AOC's design team has gone in aesthetics, as seen from the vast improvement from the older generation which includes the AOC G2460PF all the way to the first Agon monitors.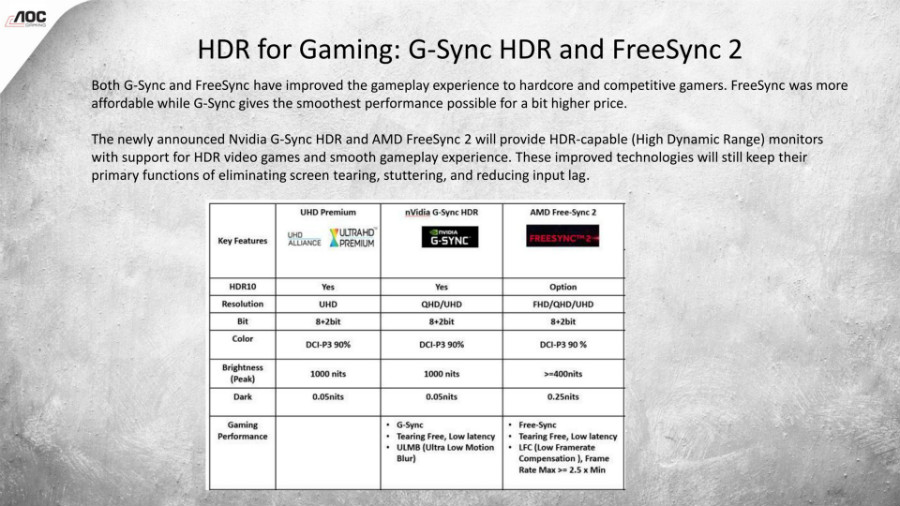 Check Availability of AOC Agon AG273QCG
Thoughts
These new Agon 3 monitors particularly the 4K 144Hz AOC Agon AG273UG, which will compete in a newer and hotter segment which represents the next step in computer display tech. Aside from pricing, the biggest hindrance for consumers are the delays in releasing, thanks to the postponement of panel manufacturing timelines. 4K 144Hz panels have been delayed to as late as December of this year, so we might not see the AOC Agon AG273UG until June 2018 or possibly later.
As for the 200Hz ultrawide AOC Agon AG25UCG, like its Asus and Acer counterparts is still waiting for a specific release date which is speculated to be around Q1 2018. At least, AOC has already guaranteed that the AOC AG273QCX will become available by April 2018 with an SRP of €599 with the G-Sync enabled AOC AG273QCG following shortly at €699.