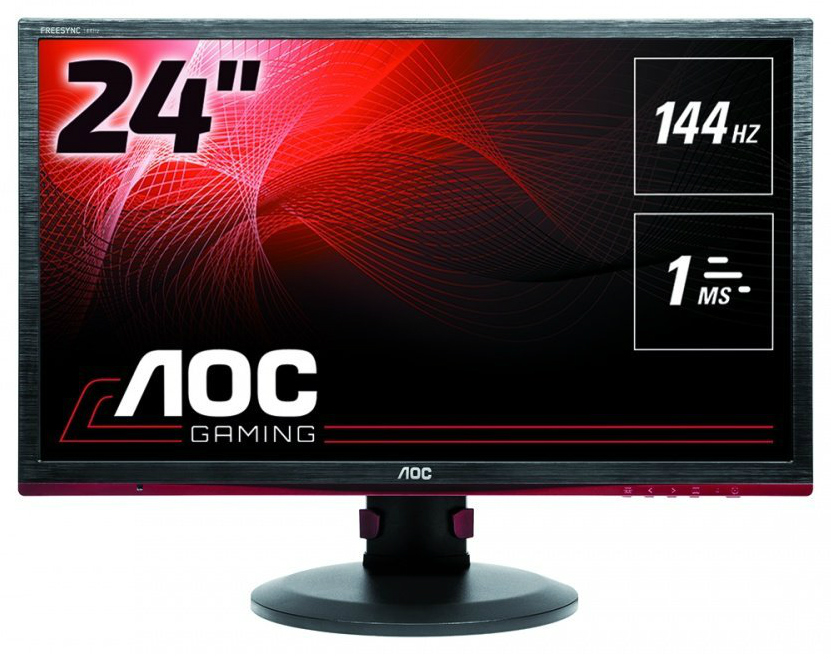 AOC G2460PF Review
PCmag.com

MonitorNerds

Newegg Customers

Amazon Customers
Review of AOC G2460PF
The gaming monitor market has been steadily gaining ground not only in professional gaming but also in regular households. Most gamers would love to have one of these essential products, but as always the expensive price tags attached to gaming monitors are hindering most buyers. AOC, a well-known brand in the computer monitor market, has produced something to remedy that. For the AMD graphics users out there who are looking for a monitor that is budget-friendly, AOC has created the G2460PF. It is a 24-inch gaming monitor that has AMD's Freesync Technology and impressive refresh and response rates.  The AOC G2460 has been labeled "Amazon's Choice" in the Gaming Monitor category, and the price has recently declined.
Technical Specifications
– Screen Size: 24 inches
– Resolution: 1080p 1920 x 1080
– Aspect Ratio: 16:9
– Panel Technology: Twisted Nematic Film (TN)
– Refresh Rate: 144Hz
– Response Time (Gray to Gray): 1 milliseconds
– Contrast Ratio: 1000:1 / 80000000:1 (dynamic)
– Brightness: 350 cd/m²
– Built-In Speakers: Yes (2 x 2 watts each)
– Stand: Height: Yes (5.11 inches)
– Stand: Tilt: Yes -5°/+22°
– Stand: Swivel: Yes -165°/165°                                                                                                                                  -VESA Compatibility: Yes (100×100)
– Connectivity: D-Sub (Analogue), DVI and HDMI (Digital), DisplayPort, 4 x USB 2.0 Slots
-Weight: 11.42lbs
– Dimensions: With stand: 15.5" (+5.11") x 25.9" x 9.63″
– Power Consumption: 22.7 Watts ( Energy Star qualified)
Design and features
Unlike most gaming monitors, the AOC G2460PF has a matte black finish with a texture that imitates brushed Aluminum. The bezel is thin enough not to be obtrusive except for the bottom part that has a red accent running across that makes it wider. This design feature is not an issue to most, but it could be a hindrance in using this for a portrait multi-monitor setup, plus it could be tacky to some. The base and the stand are just like any regular one. It is finished in matte black and has an oval base. Despite the simple design, the stand allows the screen to adjust flexibly to suit the user's needs for comfort and ease of use. It also uses a VESA compatibility with 100mm x 100mm holes. Overall it gives the product a simple yet functional and professional look.
While being considered as an entry-level gaming monitor, the AOC G2460PF offers a multitude of connection options. It has a D-Sub port, DVI port, HDMI port, a DisplayPort, and 4 USB 2.0 ports. Most of the display ports support full HD, but as always, you have to use the DisplayPort to run it in 1080p at 144hz. You can use the USB 2.0 ports for additional peripherals. This feature is a welcome addition to a budget-friendly monitor. The product also comes with an audio jack connector and two speakers. The speakers add more value to its low price, but sadly it is not even worth mentioning because of the low quality. But then again that is expected of most built-in speakers, so it is not an issue. Most users will have better aftermarket speakers or gaming headsets to use.
Besides the standard packaging of most monitors, AOC is kind enough to include the cables needed to operate this product. Aside from the power cord, the package includes a cable for DisplayPort, HDMI, and a USB 2.0 uplink. There is also a red clip for cable management included that will attach to the stand. This addition is helpful in avoiding messy wiring if you decide to use multiple connections. There is also an included cd for driver installation. This inclusion is not required since a seasoned user would go to the manufacturer's site to find an updated version of the driver
Display Features and Performance
The AOC G2460PF has four buttons located on the underside of the bezel at the lower right-hand corner beside the power button. From here you can adjust the monitor's various settings from contrast to brightness. Doing this is highly recommended even if the default settings are somehow adequate. You can also adjust the volume through this menu, but it is cumbersome and involves a lot of presses. This feature will not be a problem though since users will most probably have speakers or a headset to use instead of the built-in ones.
The AOC G2460PF's screen is a Twisted nematic film (TN) panel. It has a matte and smooth finish that you usually find in most modern monitors. Since it uses TN technology, it does come with all the regular downsides. While the product's color reproduction is adequate, there is a noticeable decline in vibrancy and saturation the farther away you look from the center. The viewing angle is of course limited since this is a TN panel monitor. These can be remedied however by adjusting the screen to your preferred position since the included stand it amazingly flexible.
Despite the shortcomings, the AOC G2460PF still is a good performer. The 144hz refresh rate, the amazing 1ms response time, and the option to activate AMD's Freesync technology will improve gaming experience by a mile compared to using a regular monitor. Using this product with a good AMD based computer will produce smooth and tearing-free pictures. Freesync works in the 35hz to 144hz so to make the most out this monitor, make sure your system is capable of producing frame rates that can match that range. Another point to consider despite a few dismissable drawbacks, the AOC G2460PF's screen is brighter than most gaming monitors in the market. The product is capable of producing 350nit of brightness compared to most competitors in the same segment who only have an output of 300nit. This feature is negligible for most users who game or watch movies in the dark, but this could prove useful for those who play near a window during the day or in other brightly lit environments.
There are also some reports of bugs in the included driver for this product. Some of it entails having to reset the Freesync settings every time the monitor restarts. Others have also said that driver is either incompatible or is not found by the system. For some, this can be considered as a be a deal breaker or a big hassle. But since the AOC's marketing for this product is mostly for gamers, these users are no strangers to tweaking and debugging. It would be easy to look to the web and the manufacturer's site to find the correct and updated driver or to find settings that would work for most, if not all.
Conclusion
For its price point, the AOC G2460PF still offers the most significant features a gaming monitor can have. The 144hz refresh rate coupled with the 1ms response time plus the ability to use Freesync will produce an improved gaming experience compared to using a regular monitor. In addition to that, it comes packaged with a multitude of connection options and the cables necessary to use them. One of the features I like about it is it has 4 USB 2.0 slots for a myriad of peripherals. Some of the high-end monitors do not even have as much USB ports or at times, not even one.
The design may be considered boring compared to the usual aggressive looks of competitors, but I consider it to be sleek and professional-looking. The product will not look out of place in a work-related environment while having a gaming pedigree hidden inside it. I would highly recommend this monitor for those who want to get into 144hz gaming without having to break the bank. The AOC G2460PF is considered to be an entry-level gaming product, but for its price and its performance It will not disappoint gamers and most home users, especially those who are coming from aging or regular monitors.