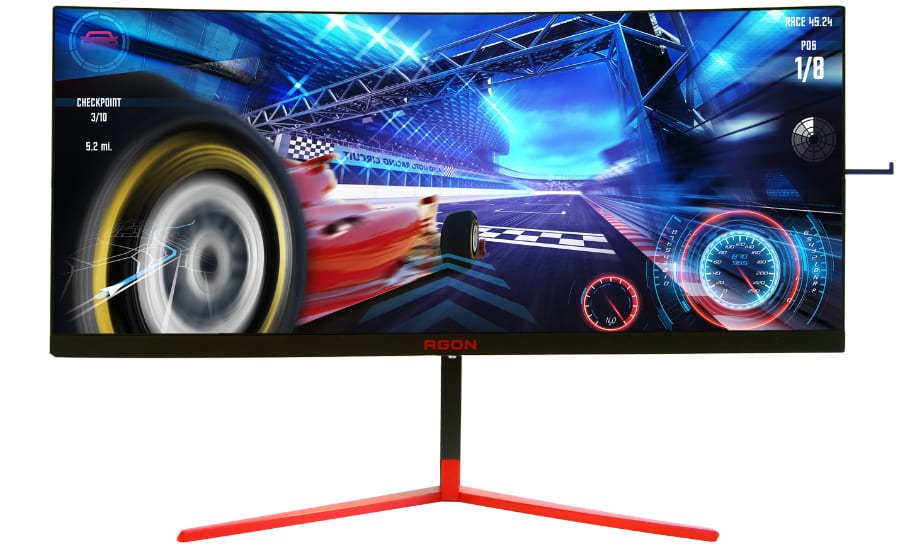 The AOC Agon AG353UCG is one of the few and the proud to offer a 200Hz ultrawide panel with superb HDR capabilities for high-end gaming. We now have an awesome selection of gaming monitor classes, but a very fast ultrawide is a different beast altogether. The AOC Agon AG353UCG is a conversation piece for monitor enthusiasts, but can it outperform the Acer X35 and the Asus PG35VQ?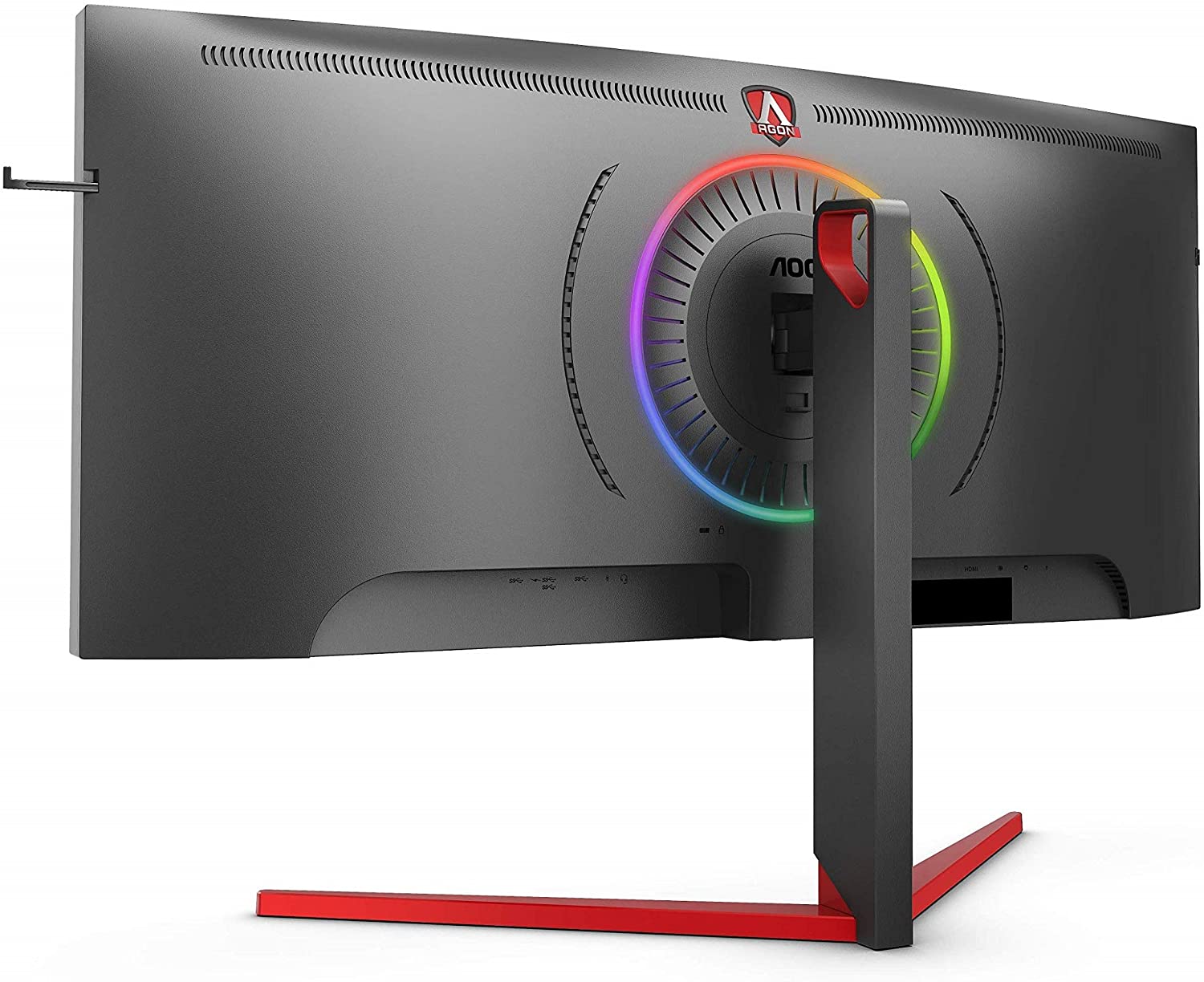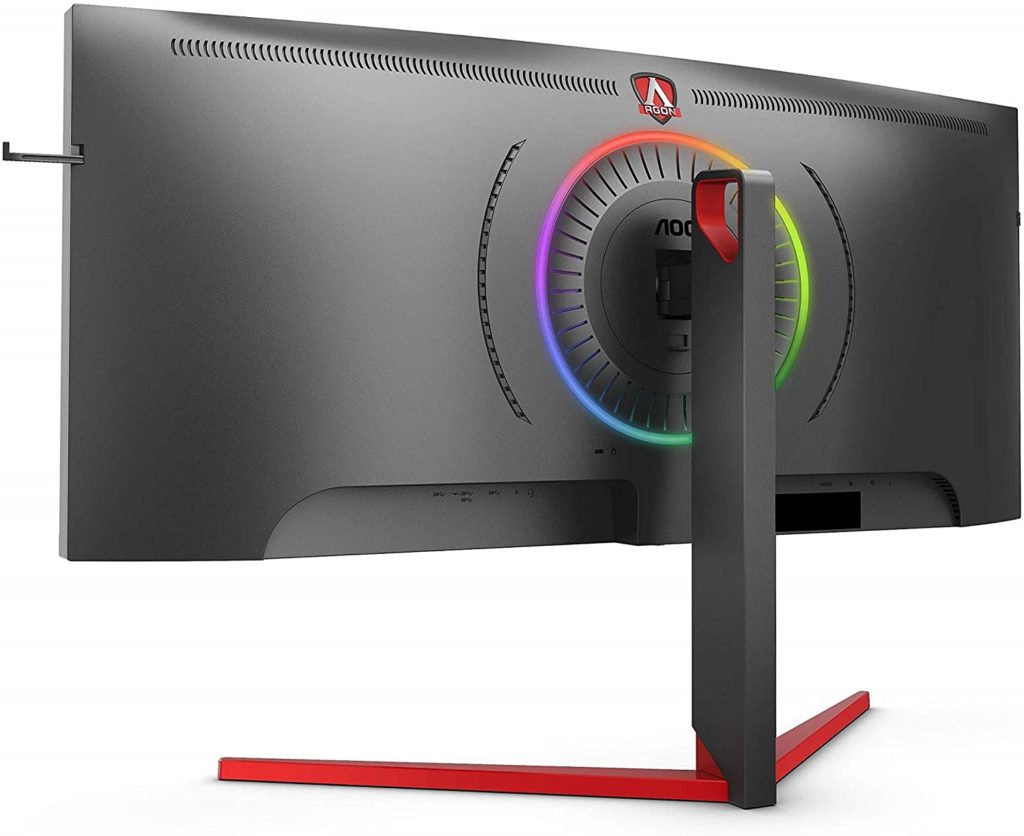 AOC Agon AG353UCG Specifications
Screen Size: 35 Inches
Resolution: 3440 x 1440 UW-QHD
Aspect Ratio: 21:9
Panel Technology: Vertical Alignment (VA)
Refresh Rate: 200Hz
Response Time: 2ms
Contrast Ratio: 2500:1 (Static)
Brightness: 1000cd/m² Peak
Built-inSpeakers: Yes (2 x 5 Watts)
Stand: Height – Yes
Stand: Tilt – Yes
Stand: Swivel – Yes
Stand: Pivot – No
VESA Compatibility: Yes (100 x 100)
Connectivity: DisplayPort 1.4x 2, HDMI 2.0 x 1, USB 3.1 x 4, 3.5mm Audio Jacks x 2
Dimensions (WxHxD): 33.35″ x 18.35″ x 10.49"
Weight: 30.31 lbs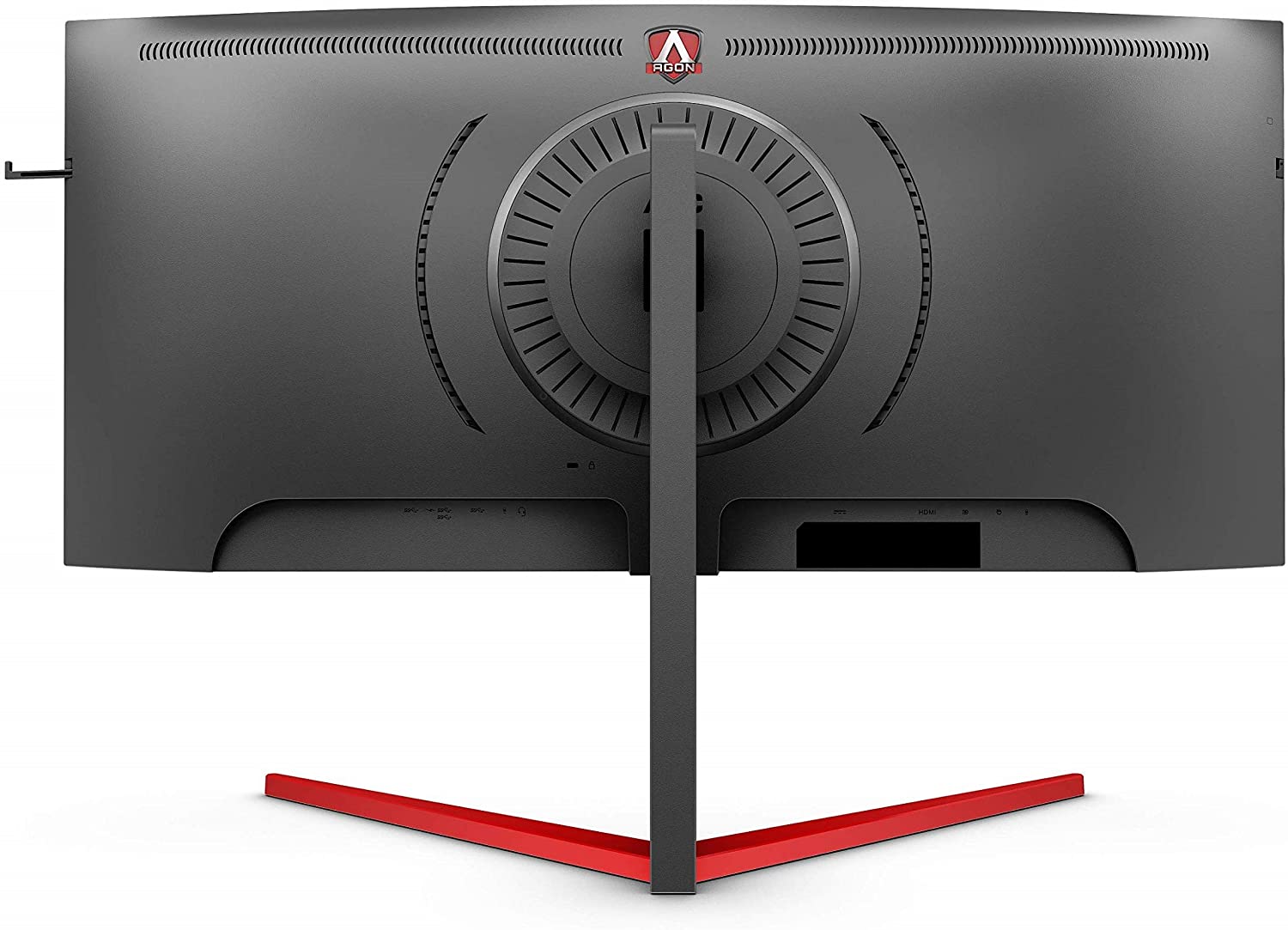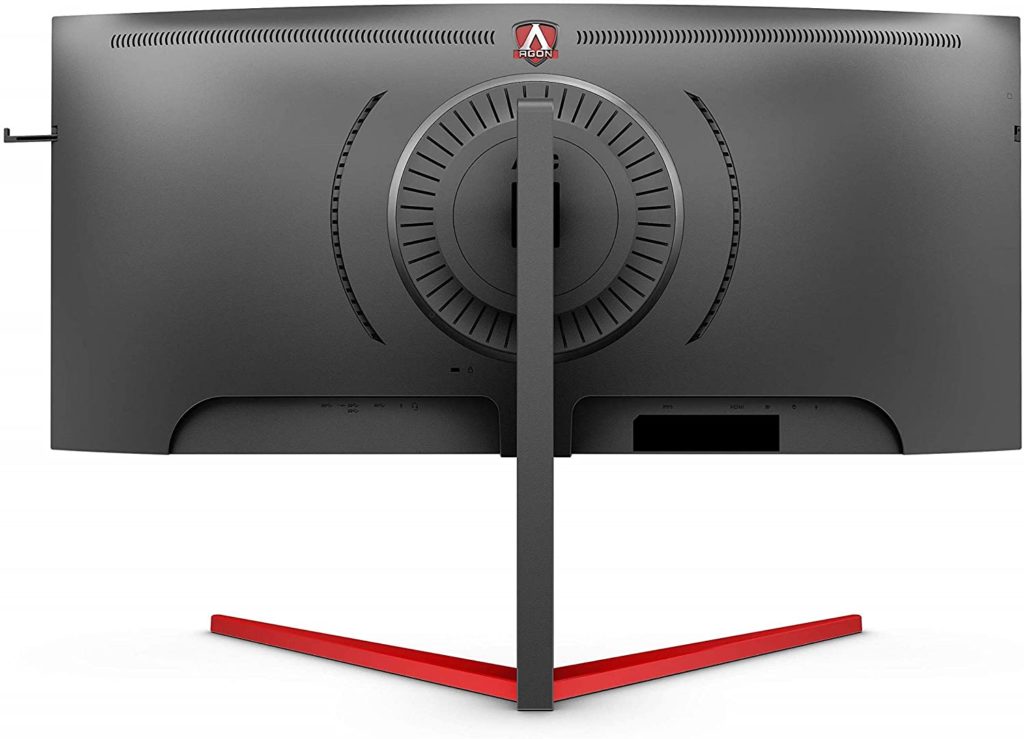 Design and Features
The AOC Agon AG353UCG inherits its looks from the AG273QCG which is one of the most attractive in the market right now. The new aesthetic treatment that set that monitor apart from its competitors even won the Red Dot Design Award in 2018 for its mix of elegance and edginess. What's great about these new monitors is that they are bezel-free on three sides, giving the user an undisturbed view of all the viewing real estate.
You have to make sure that you have a large and sturdy desk to handle the massive AOC Agon AG353UCG. Its around 3 feet wide and almost a foot deep, plus it weighs a little over 30 pounds which is considerably heavier than typical monitors. Make sure that you have a sturdy tempered surface if you are using glass tables or use a true-rated monitor arm so it doesn't sag down.
Build quality for the AOC Agon AG353UCG is excellent as expected from the brand that has produced excellent monitors in recent years. The plastics are thick and durable, and there are no cosmetic imperfections such as gaps in the seams or scratches. The stand is very capable of holding the massive monitor upright without wobbling, so you can focus on the screen better.
The AOC Agon AG353UCG includes all the familiar extras we love on gaming monitors such as the pop-out headset hanger which is now available on both sides of the cabinet. It's also fantastic that you don't have to deal with buttons since there is a joystick for easy navigation of the OSD. You also get a hotkey remote which makes accessing common settings and presets faster and more convenient when you are in the heat of battle.
Another distinct feature on the AOC Agon AG353UCG is its RGB light ring which AOC dubs the Light FX. It is bright enough to cast a bias light especially if you have the monitor against the wall, so it adds an immersive and comforting effect to your setup. Being able to customize your lighting scheme is also nice to have especially if you are the enthusiast who wants to mix and match.
The large cabinet of the AOC Agon AG353UCG is supported by a metal stand with a red, Y-shaped base that looks exquisitely thin. Initial specifications suggest that you can tilt, swivel, and adjust the height of the monitor, but pivoting isn't available since its useless. Of course, you can switch to a standard VESA monitor arm or mount if you need more flexibility.


The AOC Agon AG353UCG includes two DisplayPort 1.4 slots and a single HDMI 2.0 port for video inputs. It's a bit limited due to the nature of G-Sync's FPGA module, but you do get four USB 3.1 slots for accessories. There is also a pair of 3.5mm jacks for audio passthrough and a micro USB port dedicated to the remote.
The AOC Agon AG353UCG has a pair of built-in speakers with 5-watts of power, making them sufficient for basic use. They sound good enough for background music or conference calls, but gamers will turn to headsets or external speakers for that extra oomph. They are handy for anything other than games and movies, so its still a good addition to the premium package.
Display and Performance
The AOC Agon AG353UCG boasts a 35-inch curved VA panel with a 3440 x 1440 resolution, 200Hz refresh rate, and a 2ms response time. A contrast ratio of 2500:1 is specified along with a 1000 cd/m2 peak backlight. This is one of the few G-Sync Ultimate monitors with HDR 1000 certification, so it can offer real HDR improvements compared to the lower-end variants.
Pixelation or fuzzy images won't be an issue with the AOC Agon AG353UCG since its pixel density is high enough to be considered an upgrade. You get sharp images and games, but other tasks such as document processing or browsing won't suffer. Text is still very clear and legible, so you don't need to use scaling with this model as well.
The AOC Agon AG353UCG provides fantastic color quality, but its result falls slightly short compared to the original claims. The VA panel is only able to produce 105% sRGB and around 88% DCI-P3 with a default color average of deltaE of 1.69. That's a great result for a monitor that's designed for extra saturation instead of photorealistic hues.
Calibrating the AOC Agon AG353UCG improves the dE average to 1.08 which is even better for users who dabble in editing and content creation. However, it's not worth the cost of the colorimeter for the monitor's main purpose, and you can get away with a few minor tweaks. Gamma tracks correctly, so many users can either use the default or make a few adjustments and leave the monitor as it is.
The AOC Agon AG353UCG reaches around 590 cd/m2 in SDR, making it too bright to use for daily tasks. It can also peak up to 1065 cd/m2 in HDR scenes. The contrast ratio in SDR is a bit low for a VA panel at 1980:1 at 40% brightness, but it rises indefinitely when HDR is active. The 512-zone backlight is the key here whose only noticeable disadvantage is the noise of the fan that is necessary to cool it down.
HDR performance is nothing short of impressive thanks to the technological implementations in the AOC Agon AG353UCG. The highlights and details of HDR-compatible games become appreciable, so something as simple as a rock's rough face is given depth. Only OLEDs are better in this regard, but some may not like the necessary premium to own this kind of performance.
Panel uniformity also isn't an issue with the AOC Agon AG353UCG since the screen is evenly lit by default. There are no clouding issues that can drop contrast and saturation in the affected quadrants, so you get a clean looking screen. Take note that this can vary between units due to manufacturing tolerances, so there are some models with worse uniformities out there.
The AOC Agon AG353UCG has a very fast draw time, but it's still prone to some persistence and smudges. Setting the overdrive to its middle setting helped in lessening the issue, but some can still be seen if you look close enough. This also happens with the Acer X35 and Asus PG35VQ, and it is unexpected for the 200Hz model that sits at this price range.
The AOC Agon AG353UCG is a G-Sync Ultimate monitor, so Adaptive Sync will only work with Nvidia GPUs. You are going to need a top-end card to maximize this model, so looking into the upcoming RTX 3080 and RTX 3090 cards might be a good idea. Input lag sits at 5ms at 200Hz, so there is no need to worry about delays or de-synced instances while playing your favorite titles.
Thoughts on the AOC Agon AG353UCG
The AOC Agon AG353UCG is a fantastic choice if you want the best monitor specs and are willing to spend the extra premium that comes with it. The screen's colors and HDR performance is one of the best we have seen, although there aren't a lot of monitors you can compare this model with. The monitor has plenty of nice to have and useful features, so it lends a versatile hand to let you customize your setup according to your desires.
However, the biggest hindrances for the AOC Agon AG353UCG are availability and pricing which heavily fluctuate at the time of this review. The monitor is slightly cheaper than the X35 and the PG35VQ, but it is prone to price gouging by retailers who have it in their inventories. It's one of the most advanced monitors you can buy, but you have to hunt it down and put out the extra cash when it drops in your region.
Pros:
Excellent Gamut Coverage and Default Accuracy
High HDR Brightness and Contrast with Local Dimming (512 Zones)
Attractive Design with RGB
Low Input Lag
Plenty of Extra Features
Cons:
Still Prone to Some Blurring
Low Availability and Inflated Pricing When Available
Requires an Equally Expensive GPU
-About the Author: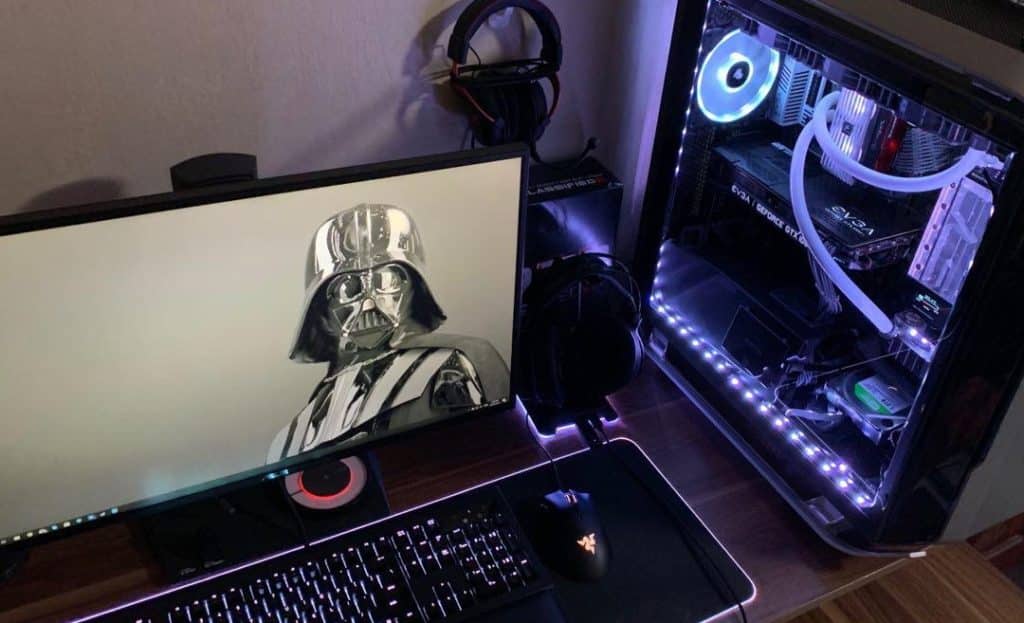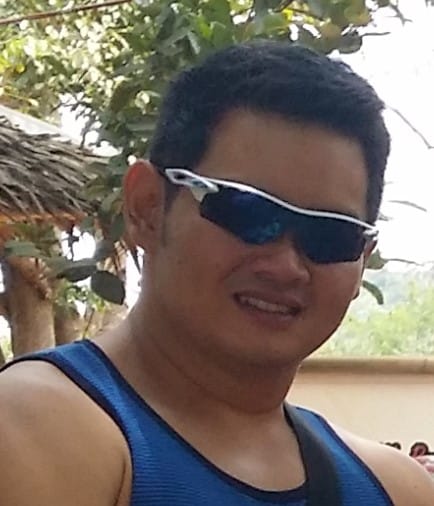 Paolo is a gaming veteran since the golden days of Doom and Warcraft and has been building gaming systems for family, friends, and colleagues since his junior high years. High-performance monitors are one of his fixations and he believes that it's every citizen's right to enjoy one. He has gone through several pieces of hardware in pursuit of every bit of performance gain, much to the dismay of his wallet. He now works with Monitornerds to scrutinize the latest gear to create reviews that accentuate the seldom explained aspects of a PC monitor.