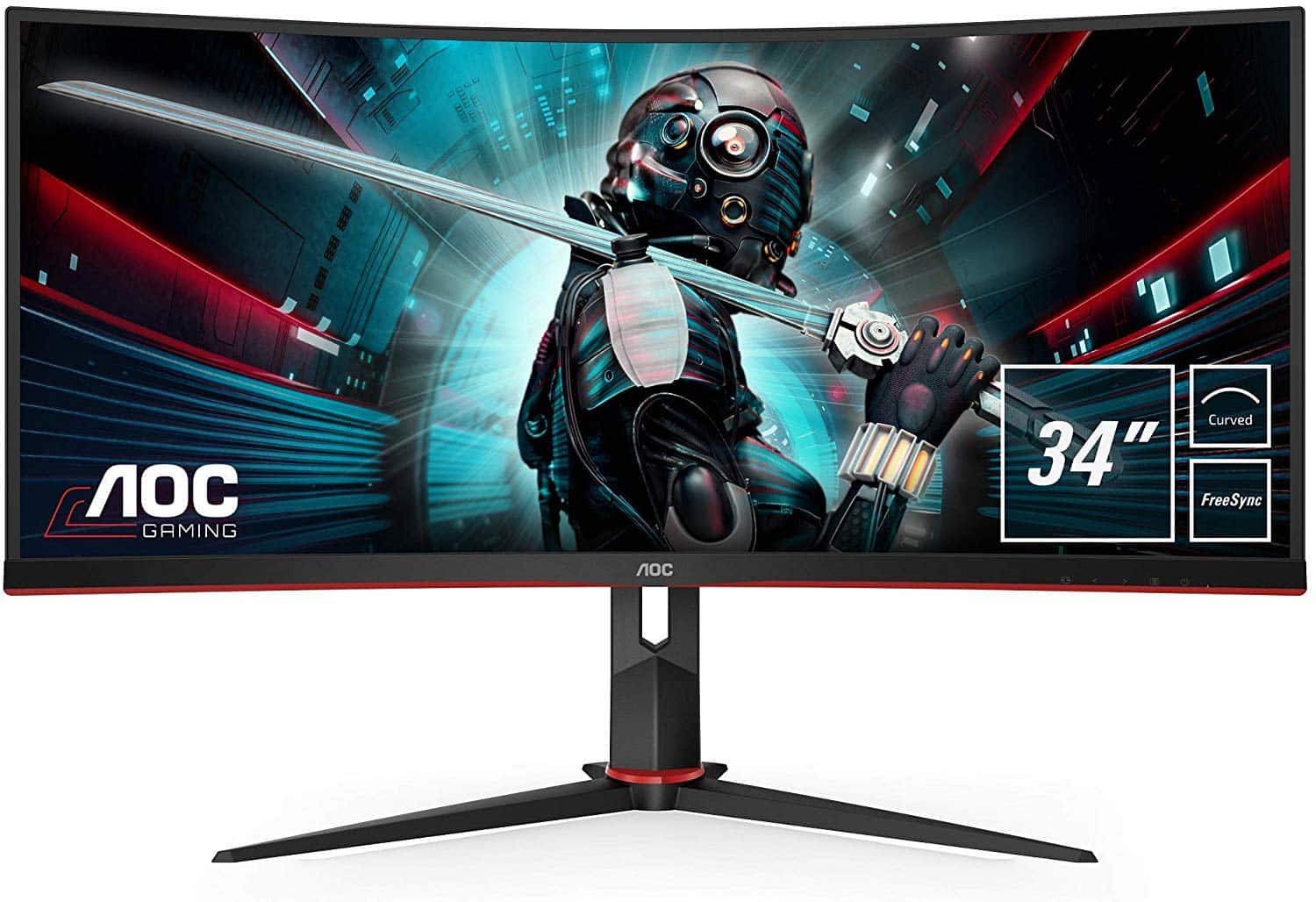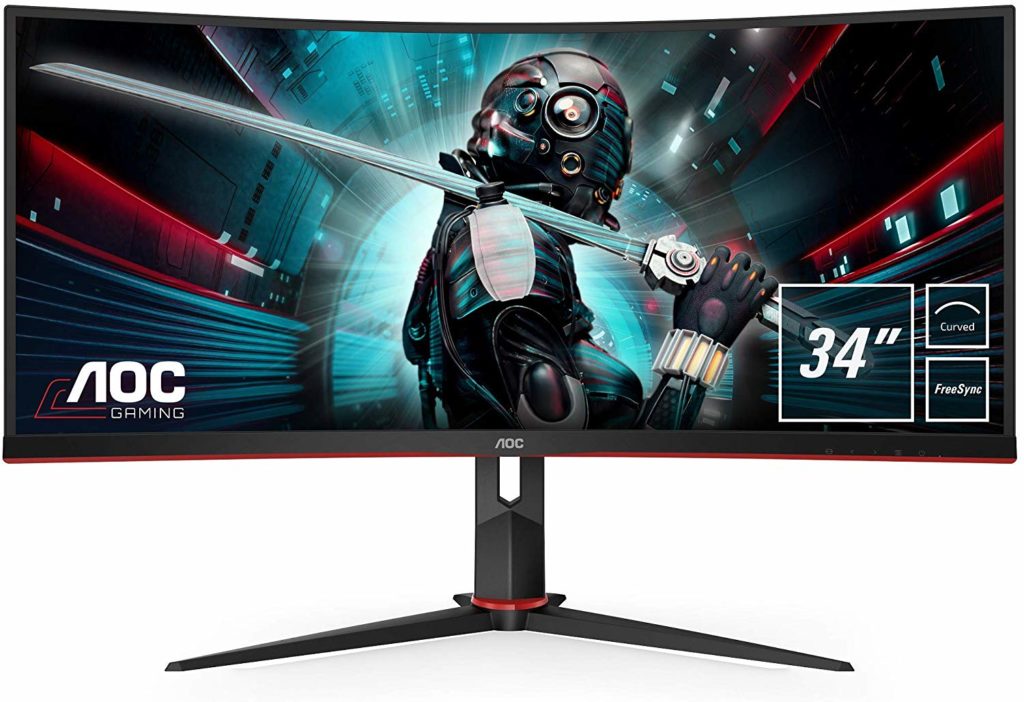 The AOC CU34G2 is a very affordable ultrawide gaming monitor that doesn't compromise its specifications to meet a specific price point. The monitor sits a tier below the CU34G2X and is limited to 100Hz, but it's still a meaningful upgrade due to its large QHD screen that's capable of smoother visuals. The AOC CU34G2's price and package are too enticing to ignore even if there is a 144Hz version, so let's see how it stacks against its faster sibling.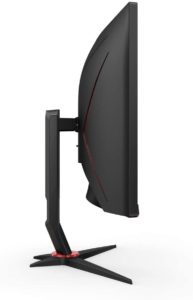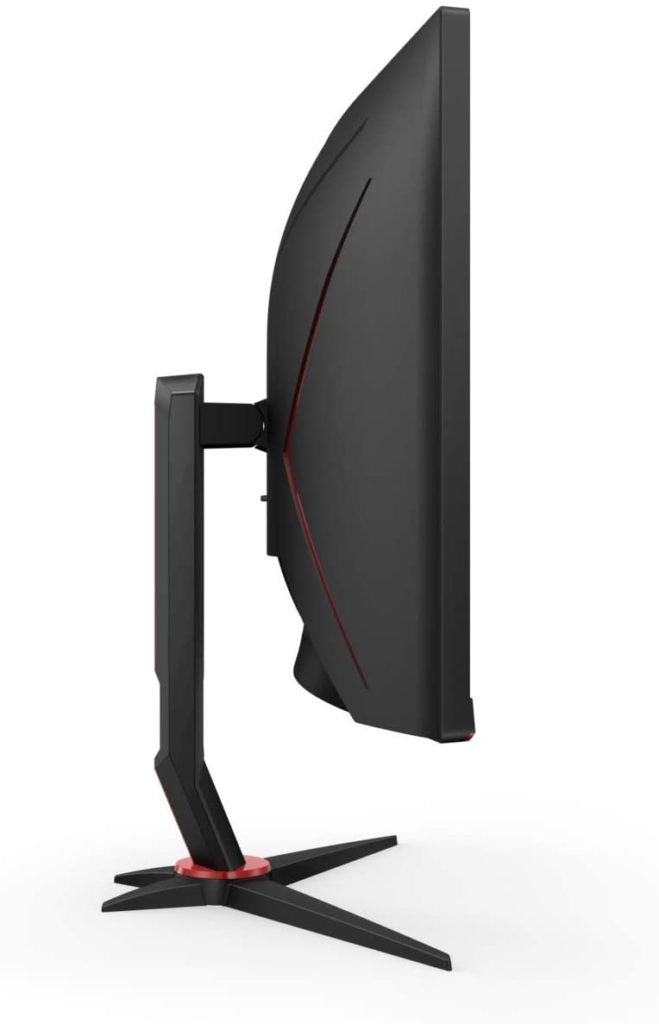 AOC CU34G2 Specifications
Screen Size: 34 Inches
Resolution: 3440 x 1440 UW-QHD
Aspect Ratio: 21:9
Panel Technology: Vertical Alignment
Refresh Rate: 100Hz
Response Time: 4ms
Contrast Ratio: 3000:1 (Static)
Brightness: 300 cd/m²
Built-in Speakers: No
Stand: Height – Yes
Stand: Tilt – Yes
Stand: Swivel – Yes
Stand: Pivot – No
VESA Compatibility: Yes (100 x 100)
Connectivity: DisplayPort 1.4x 1, HDMI 2.0 x 2, USB 3.0 x 5, 3.5mm Audio Jack x 1
Dimensions (W x H x D): 31.83" x 20.80" x 9.35"
Weight: 14.33 lbs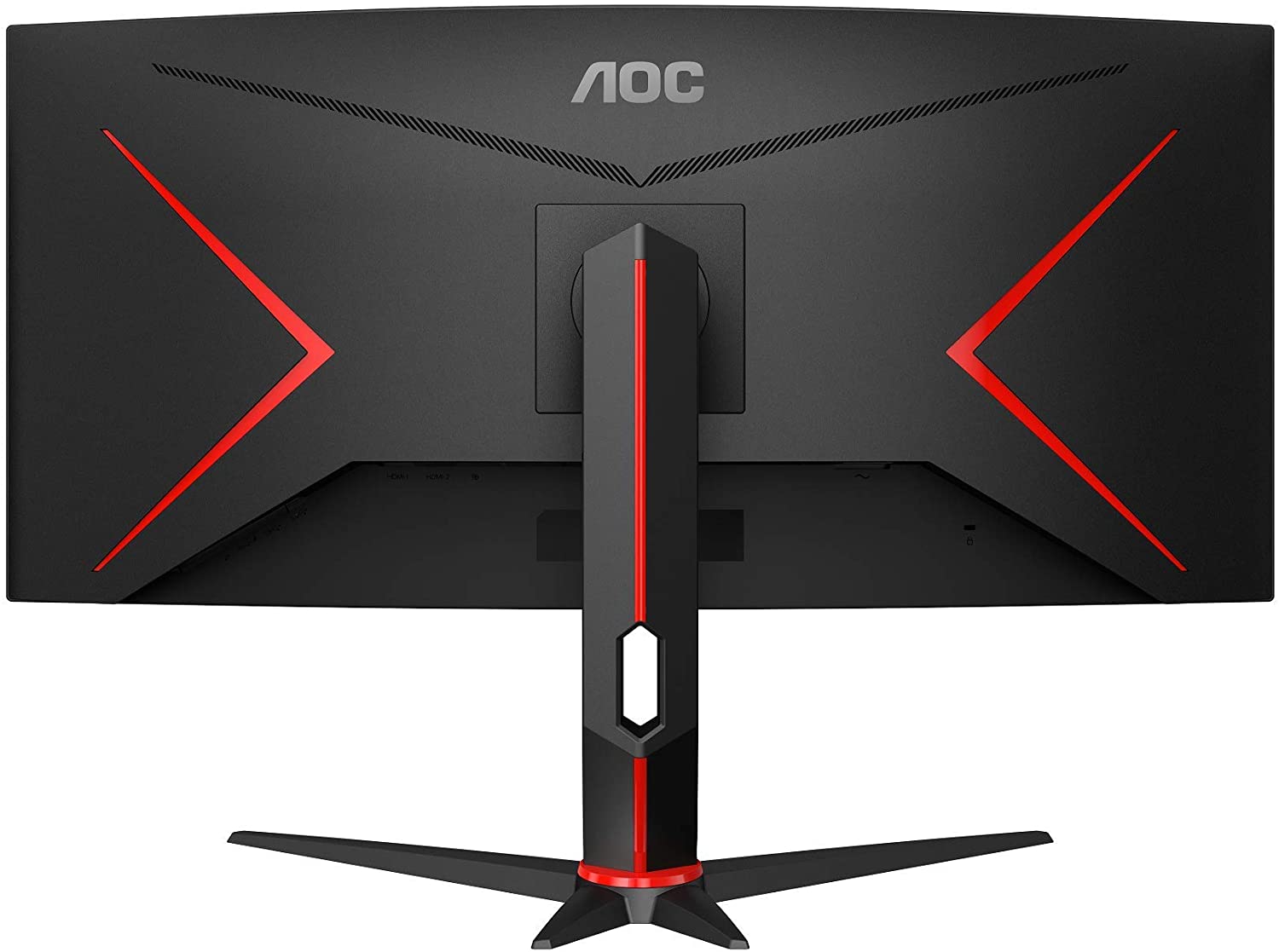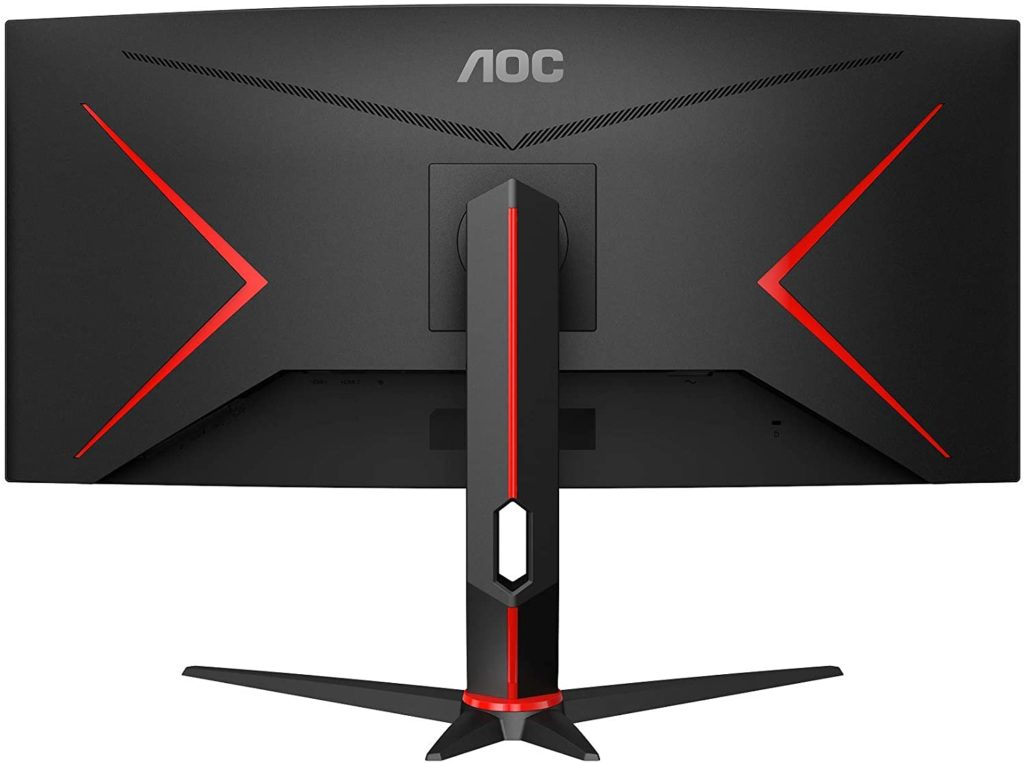 Design and Features
The AOC CU34G2 also utilizes the G2 series aesthetic, so there is basically no difference between it and the CU34G2X when it comes to looks and proportion. The monitor uses a sleek matte black chassis that's laced with red accents to indicate that it is meant for gaming instead of productivity or professional use. The monitor doesn't have outrageously thick bezels on three sides, but you will still see inner borders when the screen is in use.


We like the fact that AOC kept the total depth of the AOC CU34G2 under ten inches to make placement easier for the user. The device, despite its size, won't eat up most of your desk, so you can still place streaming decks or a large keyboard in front of it. The monitor is also lighter than most ultrawides, so you won't have trouble lifting or assembling it.
Build quality isn't compromised as well even if the AOC CU34G2 and the series it belongs to focuses on being affordable alternatives. The plastics feel robust and high quality, while the stand is stable and smooth if you try to manipulate the angle of the chassis. There are no scratches or uneven seams on the sample, indicating that quality control did a great job during the manufacturing process.
One downside you have to live with is the AOC CU34G2's use of OSD buttons instead of the more preferred joystick. It's not a big deal for most especially at this price range, but the former is a bit more challenging to use, especially in the dark. You'd be looking for a joystick if you want to adjust something as mundane as brightness when the multiple presses to get to a sub-menu gets tiring,
The stand that comes with the AOC CU34G2 offers tilt, swivel, and height adjustments, so you will be able to find a comfortable viewing angle easily. The Y-shaped base also does an excellent job of keeping the monitor upright, so you won't have to worry about accidents during use. You can opt for a VESA mount, but we think it's unnecessary unless you want to save space or have multiple displays on your setup.
Another difference the AOC CU34G2 has with its higher-tiered sibling is its connectivity layout which has fewer ports. The I/O panel has a single DisplayPort 1.2 and two HDMI 2.0 slots for video, along with four USB 3.0 receptacles for accessories and peripherals. The CU34G2X has dual DP 1.4 slots which are nice to have, but it's unnecessary for this model.
There are no speakers with the AOC CU34G2, so its only audio feature is its 3.5mm jack for your headphones. Ultrawides can accommodate larger and more powerful pairs, but we think its only fair to lose them for this model since its considerably more affordable. It's also a fact that you don't miss out on them anyway since your dedicated set or cans will most definitely sound better in games.
Display and Performance
The AOC CU34G2 boasts a 34-inch curved VA panel with a 3440 x 1440 resolution, 100Hz refresh rate, and 4ms response time. The backlight is listed at 300 cd/m2, while the contrast sits at 3000:1 as expected from a VA panel. This model has a 1500r curvature which makes it narrow than most ultrawides and considerably better at immersing your visuals.
A QHD ultrawide is about as sharp as a 27-inch 1440p variant so you get an upgrade in detail and crispness. Visibility is also balanced, so users won't need to use scaling even if small objects like text appear tinier. The resolution will demand more from your GPU, so make sure that it's powerful enough or that you are willing to lower the graphics settings to maximize the refresh rate.
The AOC CU34G2's color coverage is comparable to the AOC CU34G2X, starting with an sRGB palette that exceeds 100% and around 85% of Adobe RGB. However, default accuracy could use some improvements with its DeltaE of 3.29, which simply too high and indicative that the monitor wasn't properly pre-calibrated. Color temperature is also too warm for our eyes, so calibration is necessary for a more balanced image.
You can tweak this results with a colorimeter to reduce the color error to a much more acceptable DE of 0.90. The color temperature will also follow, lessening the yellowish glow of white backgrounds such as browsers and document apps. Gamma for both settings stayed at 2.16 for both settings, so there are still a few errors, but they are mostly unnoticeable.
The AOC CU34G2 also failed to meet its backlight specifications, clocking in at only 240 cd/m2 like its 144Hz sibling. Contrast is also lower at 2200:1, but its less of a problem compared to the backlight's limitations which can tend to make the screen look dim. Thankfully, black luminance isn't affected at a noticeable scale, so you can still enjoy the inky dark scenes of titles like Modern Warfare.
Panel uniformity for the AOC CU34G2 test unit was overall decent except for the upper quadrants of the screen which looked slightly dimmer in dark scenes. You lose some contrast in those sections, but it's difficult to notice unless you focus your eyes on these areas. Take note that this aspect varies between every unit due to manufacturing tolerances, so being able to exchange yours if it has issues is a must.
The AOC CU34G2 is more prone to blurring since it has a lower refresh rate, but its overdrive at the Medium level can cure some of the smudges effectively. Using the maximum level did not show any tangible benefit, and it even induced massive overshoot which was clearly visible in every transition. This won't be an issue for most users unless fast-paced competitive titles are part of the menu.
The AOC CU34G2 is a FreeSync gaming monitor, but you might have to wait for a few driver upgrades if you want to use G-Sync compatibility mode. It can be force-activated via Nvidia's control settings, but there is no guarantee that you will not run into any issues. Input lag sits at 6ms at 100Hz, so there should be no noticeable delays while gaming.
Thoughts on the AOC CU34G2
The AOC CU34G2 isn't perfect, but it's hard to argue with a 100Hz QHD ultrawide that only commands a little over $400 for ownership. Image quality isn't as strong as some comparable models we've reviewed like the Philips 346B1C, but this model is noticeably faster in both latency and pixel response time. The design is low-key yet functional, making this model ideal for users who want less fuss for their setups.
The AOC CU34G2 is very attractive at its price point, but it's a tough choice to make considering that you can get the much better CU34G2X for a small price difference. We love this model since it makes ultrawide gaming with extended refresh rates reachable for limited budgets, but we think most will go for the X version since its also quite affordable.
Pros:
Rich Colors and Contrast
Lightning-Fast Gaming Monitor
Good Overdrive Performance
Excellent Price
Cons:
Poor Out of the Box Accuracy
Dim Backlight
Overshadowed in Every Aspect by the CU34G2X
About the Author: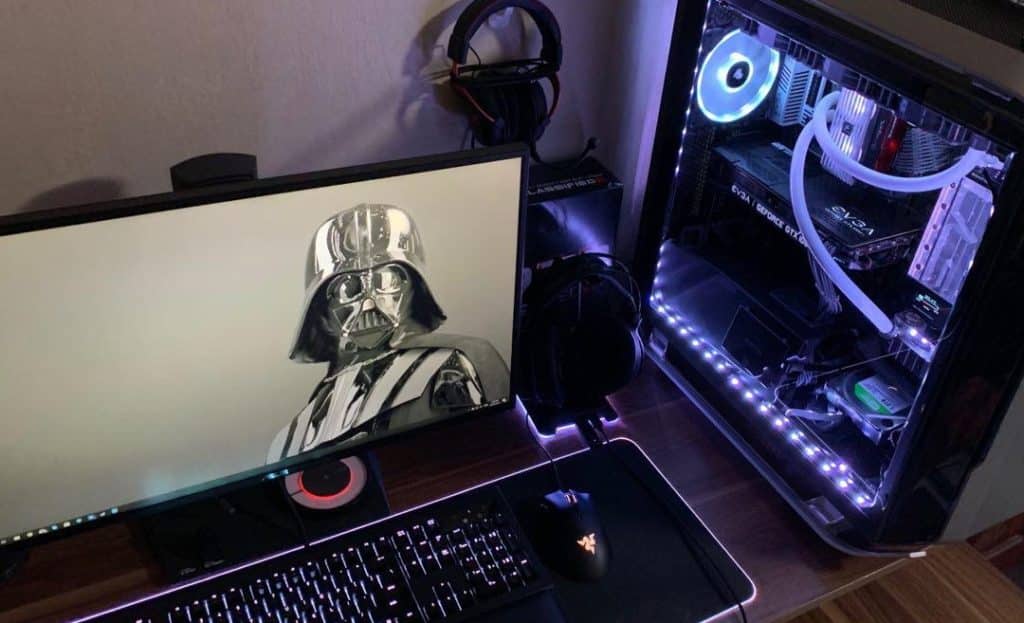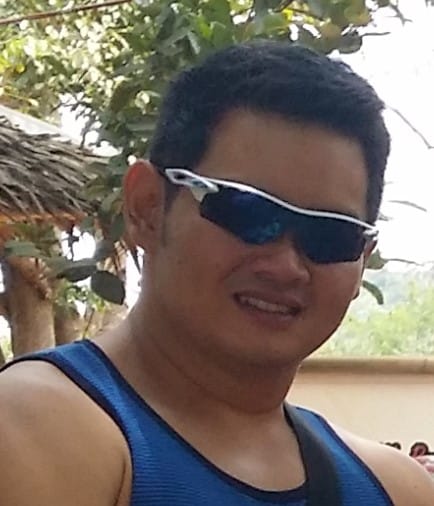 Paolo is a gaming veteran since the golden days of Doom and Warcraft and has been building gaming systems for family, friends, and colleagues since his junior high years. High-performance monitors are one of his fixations and he believes that it's every citizen's right to enjoy one. He has gone through several pieces of hardware in pursuit of every bit of performance gain, much to the dismay of his wallet. He now works with Monitornerds to scrutinize the latest gear to create reviews that accentuate the seldom explained aspects of a PC monitor.