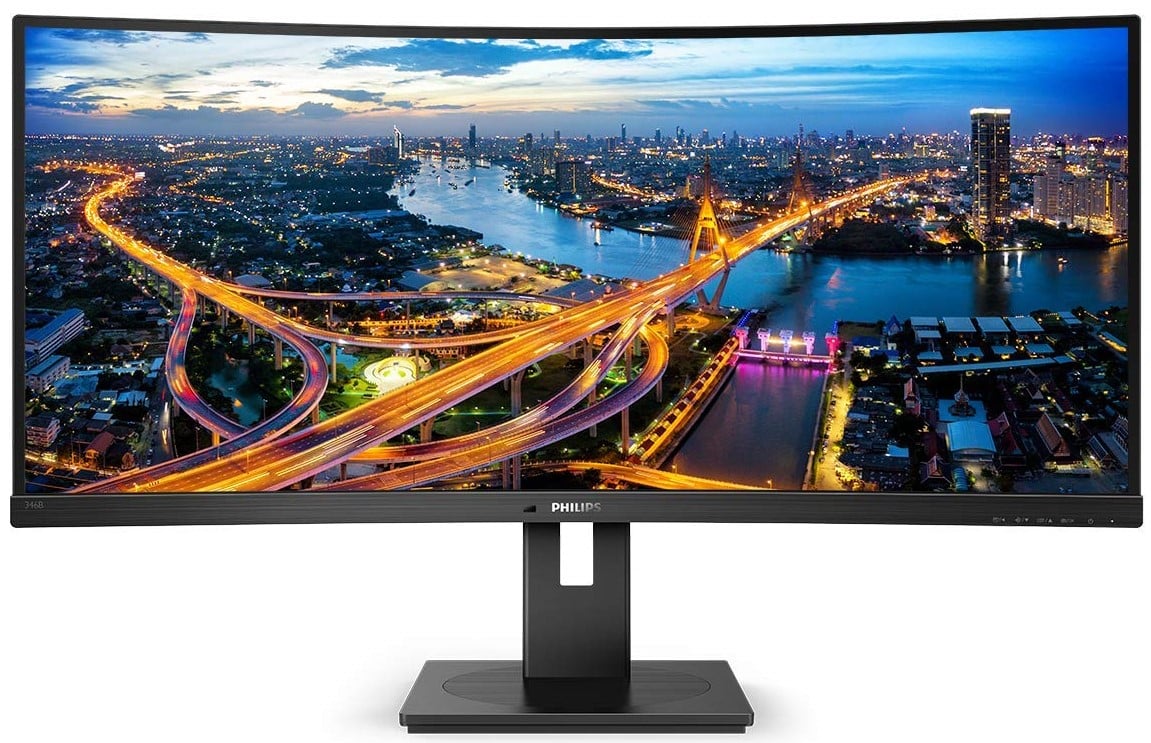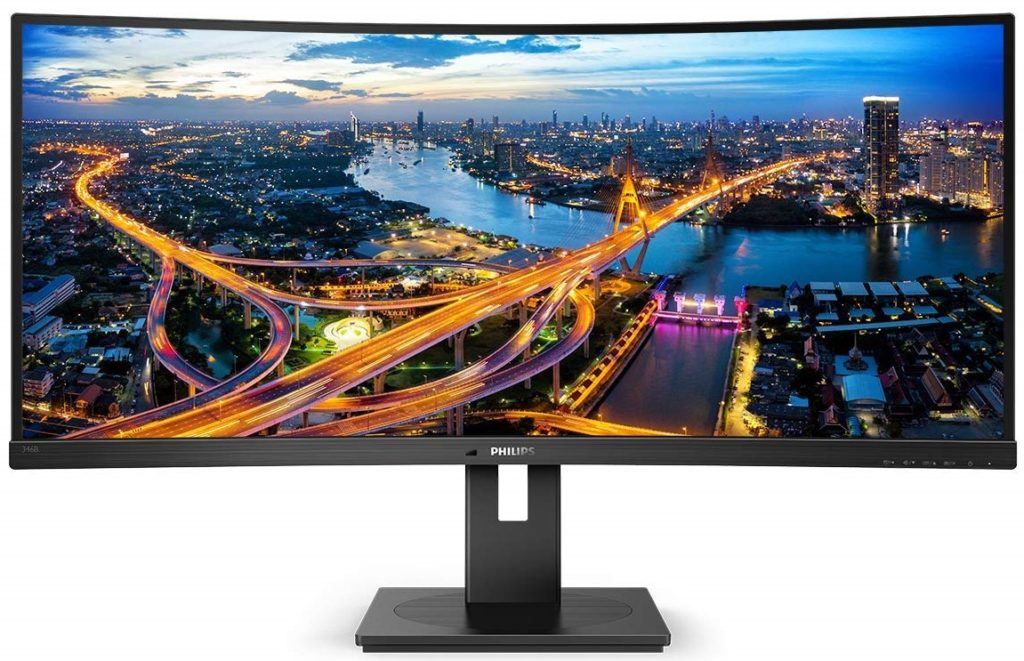 Pros:
Very Affordable!
QHD Ultrawide with 100Hz Refresh Rate
FreeSync/G-Sync Compatible
Smart Uniformity Feature Works Well
USB-C with 90 Watts Charging
Highly Recommended!
Cons:
Poor Uniformity Without SmartUniformity Activated
Slightly Higher Pixel Response Time and Input Lag
The Philips 346B1C is an amicably-priced ultrawide monitor that's versatile for a wide array of users thanks to its capable specifications. The curved VA screen provides a 100Hz refresh rate for gamers, while the product's connectivity options include business users into its target audience. The Philips 346B1C is very enticing at half the price of what 100Hz ultrawides used to command, but how does its performance numbers look?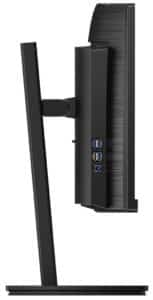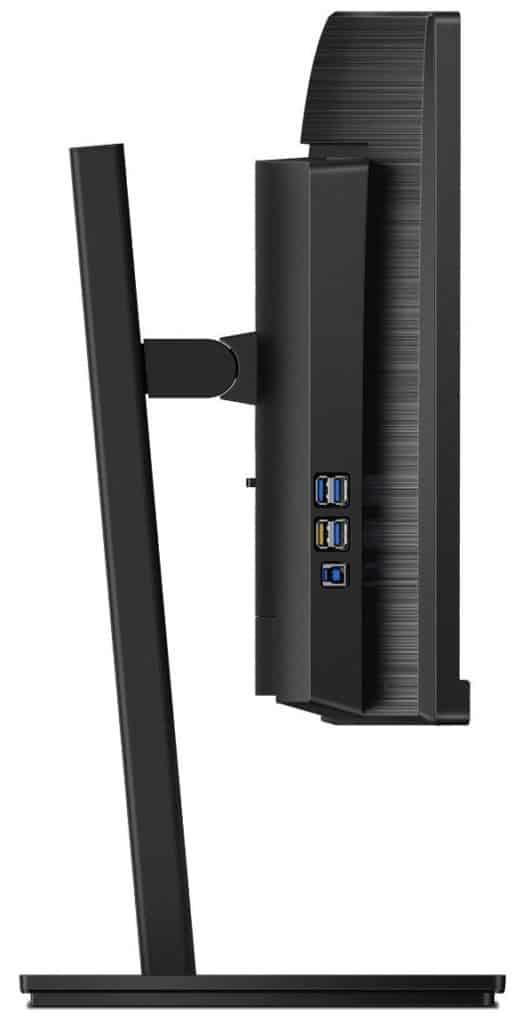 Philips 346B1C Specifications
Screen Size: 34 Inches
Resolution:3440 x 1440 UW-QHD
Aspect Ratio: 21:9
Panel Technology: Vertical Alignment (VA)
Refresh Rate: 100Hz
Response Time: 4ms
Contrast Ratio: 3000:1 (Static)
Brightness:300 cd/m²
Built-in Speakers: Yes (2 x 5 Watts)
Stand: Height –Yes
Stand: Tilt – Yes
Stand: Swivel – Yes
VESA Compatibility: Yes
Connectivity: DisplayPort x 1, HDMI 2.0 x 1, USB 3.2 x 5, USB-C2x 1, 3.5mm Audio Jacks
Dimensions (W x H x D): 31.77" x 23.66" x 9.84"
Weight: 25.33lbs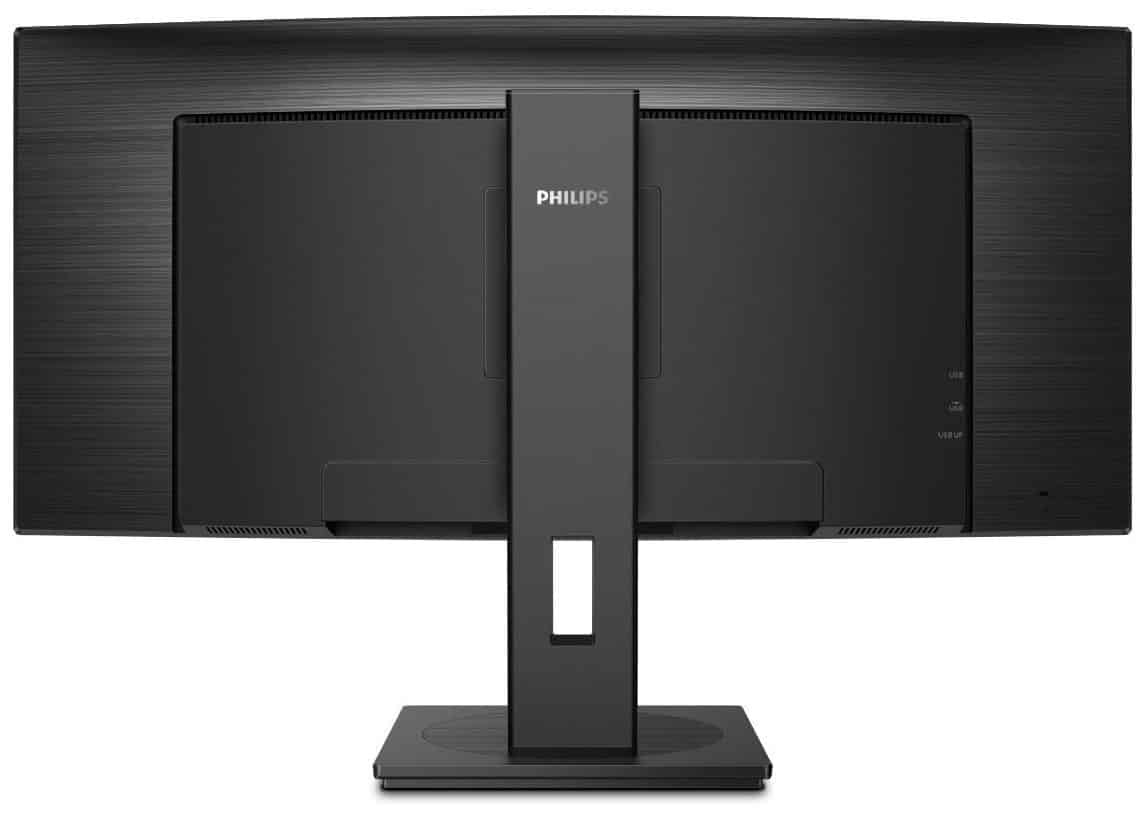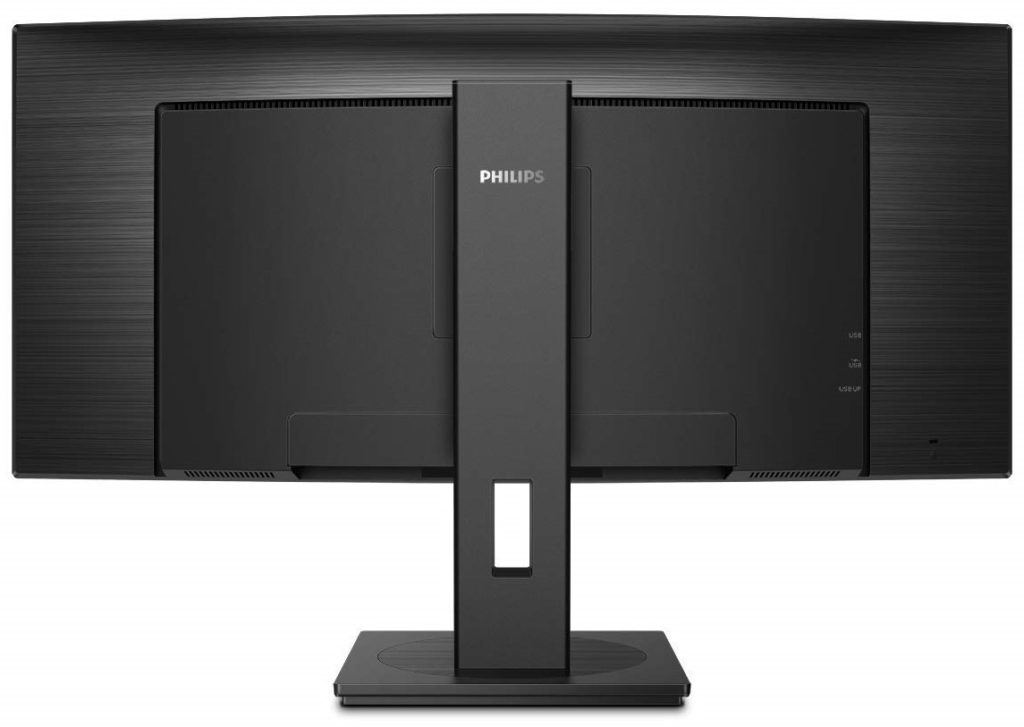 Design and Features
The Philips 346B1C is designed like any modern business or office monitor so it focuses on functionality more than aesthetics. The device has a matte black finish which many prefer for its ability to resist dust and smudges in the long run. The display is bezel-free on three sides, but you will still see reasonably thick panel borders when the screen is in use.
This look makes the Philips 346B1C ideal for multi-display setups, but do take note of its 1500r curve which is narrower than most. You are going to need a customized desk if you want to maximize the monitor since having it in threes will produce a wrap-around effect. Its also worth noting that the screen is almost three feet in width, so having extra room to accommodate more than one unit is a necessity.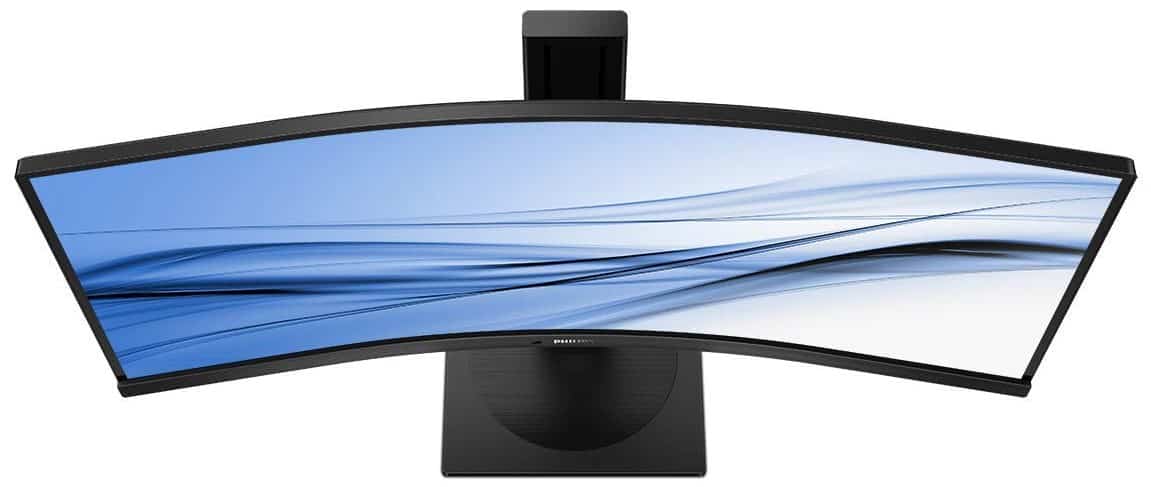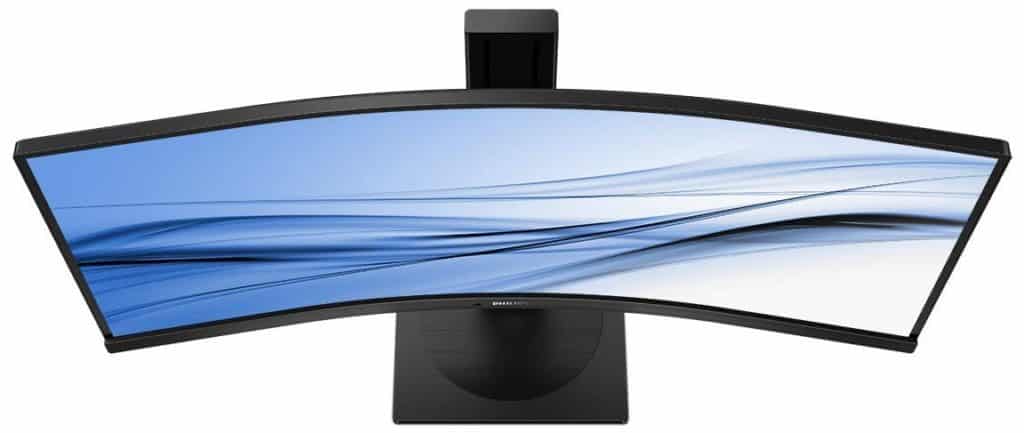 Build quality for the Philips 346B1C is excellent since there are no defects or physical issues once you've assembled the monitor. The plastics feel thick and sturdy, while the included stand does not show signs of wobbling despite the heft of the product. The ergonomic mechanisms are smooth yet firm so it will retain the view angle you've set.
The stand for the Philips 346B1C offers excellent flexibility with its tilt, swivel, and height adjustments. It's always nice to have the ability to set a desired position for any monitor, but you only need to place curved variants at the dead-center. You can also swap this part out in favor of a VESA mount, but finding one that can accommodate the size and the width of the device can be a challenge.
What's fantastic about the Philips 346B1C is its connectivity suite which includes the standard DisplayPort 1.2 and HDMI 2.0, plus more. There is a total of five USB 3.2 slots on the monitor which are all placed on the rear bulge's side for accessibility. But what stands out is the USB-C 3.2 slot which supports DP Alt Mode and provides up to 90 Watts of power for mobile devices such as the MacBook Pro.
The latter extends the Philips 346B1C's usability since it allows docking, making it a practical choice for already expensive laptops. You also get an RJ45 LAN port and a 3.5mm jack with the I/O, making cable management much easier. Its also great that Philips built the power converter inside the chassis so you don't have to deal with a clunky brick, even if it makes the device thicker than other contemporary options.
What we dislike about the Philips 346B1C is its OSD control layout which relies on pressable buttons placed under the bottom bezel. Each one is tactile and responsive, but joysticks are preferable in this day and age. Knowing each one's functions will be beneficial in the long run, so you don't get confused especially when trying to adjust something like brightness in the dark.
The Philips 346B1C is then rounded up by a pair of 5-watt speakers which sound more powerful than typical built-ins. The pair has a decent amount of bass, but it cannot produce a detailed range of mids or highs. Headsets will still be preferable for gaming, but it's nice to have a capable alternative for background music while working.
Display and Performance
The Philips 346B1C sports a 34-inch curved VA panel with a 3440 x 1440 resolution, 100Hz refresh rate, and 4ms response time. The backlight maxes out at 300 cd/m2, while the contrast ratio sits at 3000:1 according to the manufacturer. The screen has a 1500r curvature which is sharper or narrower which then improves the immersive capabilities of the display.
QHD ultrawides offer a larger screen with just the right amount of sharpness like its 16:9 counterparts. You won't need to use scaling for reading and browsing, while games and images are guaranteed to look better and cleaner. Take note that this format also needs a lot of GPU horsepower, so not even the RTX 2080 Ti can guarantee that it will maximize the 100Hz refresh rate at ultra settings.
The Philips 346B1C is capable of decent color performance starting with 99.5% coverage of the sRGB color space with a default accuracy of DE 2.9 which is within the acceptable range. Calibration results in a slightly better DE average of 2.3, but it doesn't mean the device is suited for photo editing purposes. Color temperature is slightly warmer by default compared to the 6500K point, but a few tweaks can set it closer to a more balanced output.
The Philips 346B1 doesn't get very bright, although it can hit its 300 cd/m2 brightness spec at 100% level. The screen's contrast isn't as impressive as other VA monitors at 2100:1, but that's more than enough to improve black luminance and saturation compared to TN or IPS. Gamma sits at 2.2 as long as you lock it via the OSD, so there are no issues in that regard.
The Philips 346B1C doesn't show superb panel uniformity, especially on the screen's quadrants towards the side. The bottom corners are also dimmer than the rest, creating deviances in both color and contrast. One way to easily correct this is to use the monitor's Smart Uniformity feature which is actually functional and effective.
You can't do much about the backlight variances since its an effect of manufacturing tolerances, but having Smart Uniformity on produces noticeable improvements in color and contrast. The screen looks more balanced towards the sides, and it does it without locking out the monitor's other settings. Most uniformity features will fix important settings such as brightness adjustments, so being able to use all available options is very nice to have.
The Philips 346B1C is a VA-type monitor, so it still is prone to blurring and ghosting in fast-paced scenes. The display's 100Hz refresh rate helps in this regard, but some trailing and artifacts will still persist throughout usage. Setting monitor's SmarResponse feature to its Faster setting will alleviate this issue, but its maximum level isn't preferred due to overshoot.
The Philips 346B1C is a FreeSync monitor, but it also tested to work with G-Sync compatibility for Nvidia GPUs. It's always great to have flexibility with VRR tech, so you don't have to be stuck with one GPU brand for the rest of the display's lifespan. Input lag is slightly higher at 10ms, but most, if not all, will not feel any delays or "de-synced" instances while playing,
Thoughts on the Philips 346B1C
The Philips 346B1C is a fantastic curved ultrawide monitor for mixed-use thanks to its well-equipped feature set and superb performance in gaming. The device's Smart Uniformity feature was surprisingly pleasing due to its effectivity with no immediately apparent penalties. The USB-C connectivity with 90 Watts of power delivery enhances the monitor's practicality since you can dock almost any USB-C laptop without worry about charging issues.
The only considerable limitation with the Philips 346B1C is it's difficult to push its image quality to photo-editing levels even with a colorimeter. The screen also doesn't reach as much saturation as other VA monitors we've seen, but that's a very minor complaint for us. However, the $500 price point is too enticing, so it would easy to ignore these cons in favor of the pros listed above.
About the Author: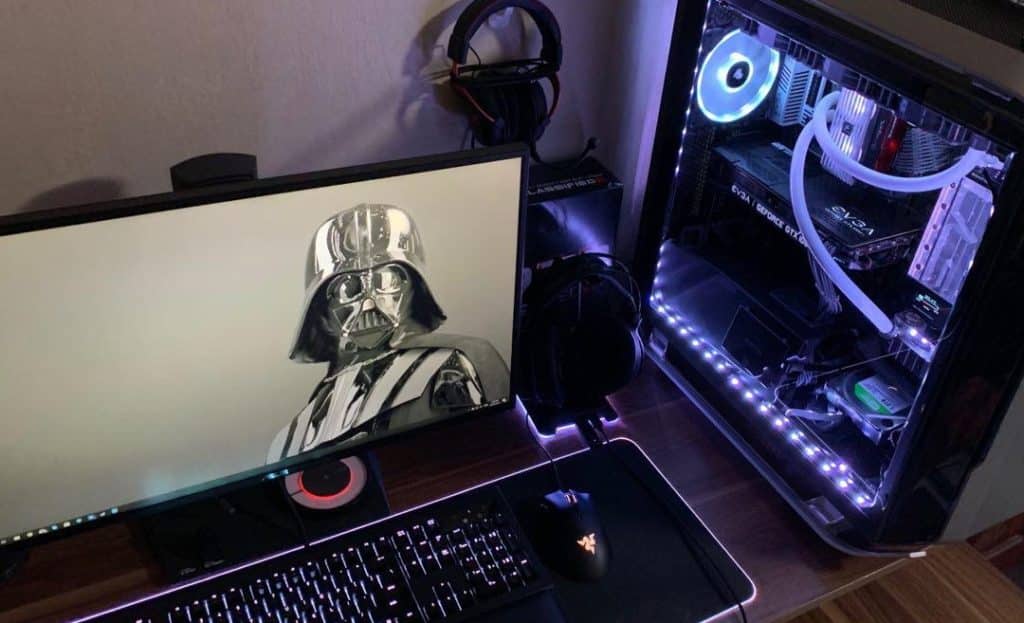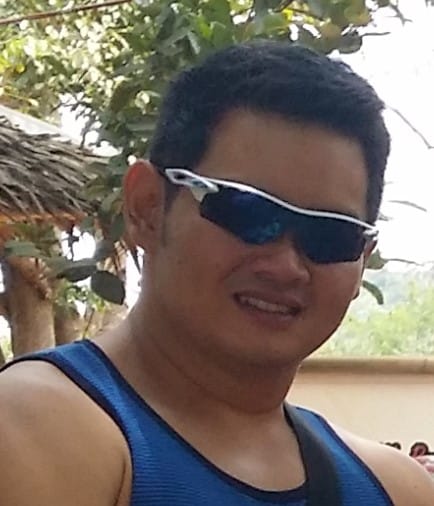 Paolo is a gaming veteran since the golden days of Doom and Warcraft and has been building gaming systems for family, friends, and colleagues since his junior high years. High-performance monitors are one of his fixations and he believes that it's every citizen's right to enjoy one. He has gone through several pieces of hardware in pursuit of every bit of performance gain, much to the dismay of his wallet. He now works with Monitornerds to scrutinize the latest gear to create reviews that accentuate the seldom explained aspects of a PC monitor.