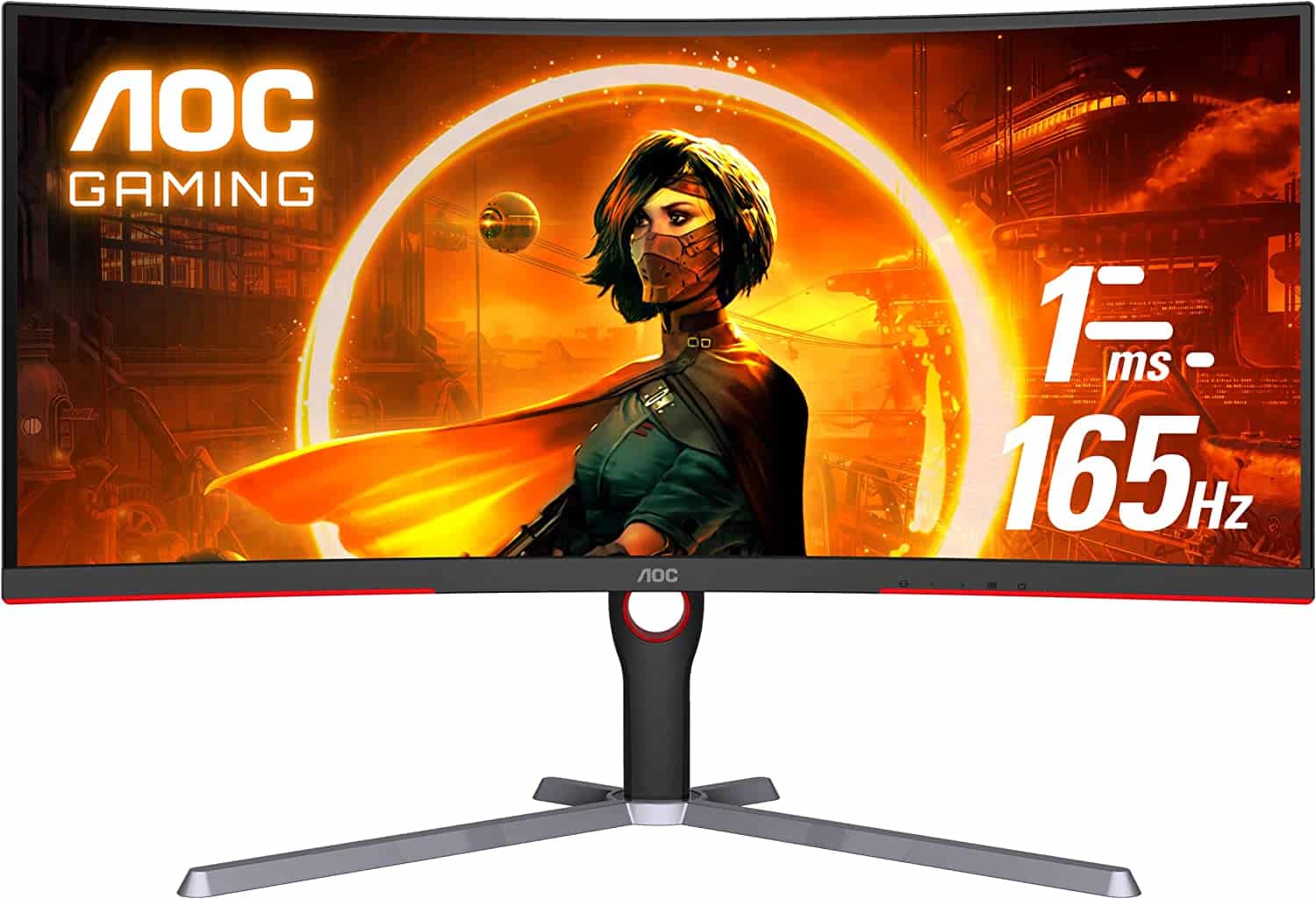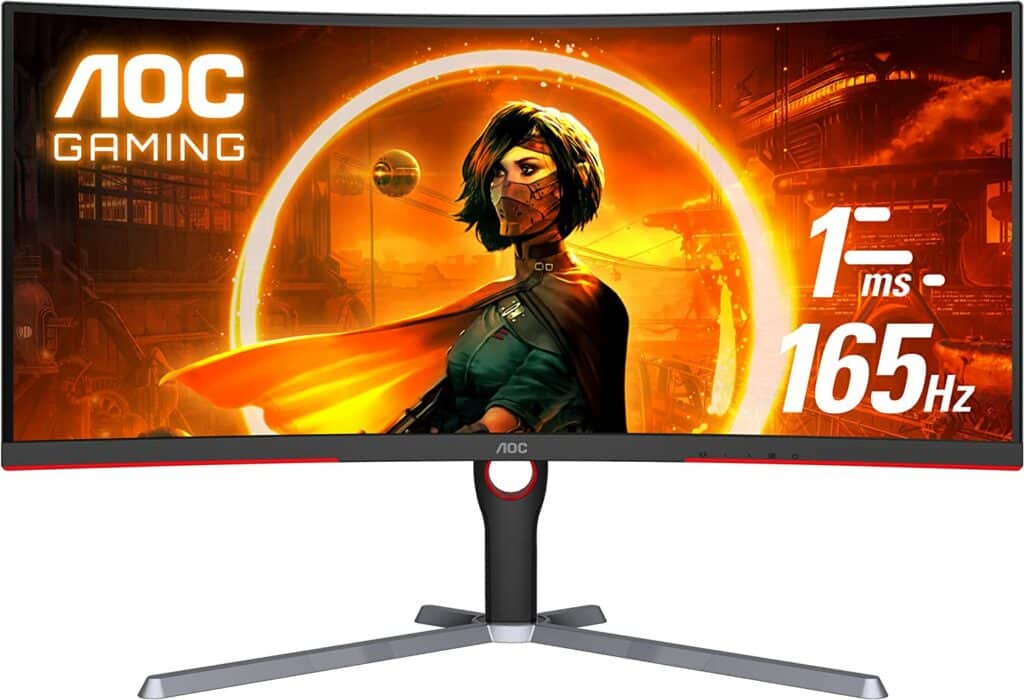 The AOC CU34G3S offers a large ultrawide screen with high refresh rates for gamers who don't want to spend a small fortune. Its predecessor, the CU34G2X showed us impressive results despite its budget-oriented nature, so we can't help but expect the same from this model. Let's take a closer look at the AOC CU34G3S to know if it should be your next upgrade.

AOC CU34G3S Specifications
Screen Size: 34 Inches
Resolution: 3440 x 1440 UW-QHD
Aspect Ratio: 21:9
Panel Technology: Vertical Alignment
Refresh Rate: 165Hz
Response Time: 4ms
Contrast Ratio: 3000:1 (Static)
Brightness: 300 cd/m²
Built-in Speakers: Yes (2 x 5 Watts)
Stand: Height – Yes
Stand: Tilt – Yes
Stand: Swivel – Yes
Stand: Pivot – No
VESA Compatibility: Yes (100 x 100)
Connectivity: DisplayPort 1.2 x 2, HDMI 2.0 x 2, USB 3.0 x 5, 3.5mm Audio Jack x 1
Dimensions (W x H x D): 31.3" x 20.9" x 13.4"
Weight: 18.3 lbs

Design and Features
The AOC CU34G3S features a redesigned exterior, but it doesn't look too modified compared to its predecessor. The monitor still has a matte black aesthetic with red accents, although its base has a different and more mature appearance. The display has a bezel-free design, but you still get inner borders just like with any modern monitor.
It's already a large monitor, but AOC decided to further upsize its base for extra strength and stability. The monitor now needs 13 inches of depth, although its legs are thin so you can still place small peripherals in between. It only weighs 18.3 pounds, but we still recommend getting an extra set of hands to help you out in setting it up.
Its build quality is great just like with the other AOC monitors since it felt durable and reliable. The plastics used are thick and sturdy, plus there were no cosmetic defects on any of its parts. The stand does have a bit of wobble if you hit the cabinet accidentally, but it's manageable if you set the monitor up correctly.
One downgrade with this model is its use of OSD buttons instead of a joystick which are now common with modern monitors. It takes more effort to get to a specific setting because of this, so it could be a deal-breaker for some enthusiasts who want to calibrate often. However, it is understandable since the AOC CU34G3S is a budget monitor.
The stand included with the package offers tilt, swivel, and height adjustments for your comfort and convenience. It's easy to get a comfortable angle with the stock setup so you don't have to spend extra cash on a VESA mount. It is compatible with that by the way, but it's only necessary if you have multiple screens or limited space.


The AOC CU34G3S's connectivity layout includes two slots each for DisplayPort 1.2 and HDMI 2.0, along with four USB 3.0 ports and an audio jack. That's more than what a typical budget ultrawide can offer, so AOC gets plus points for this design. We'd like to see USB-C ports on affordable monitors as well, but it is understandable that it is not present here.
This monitor has a few downgrades, but it's clearly a better option because it now includes a pair of 5-watt speakers. They can get loud with a bit of bass, but the upgraded sets with woofers from other brands still have them beat. However, the pair is a decent substitute compared to the weak 2-watt sets most brands include in their gaming offerings.
Display and Performance
The AOC CU34G3S boasts a 34-inch 1000r VA panel with a 3440 x 1440 resolution, a 165Hz refresh rate, and a 4ms response time. The backlight has a 300 cd/m2 maximum while the contrast is listed at 3000:1 like most VA panels. This monitor is compatible with HDR10 and it has HDR modes, but it is not certified since it misses some of VESA's requirements.
34-inch 1440p ultrawides are great for all types of use because they offer more screen real estate. Games and movies look more immersive if they support the aspect ratio, although you will need more GPU horsepower to raise your framerate. It's also great for browsing and multitasking since you have plenty of room to maneuver.
The AOC CU34G3S renders 100% sRGB and 87% DCI-P3 so it's quite vibrant for games and movies. But what's great about it is its excellent default accuracy which only had a deltaE average of 2.07. It is not as vibrant as the other new models we've recently tested, but it's currently one of the best when it comes to factory calibration.
Calibrating the monitor reduced the deltaE average to 1.48 which is better and a close result to what some may consider as decent for content creation. However, you need a colorimeter and some effort into calibration to get that level of improvement. We don't think that it is worth buying the gadget for this monitor since it was designed for gaming instead of professional use.
The AOC CU34G3S's backlight reached 261 cd/m2 at 100%s so you might want to keep it away from glare. Its contrast reached 3305 cd/m2 at 80% backlight so the screen is capable of deep blacks, unlike its IPS and TN counterparts. The monitor is great for immersive gaming because of this since you don't have to deal with washed-out night scenes.
Its panel uniformity had some irregularities at the top and bottom edges of the screen because of its steep curve. They showed up as clouding in dark scenes, but they are less of an issue on lighter or all-white backgrounds. Note that this can change between every unit due to tolerances, so there are better monitors out there.
The main weakness of the AOC CU34G3S is its pixel response time which falls behind other variants that use backlight strobing or pixel response boosting. It is prone to blurring in some scenes, but you can use a bit of overdrive to lessen them. However, contrasting scenes with quick transitions can still reveal them, although that's only a big issue for E-Sports gaming.
The AOC CU34G3S is compatible with both FreeSync and G-Sync so you don't have to deal with tearing and stuttering. Both GPU brands have competitive 1440p cards now, so it's best not to get locked with either of them. Input lag sits at 4ms at 165Hz, so the monitor is usable for competitive gaming even if its pixel response time isn't the fastest.
Thoughts on the AOC CU34G3S
The AOC CU34G3S is an excellent budget ultrawide gaming monitor based on its imaging performance and material quality. It has a few limitations, but most of them are acceptable if you consider how affordable it is. It also has a sharper curve so it should be better for immersion, plus it now has a more mature look versus the older model.
However, we think AOC went backward with some of the monitor's functionality by making its base bigger and using OSD buttons. Again, these are minor complaints, but we like pointing out every issue no matter how small it is so you won't get disappointed. It's still an excellent buy in our books, but it is not a massive upgrade to its predecessor.
Pros:
Affordable
Great Colors and Contrast
FreeSync and G-Sync
Cons:
OSD Buttons
Low Maximum Brightness
Limited HDR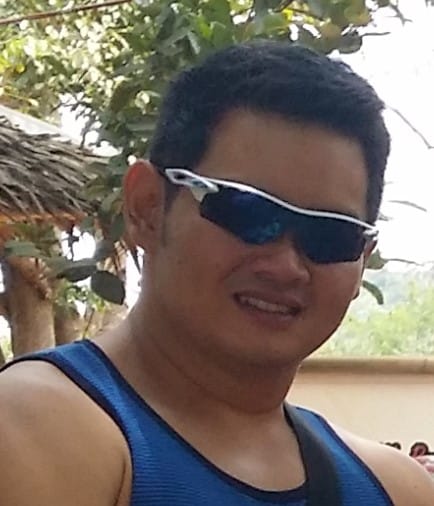 Paolo is a gaming veteran from the golden days of Doom and Warcraft. Since junior high, he has been building gaming systems for family, friends, and colleagues. High-performance monitors are one of his fixations; he believes that every citizen's right to enjoy one. He has gone through several pieces of hardware in pursuit of every bit of performance gain, much to the dismay of his wallet. He has also spent half a decade researching, reviewing, and writing about these products and now has over 1400 articles about the best gaming tech under his belt.