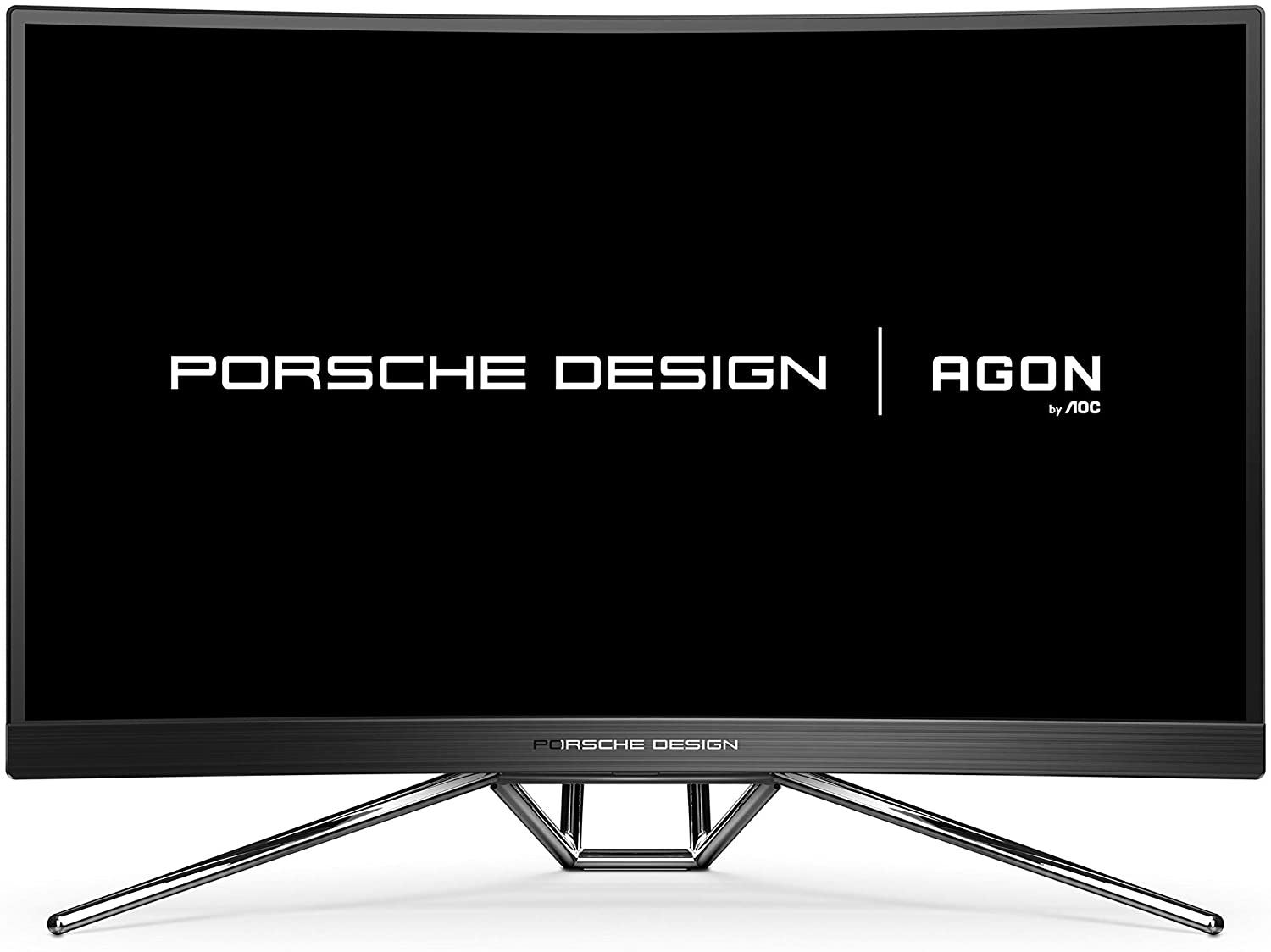 The AOC PD27 combines purist aesthetic values from Porsche Design and raw performance from the AGON branding to create a must-have display product. We've seen impressive models from the two high-end AOC portfolios, but this is the first time we've seen a combination. However, the  AOC PD27 costs a pretty penny, so let's check out what you can expect from it other than its enticing aesthetic.

AOC PD27 Specifications
Screen Size: 27 Inches
Resolution: 2560 x 1440 WQHD
Aspect Ratio: 16:9
Panel Technology: Vertical Alignment (VA)
Refresh Rate: 240Hz
Response Time: 0.5ms
Contrast Ratio: 2500:1
Brightness: 550 cd/m²
Built-in Speakers: Yes (2 x 5 Watts DTS)
Stand: Height – Yes
Stand: Tilt – Yes
Stand: Swivel – Yes
Stand: Pivot – Yes
VESA Compatibility: Yes 100 x 100
Connectivity: DisplayPort 1.4x 2, HDMI 2.0 x 2, USB 3.2 x 2, USB 3.0 x 2, 3.5mm x 2
Dimensions With Stand(WxHxD): 23.84″ x 23.22″ x 12.68″
Weight: 19.62 lbs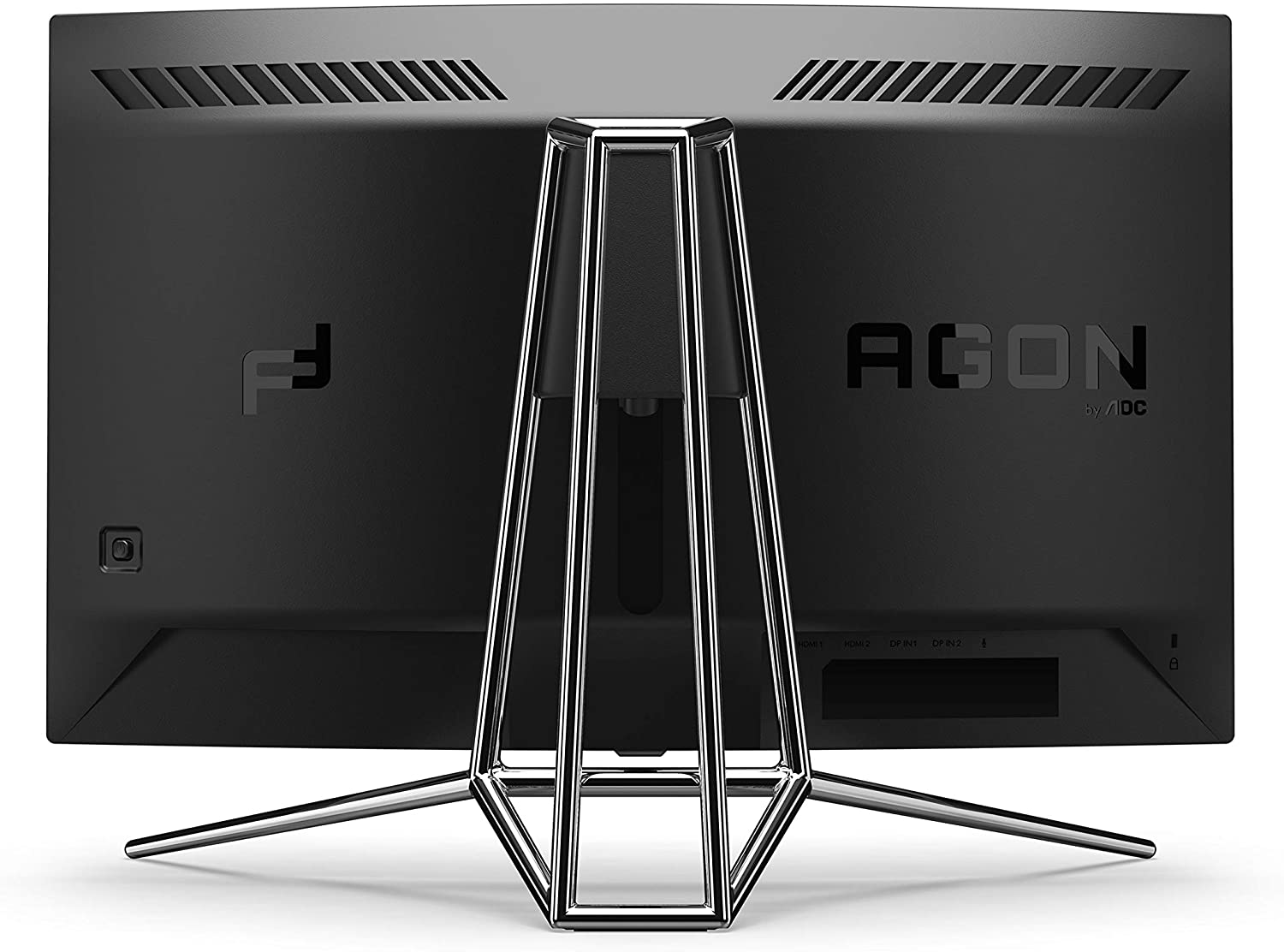 Design and Features
The AOC PD27 has a lot of similarities to the Samsung G7, but it's a more sophisticated product overall due to some key features. The monitor has a matte black chassis that is matched to a chromed-out stand which helps it stand out. The display is bezel-free on three sides except for the bottom which has a brushed-finish strip that adds to the monitor's appeal.
The AOC PD27 isn't a massive monitor, but its dimensions are slightly deeper than similar models due to its steep 1000r curve and its gorgeous stand. The device needs over a foot of depth from your desk, but the base doesn't fully contact the surface so you can play around with the spaces in between the legs. It weighs in at more or less twenty pounds, but that isn't a lot by today's standards, especially for a feature-packed high-end product.
Build quality for the AOC PD27 is overall excellent since AOC and Porsche Design spared no expense when it came to material selection. The housing feels durable and there are no cosmetic defects on every surface and corner of the monitor. We also didn't notice any wobbling thanks to the reliable structural strength of the device.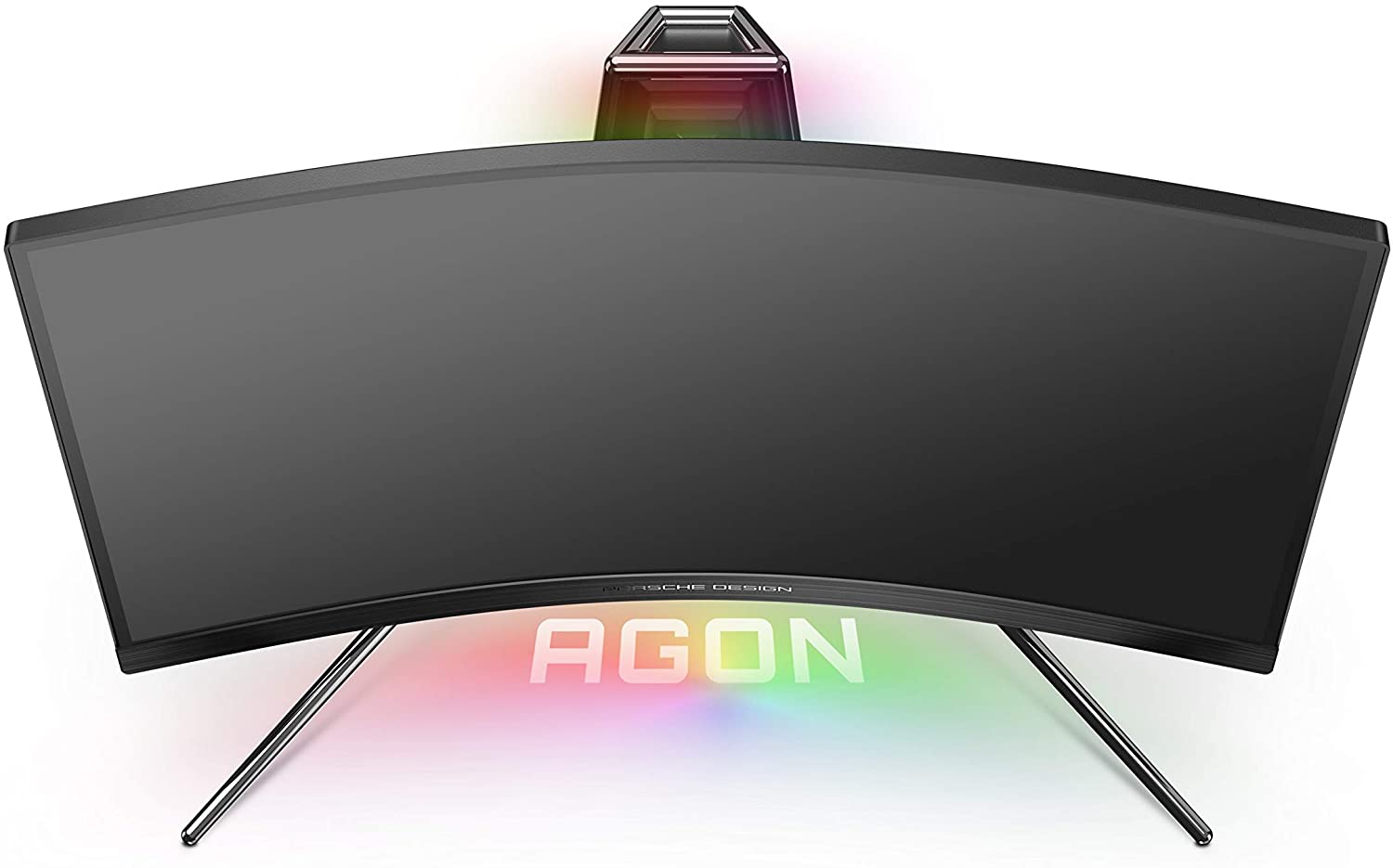 One of the distinct features we mentioned on the AOC PD27 is its FX Light Effect system which includes a lot of LEDs. There is a 48-LED strip under the bottom bezel and 19 more on the stand's attachment point which casts accent lighting beautifully on your setup.  You will also find a logo projector at the bottom which puts either an AGON or Porsche Design image on your desk. It is beautiful and reminscent of the LED car door projector lights from high end luxury cars.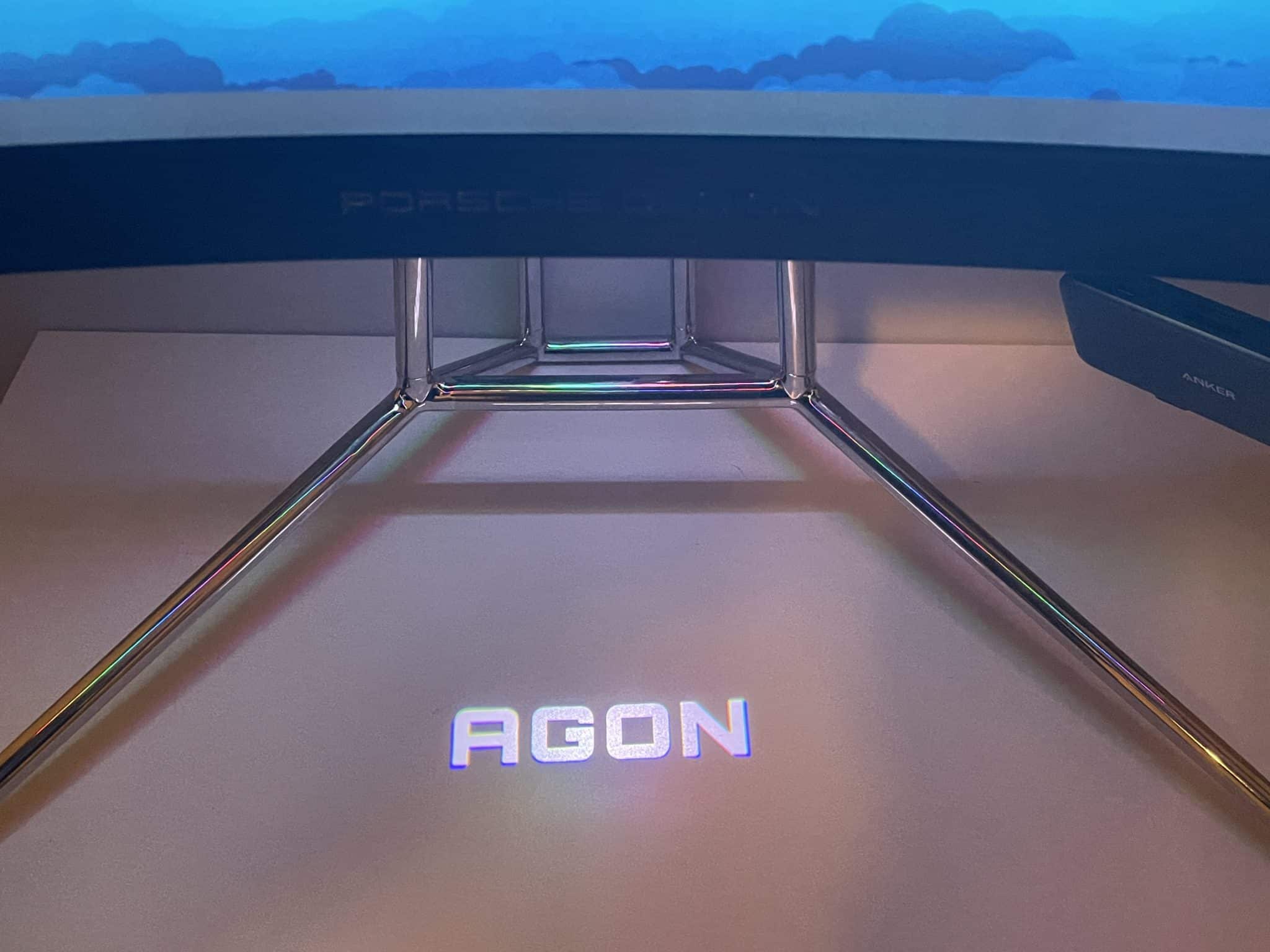 Each of the FX Light Effect features can be configured individually and they can also be turned off. You can use it to set the mood or theme of your rig, plus the rear LEDs can be used as bias lighting provided that you have the monitor close to a wall. The only thing that's missing is compatibility with existing RGB ecosystems, but that's forgivable since brands have struggled to come together when it comes to this topic.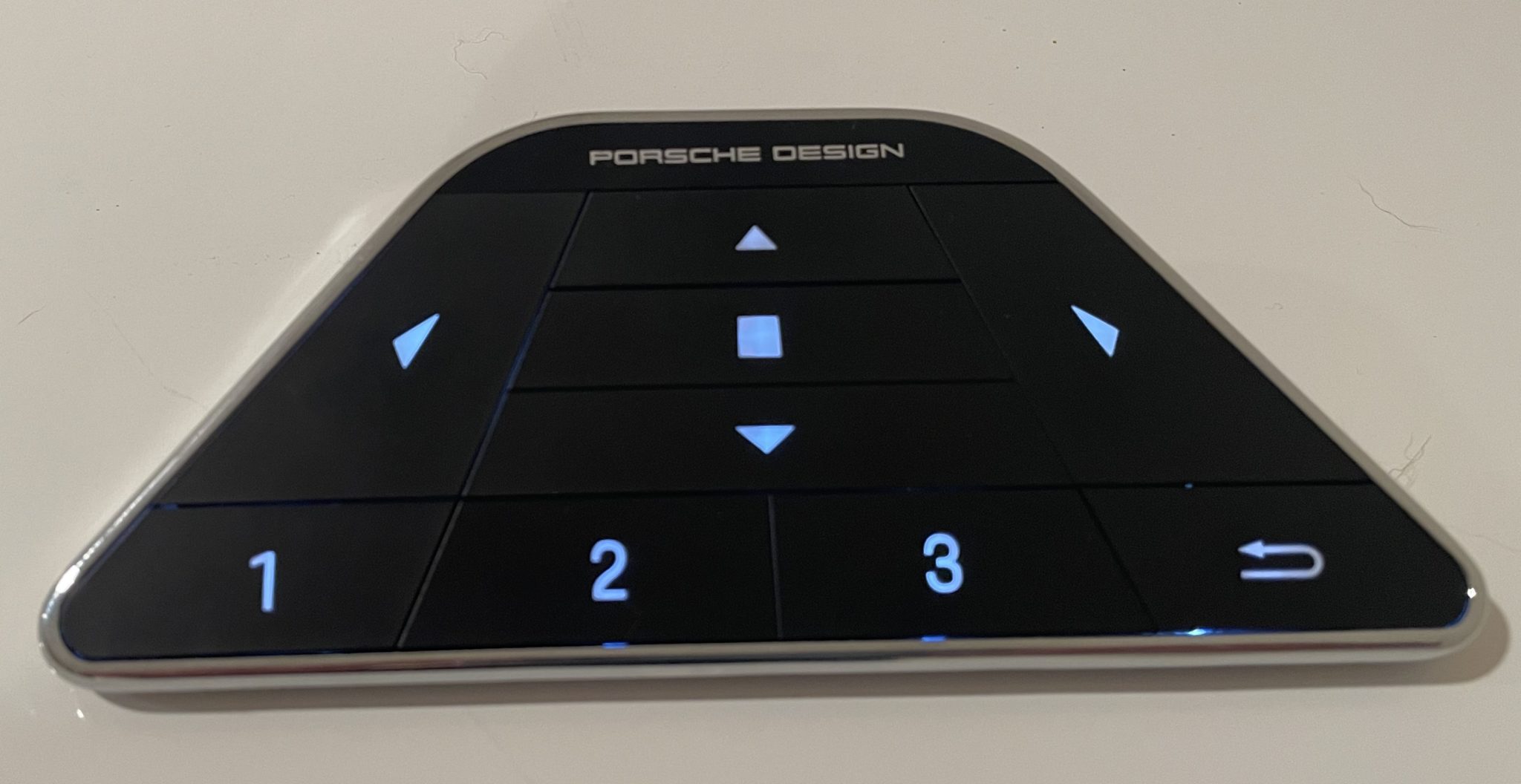 The AOC PD27 offers two ways to control its features, starting with a sizable OSD joystick at the rear which you can't miss. The package also includes a beautifully designed wireless remote which is even easier to use. You can use the latter to quickly switch between presets or access some settings on the fly, all while looking like a nice and sophisticated kit that goes with the monitor.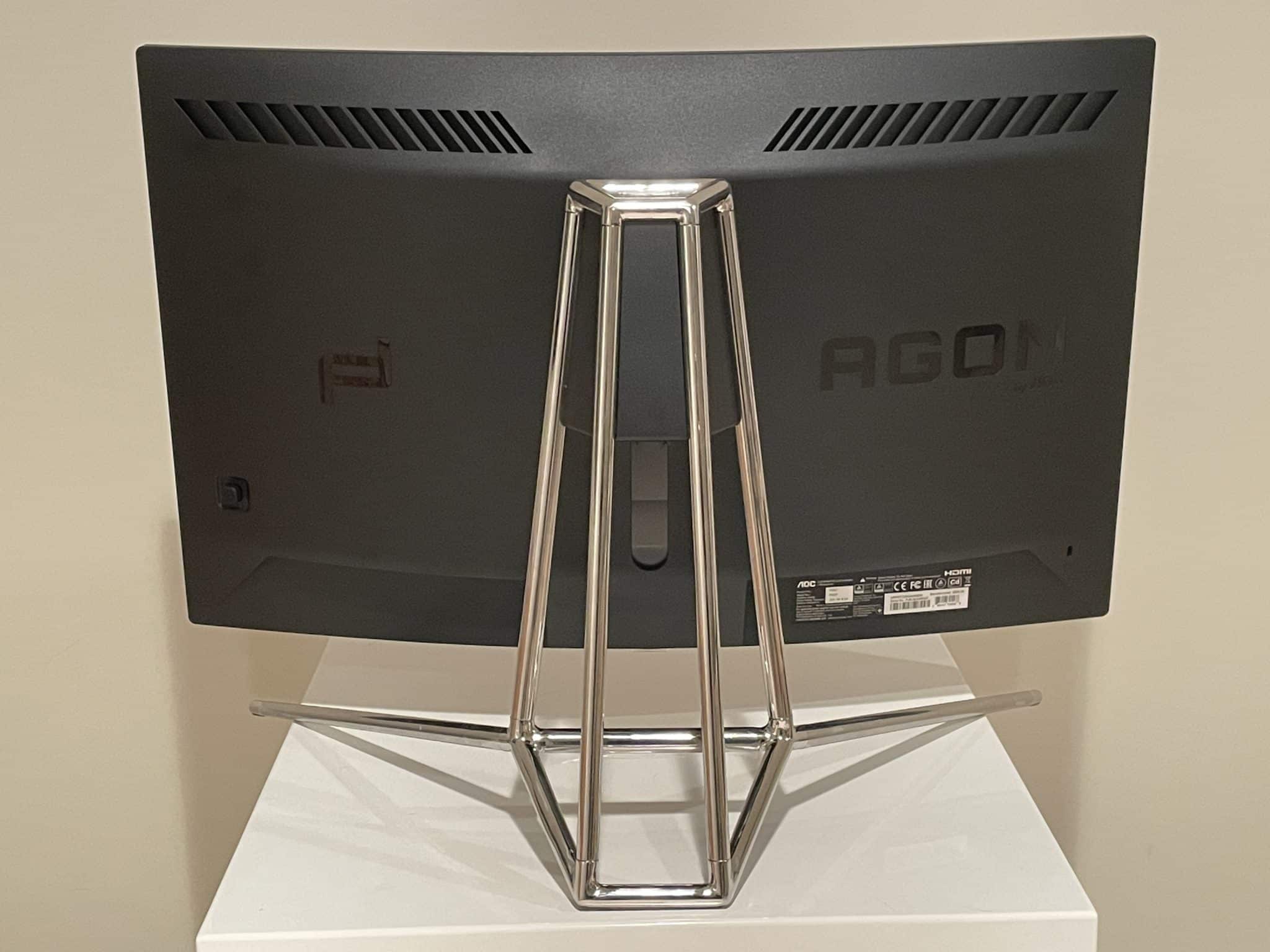 Another very noticeable characteristic of the AOC PD27 is its tubular frame stand derived from a race car's roll cage which stands out even more with its chrome finish. Its undeniably durable, and it offers a complete range of ergonomics to suit your personal needs. There is no option for VESA mounting, but that's ok since we would like to keep the monitor as it is to preserve its design value.
The AOC PD27 offers plenty of connectivity features, but it's missing USB-C which we think matches its character and high-end appeal. The monitor's layout includes two slots for DisplayPort 1.4, HDMI 2.0, USB 3.2, and USB 3.0. the monitor also has a 3.5mm jack for speakers and two more for microphone inputs on either side of the rear I/O.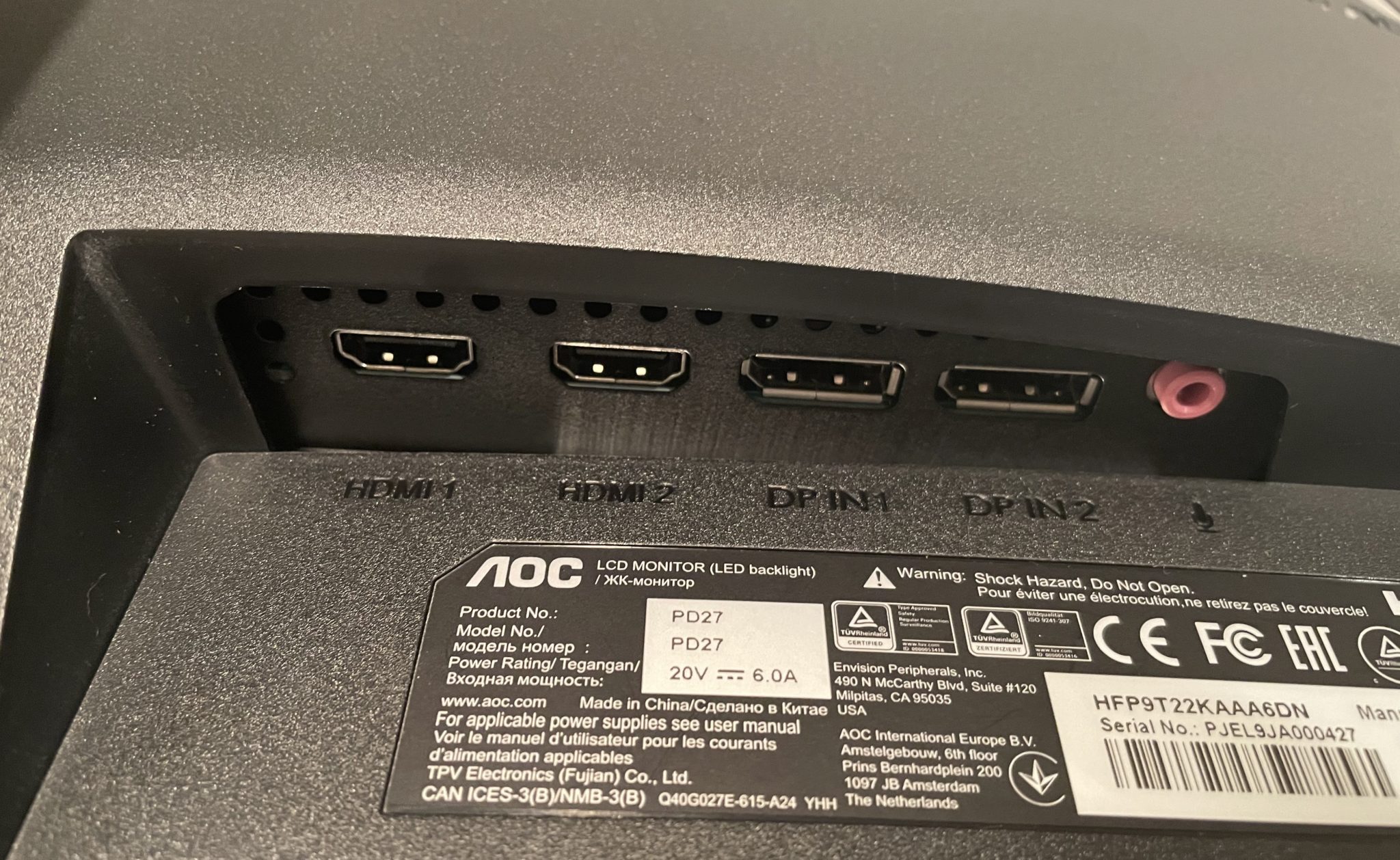 You also get a pair of 5-watt DTS speakers with the AOC PD27 which sounds great compared to the built-ins we've tested over the years. The speakers can get decently loud and they can be tuned via an EQ and some DTS presets in the OSD. They won't be able to replace the tonality of a dedicated set or the directionality of headsets, but they are excellent for everything else.
Display and Performance
The AOC PD27 boasts a 27-inch curved VA panel with a 2560 x 1440 resolution, a 240Hz refresh rate, and a 0.5 boosted response time. The backlight is rated at a maximum output of 550 cd/m2, while the contrast ratio sits at 2500:1. This monitor is certified for DisplayHDR 400, so it can only produce minimal improvements if the implementation is done correctly.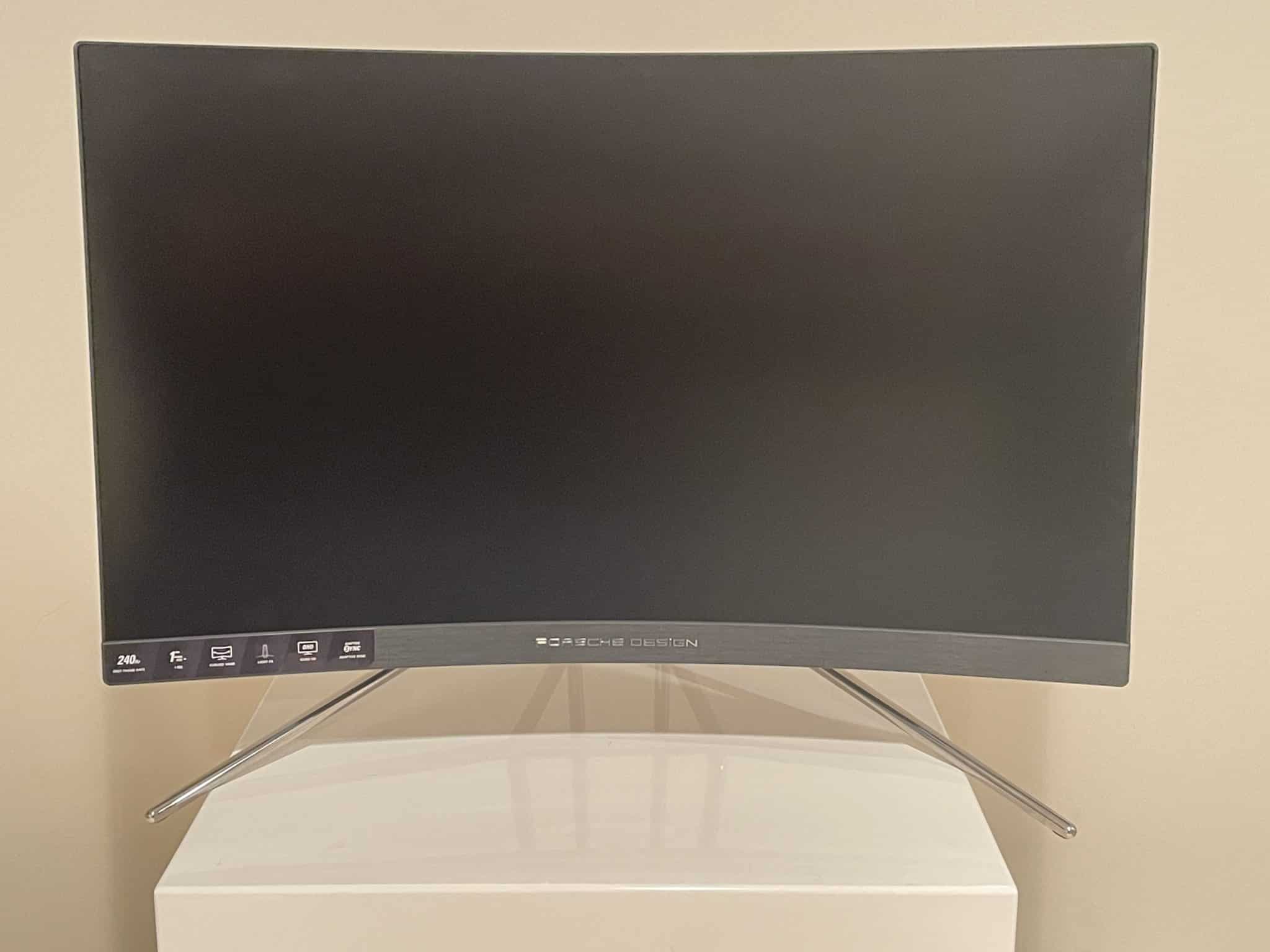 Another distinct characteristic of the AOC PD27 is its steep 1000r curve which has divided the opinions of users everywhere. It's great for immersive gaming and entertainment, but some have commented that it's an eyesore when it comes to productivity or design since the images can look skewed or distorted.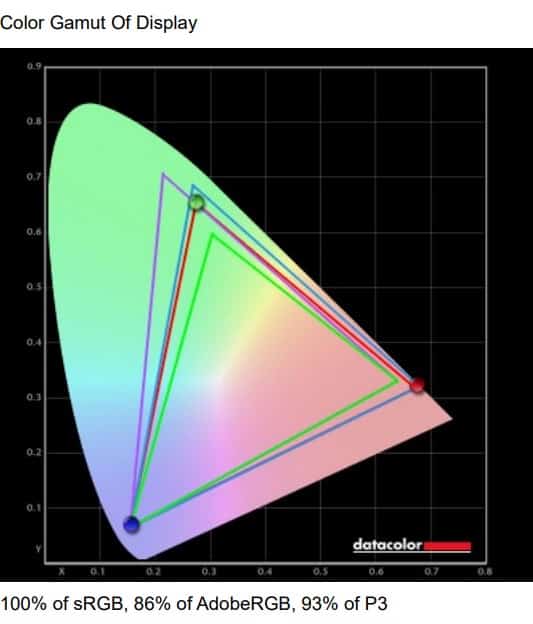 1440p is perfect for the AOC PD27's size since the pixels aren't squished too tightly so you can appreciate the expansion it brings over 1080p. Most users won't need to use scaling for office tasks, while gamers on the other hand will enjoy the crisper graphics on the screen. The only issue we see on 1440p monitors is that many services like Netflix or devices like the PlayStation 5 do not support the resolution natively.
The AOC PD27 is capable of fantastic color thanks to its more than 100% sRGB and 93% DCI-P3 coverages. Color accuracy isn't great out of the box since the deltaE average sits at 3.62 which shows the oversaturation in red and blue shades. Take note that this aspect varies between every unit since the model isn't geared towards editing use.
Calibrating the AOC PD27 produced a considerably lower dE average of 1.19 which isn't the best we've seen, but is already excellent for a gaming monitor. You can manually tweak it to get better consistency if you don't have a colorimeter, but we highly recommend it calibrating it if you do. Again, this aspect varies between every unit since the monitor isn't advertised as a factory-calibrated model like many prosumer variants.
The AOC PD27's backlight only managed 530 cd/m2 at maximum, but that's plenty for daily use so you will most likely turn it down. The screen's contrast reaches an impressive 3100:1 at 30% brightness in SDR and as much as 3700:1 when the screen's HDR modes are active. These aren't enough for true HDR performance, but it is nice to have and play around with if your content or games are compatible.
Panel uniformity for the AOC PD27 is decent since there are no major backlight leaks or clouding issues. The corners have a slightly noticeable variance from the center in dark scenes, but it isn't disturbingly noticeable when a game like Cyberpunk 2077 or AC Valhalla is running. Take note that this varies between every unit, so there are better and worse specimens out in the market.
The AOC PD27 is capable of handling blurring thanks to its very capable overdrive implementation. Setting the feature to its Medium setting for 120Hz and Strong setting for 240Hz effectively cleans up the screen so the pixel persistence becomes less noticeable. Sensitive users will still be able to see some trails in contrasting and fast-paced transitions, but it won't be a problem even if you play competitive titles like Valorant.
The AOC PD27 is a FreeSync Premium Pro gaming monitor, but it also works flawlessly with Nvidia's G-Sync Compatible Mode. this duality is great since you can always switch GPU brands without worrying about losing the monitor's VRR capabilities. Input lag sits at 4ms at 240Hz which isn't the fastest, but you'd be hard-pressed to know the difference between this model and the G7 monitors even if you have them side by side.
Thoughts on the AOC PD27
The AOC PD27 is a fantastic 240Hz QHD monitor when it comes to aesthetic design and gaming performance. It is capable of wonderful rich colors once it's tweaked and it doesn't compromise when it comes to speed and responsiveness. Porsche Design's input mixed together with AGON characteristics such as RGB and imaging agility created a product purists and enthusiasts will love.
The biggest hindrance of the AOC PD27's success against its most popular competition is its $799.99 price tag, although It is understandable that great design doesn't come free. There are also some limitations in the screen's characteristics, but most will be able to work around them by taking the time to tinker with the intuitive OSD.
The AOC PD27 is a must buy if you want to add a timeless centerpiece to your setup that embodies bold design, extreme performance, and luxury.
Pros:
Incredible Design
Excellent Gamut and Calibrated Accuracy
High Brightness and Contrast
Plenty of Features Such as RGB and Wireless Remote
FreeSync/G-Sync Compatible
Cons:
Pricey
Default Accuracy Needs Improvement
No VESA Mounting
About the Author: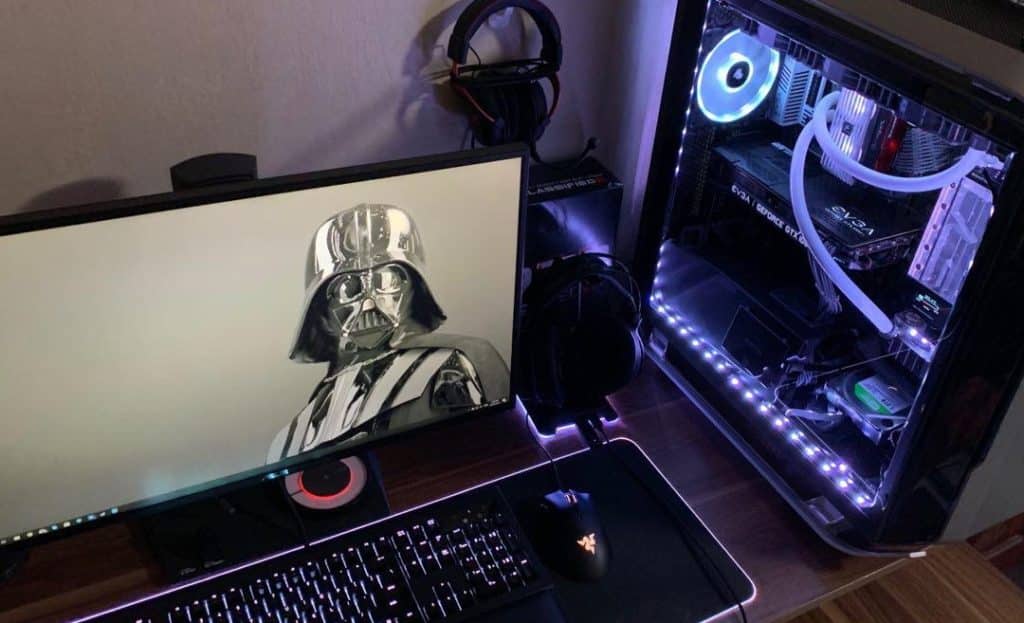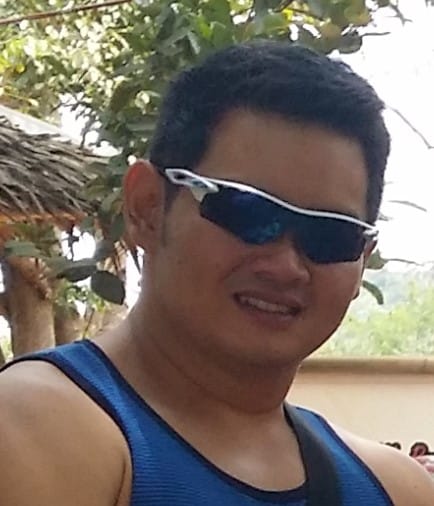 Paolo is a gaming veteran since the golden days of Doom and Warcraft and has been building gaming systems for family, friends, and colleagues since his junior high years. High-performance monitors are one of his fixations and he believes that it's every citizen's right to enjoy one. He has gone through several pieces of hardware in pursuit of every bit of performance gain, much to the dismay of his wallet. He now works with Monitornerds to scrutinize the latest gear to create reviews that accentuate the seldom explained aspects of a PC monitor.