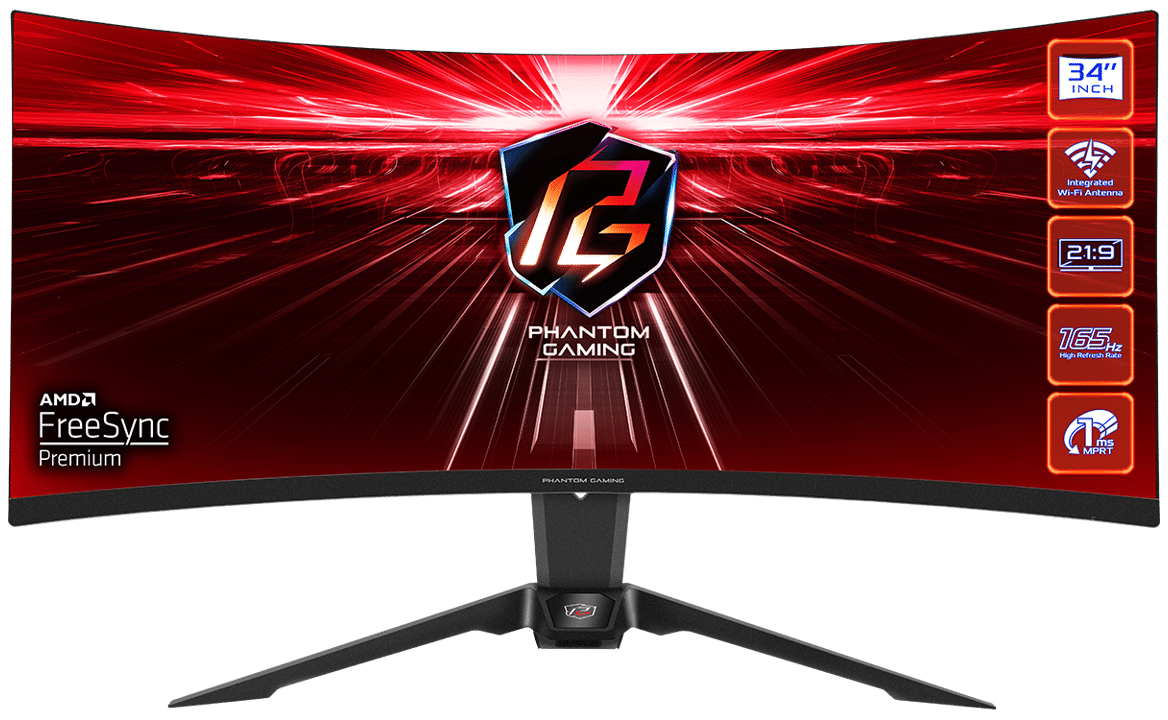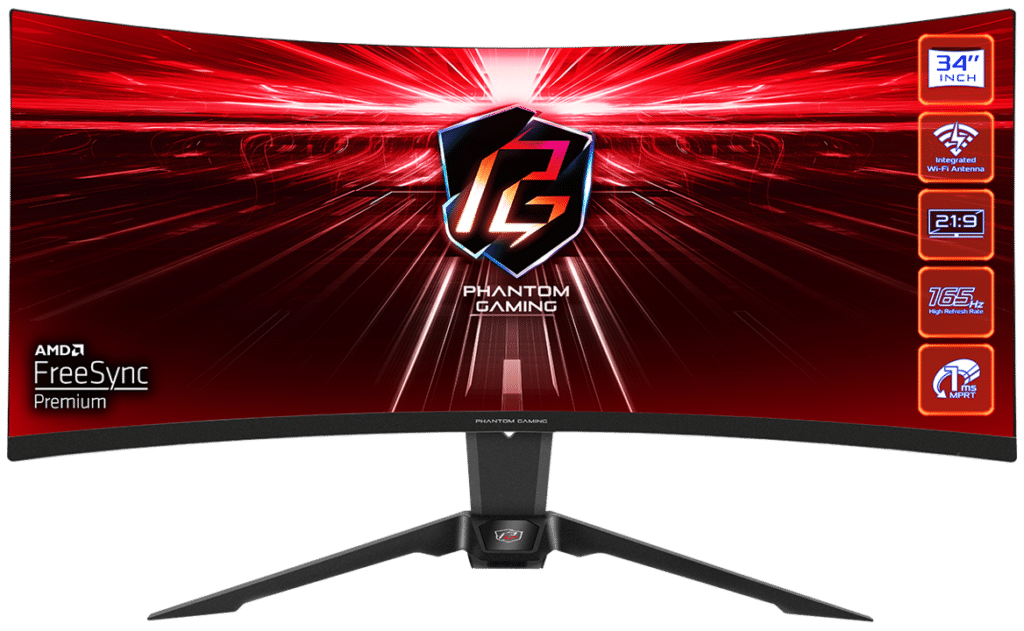 The ASRock PG34WQ15R2B is an inexpensive 165Hz QHD ultrawide that's perfect for all-around gaming and entertainment. You get a large screen with essential creature comforts for under $400, so it's definitely worth a second look. However, the ASRock PG34WQ15R2B isn't the only value-oriented option out there, so let's check it out to see how it compares.

ASRock PG34WQ15R2B Specifications
Screen Size: 34 Inches
Resolution: 3440 x 1440 UW-QHD
Aspect Ratio: 21:9
Panel Technology: Vertical Alignment
Refresh Rate: 165Hz
Response Time: 1ms MPRT
Contrast Ratio: 3000:1 (Static)
Brightness: 550 cd/m²
Built-in Speakers: Yes (2 x 2 Watts)
Stand: Height – Yes
Stand: Tilt – Yes
Stand: Swivel – Yes
Stand: Pivot – No
VESA Compatibility: Yes (100 x 100)
Connectivity: DisplayPort 1.4 x 1, HDMI 2.0 x 2, 3.5mm Audio Jack x 1m WiFi Antenna x 1
Dimensions (W x H x D): 31.86" x 22.62" x 11.15"
Weight: 19.40 lbs

Design and Features
The ASRock bloodPG34WQ15R2B has a gamer-centric design, but it is not as gaudy as the older releases we've reviewed. The monitor has a black finish with discrete accents, so it doesn't look too overpowering for work or minimalist setups. The display is bezel-free on three sides, but the typical panel borders remain.
This model is larger than your typical monitor at work or school, so you might need to make way for it. It needs almost a foot of depth and is 32 inches wide from side to side so that it can offset some of your larger peripherals. It's not too heavy at 19.40 pounds, but it's still possible to get outbalanced if you carry it improperly.
Build quality is great despite its budget-oriented nature, so you are not buying a flimsy monitor by any means. The plastics used are thick enough to resist cracks and flexing, and there were no cosmetic defects on the parts, including the accents and details. If you nudge the screen, the stand has some wobbling, but it is not particularly bad to make anyone feel they would need to replace it.
The ASRock PG34WQ15R2B has an OSD joystick on its back near the right side of the display. Budget models often have pesky buttons, so we're glad manufacturers have taken this overlooked feature in a better direction. It's easier to get to the monitor's submenus, so you'll spend less time trying to tweak it and more time gaming. The stand included with the package offers tilt, swivel, and height adjustments for your convenience. It is easy to get a comfortable viewing angle to avoid straining your neck during long hours of play. You can use VESA mounts, but its not immediately necessary for this monitor. The special feature of the ASRock PG34WQ15R2B is its built-in WiFi antenna on its stand's upright. It is actually a smart placement since it clears the antenna from obstructions like the back of your case. It connects to your motherboard via SMA pins, so those who don't have WiFi-ready boards can't use the feature.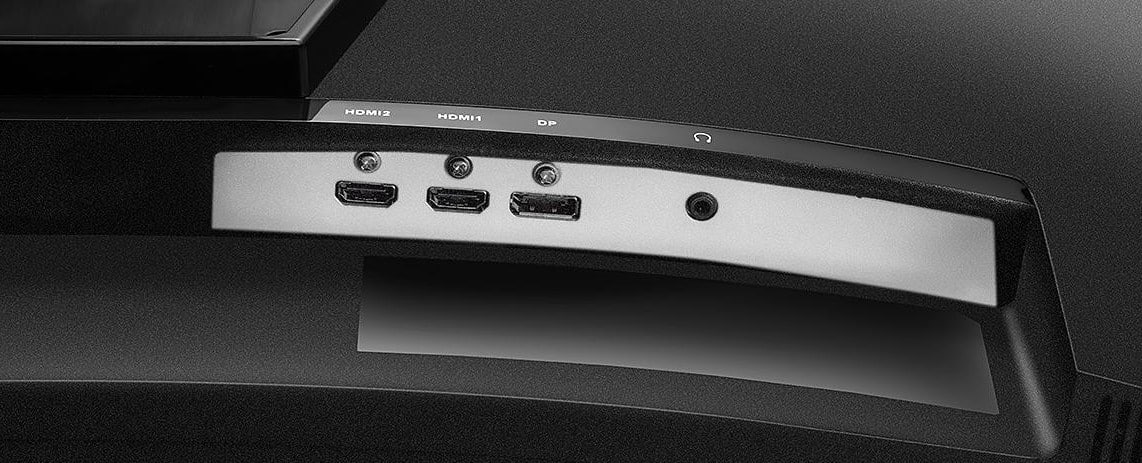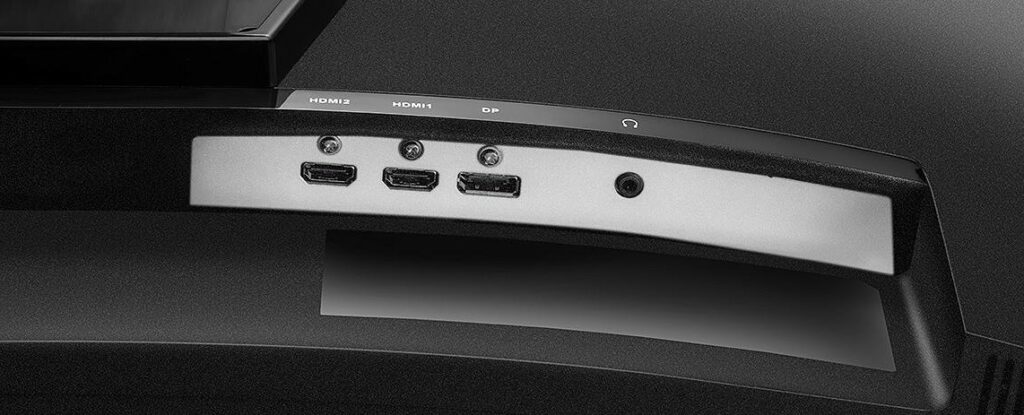 The monitor only has DisplayPort 1.4, two HDMI 2.0 ports, and a 3.5mm jack for headphones. The WiFi signal can't pass through USB since there aren't any, and the antenna itself isn't wired to the monitor. It is just a basic antenna that's similar to what's included in WiFi-ready motherboard packages, so the special feature defeats itself.
There is also a pair of 2-watt speakers with the ASRock PG34WQ15R2B, but they are not suitable for gaming. There isn't any semblance of bass, and they will distort as soon as you raise the volume levels. They are only helpful as a secondary, but we're still glad to have them since they increase the value per dollar rating of the monitor.
Display and Performance
The ASRock PG34WQ15R2B boasts a 34-inch curved VA panel with a 3440 x 1440 resolution, a 165Hz refresh rate, and 1ms boosted response time. The backlight has a 550 cd/m2 peak output while the contrast is listed at 3000:1. This monitor advertises HDR400 certification, but we all know how limited that is in producing HDR effects.
34-inch ultrawides are a joy to use for gaming and productivity because of the expansive view. Games look more engrossing, while tasks are finished quicker since there is a lot of room for multitasking. It needs more GPU horsepower than its 16:9 counterparts, but the demand is far from what 4K screens need.
The ASRock PG34WQ15R2B covers 100% sRGB and 81% DCI-P3, which isn't the best, but decent for games and movies. Its default accuracy needs improvement since the deltaE average is slightly high at 2.91. Most gamers won't notice the errors, but those who have used better-performing models will know the difference.
Calibrating it reduced the dE average to 1.09, which is considerably better and more natural. However, you will need a colorimeter to achieve a similar result instead of copying results from other users. Each panel reacts differently to tweaks, so in some cases, the appearance might actually be worse if a colorimeter does not guide it.
The ASRock PG34WQ15R2B's backlight reached 425 cd/m2 in SDR, but it peaked at 526 cd/m2 when it is HDR mode is active. It offers plenty of room for adjustment, but unfortunately, its lack of local dimming doesn't make it impressive at HDR. Its contrast reached 2881:1 at 50% brightness, allowing it to provide excellent blacks and dark images.
Panel uniformity for the ASRock PG34WQ15R2B sample had some issues due to backlight leaks at the top edge of the screen. They showed up as clouding in dark scenes, although they are less apparent with lighter or colored backgrounds. This issue is common with curved displays, but fortunately, it is not permanent for the entire line.
This model also advertises 1ms MPRT response times, but unfortunately, it is still bound by the limitations of its panel technology. Its still prone to blurring even if overdrive is applied, although they are most noticeable in contrasting transitions. Maxing out the overdrive doesn't help since overshoot will appear.
The ASRock PG34WQ15R2B is compatible with FreeSync and G-Sync, so you don't have to worry about tearing and stuttering. Compatibility with both VRR solutions is essential since both GPU brands have capable 1440p GPUs. Input lag sits at 6ms at 165Hz, so it is fast and responsive enough for competitive play.
Thoughts on the ASRock PG34WQ15R2B
The ASRock PG34WQ15R2B is an excellent choice if you need an immersive monitor and a wireless solution for your connection. The VA panel isn't perfect, but it works great for games and movies, just like its competitors. The WiFi antenna is a very nice addition, but it can become useless if you don't have a WiFi-ready motherboard.
We like how the ASRock PG34WQ15R2B was thoughtfully packaged and even includes a cable sleeve to keep things neat. However, there is room for improvement in the panel's performance which matters more than the added gimmicks. Thankfully, the extras did not affect the price adversely, so it's still a great buy in our books.
Pros:
Excellent Design and Price
Built-in WiFi
Affordable
FreeSync and G-Sync Compatible
Cons:
WiFi Feature Needs a WiFi Ready Motherboard
Needs Calibration
Limited HDR Performance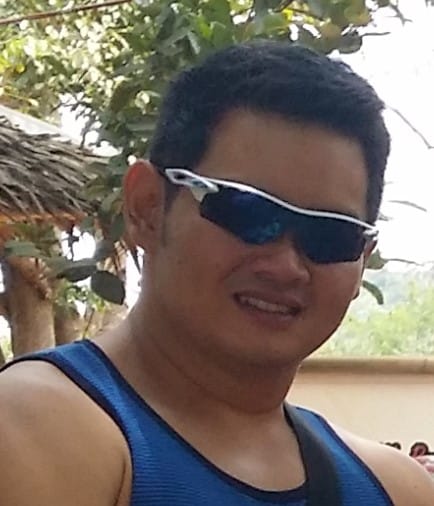 Paolo is a gaming veteran from the golden days of Doom and Warcraft. Since junior high, he has built gaming systems for family, friends, and colleagues. High-performance monitors are one of his fixations; he believes that every citizen's right to enjoy one. He has gone through several pieces of hardware in pursuit of every bit of performance gain, much to the dismay of his wallet. He has also spent half a decade researching, reviewing, and writing about these products and now has over 1400 articles about the best gaming tech under his belt.