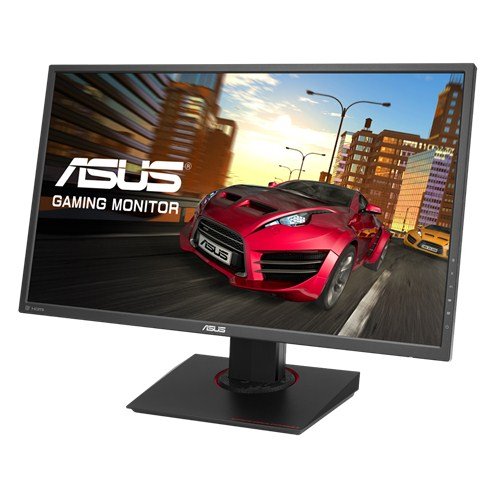 | | |
| --- | --- |
| Our Rating:           | 8/10 |
| Size | 27″ |
| Adaptivesync | Freesync |
| Refresh rate | 144 Hz |
| Response time | 4ms |
| Panel | IPS |
| Resolution | 1440p WQHD |
| | |
| | |
| --- | --- |
| Pros | Cons |
| IPS panel ensures excellent color reproduction | Freesync limited to specific AMD GPU's |
| Low input lag time | Slow response time |
| High quality stand and fully adjustable | |
Conclusion
To keep it short, the ASUS MG279Q is the best cheap gaming monitor of its kind. What you get is an elimination of the compromise between color reproduction and accuracy of the IPS panel and the smoothness for FPS games with its high refresh rate and low response time and input lag. It additionally has the Freesync adaptive sync technology which enhances smoothness and input lag time as well as eliminating stuttering and screen tearing. Ergonomically the stand is fully adjustable with height, swivel, tilt and even pivot for portrait viewing. The ASUS eye-care and blue light reduction are useful for the gamer who spends much time looking at the screen since the eye-care firmware eliminates flickering and blue light reduction lowers the blue lights which can cause eye fatigue in the long run.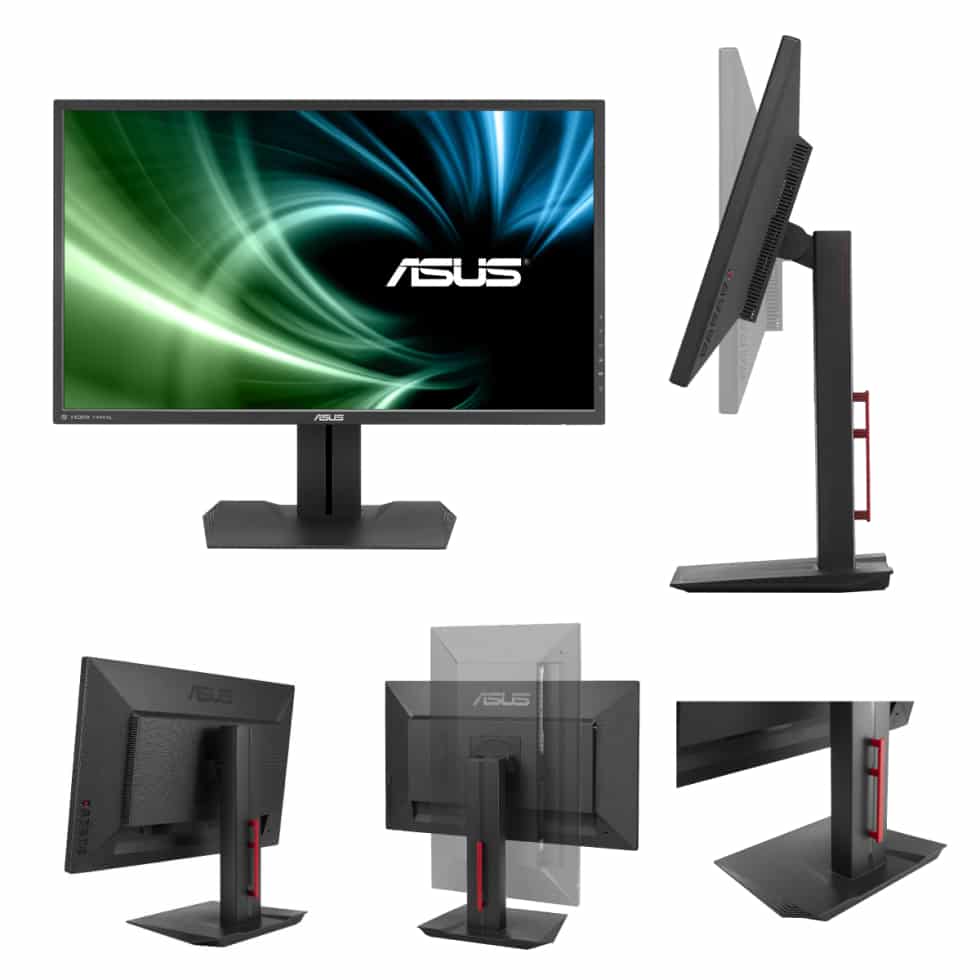 The price, the ergonomic features of the stand and firmware, 144 Hz refresh rate, 4ms response time, 4ms input lag time, the Freesync technology, the WQHD resolution and the IPS panel are all very good arguments for purchasing the ASUS MG279Q but if one should find a downside to all these great specs, it should be the Freesync as it only allows for the newest AMD GPU's. If you don't have it you should either purchase one or planning on doing it, otherwise the MG279Q is an overkill. However, many reviewers believe that the MG279Q is still worth its price since the specs are otherwise rarely found in other gaming monitors at that price.
Full Review

When first opening the ASUS MG279Q package and assembling the stand with the monitor it occurred how handy the stand is. There is no need for a screwdriver as it simply 'clicks' its way in the stand (and out again) and is equipped with the VESA mounting holes for the people who have other ideas with the monitor (wall mounting for example). The stand is fully adjustable with height, swivel, tilt and pivot as well. The cool thing about this stand is the swiveling function can be adjusted by only using two fingers and is very easy to maneuver without it feeling 'cluncky' as it usually does with monitor stands. Besides the external usability, the MG279Q also comes with ASUS' Eye-Care firmware which reduces the flickering significantly for the sake of the eyes as well as the blue light emission feature which reduces the blue light emission for users who read a lot of text or are on the web. Finally, the monitor comes with a DisplayPort 1.2a for the Freesync adaptability and a mini DisplayPort 1.2a as well. If you don't have a DisplayPort output or doesn't have a Freesync supported GPU, the MG279Q also offers 2 HDMI inputs as well as 3 USB 3.0 ports. For the console lovers, one of the HDMI's could be attached to a console as the monitor has 2 in-built 2W speakers.
Besides the pleasant ergonomic standard of the monitor, the ASUS MG279Q also offers a breathtaking combination of specs aimed at both the RPG gamer who values the graphical performance as well as the fast-paced 1st shooter action gamer who values the smoothness of the gameplay to be of significant priority. It produces a refresh rate of 144 Hz as well as a very low response time of 4ms considering it is based on an IPS panel, which ensures a smooth gameplay experience. If that was not enough, the MG279Q also offers the user Freesync, which has a range of 35 – 90 Hz, which eliminates screen tearing completely as well as having an impact on input lag time and stuttering. However, even without a Freesync supported AMD GPU, this gaming monitor still performs a fast 4ms input lag time which is typical for IPS panels. The IPS panel is also known for its wide range of color spectrum as it covers the whole sRBG spectrum and with an exceptionally accurate color reproduction and accuracy (black being extremely dark) as well as viewing angles, you have the option to go from Battlefield or Call of Duty to Skyrim without compromising gameplay experience. With the firmware, ASUS has included the ASUS GamePlus which enables you to have on-screen crosshair, as well as the game visual technology which is an advanced post processing technology that allows you to go ahead and optimize different portions of the screen for let's say darker environments giving you better overall contrast, better fidelity and overall easier to look at image that basically allow you to have a competitive edge when it comes to gaming.
The price is probably the most fascinating thing as ASUS have been able to maintain the MG series to be less than 600$, which is quite cheap for a 144 Hz IPS panel gaming monitor with adaptive sync. This is mainly possible because of the Freesync technology being more than 100$ cheaper than G-sync. However, as opposed to G-Sync which can support pretty much every nVidia GPU, the Freesync only applies to a specific set of AMD GPU's because in the way they are developed.
All specs:
| | |
| --- | --- |
| Refresh Rate | 144 Hz |
| Response Time | 4ms |
| Input Lag Time | 4ms |
| Size | 27" |
| Aspect Ratio | 16:9 |
| Static Contrast Ratio | 1000:1 |
| Dynamic Contrast Ratio | 100,000,000:1 |
| Resolution | 2560 x 1440 (WQHD) |
| Panel Type | IPS |
| Adaptive Sync | Freesync |
| Brightness | 350cd/cm2 |
| Blue Light Reduction | Yes |
| Anti-Glare | Yes |
| Anti-Reflection | No |
| Backlight | W-LED |
| Speakers | 2x 2W |
| Color | Matte Black |
| Ports | 1x DisplayPort 1.2a, 1x Mini DisplayPort 1.2a, 2x HDMI, 2x USB 3.0 |
| Viewing Angle | 178/178 Degrees |
| Adjustability | Height 150mm, pivot, swivel 60 degrees, tilt 5/35 degrees |
| Brand-Specific Features |  ASUS Ultra Low Blue Light, Skin-Tone Selection, ASUS Splendid Video Preset Mode, ASUS GamePlus, ASUS Eye-Care |
| Additional Features | |
Check our list of other 4K gaming monitors.