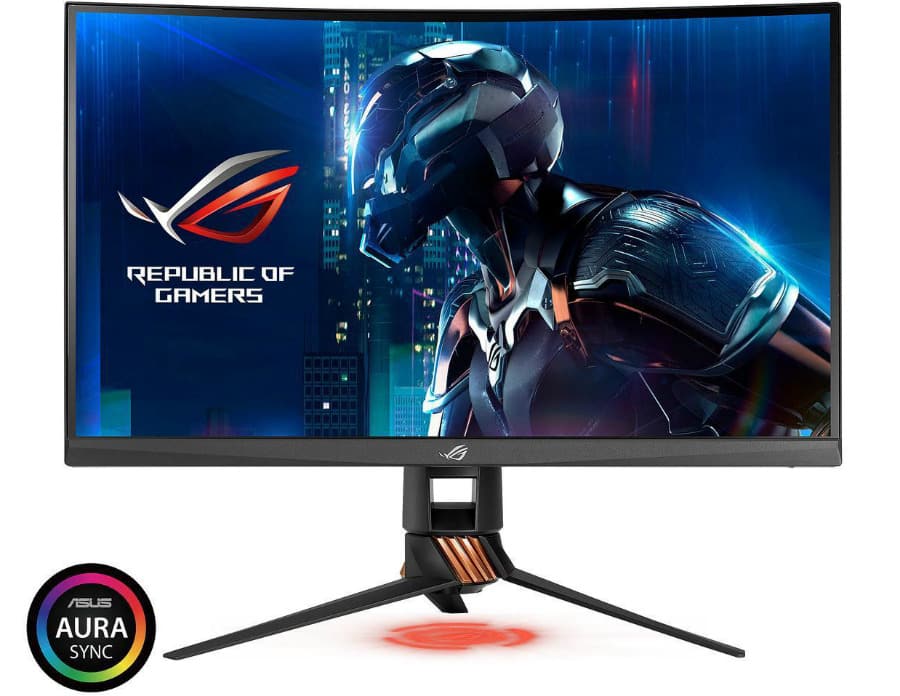 The long-awaited Asus PG27VQ offers a 1440p screen with a slightly aggressive curve that aims to envelop the gamer further in the heat of battle. This new competitive gaming monitor also includes G-Sync along with Asus'well-loved extras that are designed to entice the enthusiast. The Asus PG27VQ dropped the Quantum Dot tech it promised at CES, so let's check out what it has to offer over our current favorite, the Asus PG278QR other than its fancy RGB LEDs.
Update December 10, 2017 – The Asus PG27VQ is now available for order via the links above and below. You can also click here to see it at our favorite retailer.
Update December 20, 2017 – According to Asus sources, the Asus PG27VQ now available on the market does not include Quantum Dot. The feature was included in the PG27VQ's reveal and early advertisements but was canceled from the final product due to undisclosed reasons.
Update May 12, 2018 – Article upgraded to a full review.

Asus PG27VQ Specifications
Screen Size: 27 Inches
Resolution: 1440p QHD
Aspect Ratio: 16:9
Panel Technology: Twisted Nematic (TN)
Refresh Rate: 165hz
Response Time: 1ms
Contrast Ratio: 1000:1 (Static)
Brightness: 350 cd/m²
Built-in Speakers: No
Stand: Height -Yes (4.72 inches)
Stand: Tilt – Yes (-5°/+20°)
Stand: Swivel – Yes (-60°/+60°)
Stand: Pivot – No
VESA Compatibility: Yes (100 x 100)
Connectivity: DisplayPort 1.2 x 1, HDMI 1.4 x 1, USB 3.0 x 2, 3.5mm Audio Jack
Dimensions with Stand(WxHxD): 24.41″ x 20.52″ x 10.58″
\Weight: 18.65lbs

Design and Features
The Asus PG27VQ sports the 2nd generation of the ROG aesthetic treatment which we first saw on the Asus PG258Q 240Hz gaming monitor. The cabinet employs a graphite black plastic material that makes the product feel well-built and rigid with no unwanted flexing. The front also has a bezel-free design which is in truth a dual-stage treatment composed of a thin outer layer and slim bars on the panel.
As mentioned, the Asus PG27VQ is a curved display with a 1800r curvature which suits 34-inch ultrawides better. Most users would be hard-pressed to really enjoy the monitor as an immersive display since the curve is less prominent in this form factor. The only positive effect we immediately noticed from the form was it cured some of the TN viewing angle issues for those who sit at dead center.
A third of the back of the chassis has futuristic graphics carved all over to give the Asus PG27VQ it's hardcore gamer appearance. The layout splits the cabinet into three parts, creating a design centerpiece shaped like another helix that also houses the Aura Sync LEDs. This feature is primarily decorative, but it also serves as a bias light for eye safety and comfort.
This is also where the redesigned stand for the Asus PG27VQ rests, although it isn't as easy to remove as quick-detach designs found on competing models. However, there is little reason to opt for a VESA mount anyway since the mechanism includes tilt, swivel, and 4 inches of height adjustment. There is also an LED projector feature with customizable filters at the bottom for a decorative measure.
The Asus PG27VQ is equipped with G-Sync module, so it isn't surprising that it includes a limited I/O layout. You only get DisplayPort 1.2 and dual HDMI 1.4 slots for video inputs along with three USB 3.0 slots hiding behind the removable panel cover. There is a 3.5mm audio passthrough jack, but there are no built-in speakers which are usually neglected but should be included considering the price tag of this beast.
The control layout on the Asus PG27VQ hasn't changed despite the drastic redesign of the latest generation. They are still located behind the screen which you can quickly reach from the right-hand side. You will find four tactile keys and a joystick that makes OSD navigation satisfying and easy as peas.
Display and Performance
The Asus PG27VQ sports a 27-inch TN panel with a 2560 x 1440 resolution, 165Hz refresh rate, 1000:1 contrast ratio, and a 1ms response time. You must be asking yourself why Asus chose to use a TN technology without the promised Quantum Dot when there are more options available. These primary specs are also identical to what the Asus PG278QR offers save for the 1800r curvature and the 400cd/m2 backlight.
The upgraded brightness is excellent for users who opt to use ULMB over G-Sync since the feature reduces the backlight by as much as 50% when activated. The higher ceiling also gives users a subtler range of adjustments which is a necessity for precise calibration which owners have to go through.
Out of the box, the Asus PG27VQ posted 98% sRGB coverage which is a few clicks lower than its predecessor, the PG278QR. The minor deficiency shouldn't matter in most situations, but what surprised us the most is the poor accuracy, with color Delta E averaging at 5.8 across all modes. Gamma is also a bit high at 2.4, although we know a few gamers prefer this setting over the ideal 2.2.
At least contrast is at an acceptable level of 880:1 at brightness levels below 40%. It is essential to neuter the backlight considerably since the Asus PG27VQ can reach 440cd/m2 which is blindingly too bright for everyday use.
After calibration with a colorimeter, the Asus PG27VQ's color representation accuracy drops to Delta E 2.8 which is reasonable for a gaming display. Colors appear more balanced and defined, but premium models like this should offer better performance in this regard. The included presets such as the sRGB mode along with the GamePlus filters are of no use since they lock out a lot of settings with equally dismal scores as the default setting.
But on the positive side of things, the Asus PG27VQ does quite well in panel uniformity and responsiveness. Color and brightness uniformity from the center going to the corners did not post deviations that exceed 8% which is excellent for a larger than usual screen. The curved screen had a helping hand in this aspect which also lessened the impact of TN technology's poor viewing angles.
The screen felt very responsive during our test playthrough with PUBG with no visible blurring or ghosting. Our GTX 1080 Ti consistently pumped out 100 to 115 FPS, with occasional dips to the 80s and 90s, but we did not experience any tearing or stuttering during the test. There is little need to opt for ULMB over G-Sync with this monitor, which, in our opinion is a waste considering you pay an extra premium for the feature.
We did not notice any delays in our inputs and the screen, but there was a minuscule feeling that the Asus PG27VQ was a bit slower than the Asus PG278QR. The former's input lag sat at an average of 14ms which is still decent for competitive gaming, although not as impressive as the predecessor's 4ms record. Most users will be hard-pressed to feel a detrimental difference during gameplay, but this limitation is undoubtedly a deal breaker for the hardcore.
Thoughts
The Asus PG27VQ dropped highly-anticipated and promised features such as Quantum Dot and HDR compatibility when it launched. These omissions would have been forgivable if the product posted improvements over the venerable Asus PG278QR, but sadly, this isn't the case. The color fidelity is the most significant issue here since a considerably better output should be expected for this price bracket.
Most gamers would be able to easily overlook this flaws because the Asus PG27VQ still is a responsive and attractively designed product. The input lag is slightly higher, but it shouldn't be noticeable except if you are using an already faster QHD display. We recommend this model if you are building a rig with a single, Asus Aura ecosystem, but when it comes to performance, the Asus PG278QR is still the king.