ASUS ROG Swift PG279Q Review
| | |
| --- | --- |
| Our Rating:           | 10/10 |
| Size | 27″ inch |
| Adaptivesync | G-Sync |
| Refresh rate | best 144Hz gaming Monitor, (overclock to 165 Hz) |
| Response time | 4ms |
| Panel | IPS |
| Resolution | 1440p (WQHD)  2560×1440 |
| Check The Latest Price | Check Latest Price |
| See all the Specs at the bottom of this page.  | |
| | |
| --- | --- |
| Pros | Cons |
| IPS panel ensures excellent color reproduction | Expensive |
| Very high refresh rate | |
| Incredibly low input lag | |
| Designed to display every game genre to its full potential | |
You can play a game on any monitor, but if you want it to look awesome and feel smooth, you are going to need a dedicated gaming display. Asus PG279Q tries to crown itself as the king in that category. But its price sets a high bar. This monitor makes its intention clear at a glance. Its matte-black exterior is combined with red LED backlighting and makes it look beautiful.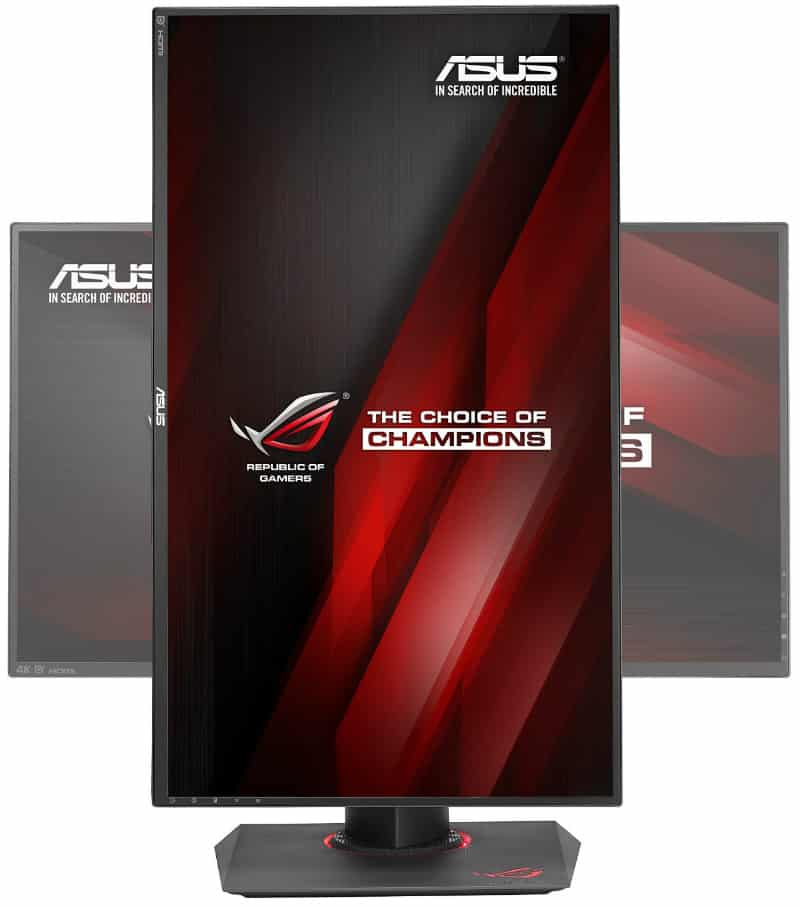 Functionality is accounted for thanks to a stand that adjusts for height, tilt, pivot and even rotates 90 degrees. The PG279Q's resolution of 2560×1440 is not as impressive as 4K, but it's a good choice for high-resolution gaming as Ultra HD is too much for most gaming rigs to handle. Asus has opted for an IPS panel in this great monitor. It also offers an absurd maximum refresh rate of 165 hertz. It proves to be the best of all worlds. In our test, we found that the monitor has an excellent color accuracy and strong contrast yet also boast low response time and shows minimal ghosting in fast moving objects.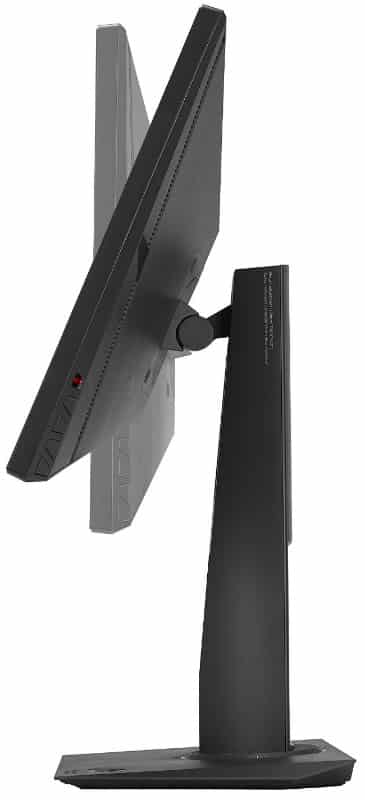 Asus has designed this monitor to work with G-Sync, NVIDIA's frame synchronization technology. It beats the monitors refresh hand in hand with the video card output, so you never see screen tearing or jitter. As with past G-Sync monitors, we found that the feature worked brilliantly. The only issue is a slight flicker that can appear in some bloating screens. While a bit distracting, it clears up in a moment when the load is complete and doesn't appear in every game. There are not any negatives to find here, but Asus isn't giving the monitor away. It is one of the most expensive 1440p displays on the market. But it is not necessarily a poor value as the PG279Q's combination of features isn't found so many other places. If you want the ultimate gaming monitor no matter the price, you found it.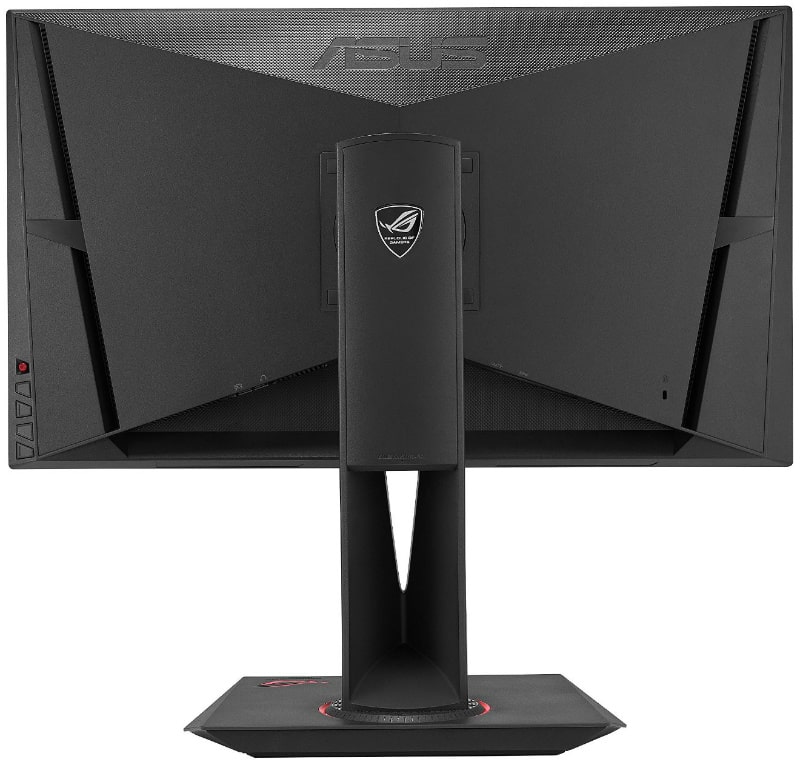 This highly anticipated gaming monster from the Republic of Gamers is conclusively the highest ranked gaming monitor when comparing the specs to any other gaming monitor. Besides the described specs, the ASUS ROG Swift PG279Q performs as one of the smoothest and most complete monitors tested, and we begin to understand the high price – there is quite frankly a gap between the PG279Q and the others, making the price reasonable. The refresh rate reaches 165 Hz, with a 4ms response time and a 3.25ms input lag time. The relatively low response time should not be considered as an issue as it views fast moving an object with no noticeable ghosting. The gaming experience is further improved by the IPS panel which ensures a vibrant color production and viewing angle which suits perfectly with the WQHD resolution. To top it off, it comes with the G-Sync module from nVidia, to ensure that the monitor output matches the GPU output for the optimal gaming experience, smoothness, and elimination of tearing. All in all an obvious choice for the editor's choice.
Asus PG279Q Review
Needless to say, we had high expectations when unveiling the ASUS ROG Swift PG279Q, partly because of the performance of its predecessor the PG278Q but mostly because of the promised specs that we were excited to put to use. The stand offers a variety of ergonomic features as it is fully adjustable with height, swivel, tilt and portrait function.
Following up on the PG278Q, one would think that the PG279Q would be aimed at the fps/3D action type of gamer with a faster refresh rate and an even lower response time. However, ASUS have apparently thought to build a gaming monitor that suits every gamer needs. It is equipped with an IPS panel instead of the previous TN panel for a significantly improved color production and range as well as viewing angles making it worth the highly demanding graphical games like RPGs. However, it had maintained its previous audiences' attention by increasing the maximum refresh rate to 165 Hz and an incredible 3.25ms input lag time, which is further reduced when enabling the G-Sync feature, which the PG278Q also had. However, the tradeoff, of having an IPS panel is measured in the response time as it is 4ms contra the 1ms response time the PG278Q had. However, during fast fps games, the other specs simply balance the response time as you will be having a very hard time looking for ghosting or blurring. Add the 1440p resolution and you have yourself the perfect combination for the ultimate gaming monitor
currently in the market.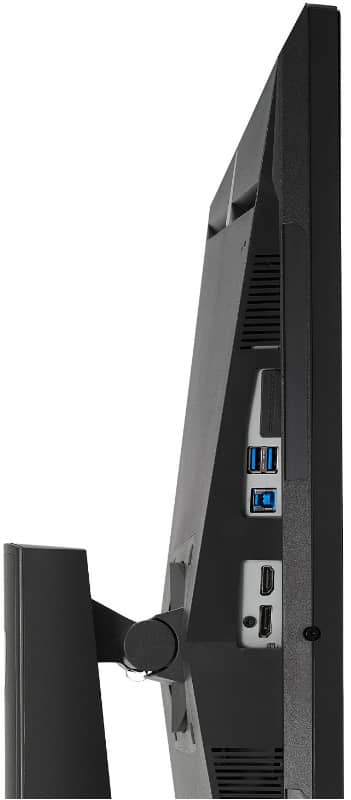 If we were to criticize the ASUS ROG Swift PG279Q, it would first be on the speakers. We can't come up with a reason for why they would put them on. Usually, they are for monitors that suit well for console gaming, which should never happen because it simply is a waste of specs and money. You can get a perfectly suited IPS panel with 60 Hz refresh rate (as that is the maximum refresh rate for consoles since they use HDMI), for far less than half the PG279Q's price. But since they have added the HDMI 1.4 port, we believe that the speakers are in fact aimed at the console gamers. Beware for the lack of I/O ports since the PG279Q only comes with the DisplayPort 1.2a because of the G-Sync, besides the HDMI and the 3 USB 3.0's. Flickery during heavy graphical gaming was observed in instances of a second but nothing serious enough to analyze further.
Besides the response time, the other tradeoff by applying the IPS panel is the price. However for the amount you pay, you get a gaming monitor unlike any other, which supports adaptive sync, ultra-low motion blur, 3D ready which includes nVidia's Lightbox technology. The 1440p resolution is IMO perfect for gaming as opposed to 4K which can be too heavy for the CPU and GPU to handle and 1080p which is slowly becoming outdated. If money is no option and you are looking for the perfect gaming monitor, the ASUS ROG Swift PG279Q would be a qualified guess.
All specs:
| | |
| --- | --- |
| Refresh Rate | 144 Hz (overclock to 165 Hz) |
| Response Time | 4ms |
| Input Lag Time | 3.25ms |
| Size | 27" |
| Aspect Ratio | 16:9 |
| Static Contrast Ratio | 1000:1 |
| Dynamic Contrast Ratio | N/A |
| Resolution | 2560 x 1440 (WQHD) |
| Panel Type | IPS |
| Adaptive Sync | G-Sync |
| Brightness | 350cd/cm2 |
| Blue Light Reduction | Yes |
| Anti-Glare | Yes |
| Anti-Reflection | No |
| Backlight | W-LED |
| Speakers | Yes, 2x 2W |
| Color | Matte black |
| Ports | 1x HDMI 1.4, 1x DisplayPort 1.2a, 2x USB 3.0 |
| Viewing Angle | 178/178 Degrees |
| Adjustability | Height 120mm, pivot, swivel 40 degrees, tilt 5/20 degrees |
| Brand-Specific Features | GamePlus, 5-way OSD Navigation Joystick, Turbo Key |
| Additional Features | NVidia's 3D Vision 2, nVidia 3D Light Boost Technology, Ultra-Low Motion Blur, Active Shutter |
Editor's Note: The PG279Q is now available in a refreshed version named the Asus PG279QZ. Check it out here.