Asus fired off a salvo of class-leading gaming monitors to challenge its competitors for the top spot in the gaming monitor segment. We're sure you'll find your dream monitor among them, whether you are an E-Sports aficionado or want jaw-dropping eye candy. Here are the upcoming 2023 Gaming monitors for the renowned brand:
Asus Swift Pro PG248QP – 540Hz E-Sports Flagship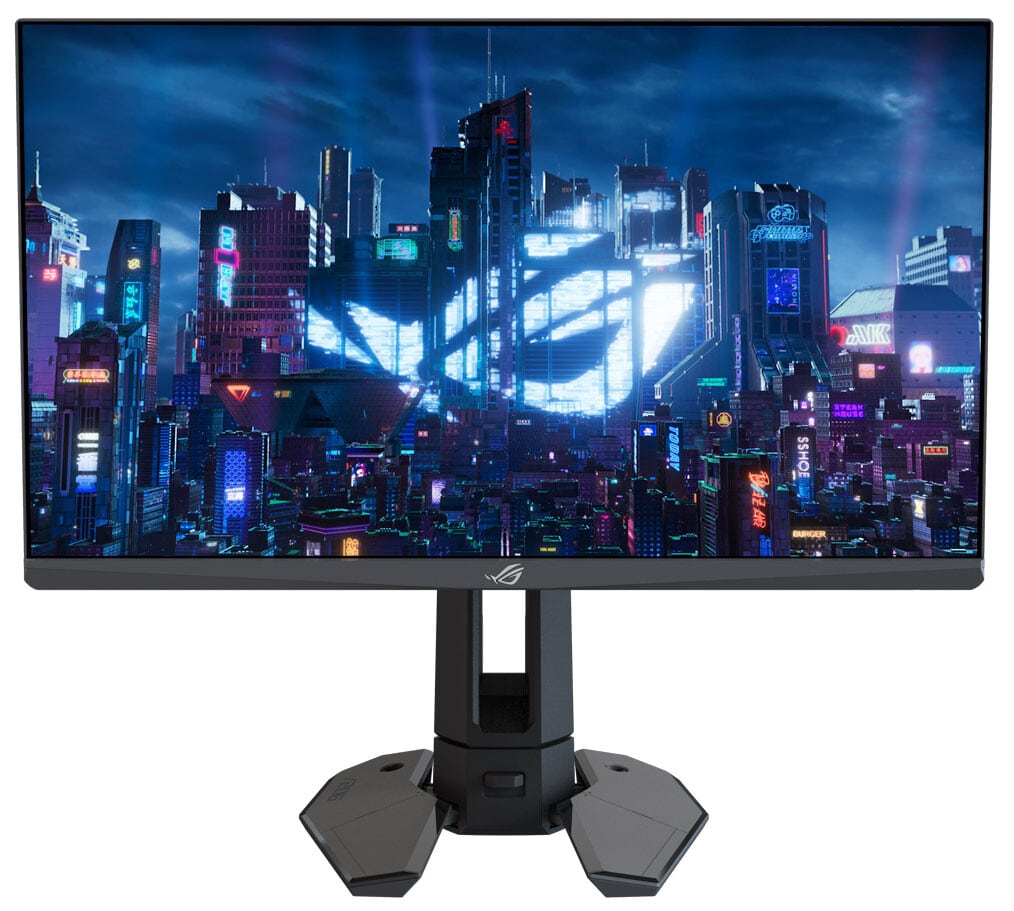 Asus Swift Pro PG248QP – Check Availability
The Asus Swift Pro PG248QP is shaping to be the next top pick for E-Sports or competitive gaming. It uses a TN panel which was very popular for that purpose, but what makes it stand out further is its jaw-dropping 540Hz refresh rate. It's launched with 500Hz Fast-IPS alternatives with better color, but this option's pixel response time is a class ahead of that.
The announcement didn't release the other screen specs, but Asus was keen to talk about the monitor's stand. The base has "retractable claws," which lets the user adjust the feet inward or outward to suit their preference. Asus said this ability could give users more space if they want the keyboard and mouse closer to the screen.
Asus ROG Swift PG32UQXR – Next Generation Mini-LED Gaming Monitor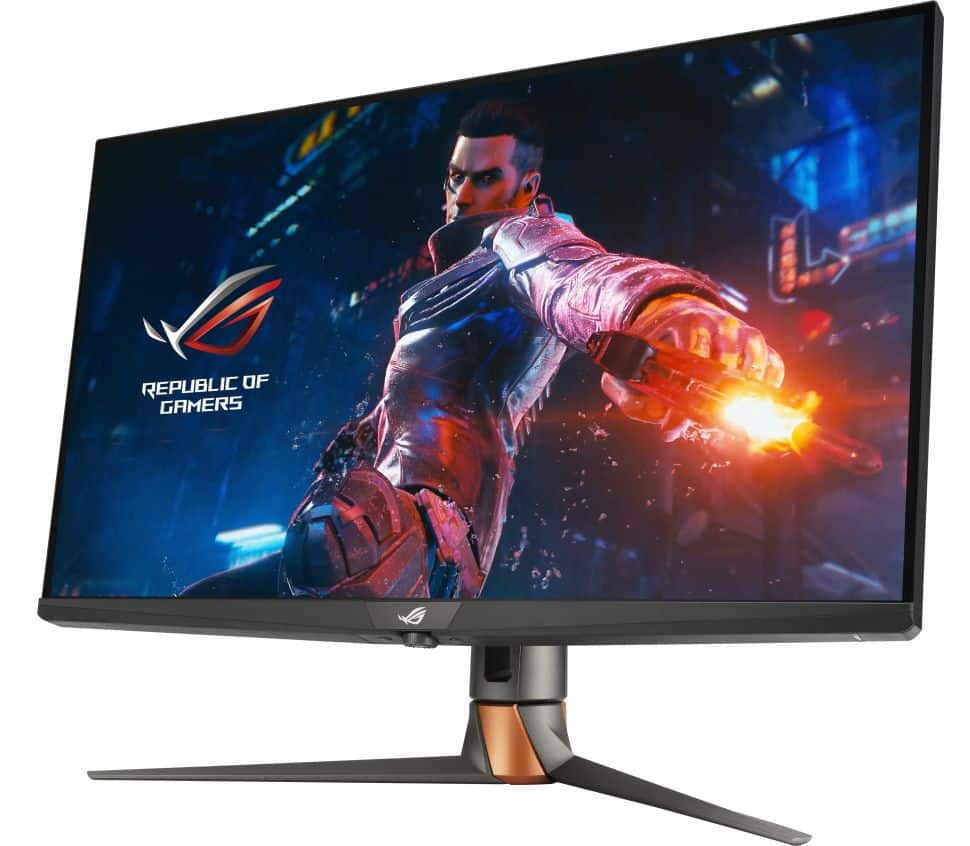 Asus ROG Swift PG32UQXR – Check Availability
The Asus ROG Swift PG32UQXR is the next evolution of the brand's 4K 144Hz+ products that are geared toward discerning enthusiasts. This new model can be overclocked to 160Hz, and it's the first to offer DisplayPort 2.1 connectivity. It's also equipped with a mini-LED backlight for superior HDR performance outside of OLED technology, just like its predecessor.
The PG32UQXR's IPS panel covers 95% of the DCI-P3 gamut, and its mini-LED backlight has 576 local dimming zones. It's an HDR 1000 monitor, so it can reach at least 1000 cd/m2 when HDR content demands it. Other specifications like contrast were not mentioned, but it's safe to say that it will exceed most expectations when it arrives.
Asus ROG Strix XG49WCR – 49-Inch Super Ultrawide for Gaming and Productivity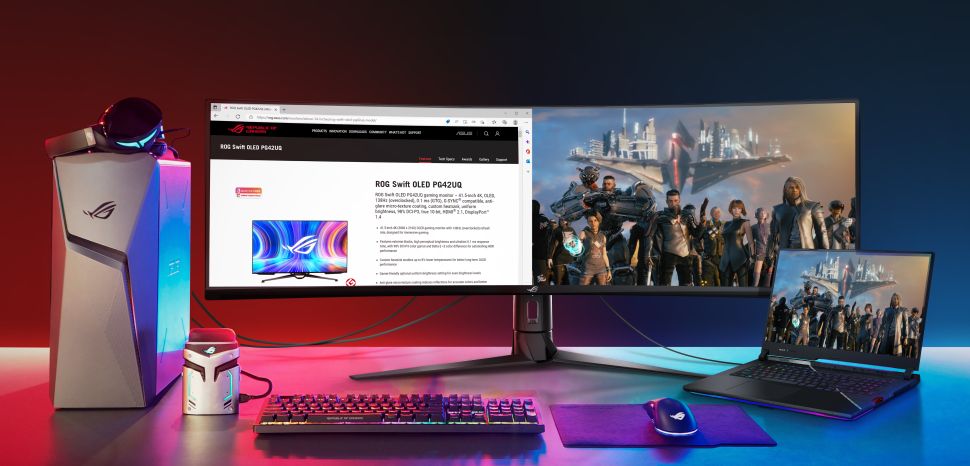 Asus ROG Strix XG49WCR – Availability
The Asus ROG Strix XG49WCR is the brand's "proper" super ultrawide since it offers the best of both worlds. It's a superb immersive gaming option and highly suitable for productivity and content creation. The large 5K2K screen offers a ton of space, allowing you to enjoy massive FOVs or enough room to manipulate multiple programs simultaneously.
The monitor's VA panel has a 1800r curvature, a 5120 x 1440 resolution, and a 165Hz refresh rate, making it ideal for immersive gaming. It also has a 65-Watt USB-C slot and Smart KVM functionality, which makes it suitable for productivity setups. Specs aren't final, but we're sure Asus will drop more information when it's closer to release.
Asus ROG Swift OLED PG27AQDM – 240Hz OLED Gaming Monitor
Asus ROG Swift PG27AQDM – Check Availability
The Asus ROG Swift PG27AQDM competes with the newly released LG 27GR95QE by offering an identical OLED panel intended for fast and smooth gaming. It also sports a redesigned aesthetic which we already love based on the pictures. However, what matters most is its expected performance which will trump every HDR monitor out there.
As mentioned, this variant uses a 240Hz 1440p OLED panel starting to pop up from different brands. It's capable of 0.03 pixel response time and 99% DCI-P3 coverage, and a peak 1000 cd/m2 brightness output. Asus mentioned that it had to design a unique cooling system since OLEDs tend to get hotter than their LCD or LED counterparts.
So far, only the Asus ROG Swift OLED PG27AQDM is confirmed to arrive this quarter of 2023. The ROG Pro PG248QP is scheduled next by the 2nd quarter, but the XG49WCR and the PG32UQXR are still awaiting dates. Pricing is not yet available for all four, so check our website for the latest if you are interested.
About the Author: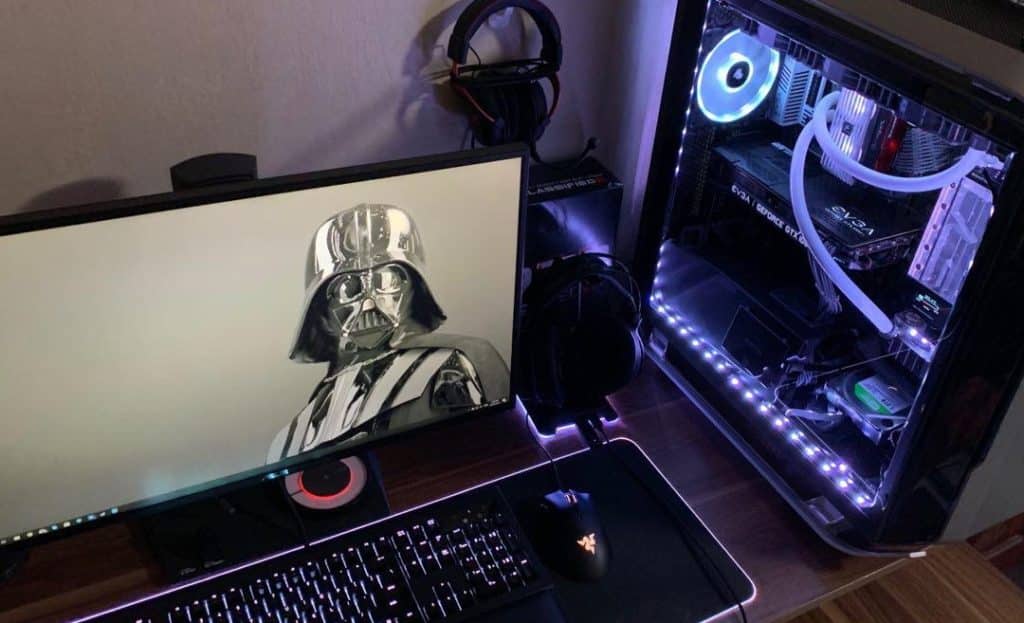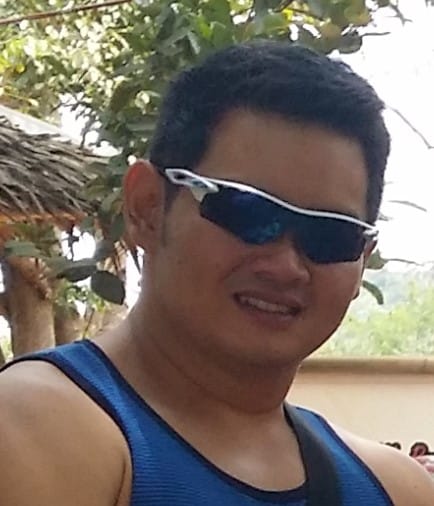 Paolo has been a gaming veteran since the golden days of Doom and Warcraft and has been building gaming systems for family, friends, and colleagues since junior high. High-performance monitors are one of his fixations; he believes that every citizen's right to enjoy one. He has gone through several pieces of hardware in pursuit of every bit of performance gain, much to the dismay of his wallet. He now works with Monitornerds to scrutinize the latest gear to create reviews that accentuate the seldom explained aspects of a PC monitor.