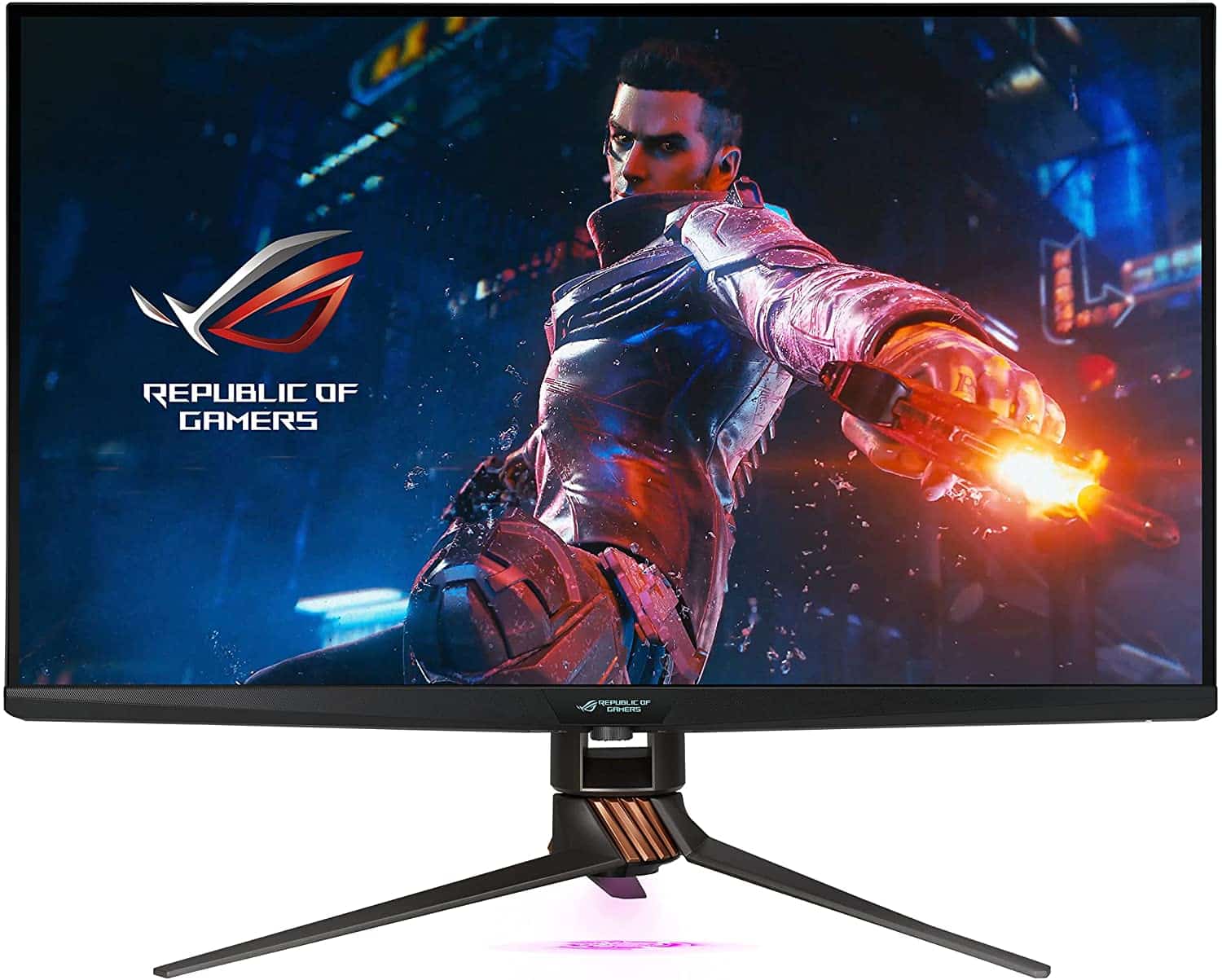 The Asus PG32UQX is the brand's epitome of a flagship gaming monitor for the most discerning enthusiasts who want the best of the best. It combines the features found on flagship ProArt and ROG Swift models to create an impressive display that will complete the most powerful rigs available. However, the Asus PG32UQX is an investment, so let's check first if it's well worth its asking price.

Asus PG32UQX Specifications
Screen Size: 32 Inches
Resolution:3840 x 2160 UHD
Aspect Ratio: 16:9
Panel Technology: In-Plane Switching (IPS)
Refresh Rate: 144Hz
Response Time:4ms
Contrast Ratio: 1000:1
Brightness: 500 cd/m2 (1400 cd/m2 Peak)
Built-in Speakers: No
Stand: Height – Yes
Stand: Tilt – Yes
Stand: Swivel – Yes
Stand: Pivot– No
VESA Compatibility: Yes (100 x 100)
Connectivity: DisplayPort 1.4 DSC x 1, HDMI 2.0 x 3, USB 3.1 x 2, USB 2.0 x 1, 3.5mm Jack x 1
Dimensions With Stand (WxHxD): 28.62″ x22.60″ x 12.05 ″
Weight: 25.03 lbs

Design and Features
The Asus PG32UQX retains the main characteristics of the ROG Swift design, but it looks sleeker and more sophisticated this time around. It retains the matte black and gunmetal combination with copper accents, along with the lower-profiled helix stand. The display is bezel-free on three sides so you get a maximized view of the gorgeous screen.
One thing you'd notice with the brand's flagship HDR models is that they are slightly thicker from the side. The extra heft is caused by the special backlight installed, plus the breathing room it needs to stay cool. The Asus PG32UQX does have a cooling fan built-in for this purpose, so don't worry if you hear a faint whirring sound during intense games.
You also have to consider the Asus PG32UQX's overall size which is comparable to old HD TVs from previous years. It's heavy at 25 pounds and it needs a little over a foot of depth from your desk due to its massive stand. This won't be an issue in most cases, but gamers who live in apartments or dorms that have limited space for desks might say otherwise.
Build quality for the Asus PG32UQX is excellent and feels like no expense was spared in building and designing it. The materials feel sturdy and premium, giving the monitor a refined and reliable appearance. We didn't notice any cosmetic defects or wobbling from its massive stand during regular use.
The Asus PG32UQX has a host of noticeable features starting with its 2-inch LiveDash OLED screen on the bottom bezel. This can be configured to show temperatures, FPS counters, or even a timer so you can add a more personal touch to the product. You also get RGB lighting on the stand and the housing so you can mix and match it with your other Asus ROG parts and peripherals.
Another feature we love on the Asus PG32UQX is its control dial for the OSD which works smoothly and is very easy to use. It has a wheel for scrolling and a central button for input or selection, so it's only going to take a short while to get used to. The old joystick and hotkey combo worked really well, but this is a nice piece of novelty that anyone will love.
The stand included with the Asus PG32UQX offers tilt, swivel, and height adjustments, but you can't set it to portrait mode. Its design hasn't changed much ever since Asus shifted to gamer-centric designs, but that's because many like it, and it's quite durable. You can swap this part out with a VESA mount, but it is unnecessary unless you have multiple displays.
The Asus PG32UQX's connectivity ports include DisplayPort 1.4 with DSC and three HDMI 2.0 slots for video inputs. This model still doesn't have the HDMI 2.1 connector for 4K 120Hz operation with the latest consoles, and that's a bummer in this day and age. We'd like to imagine that majority of its buyers will have a PS5 or Xbox Series X next to the PC so that HDMI 2.1 could come in handy.
However, this monitor's design has been circulating since before the new consoles released, so it's somehow understandable. You also get two USB 3.1 ports for fast transfers and a single USB 2.0 at the top beside a tripod slot. These two are meant for webcams or light kits such as the ROG Eye so you can seamlessly integrate them if you stream.
Display and Performance
The Asus PG32UQX boasts a 32-inch IPS panel with a 3840 x 2160 resolution, a 144Hz refresh rate, and a 4ms GTG response time. The backlight has a typical 500 cd/m2 output and a 1400 cd/m2 peak, while the contrast is listed at 1000:1 and 400,000:1 respectively. Asus claims it has HDR 1400 specification, but VESA has clarified that its certification system only goes up to HDR 1000.
32-inch 4K screens are highly sought after since the resolution is more comfortable to view here compared to smaller 27-inch variants. The pixels are spread out a bit further, but there is no noticeable drop in sharpness and image quality. However, it's easier to read and write here while letting you appreciate more of what games and content have to offer in 4K.
The Asus PG32UQX renders more than 100% sRGB and around 99% DCI-P3 for stunning vibrancy and saturation. It's default setup that uses its sRGB Emulation mode has a dE average of only 1.23 which is fantastic for a gaming monitor. The wide gamut mode is less ideal since it spreads the sRGB accuracy all over the place, but some may like it for games due to its richer saturation.
Calibrating the Asus PG32UQX resulted in a fantastic deltaE average of 0.59 which is comparable to its prosumer counterpart, the PA32UCX. However, calibrating with a colorimeter is only reasonable if you are using it for color-critical work or if you have access to the gadget. This monitor is already quite expensive, so some might be on the fence to spend another few hundred on a gadget that you will seldomly use.
The Asus PG32UQX reached 520 cd/m2 in SDR and a jaw-dropping 1598 cd/m2 in SDR. Its contrast in SDR isn't impressive at 1156:1, but it expanded to 23650:1 when HDR is active thanks to its 1000-zone mini LEDs. The latter isn't entirely accurate since we know that it's capable of more, but that's all that was captured due to the variables of HDR imagery and the special backlight.
Its HDR performance is spectacular and a cut above the rest, especially the HDR 400 or even the HDR 600 monitors we've seen. The object and lighting highlights look clear and well-defined, while the colors truly pop out of the screen. Take note that the full range of the panel (4K 144Hz with 10-bit full Chroma) is only possible on the DisplayPort 1.4 slot which has DSC.
Panel uniformity for the Asus PG32UQX is excellent and it looks like Asus cherry-picked them for this special monitor. There are no clouding or blooming issues even when HDR is active, so the screen will look even without contrast lost or washed out spots. However, take note that this can vary between every unit since this still is an IPS monitor so it is still susceptible to backlight leaks and similar issues.
Pixel response time for the Asus PG32UQX is slower compared to other IPS monitors with the same refresh rate. This is understandable since there is a lot going on under the hood, especially when HDR is active. Setting the overdrive to its Normal settings will help while its Extreme level will induce noticeable overshoot.
The Asus PG32UQX is a native G-Sync ultimate monitor with the exclusive G-Sync FGPA module. However, it's still compatible with FreeSync and is less restricted when it comes to connectivity, so it's not a big deal unlike before. Input lag sits at 4ms at 144Hz, so there is no need to worry about sluggishness or delays.
Thoughts on the Asus PG32UQX
The Asus PG32UQX is our new dream monitor thanks to its awe-inspiring performance and amazing specifications. The monitor offers fantastic performance in gaming and HDR, making it one of the best you can buy if money isn't an issue. We love the design and the small and thoughtful tidbits with it, although the OLED panel can sometimes be distracting.
The only caveat we can think of with the Asus PG32UQX is its skyrocketing price in a market where exclusive items like this are price-gouged or scalped. The three-grand SRP isn't a joke, especially since you can get an OLED screen like the LG OLEDCX48 for less than half. It's easily the best monitor we've reviewed, but you have to shell out a small investment to enjoy its benefits.
Pros:
Wide Gamut Coverage
Fantastic HDR Performance
G-Sync Ultimate with FreeSync Compatibility
Superb Design with Functional Extras
Cons:
About the Author: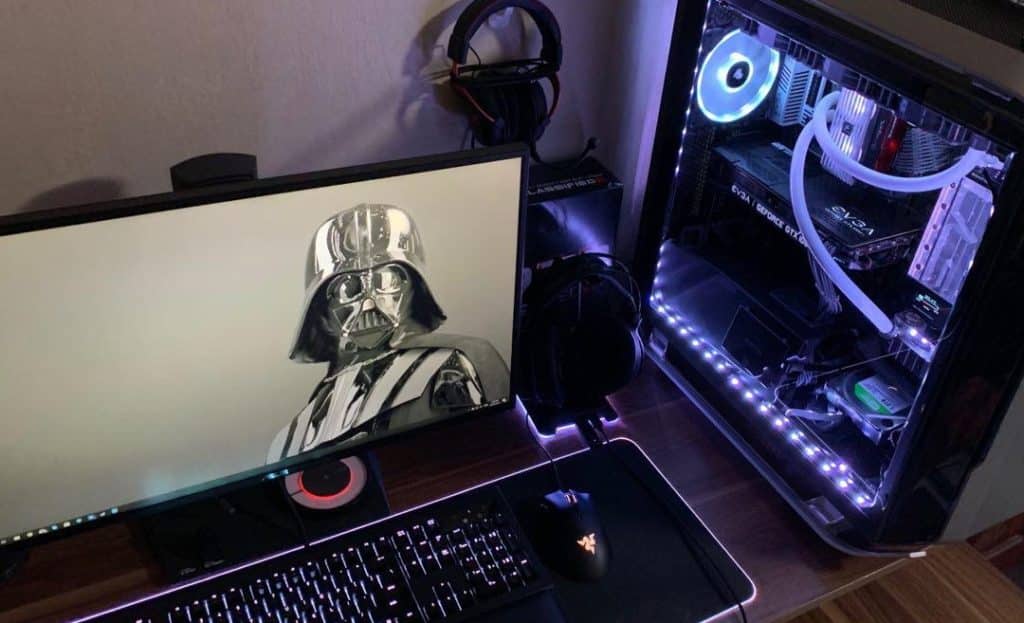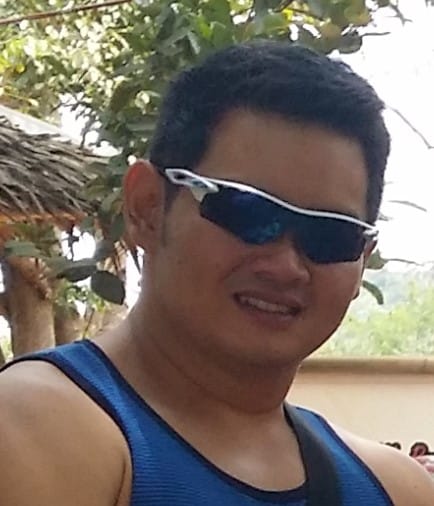 Paolo is a gaming veteran since the golden days of Doom and Warcraft and has been building gaming systems for family, friends, and colleagues since junior high. High-performance monitors are one of his fixations and he believes that it's every citizen's right to enjoy one. He has gone through several pieces of hardware in pursuit of every bit of performance gain, much to the dismay of his wallet. He now works with Monitornerds to scrutinize the latest gear to create reviews that accentuate the seldom explained aspects of a PC monitor.