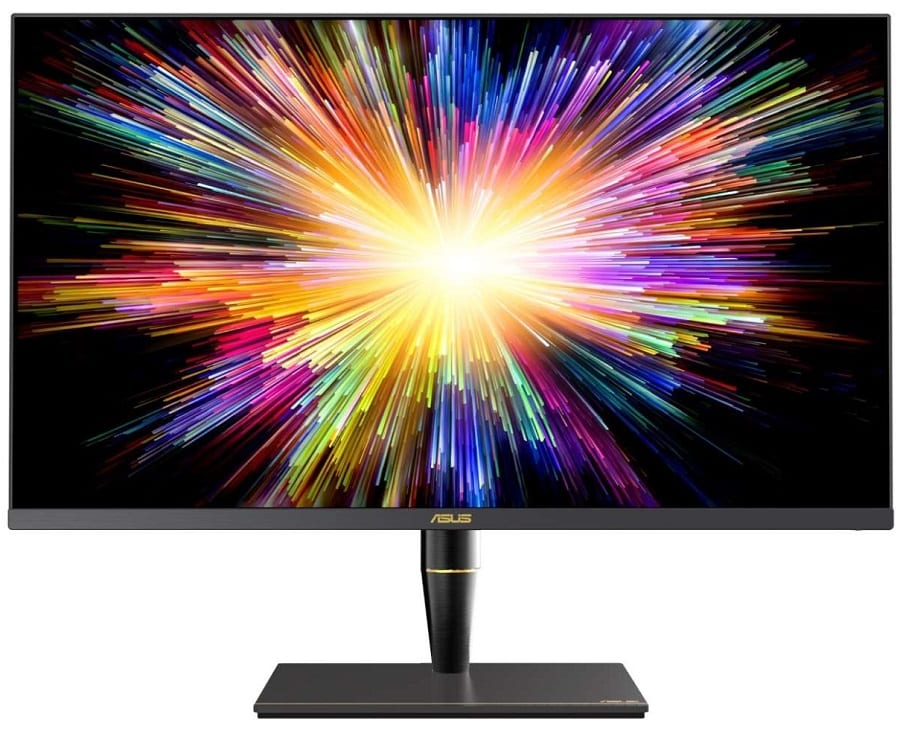 The Asus ProArt PA32UCX is a flagship prosumer monitor that offers supreme accuracy and brilliant HDR capabilities. The monitor includes essential features such as Thunderbolt 3 connectivity and a wide-gamut screen, but its main highlight is its unique backlight. The Asus ProArt PA32UCX aims to improve on the PA32UC's capabilities while asking for a load of cash, so let's check and see what it can do.

Asus ProArt PA32UCX Specifications
Screen Size: 32 Inches
Resolution:3840 x 2160 4K UHD
Aspect Ratio: 16:9
Panel Technology: In-Plane Switching (IPS)
Refresh Rate: 60Hz
Response Time: 5ms
Contrast Ratio: TBA
Brightness: 600 cd/m2 SDR (1200 cd/m² HDR Peak)
Built-in Speakers: Yes (2 x 3 Watt)
Stand: Height – Yes
Stand: Tilt – Yes
Stand: Swivel – Yes
Stand: Pivot – Yes
VESA Compatibility: Yes
Connectivity: DisplayPort 1.4x 1, HDMI 2.0a x 1, USB-C Thunderbolt 3 x 2 (In/Out), USB 3.0 x 2, 3.5mm Audio Jack
Dimensions with Stand(WxHxD): 28.6″ x 23.8″ x 9.5″
Weight: 30.9lbs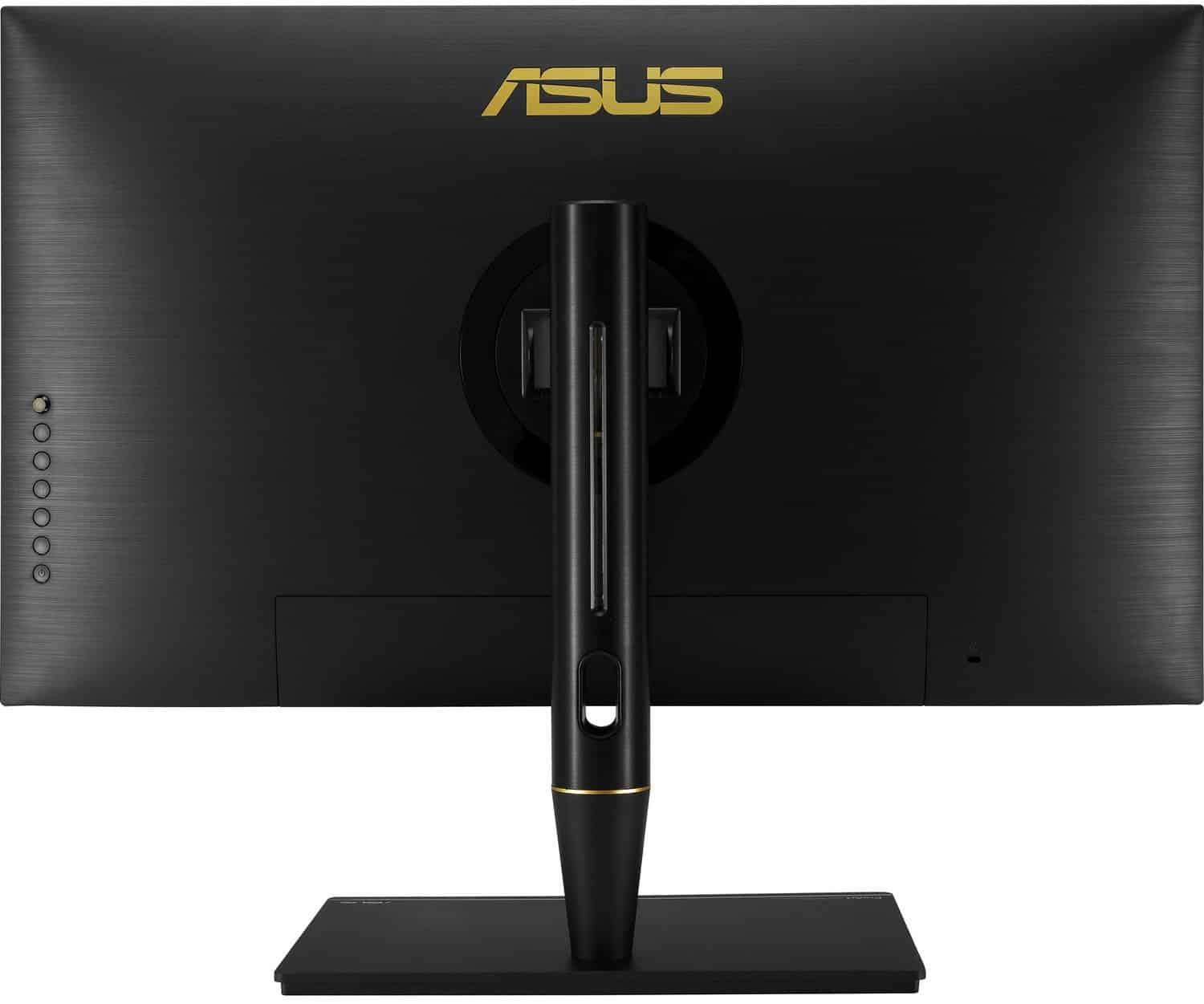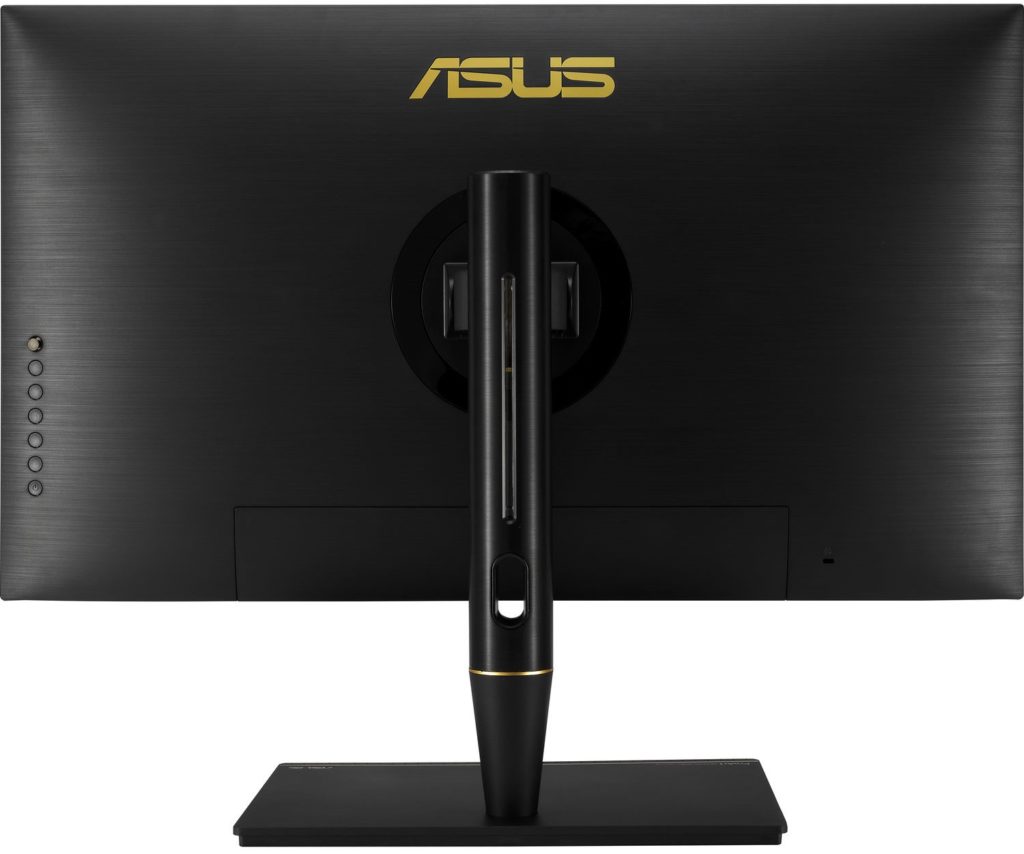 Design and Features
The Asus ProArt PA32UCX takes the PA line's design and refreshes it into a bolder looking and devilishly sexy piece of art. The monitor sports an all matte-black aesthetic that has discrete gold accents such as the Asus logo and the ring on the upright. The monitor is bezel-free on three sides like its predecessor, but you will still see panel borders since it's a dual-stage setup.
The Asus ProArt PA32UCX's proportions are typical with 32-inch monitors, but you will notice that it is thicker from the sides than most. The market's trend is always to go thinner, but FALD-equipped displays like this model need the extra space for the array and the cooling fans. The whirr of the fans are audible when you start up the display, but they slow down eventually and are activated when the monitor gets hot when playing HDR content.
Build quality is also unquestionable thanks to the premium materials and craftsmanship applied to the Asus ProArt PA32UCX. Every corner of the device is finished perfectly, so there are no sharp or uncut edges and cosmetic flaws. You won't feel any wobbling on the monitor thanks to a superb fit and finish along with the large base.
The Asus ProArt PA32UCX has a slew of features and capabilities, so it isn't surprising that there is a lot of control or hot-swap buttons at the rear. The good news is you do have a joystick to help you with navigating the richly-equipped menus. Our only complaint is that the buttons feel the same to the touch, so it is easy to miss-press the wrong key and function.
You will also find a calibration or shading hood with the Asus ProArt PA32UCX which is supposed to fight off unwanted glare. This will help color purists tremendously, but the flimsiness of the material used doesn't match the premium nature of the product. Its also a bit grayish, unlike BenQ's version which is stiff while having an absorbent, velvety interior.
Another exciting aspect of the Asus ProArt PA32UCX is its connectivity layout which includes the latest standards. You will find a DisplayPort and HDMI slot for video inputs, but what stands out is the dual USB-C Thunderbolt 3 connectors. The bad news is the latter can only provide 60W of power which is insufficient for the high-end designer laptops with powerful hardware.
It's also worth noting that only the DisplayPort and the USB-C TB3 slots are capable of DCI-4K with 4:4:4 subsampling at 60Hz. The HDMI 2.0 slot is limited to 4:2:2, which isn't bad if you use it for a gaming console like the Xbox One X. The second slot is a Thunderbolt Out connector, so it's intended for daisy-chaining the display.

The monitor's black and gold-clad stand provides height, tilt, pivot, and swivel adjustments for convenience. Of course, VESA mounting options will come standard just like most of the Asus professional monitors we have seen and tested. The base is quite large and intrusive, but you can place a 60% form factor keyboard or even a mini soundbar on top of it.
The most disappointing characteristic of the Asus ProArt PA32UCX is its speakers which are limited to 3 watts of power. The pair is decent for Skype calls and the like, but we'd normally expect something more premium like those found on the brand's MX line with something this expensive.
Display and Performance
The Asus ProArt PA32UCX boasts a 32-inch IPS panel with a 3840 x 2160 resolution, 60Hz refresh rate, along with impressive gamut coverage. Response time and contrast are yet to be specified, but we can expect a massive improvement in the latter. The screen's brightness is listed to reach 1200cd/m2 which is considerably higher than what is offered by the current DisplayHDR 1000 monitors in the market.
4K is more comfortable in a 32-inch model like the Asus ProArt PA32UCX since the pixels are not too compressed. You still get the extra sharp details and sharpness, but you don't have to suffer through scaling while reading or browsing. The monitor also effectively becomes a small TV, so gaming or entertainment will be appreciable experiences as well.
The Asus ProArt PA32UCX is capable of fantastic color representation, reaching 100% in sRGB and Rec.709, 98% for Adobe RGB, and 92% for DCI-P3. The average color accuracy sits at a default DeltaE of only 1.2 which is fantastic as far as factory calibration goes. You can squeeze out more color fidelity from this model, with dE scores going as low as .05 or better depending on the settings.
Color temperature and gamma stay very close within range of the ideal 6500K and 2.2 points. You don't need to calibrate the monitor per se, but we think users who need a reference-grade display will surely dial in their own preferred settings. Its also interesting to note that you can go with the PA32UCX-K which has an exclusive i11 Display Pro colorimeter.
SDR performance for the Asus ProArt PA32UCX is underwhelming due to a middling contrast of 920:1. The backlight, however, is a different story since it reaches around 615 cd/m2, which is simply too bright for regular use. The screen can still look grayish when displaying blacks, but colors are still punchy and well represented.
HDR mode for the Asus ProArt PA32UCX is a different story with its micro-LED backlight peaking at 1480 cd/m2. The contrast ratio reaches as much as 500000:1, enabling the best image quality possible on a sub-5-grand monitor. This model is capable of true HDR performance, and only OLEDs and other studio-grade monitors will be better.
Panel uniformity for the Asus ProArt PA32UCX is excellent, so there is no need to use its uniformity compensation feature. The screen doesn't show any signs of clouding or leaks which can ruin the immaculate image quality of the monitor. We still advise you to take this part with caution since IPS monitors are still vulnerable to manufacturing tolerances, so no two PA32UCX units will be equal.
Responsiveness isn't the best on the Asus ProArt PA32UCX, so you will see blurs and trails if you play fast-paced titles on it. Casual or story-based games with slower motion will be fine, but we can't recommend this monitor for competitive shooters. Frame drops will also be a factor in producing trails during transitions, so optimizing your graphics settings is a must.
The Asus ProArt PA32UCX is a FreeSync 2 HDR monitor, but it isn't tested or certified to be G-Sync compatible. We think that's fair since it is a prosumer display rather than one designed for gaming. Input lag sits at 25ms which means gaming is secondary for this model.
Thoughts on the Asus ProArt PA32UCX
The Asus ProArt PA32UCX offers the best image quality we've seen to date, beating several high-end models we've reviewed. It's capable of fantastic color qualities, along with an HDR performance that can't be beaten by anything that costs less than five grand or is equipped with OLED tech. The monitor's factory calibration is already excellent, but its affinity for further tweaking makes it a top choice for professionals.
The design and functionality for the Asus ProArt PA32UCX perfectly suit its price point, but we have a few complaints. Asus could have made the calibration hood match the rest of the device in terms of quality, while the USB-C charging output needs an upgrade. However, this model is the perfect choice for meticulous professionals who want the best quality, and we can't think of anything that comes close in that regard.
Pros:
Excellent Image Quality and Color Coverage
Class-Leading HDR Performance
Attractive, Functional Design
USB-C with Daisy Chaining
FreeSync 2 HDR-Compatible
Cons:
Four-Grand Price Tag
Flimsy Hood
Limited USB-C Charging Power
About the Author: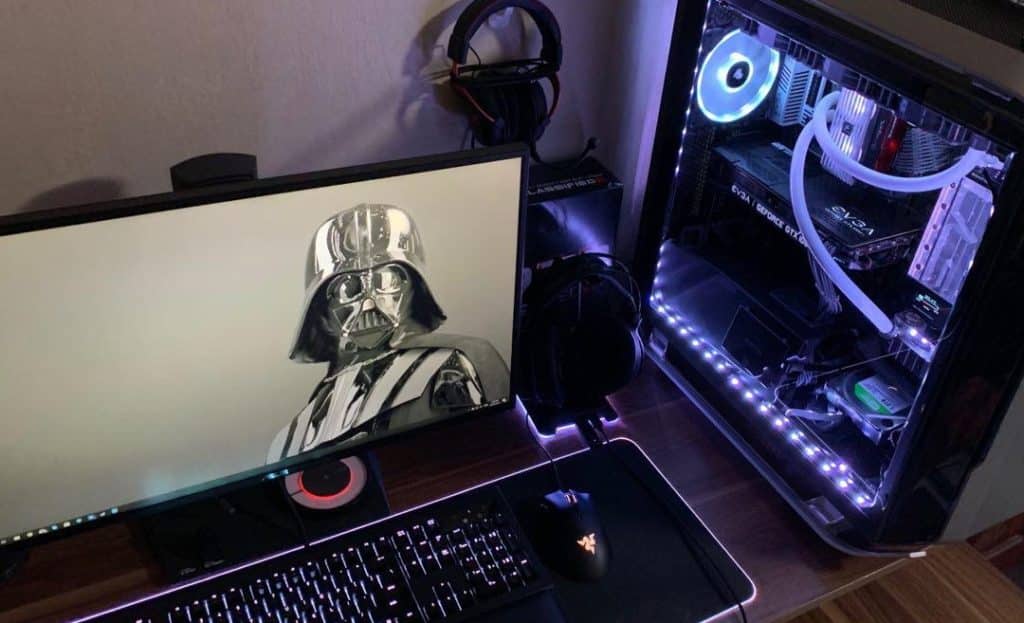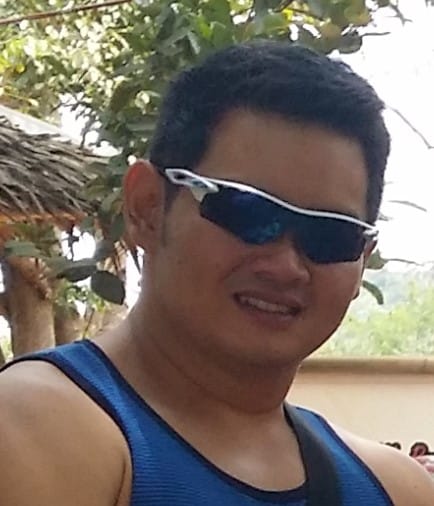 Paolo is a gaming veteran since the golden days of Doom and Warcraft and has been building gaming systems for family, friends, and colleagues since his junior high years. High-performance monitors are one of his fixations and he believes that it's every citizen's right to enjoy one. He has gone through several pieces of hardware in pursuit of every bit of performance gain, much to the dismay of his wallet. He now works with Monitornerds to scrutinize the latest gear to create reviews that accentuate the seldom explained aspects of a PC monitor.