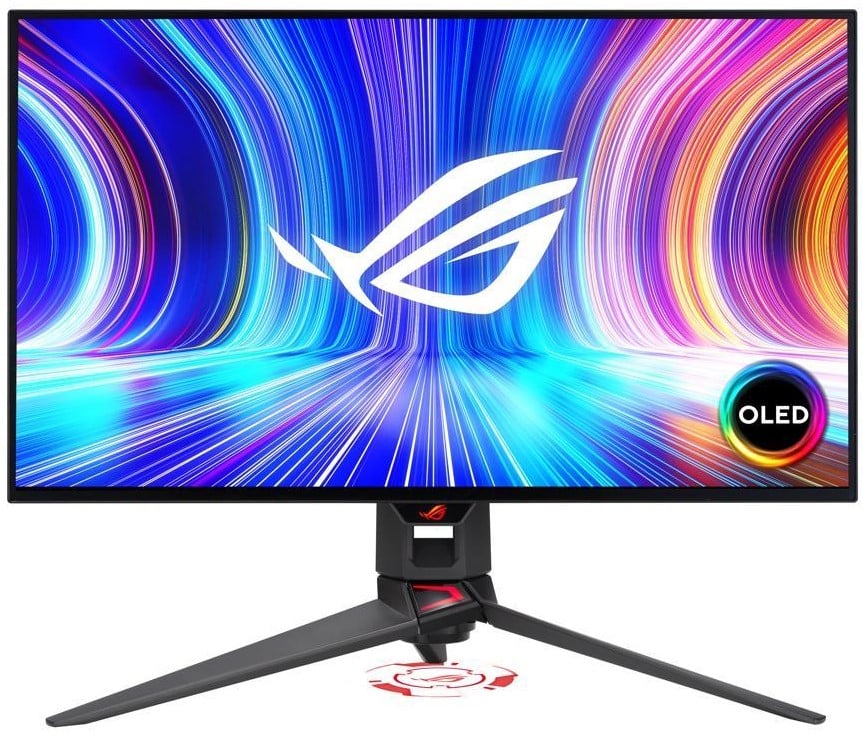 The Asus ROG Swift OLED PG27AQDM is the brand's latest flagship that offers a jaw-dropping 240Hz OLED panel that's perfect for HDR gaming. OLED comes out on top in many gaming-essential aspects, like pixel response times. It's not cheap, so let's see how it compares to the best of the best, including the LG 27GR95QE.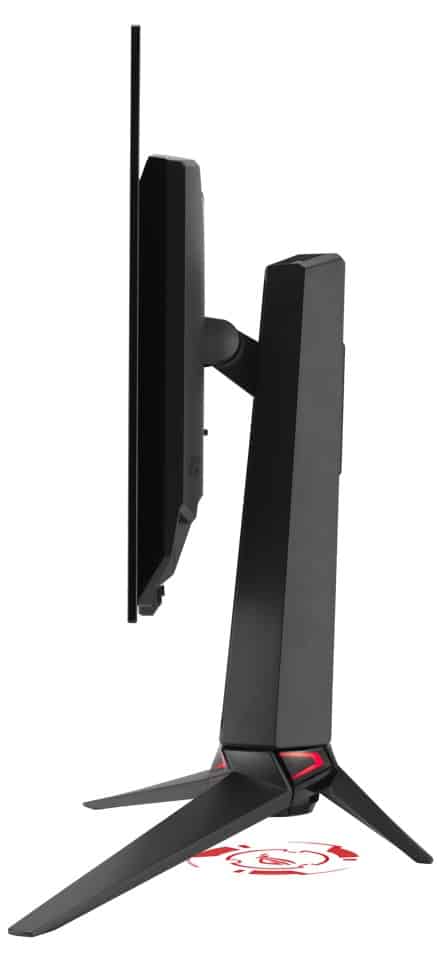 Asus ROG Swift OLED PG27AQDM Specifications
Screen Size: 27 Inches
Resolution: 2560 x 1440 QHD
Aspect Ratio: 16:9
Panel Technology: OLED
Refresh Rate: 240Hz
Response Time: 0.03ms
Contrast Ratio: 1500000:1
Brightness: 450 cd/m2 (1000 cd/m2 Peak)
Built-in Speakers: None
Stand: Height – Yes
Stand: Tilt – Yes
Stand: Swivel – Yes
Stand: Pivot – Yes
VESA Compatibility: Yes (100 x 100)
Connectivity: DisplayPort 1.4 x 1, HDMI 2.0 x 2, x 1, USB 3.2 x 3, 3.5mm Jack x 1
Dimensions with Stand (WxHxD): 23.82" x 17.24" x 10.79"
Weight: 15.21 lbs

Design and Features
The Asus ROG Swift OLED PG27AQDM uses a slightly modified ROG Swift aesthetic which still features the brand's helix stand. The monitor has a matte black finish with RGB LED lighting and a ROG projector light for your themed setup. Its panel is virtually bezel-free, plus it's so thin since it doesn't have a backlight unit.
Some of its physical features are exaggerated because of the ROG design, but it is still a 27-inch variant. The oversized helix stand needs almost 11 inches of depth, but the panel only requires less than 2 feet. It's not as heavy as the other 27-inch models at 15.21 pounds, but OLED monitors need less meat on the chassis.
Build quality is fantastic, just as anyone would expect from a premium product that comes from Asus. The plastics used are tough and sturdy; every bit and piece look like they were crafted with precision. The included stand is also firm and stable, so the screen doesn't sag or shake during hardcore gaming sessions.
The Asus ROG Swift OLED PG27AQDM has an OSD joystick, but it's now located under the logo on the bottom bezel. That makes it easier to reach than the older design, so it's a good approach to take for the brand's future monitors. Its main competitor has a dedicated remote, but it's not a deal-breaker
The bulge at the back holds the PG27AQDM's unique heatsink layout for its innards. It was added to help the panel reach higher brightness outputs and prevent permanent damage like burn-in. It's also equipped with a lighting projector and RGB lighting at the back to complete its unique design.
The stand included in the package offers tilt, swivel, pivot, and height adjustments for your convenience. It's easy to get a good angle that will not strain your neck for those long hours of gaming. You can still use VESA mounts, but we don't think many will opt to get rid of the attractive and functional stand.
The Asus ROG Swift OLED PG27AQDM's connectivity layout includes DisplayPort 1.4 and two HDMI 2.0 slots. It also has three USB 3.2 ports and an audio jack. What's disappointing is that this model doesn't have HDMI 2.1 connectivity. We also expect to see USB-C slots on monitors that cost this much so that they can be a bit more practical and flexible.
You also don't get speakers with this model despite its high slot in the pricing ladders. That's fine, though, since it deserves a superb gaming headset that will immerse and help you focus. Asus also usually includes weak 2-watt speakers, which would waste precious space on the very thin chassis.
Display and Performance
The Asus ROG Swift OLED PG27AQDM boasts a 27-inch OLED panel with a 2560 x 1440 resolution, a 240Hz refresh rate, and a 0.03ms response time. It has a 450 cd/m2 typical brightness, a 1000 cd/m2 peak, and a 1500000:1 contrast ratio. It's capable of the best HDR performance possible because of these specs that are made possible by the panel's individually dimming pixels.
27-inch 1440p monitors are still very popular, plus gaming brands are now pushing for them to be the new standard for E-Sports. They also work great for productivity since the extra screen space and balanced sharpness can help with multitasking. Modern mid-tier GPUs can now handle 1440p, but you will still need an upper-level card to reach 240Hz.
The Asus ROG Swift OLED PG27AQDM covered more than 100% of the sRGB and DCI-P3 gamuts for unbeatable vibrancy. Its default accuracy is a bit off with a high deltaE average of 2.96 against sRGB, but it improved to 1.31 when against DCI-P3. This is normal for panels with wide gamuts, so we think most will still be happy with it.
Calibrating the monitor reduced its dE average to a fantastic 0.67, putting it next to prosumer monitors. The downside is that you will need a colorimeter to achieve this, and those aren't cheap. We can only recommend the purchase if you will also use the monitor for color-critical work.
The Asus ROG Swift OLED PG27AQDM's OLED panel sustained 225 cd/m2, but it can burst up to 981 cd/m2. Its not as bright as the mini-LED variants, but it doesn't need to match them since its individually dimming pixels got them beat. Its contrast ratio is exponential, enabling excellent blacks and considerably better dynamic range.
Panel uniformity for the test sample was excellent since there were no problems like backlight bleeding. There is no backlight to begin with, so the monitor is not bound by uniformity issues you would normally find on a backlit panel. However, it's prone to burn-in like all OLEDs, so be careful not to leave static images on it for too long.
The Asus ROG Swift OLED PG27AQDM barely shows any blurring thanks to its near instantaneous pixel response times. You don't need to use overdrive to make it usable for fast-paced games. OLED should be the top choice for competitive gaming, but it's still too expensive to be considered as a mainstream standard.
The Asus ROG Swift OLED PG27AQDM is compatible with G-Sync and FreeSync for 100% tear-free performance. Both GPU brands have suitable cards for a monitor like this, so it would be wise to be free to choose between them. Input lag sits at 3ms at 240Hz, so it's fast and snappy enough for professional gaming.
Thoughts on the Asus ROG Swift OLED PG27AQDM
The Asus ROG Swift OLED PG27AQDM is a fantastic gaming monitor with the best contrast and saturation levels. You can't get this kind of performance from a mini-LED monitor, which in some instances, is more expensive. On the other hand, it's designed like a true flagship, so you will be happy with how it looks and feels.
It lacks a few features like speakers, but its most glaring omission is its lack of HDMI 2.1 connectivity. It's unnecessary for 1440p 240Hz, but it and USB-C are must-haves for flagship monitors. It's a fantastic monitor, but it's not going to be cheap, so it has to be a bit more future-proof.
Pros:
Fantastic Colors and Contrast
Higher Peak Brightness
FreeSync and G-Sync Compatible
Attractive Design
Cons:
Prone to Burn-in
No HDMI 2.1 or USB-C
About the Author: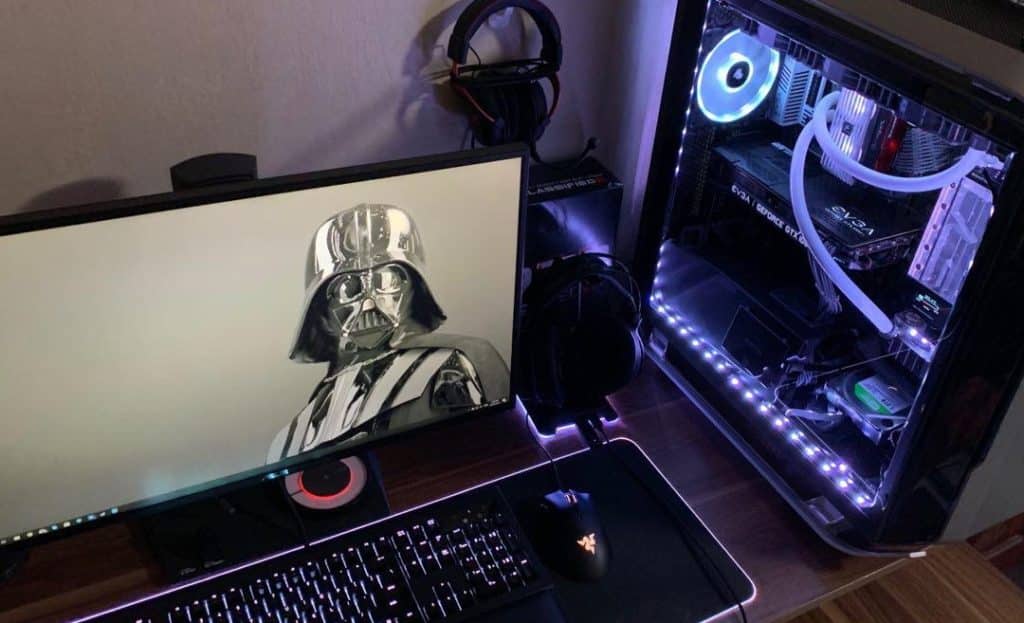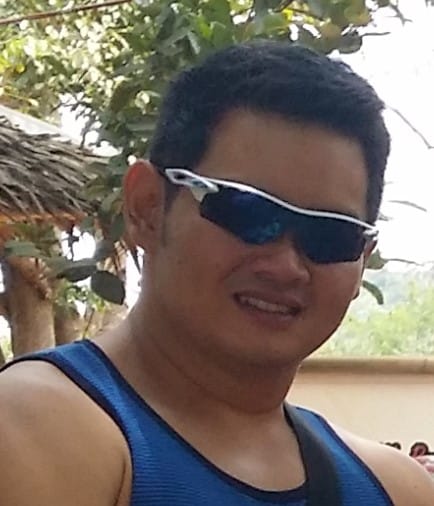 Paolo has been a gaming veteran since the golden days of Doom and Warcraft and has been building gaming systems for family, friends, and colleagues since junior high. High-performance monitors are one of his fixations; he believes that every citizen's right to enjoy one. He has gone through several pieces of hardware in pursuit of every bit of performance gain, much to the dismay of his wallet. He now works with Monitornerds to scrutinize the latest gear to create reviews that accentuate the seldom explained aspects of a PC monitor.