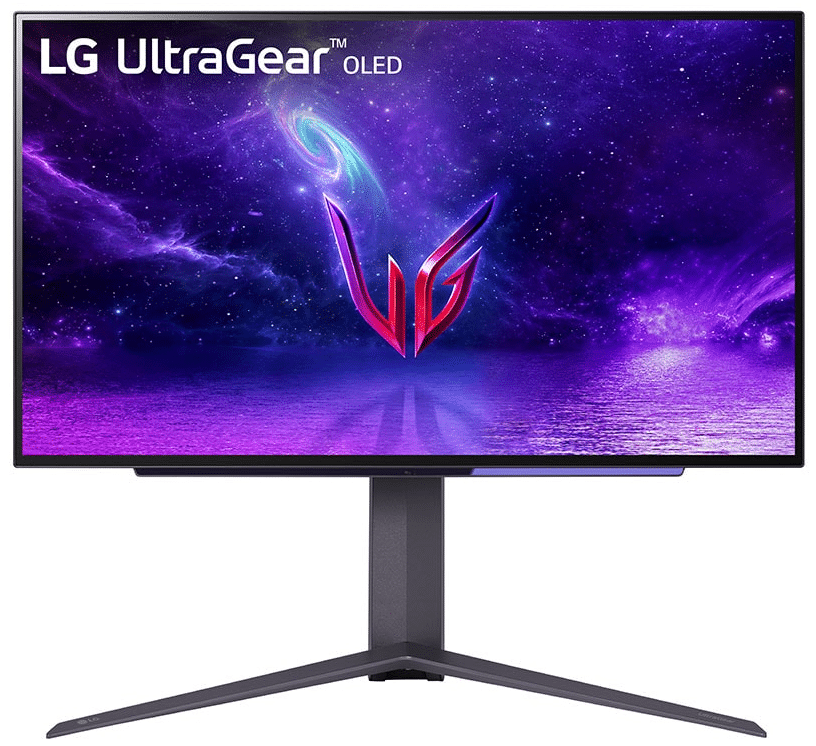 The LG 27GR95QE-B is one of the hottest releases this year thanks to its 240Hz 1440p screen that uses OLED technology instead of IPS. The eagerly anticipated gaming monitor isn't cheap at $999.99, but that money doesn't go to waste considering its specifications. The LG 27GR95QE-B is the current must-have gaming monitor at the start of 2023, but is it worth the investment?

LG 27GR95QE-B Specifications
Screen Size: 27 Inches
Resolution: 2560 x 1440 QHD
Aspect Ratio: 16:9
Panel Technology: OLED
Refresh Rate: 240Hz
Response Time: 0.03ms
Contrast Ratio: 1500000:1
Brightness: 200 cd/m2
Built-in Speakers: None
Stand: Height – Yes
Stand: Tilt – Yes
Stand: Swivel – Yes
Stand: Pivot – Yes
VESA Compatibility: Yes (100 x 100)
Connectivity: DisplayPort 1.4 x 1, HDMI 2.1 x 2, x 1, USB 3.0 x 3, 3.5mm Jack x 1, SPDIF x 1
Dimensions with Stand (WxHxD): 23.8" x 22.6" x 10.2"
Weight: 16.2 lbs

Design and Features
The LG 27GR95QE-B sports the new and more mature UltraGear aesthetic, which looks more sophisticated and professional. The monitor has a matte black chassis with toned-down accents, unlike the older UltraGear monitors with bright red streaks. The screen has a bezel-free design but has minimal inner borders, even if it's an OLED panel.
The monitor also has RGB Hexagon Lighting at the back to entice gaming enthusiasts even more. The LEDs are spread out in a hexagon pattern around the bulge, spreading a somewhat even amount of lighting. It is great for aesthetics, but it can also double as a bias light to help keep your peepers comfortable and safe during extended periods of use.
One attractive aspect of this monitor is its size since every other OLED display that's available is usually gigantic. This model has a 27-inch diagonal, so it should fit neatly with your peripherals if you have a standard-sized desk. It's also lightweight at 16.2 pounds, so you can easily bring it to LAN parties or gaming events.
The LG 27GR95QE-B looks fragile because its panel is so thin, but it's actually quite durable and reliable. The plastics used on the stand and the rest of the device are rigid and sturdy, and everything was perfectly molded and fitted at the factory. The included stand is firm and stable, so you don't have to worry about wobbling or sagging while using it.

You get LG's standard OSD joystick under the logo on the bottom bezel, but this model also includes a full-sized remote. It's also compatible with LG's OnScreen control app, which lets you access some of its features and settings directly inside your OS. Most users won't find any inconvenience in using the monitor to its full potential thanks to this array of accessibility options.
The stand for the monitor offers tilt, swivel, pivot, and height adjustments for your convenience. It is easy to get a comfortable viewing angle with the default setup, so you don't strain your neck after hours of play. You can also use VESA mounts, but we think it is only necessary if you have multiple screens or desk space is very limited.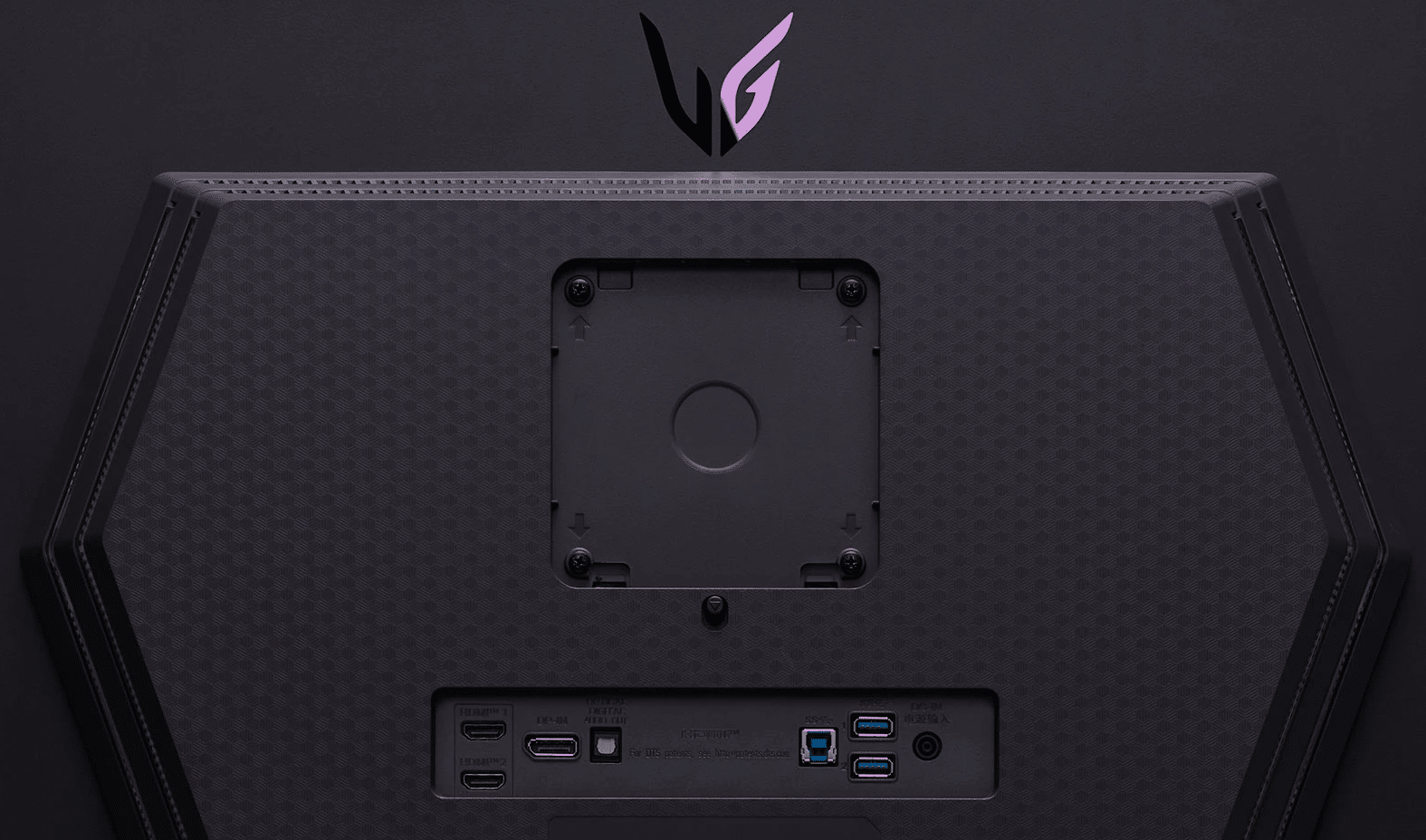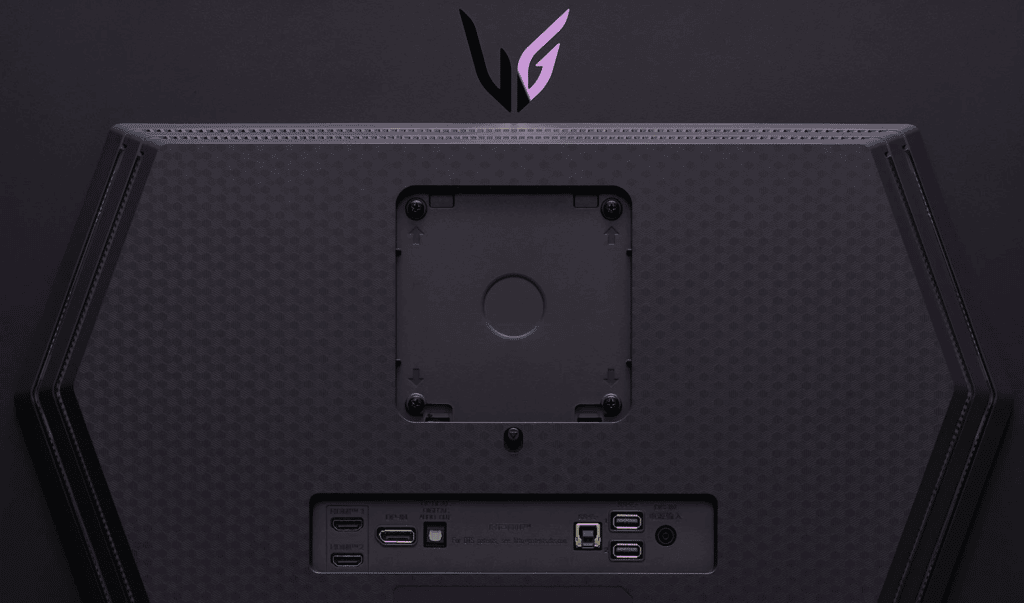 The LG 27GR95QE-B's connectivity layout includes DisplayPort 1.4 and two HDMI 2.1 slots for 240Hz operation. You also get three USB 3.0 ports and a 3.5mm combo jack with DTS:X Headphone capabilities near the bottom bezel. There is also a digital SPDIF output on the monitor for your home theater or high-end bookshelf speakers.
This model has no speakers, unlike the other high-end UltraGear models with upgraded sets. That's probably because of the thinness of the OLED panel, plus tuned headsets or high-end sound systems better serve a monitor like this. However, we think LG should still have included them since this option isn't particularly cheap.
Display and Performance
The LG 27GR95QE-B boasts a 27-inch OLED panel with a 2560 x 1440 resolution, a 240Hz refresh rate, and a 0.03 response time. The OLED module's brightness is rated at 200 cd/m2 while its contrast is listed at 1500000:1. This model is capable of fantastic HDR performance even if it doesn't reach the usual 1000 cd/m2 peak outputs from its mini-LED counterparts.
Most OLEDs are massive 40-Inch plus screens with 4K resolutions, but this model does things differently. It employs the 27-inch and 1440p combination, one of the sweet spots in the display market. It's easy to reach high framerates with it, and it's not too sharp like a similar-sized 4K screen which can be straining on the eyes.
The LG 27GR95QE-B  renders more than 100% sRGB and 98% DCI-P3 for stunning color in games and movies. Its default accuracy isn't great when it is measured against the sRGB gamut, with its deltaE average reaching 3.71. However, that changes if you test it relative to DCI-P3 with an excellent dE average of only 0.81. Using the monitor's sRGB mode did not help much, but it did limit the dE score to 2.51, which is better and more balanced.
Calibrating it reduced that dE average to an excellent 0.73, making it suitable for editing work. The monitor is used for editing and content creation in either sRGB or DCI-P3 formats, so it's more than just a gaming display.
The LG 27GR95QE-B's brightness output reached 365 cd/m2 in SDR, but it went down to 161 cd/m2 if you put an all-white image on it. It peaked at 688 cd/m2 in HDR scenes, so it can get as bright as it needs to be for games and movies. Its contrast can dip or rise exponentially, just like any other OLED display out there.
Panel uniformity for the LG 27GR95QE-B is pristine since it doesn't have a backlight like IPS or VA alternatives. The screen looked even when displaying a single color; there was no clouding or haloing in either SDR or HDR scenes. The only issue with it is that it is prone to burn-in, so we highly advise against repeatedly using it for static images or extended periods.
It is also practically blur-free since the OLED panel used has a near-instantaneous pixel response time. That's another benefit of not having a backlight unit, making this monitor better than its mini-LED counterparts. There's also the fact that this model goes up to 240Hz, so it is quite brilliant for fast-paced or competitive gaming.
The LG 27GR95QE-B is compatible with FreeSync and G-Sync, so you don't have to worry about tearing and stuttering. This duality is essential for high-end monitors, so you don't have to ditch it if you decide to switch to either AMD or Nvidia GPUs. Its input lag is below 3ms at 240Hz, so it is only a few notches slower than this 360Hz monster.
Thoughts on the LG 27GR95QE-B
The LG 27GR95QE-B is a fantastic gaming monitor based on its test results and specifications. Its unique OLED panel is fast and vibrant and capable of brilliant HDR performance, even when compared to its mini-LED counterparts. We like its design and added features, plus it's not stupendously expensive like we feared it would be.
We have come to expect some missing features from a monitor in this price range. It lacks USB-Cconnectivity and a decent pair of speakers that are matched to its incredible gaming performance. However, these are minor complaints, and we still recommend it as the must-have gaming monitor this year.
Pros:
Fantastic Color and HDR Performance
Excellent Design and Features
Fast and Very Responsive
FreeSync and G-Sync Compatible
Cons: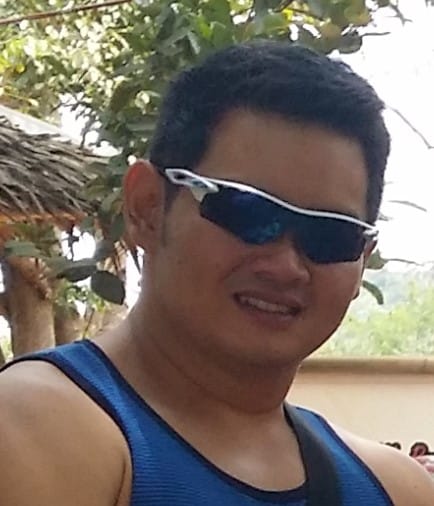 Paolo is a gaming veteran from the golden days of Doom and Warcraft. Since junior high, he has been building gaming systems for family, friends, and colleagues. High-performance monitors are one of his fixations; he believes that every citizen's right to enjoy one. He has gone through several pieces of hardware in pursuit of every bit of performance gain, much to the dismay of his wallet. He has also spent half a decade researching, reviewing, and writing about these products and now has over 1400 articles about the best gaming tech under his belt.