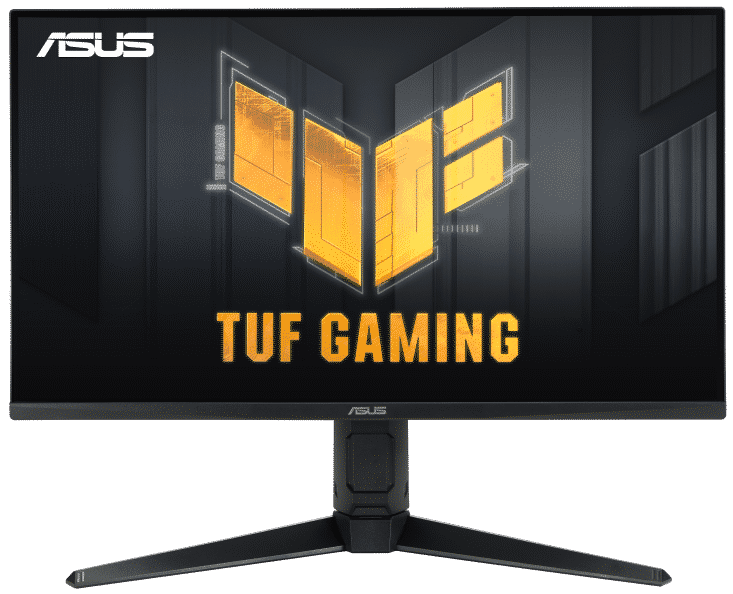 The Asus VG28UQL1A is a very attractive gaming monitor for PC and next-gen console enthusiasts who want 4K visuals at high refresh rates. This model isn't literally cheap, but it's at the precipice of the HDMI 2.1 category when it comes to cost. Let's check the Asus VG28UQL1A's strengths and weaknesses out to determine if it's a good investment for modern gaming.

Asus VG28UQL1A Specifications
Screen Size: 27 Inches
Resolution: 3840 x 2160 4K UHD
Aspect Ratio: 16:9
Panel Technology: In-Plane Switching (IPS)
Refresh Rate: 144Hz
Response Time: 1ms
Contrast Ratio: 1000:1
Brightness: 450 cd/m2
Speakers: Yes (2 x 2 Watts)
Stand: Height – Yes
Stand: Tilt – Yes
Stand: Swivel – No
Stand: Pivot – No
VESA Compatibility: Yes (100 x 100)
Connectivity DisplayPort 1.4 DSC x 1, HDMI 2.1 x 2, HDMI 2.0 x 2, USB-C PD65 x 1, USB 3.1 x 3, 3.5mm Jack x 1
Dimensions (W x H x D): 25.18" x 21.25" x 8.42"
Weight: 15.19 lbs

Design and Features
The Asus VG28UQL1A looks like most TUF Gaming monitors, concealing the fact that it probably is the most special variant right now. the matte black chassis doesn't give away its gamer-centric nature, but it's timeless and it will not clash with most setups. The display is bezel-free on three sides, but you will still see inner borders when it is not in use.
28 inches isn't gigantic when it comes to monitors, but those with full-sized speakers or compact desks might want to consider the Asus VG28UQL1A's dimensions. The latter is actually quite modest since it only needs 8.42 inches of depth. It's also lightweight at 15.19 pounds so it will be easy to move it around if you rearrange often or if you go to LAN parties with your buddies.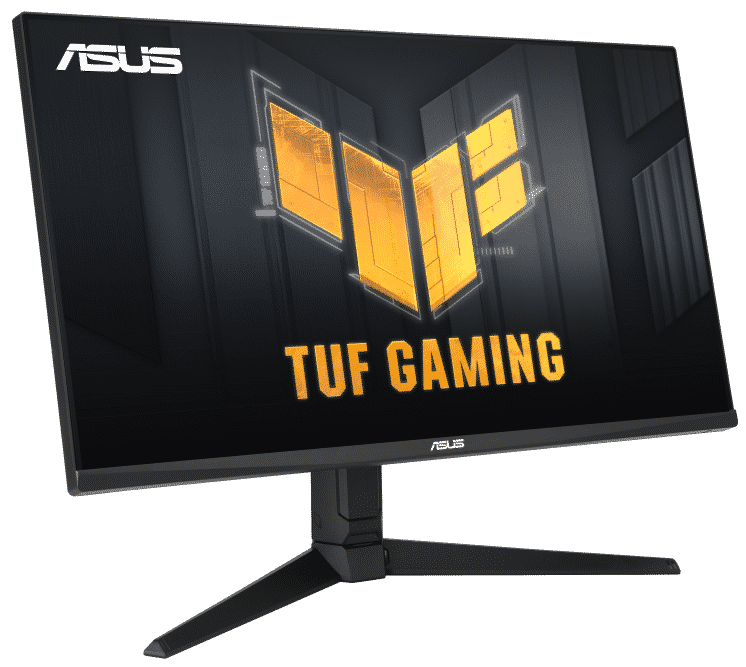 Build quality for the Asus VG28UQL1A is impressive just like with the other Asus monitors in the TUF Gaming lineup. It's mostly made out of plastic, but the panels are thick and sturdy so they won't flex or crack easily. The included stand provides superb stability so gamers don't have to deal with a wobbly screen in the heat of battle.
The Asus VG28UQL1A also uses the same OSD layout as its predecessors so it's quite easy to use and manipulate its features. You will find an OSD joystick plus a few hotkeys that give access to specific features such as filters and overlays. We're very familiar with this design so it's quite convenient, but new Asus customers won't find it difficult to use either.
The stand included with the Asus VG28UQL1A offers tilt, swivel, pivot, and height adjustments for your convenience. It's easy to get a preferred or comfortable view angle out of the box so you don't have to buy a VESA mount. It is still compatible with that, but it is only necessary if you have multiple screens or if desk space is limited.
What's special about the Asus VG28UQL1A is its connectivity layout which includes an affinity for the PS5 and the Xbox Series X. The panel at the back includes DisplayPort 1.4 with DSC and two slots each for HDMI 2.1 and HDMI 2.0. You also get two USB 3.1 ports along with a 3.5mm jack for speakers and accessories.
That's plenty for a single monitor, allowing you to connect a 4K-capable PC, two next-gen consoles, and two 4K devices like Bluray players or the older gaming consoles. You also get a pair of 2-watt speakers, but they sound tinny without any semblance of bass. They can be used for conference calls or background music, but we think it is about time Asus upgraded this aspect of their gaming displays.
Display and Performance
The Asus VG28UQL1A sports a 28-inch IPS panel with a 3840 x 2160 resolution, a 144Hz refresh rate, and a 1ms response time. The backlight has a 450 cd/m2 maximum while the contrast ratio is listed at 1000:1 like most IPS panels. This model is the entry-level variant of the brand's HDMI 2.1 monitors so it only qualifies for HDR 400 with its specifications.
4K looks incredibly sharp on monitors of this size so they will look great for games and movies no matter what. However, some users might complain that text or small objects can become less legible since they will appear smaller compared to 1080p or 1440p screens. Scaling can solve this issue, but not all programs play nice with it.
The Asus VG28UQL1A renders a bit over 99% sRGB and around 89% DCI-P3 which isn't the best, but comparable with the Acer XV282K KV's results. Default accuracy is great since the deltaE average is only at 1.76. Most users will be happy with the default setting and only a few tweaks will be needed for gaming and entertainment use.
Calibrating the Asus VG28UQL1A resulted in an impressive 0.71 dE average which makes it usable for color-critical work. However, the gadgets aren't cheap so we don't recommend them just to tweak a gaming monitor unless you are into editing as well. The monitor has an sRGB mode with a 1.20 dE average that's usable, but it's fixed even if you can adjust brightness.
The Asus VG28UQL1A has a 347 cd/m2 maximum brightness in SDR and a 431 cd/m2 peak in HDR. It managed to produce a 1130:1 contrast ratio at 60% brightness, but it doesn't expand too much beyond that when HDR is active. The monitor isn't capable of deep blacks and it needs a FALD unit to push these results to better HDR performance.
Panel uniformity for the Asus VG28UQL1A sample is great since there are no considerable light leaks or clouding issues. There is some deviance in the backlight's spread, but it is mostly unnoticeable unless you scrutinize the screen when it showing dark scenes. Take note that this aspect varies between every unit so there are worse ones out there.
The Asus VG28UQL1A is capable of excellent motion handling in both 120Hz and 144Hz modes for PCs and gaming consoles. It has a variable overdrive feature, but it's best left at 0 or at the most 1 to avoid overshoot. This model works great for fast-paced games like most Fast IPS panels in the market, so using its strobing feature isn't necessary as well.
The Asus VG28UQL1A is compatible with both FreeSync and G-Sync so you are free to choose which GPU will give you the coveted 4K 144Hz output. This is nice to have so you don't have to stay with one brand when the time to upgrade comes. Input lag sits at slightly under 4ms at 144Hz so there is no need to worry about delays while gaming.
Thoughts on the Asus VG28UQL1A
The Asus VG28UQL1A is a must-have gaming monitor if you have the latest PC specs and the PS5 or the Xbox Series X. The fast IPS panel offers great color performance out of the box so users won't need to take drastic steps to calibrate it. It's also quite fast when it comes to motion handling and input lag so you won't have to sacrifice your competitive titles to enjoy high-end visuals.
However, the Asus VG28UQL1A isn't perfect since it has a few limitations such as its HDR performance or its mediocre contrast. These flaws are common and widely accepted, so we can't really think of them as deal-breakers at this point. Overall, it is an excellent buy for PC and next-gen console gaming and we're sure you will be happy with it.
Pros:
Excellent Image Quality and Color Performance
HDMI 2.1 for Latest Gaming Consoles
Fast and Responsive
Solid Build Quality
Cons:
Expensive
Limited Contrast
Poor HDR Performance
About the Author: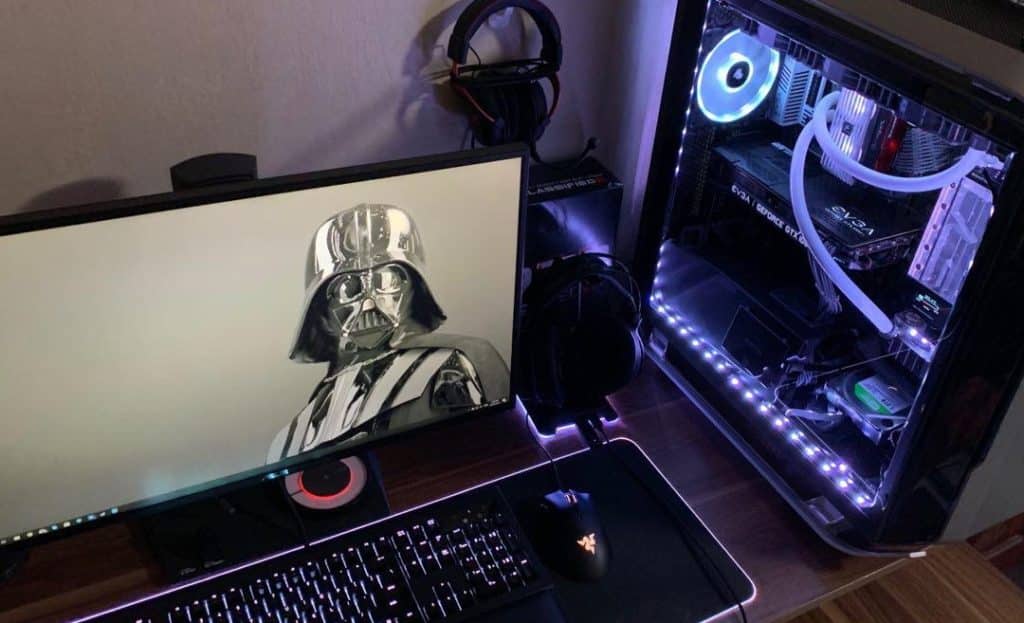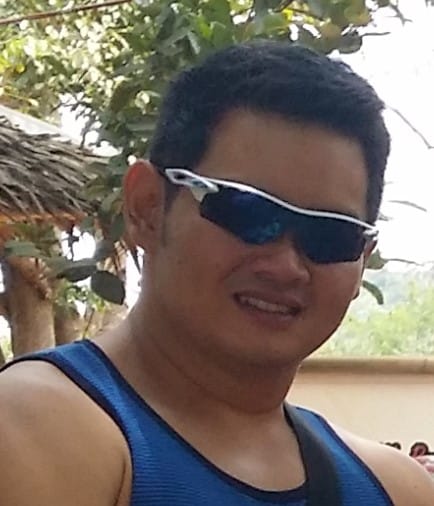 Paolo is a gaming veteran since the golden days of Doom and Warcraft and has been building gaming systems for family, friends, and colleagues since junior high. High-performance monitors are one of his fixations and he believes that it's every citizen's right to enjoy one. He has gone through several pieces of hardware in pursuit of every bit of performance gain, much to the dismay of his wallet. He now works with Monitornerds to scrutinize the latest gear to create reviews that accentuate the seldom explained aspects of a PC monitor.