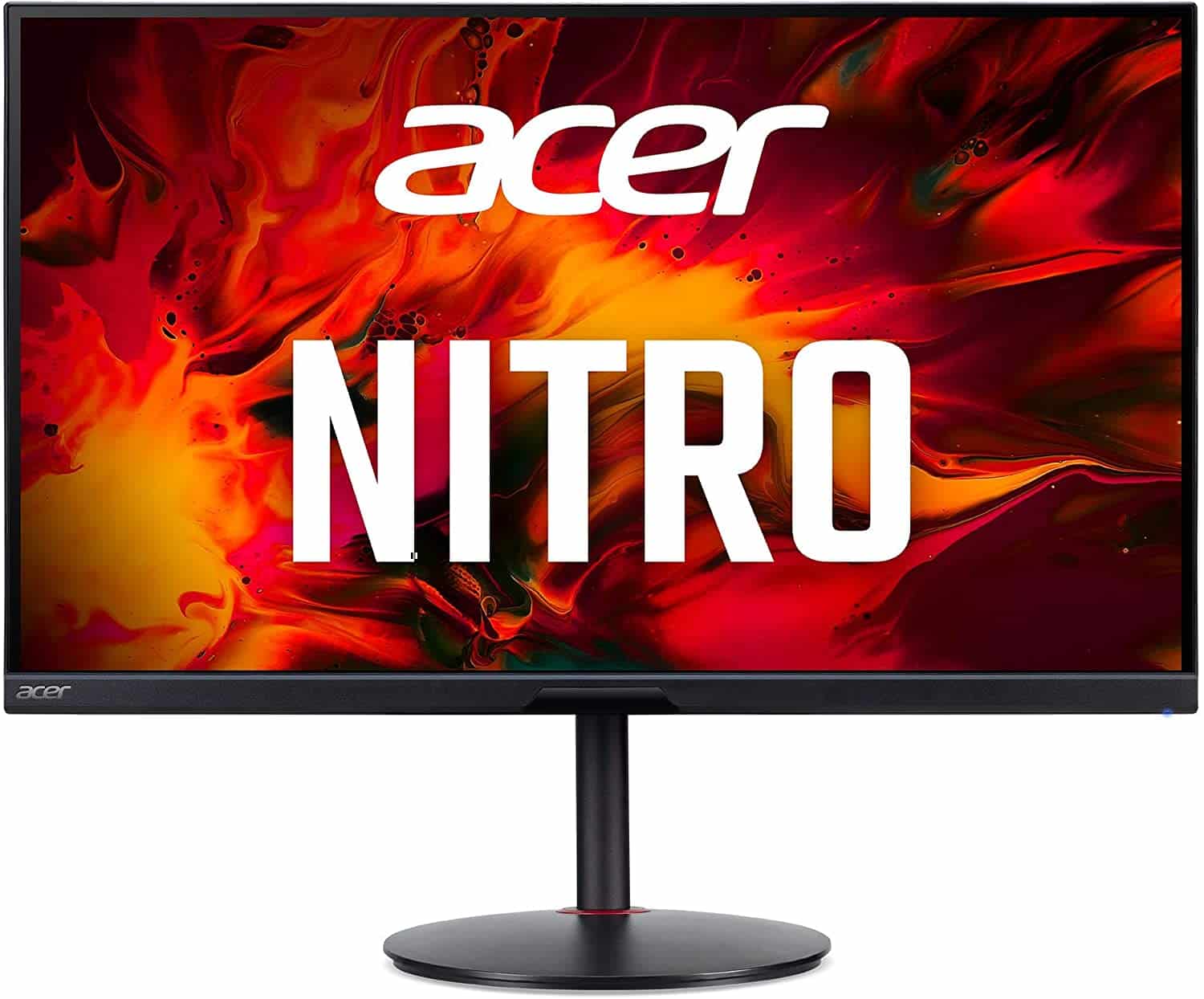 The Acer XV282K KV is a reasonably-priced 4K 144Hz monitor with a highly sought-after HDMI 2.1 connection for the latest gaming consoles. It's an Agile Splendor monitor, meaning it has a fast IPS panel for better pixel response times and clarity. Let's take a closer look at the Acer XV282K KV as it leads the brand's first generation HDMI 2.1 gaming monitor for PC, PS5, and the Xbox Series X.

Acer XV282K KV Specifications
Screen Size: 27 Inches
Resolution: 3840 x 2160 4K UHD
Aspect Ratio: 16:9
Panel Technology: In-Plane Switching (IPS)
Refresh Rate: 144Hz
Response Time: 1ms
Contrast Ratio: 1000:1
Brightness: 400 cd/m2
Speakers: Yes (2 x 2 Watts)
Stand: Height – Yes
Stand: Tilt – Yes
Stand: Swivel – No
Stand: Pivot – No
VESA Compatibility: Yes (100 x 100)
Connectivity DisplayPort 1.4 DSC x 1, HDMI 2.1 x 2, USB-C PD65 x 1, USB 3.0 x 3, 3.5mm Jack x 1
Dimensions (W x H x D): 25.08" x 17.21" x 10.59"
Weight: 22.93 lbs

Design and Features
The Acer XV282K KV from the Nitro series still uses the same aesthetic as previous models, and we think that its about time for a redesign. The monitor has a matte black chassis with a red ring accent at the base. The display is bezel-free on three sides, but you still have thin inner borders that aren't distracting while gaming.
It's not a humongous monitor, but the Acer XV282K KV does take up more space than what's necessary because of its circular base. It needs almost a foot of depth, so you might have to adjust your peripherals if you have more than just a keyboard. The device takes up almost 11 inches of depth, and its concave base can't be used as a pedestal for small gadgets like stream decks.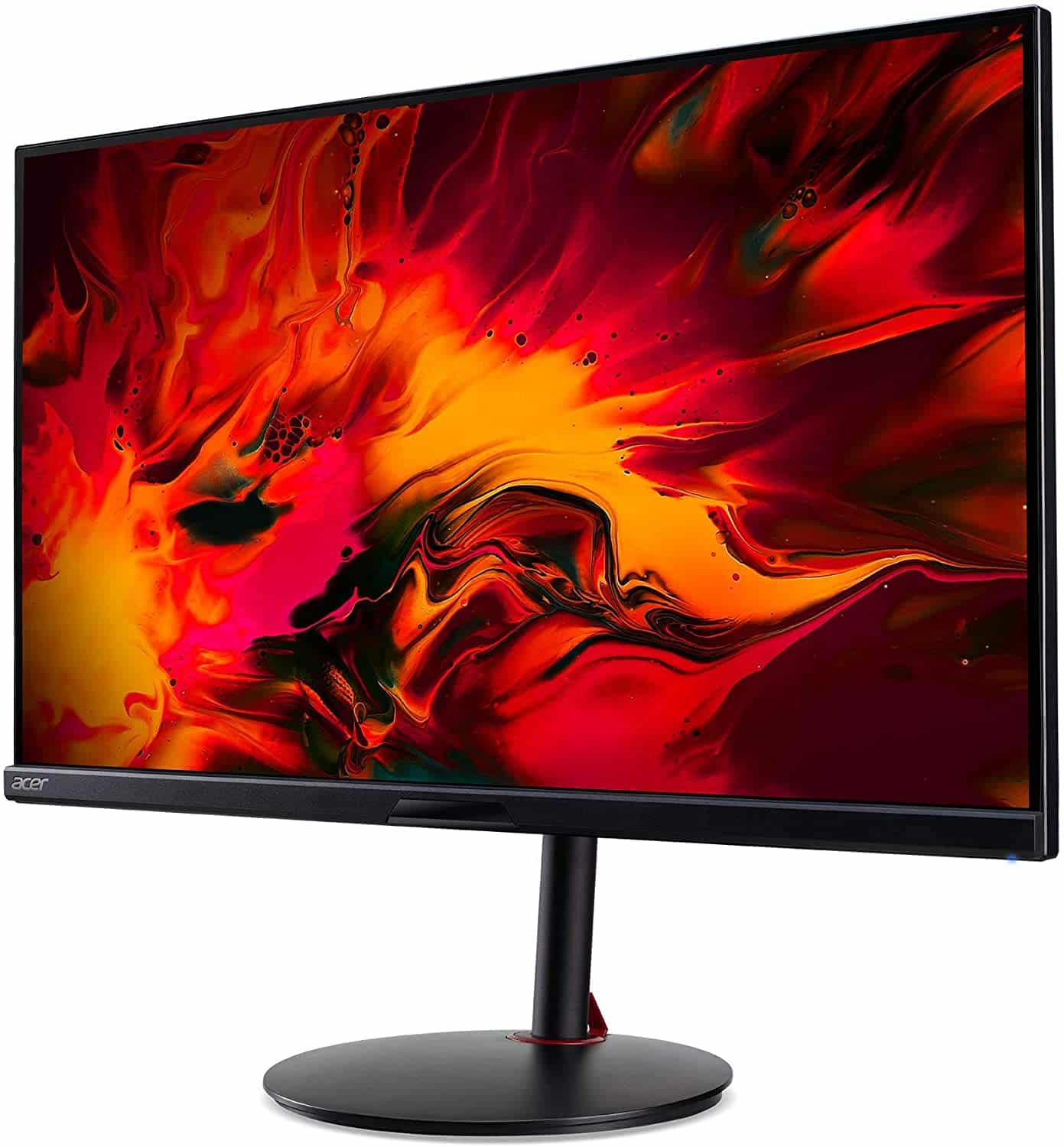 Build quality for the Acer XV282K KV is impressive even if the Nitro line represents the value-oriented or mid-ranged series. The plastics used are thick and sturdy, and there were no cosmetic defects like uneven gaps and surfaces. The stand does a good job of keeping the display upright without any wobbling unless you grab it by the neck and shake it.
The Acer XV282K KV's features can be accessed using a five-way joystick that's complemented with four hotkeys. Acer OSDs are known to have plenty of sub-menus, so a handy and quick controller is necessary for enthusiast users. Newer models now have software-level control options, but that's unnecessary in most cases.
The Acer XV282K KV has one of the best connectivity layouts we've seen on a gaming monitor which allows it to accommodate a bevy of devices. The panel includes DisplayPort 1.4 DSC for 4K 144Hz without compression and two HDMI 2.1 slots for the 120Hz 4K operation with the next-gen consoles. You also get a USB-C slot with 65 watts of charging power for modern laptops like the MacBook Pro.
Its video inputs make it very flexible, allowing users with multiple devices to utilize it for gaming, entertainment, and work. You only get two usable USB 3.0 ports with this monitor, but that's more than enough since most motherboards have plenty of it anyway. There is also a 3.5mm jack for headphones, but we know that it doesn't get commonly used by gamers that have USB gaming headsets.
It even includes speakers, but the 2 watts per channel mean that they aren't powerful enough for gaming. they sound tinny and distort if you set the volume high enough, so they are only usable as backups. They can be utilized for conference calls as well for the times when you want to take off that hot headset and just listen in to a meeting.
Display and Performance
The Acer XV282K KV sports a 28-inch IPS panel with a 3840 x 2160 resolution, a 144Hz refresh rate, and a 1ms boosted response time. The backlight is rated at 400 cd/m2 while the contrast ratio is still at 1000:1 like most IPS panels. This model is HDR 400 certified, but we all know that it is not sufficient in producing appreciable highlights and expanding the display's contrast.
4K is always great for games and editing, but some users might dislike the extra sharpness when reading or browsing. You might need to use scaling if you struggle with small letters which will appear as such with this monitor. typically, 4K is more comfortable to view on a 32-inch screen, but that's subjective and dependent on the user.
The Acer XV282K KV renders 100% sRGB and around 87% DCI-P3 which isn't the best we've seen, but decent for a gaming monitor. Its color accuracy is great as well since the deltaE average is only at 1.89, indicating that the monitor is pre-calibrated. Most users will be happy with it after a few minor tweaks such as getting a comfortable brightness setting.
Calibrating the Acer XV282K KV with a colorimeter reduced its dE average to an impressive 0.65 which is already great for editing tasks. It also lessens the natural warmth of the screen so white backgrounds become whiter and clearer. However, colorimeters aren't necessary if you are only gaming, so use them only if you already have one.
The Acer XV282K KV only managed to reach 320 cd/m2 in SDR, but it peaked at 460 cd/m2 when HDR is active. The latter is excellent for an HDR 400 monitor. Its contrast ratio is limited to 1154:1 at 60% brightness, but it's still insufficient in producing great HDR imagery. HDR 400 is nice to have since you can play around with it, but it is not as effective as the higher certifications in improving the image at a high level.
Panel uniformity for the Acer XV282K KV is decent, although the upper edge of the screen has some clouding issues due to a little backlight bleeding. It's not as noticeable while gaming or watching movies, but dark scenes can reveal the variances. Take note that this varies between every monitor made due to tolerances and the nature of IPS panels, so there are better units out there.
The Acer XV282K KV's motion handling is superb since it's not prone to blurring or smudging like older IPS monitors. It's mostly undetectable by the naked eye, Setting its overdrive to its Normal level is all you need since anything higher will induce overshoot. It's great for fast-paced games, although you need a powerful system to maximize its refresh rate.
The Acer XV282K KV is a FreeSync Premium monitor, but it's also compatible with Nvidia's G-Sync Compatible mode. This duality is always nice to have so you don't have to stick to one GPU brand when the time to upgrade comes. Input lag sits at 4ms at 144Hz, so there is no need to worry about delays while gaming.
Thoughts on the Acer XV282K KV
The Acer XV282K KV is a fantastic monitor to have if you have a multitude of gaming and productivity devices. A powerful PC, the PS5, and the Xbox Series X can utilize its high refresh rate thanks to its connectivity features, plus you get USB-C which works great with USB-C notebooks like MacBooks. Its IPS panel isn't the most vibrant we've seen, but its default and image qualities are top-notch.
Our only complaint with it is the aging nitro design which should be renewed into something sleeker and period correct for 2021. It looks quite dated after a few years of use, and even the first 4K 144Hz models such as the XV272K. However, it's an excellent buy beyond that, especially if you want to game at 4K 120Hz via HDMI 2.1.
Pros:
Excellent Image Quality and Color Performance
USB-C and HDMI 2.1 for Mac, PS5, and Xbox Series X
Fast and Responsive
Solid Build Quality
Cons:
Expensive
Old Design
No Swivel and Pivot
About the Author: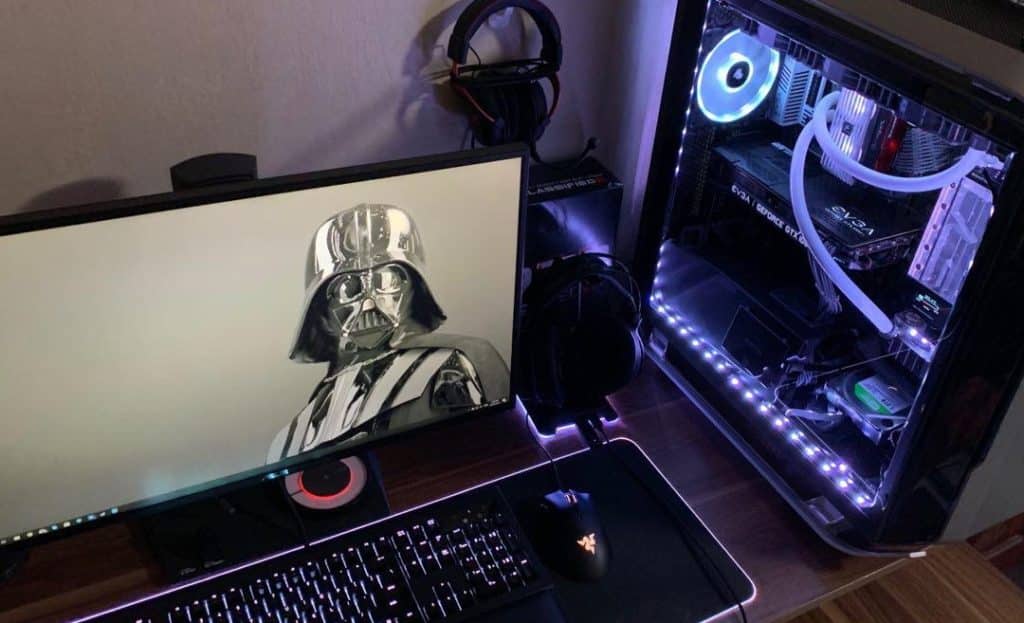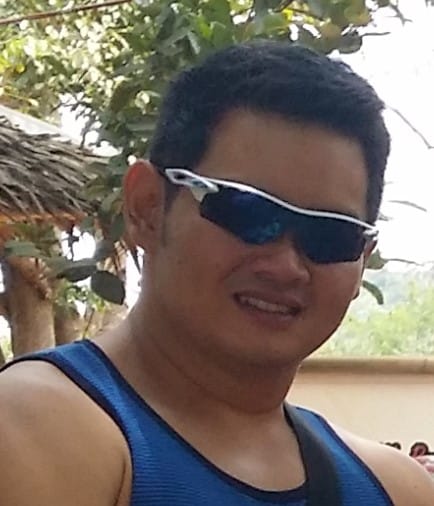 Paolo is a gaming veteran since the golden days of Doom and Warcraft and has been building gaming systems for family, friends, and colleagues since junior high. High-performance monitors are one of his fixations and he believes that it's every citizen's right to enjoy one. He has gone through several pieces of hardware in pursuit of every bit of performance gain, much to the dismay of his wallet. He now works with Monitornerds to scrutinize the latest gear to create reviews that accentuate the seldom explained aspects of a PC monitor.