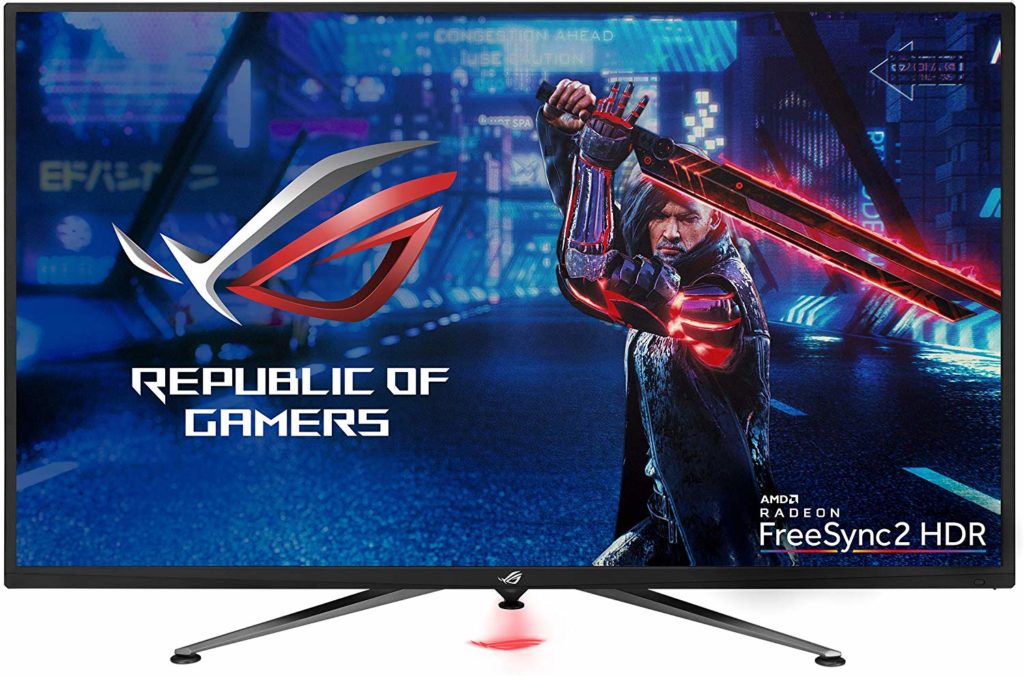 The Asus XG438Q offers a massive, TV-sized screen with gaming monitor specifications such as FreeSync 2 and a 120Hz refresh rate. Its capabilities make it an excellent all arounder for competitive or casual play, or if couch gaming is part of your agenda. The Asus XG438Q packs a lot of firepower into its sexy chassis, but does it sacrifice some crucial qualities in favor of looks?

Asus XG438Q Specifications
Screen Size: 43Inches
Resolution:3840 x 2160 UHD
Aspect Ratio: 16:9
Panel Technology: Vertical Alignment (VA)
Refresh Rate: 120Hz
Response Time:4ms
Contrast Ratio: 4000:1
Brightness: 450 cd/m² (600cd/m2 Peak)
Built-in Speakers: Yes (2 x 10 Watts)
Stand: Height – No
Stand: Tilt – Yes
Stand: Swivel – No
Stand: Pivot– No
VESA Compatibility: Yes (200 x 200)
Connectivity: DisplayPort 1.4x 1, HDMI 2.0 x 3,USB 3.0 x 2, 5mm Jack (In/Out)
Dimensions With Stand(WxHxD):37″ x24.86″ x 9.54″
Weight: 33.73 lbs

Design and Features
The Asus XG438Q is basically a TV on the outside due to its size and form factor, but its ROG Strix theme certainly sets it apart. The chassis is finished in matte black with futuristic textures and patterns and a massive ROG logo which surprisingly, doesn't light up. The display isn't bezel-free, but you'd be hardpressed to notice the recessed plastic borders when the screen is in use.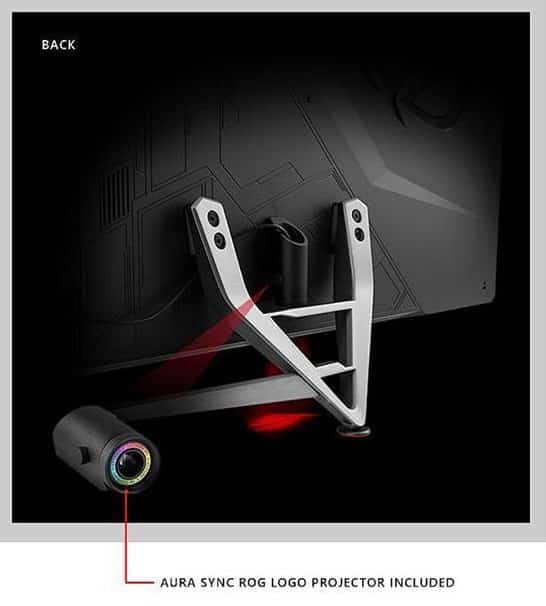 Yes, folks, the Asus XG438Q is one of the few that doesn't have an RGB LED feature at the rear for lighting and ambient effects. Instead, the device comes packaged with an Aura Sync logo projector which can be controlled via the OSD or with the app itself. It's designed to be mounted on a slot in between the stand's attachment points, but you are free to point it elsewhere as you see fit.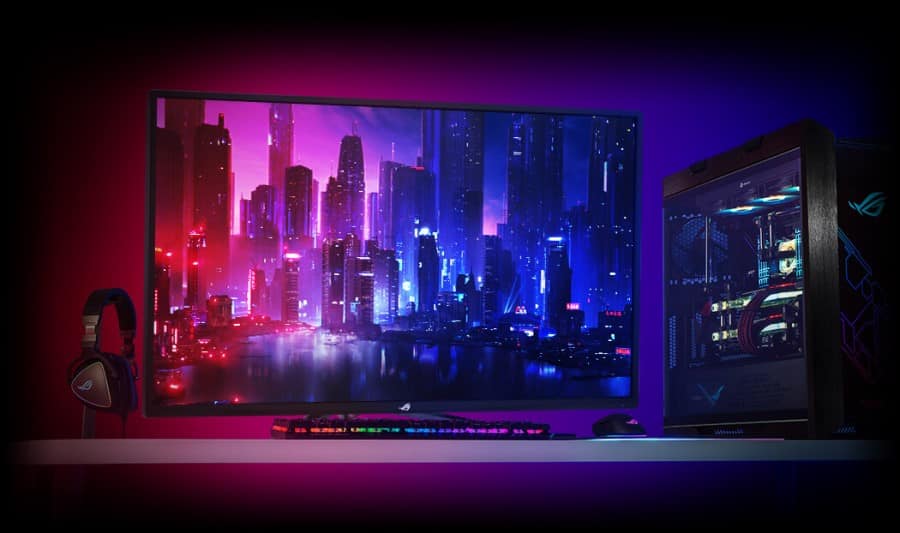 The Asus XG438Q is built like a tank so it should stand stable on your desk or entertainment shelving despite its weight. The device doesn't give off any creaking or humming sounds which are usually indicative of poor quality control. Even the edgy patterns are perfectly lasered out so there are no cosmetic defects anywhere on the large chassis.
We love the look of the Asus XG438Q's stand from its gunmetal finish all the way to its space-age design which also provides excellent stability. Unfortunately, the mechanism can only offer tilt since having adjustments will make the design too large for an already oversized display. You can swap this out with a 100 x 100 VESA mount, but there aren't a lot of options out there that can support the size and weight of this monster.
The brand planned and executed the Asus XG438Q's connectivity layout superbly so users won't have trouble accessing them. The video inputs which include the DisplayPort 1.4, two HDMI 2.0 ports, and the mini USB connector for the logo projector are tucked away in a concealed, down-firing panel at the back. This makes cable management very easy, but let's hope you don't have to swap out the wires regularly since it's difficult to reach.
The convenience panel with three USB 3.0 ports, audio in/out jacks, and an extra HDMI 2.0 slot are located on the side of the rear bulge. This part was meant for your accessories and maybe a gaming console you'd have to connect on the fly, so it's within reach.
The Asus XG438Q also features the brand's familiar OSD layout composed of a joystick and hotkeys for GamePlus and Game Visual tools. Its position at the lower corner makes it easy to reach, but you have to remember that the monitor is larger than the usual so reaching for it can be tiring for some.
Thankfully, the Asus XG438Q's package includes a compact remote which lets you control the screen from a distance. Frankly, we would use this instead of the button layout at the rear even if we're using the monitor in a desktop setup.
The Asus XG438Q also includes a pair of 10-watt Asus SonicMaster speakers which are powerful enough for casual gaming and movies. The built-ins provides excellent clarity while the bass response is adequate, but you are better off with a home theater or a decent pair of headsets if you want heart-pounding sound or positional clarity.
Display and Performance
The Asus XG438Q boasts a 43-inch VA panel with a 3840 x 2160 resolution, 120Hz refresh rate, and 4ms response time. This model features a special backlight which sits at a typical 450 cd/m2, but it can boost up to 600 cd/m2 for HDR content. You also get an extended contrast ratio of 4000:1 with this model thanks to the nature of the panel used.
It's worth noting that the Asus XG438Q does not use a panel meant for TVs so it doesn't cheat the money out of gamers. The VA module used is manufactured by AU Optronics, and it's designed with monitor performance in mind. This means you can expect lower latency and faster pixel response times compared to a regular TV for living rooms.
4K is best experienced in larger screens in our opinion, but the sharpness it adds to images will also diminish. Either way, the Asus XG438Q still doesn't look pixelated, even if you use it on a desktop. It isn't as sharp as a Retina display or a 27-inch variant like the PG27UQ, but the extra details brought by the exponentially increased pixel count is still there.
The Asus XG438Q provides great color quality at default, starting with its 125% coverage of the srGB gamut which also equates to around 92% for DCI-P3. Accuracy out of the box sits at a Delta E average of only 2.4, so many users won't need to calibrate the monitor. Color temperature is slightly off with a bias towards the warm side, but its not enough to make everything yellowish.
You can tweak the monitor via its well-equipped OSD if you want better color temps and an even tighter Delta E. adjusting the brightness and the RGB sliders can provide you with a DE of only 2.0, along with a temperature setting that's closer to the 6500K point. Buying a colorimeter isn't necessary unless you want to calibrate the screen for specific purposes.
The VA screen on the Asus XG438Q reaches a maximum contrast of around 4050:1 which is fantastic since it matches the company's claim. However, dropping the brightness to achieve a more balanced color profile will also reduce it to 3840:1, but that's still considerably higher. Blacks are still inky while grayscale and color definition are well-represented thanks to this capability.
The backlight is a more complicated feature of the monitor since its a DisplayHDR 600 display. The backlight's normal limit sits at 470 cd/m2 for SDR, but HDR will raise the ceiling to as much as 650 cd/m2. This helps the Asus XG438Q in creating the desired HDR effect for compatible titles, enhancing the lighting effects and the depth of even the smallest details.
Panel uniformity for larger monitors is probably one of the trickiest challenge faced by manufacturers. In fact, this is one of the main weaknesses of the Asus XG438Q since the corners do have some leakage that causes clouding in all-black or dark images. Thankfully, most of it doesn't affect the color and contrast in the affected quadrants to the extent of being disturbing while gaming.
The VA panel on the Asus XG438Q also has a weaker pixel response time like many monitors that use the same technology. Thankfully, the Overdrive implementation in this model is quite effective without noticeable overshoot. We recommend using the strongest setting available since its your best bet at cleaning up the trailing and ghosting in some sequences.
The Asus XG438Q is a FreeSync 2 gaming monitor but it isn't certified yet by Nvidia for G-Sync compatibility. The latter works when it was tested, so RTX GPU owners shouldn't worry if this model is in the shopping cart. Input lag is close to 4ms at 120Hz, so there is virtually no delays or "de-synced" instances.
Thoughts on the Asus XG438Q
The Asus XG438Q is a fantastic option if you want a large-format HDR display that has a penchant for smooth visuals. The 120Hz refresh rate is something many won't be able to live without, while the HDR600 capabilities add a nice visual touch to every compatible game. We love the design of the product, but it could use a larger VESA mount pattern since 100 x 100 armatures are usually incapable of handling a display of this size.
There are pros and cons regarding the Asus XG438Q's size and actual usability for gaming setups. Couch potatoes will love it, but hardcore gamers might want something smaller that will make it easier to focus. We recommend this model if you play to enjoy, but if you are the competitive type, we recommend getting a smaller model like the PG27UQ.
About the Author: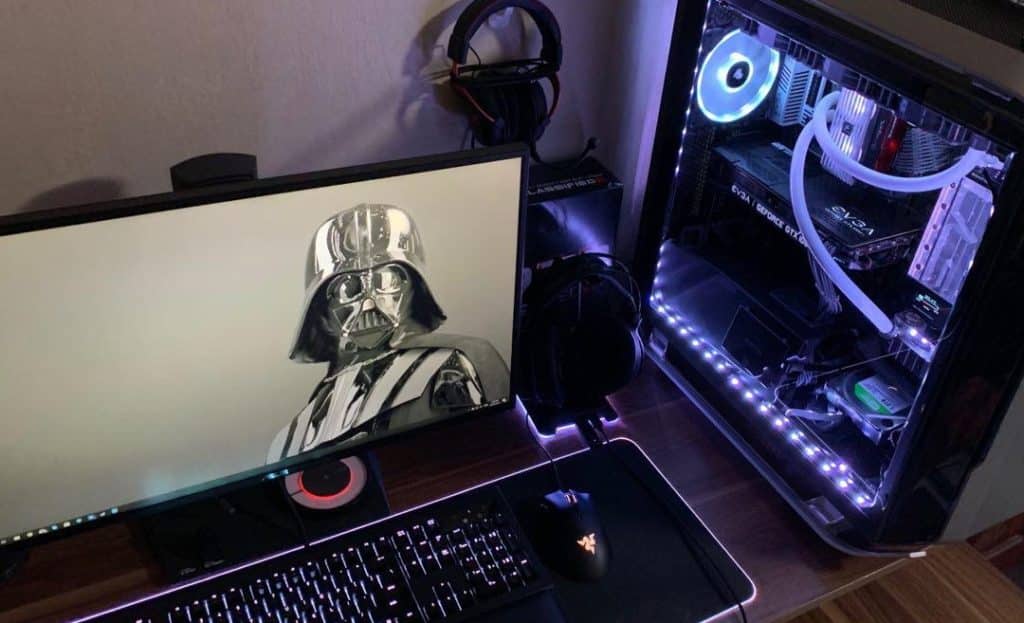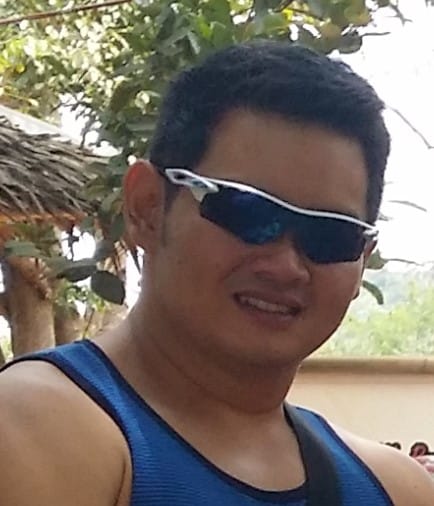 Paolo is a gaming veteran since the golden days of Doom and Warcraft and has been building gaming systems for family, friends, and colleagues since his junior high years. High-performance monitors are one of his fixations and he believes that it's every citizen's right to enjoy one. He has gone through several pieces of hardware in pursuit of every bit of performance gain, much to the dismay of his wallet. He now works with Monitornerds to scrutinize the latest gear to create reviews which accentuate the seldom explained aspects of a PC monitor.