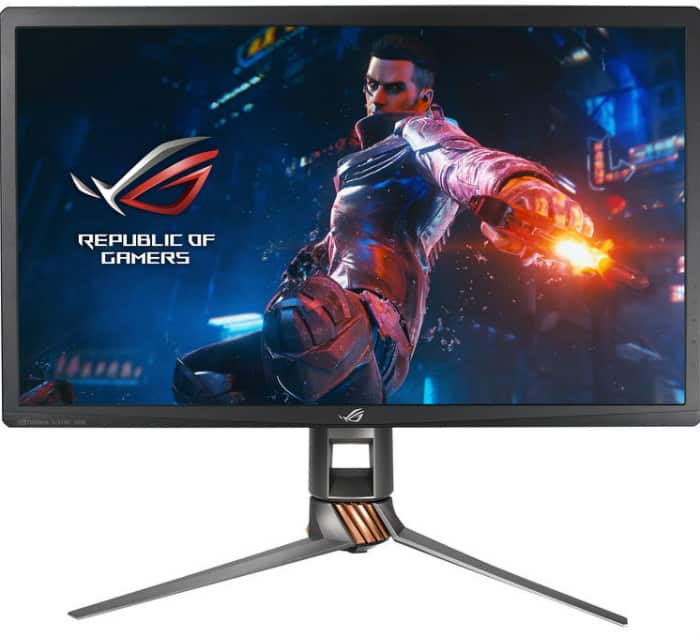 The Asus PG27UQ is the culmination of monitor technologies which offers a never before seen 4K 144Hz display and full HDR1000 capabilities. The quantum dot IPS display with 384 individual zone lighting makes all the best eye candy possible, pushing extreme gamers past the current norm. The Asus PG27UQ is finally here, so let's take a closer look and see what it can do.

Asus PG27UQ Specifications
Screen Size: 27 Inches
Resolution: 3840 x 2160 4K UHD
Aspect Ratio: 16:9
Panel Technology: In-Plane Switching (IPS)
Refresh Rate: 144Hz
Response Time: 4ms
Contrast Ratio:?
Brightness: 600cd/m (1000 cd/m² peak)
Stand: Height – Yes
Stand: Tilt – Yes
Stand: Swivel – Yes
VESA Compatibility: Yes
Connectivity DisplayPort 1.4 x 1, HDMI 2.0 x 1, USB 3.0 x 2
Dimensions (W x H x D): 24.96" x 21.93" x 10.55"
Weight: 20.28lbs

Design and Features
The Asus PG27UQ sports a familiar aesthetic based on the second wave of ROG monitors. However, this top of the line model now includes thicker bezels which are probably necessary for the newer panel tech. The plastic strips shouldn't bother you during gaming, but they are an eyesore on a monitor that costs over two grand.
The exterior has a grayish-titanium finish with a matted texture and plasma copper details in the right spots. Construction is top-notch while the corners, details, and seams are free of burrs or imperfections. The Asus PG27UQ stands firm and stable on a desk while holding your desired view angle with its firm yet flexible mechanism.
The stand is also nearly identical to what current ROG Swift models have from the helix base all the way to the excellent ergonomics. This mechanism will still be fully removable to reveal VESA holes, but you need to consult the manual because dismantling it can get confusing. You will find an ROG LED projector which glows red at the apex of the tri-pronged helix base for full gamer-centric effect.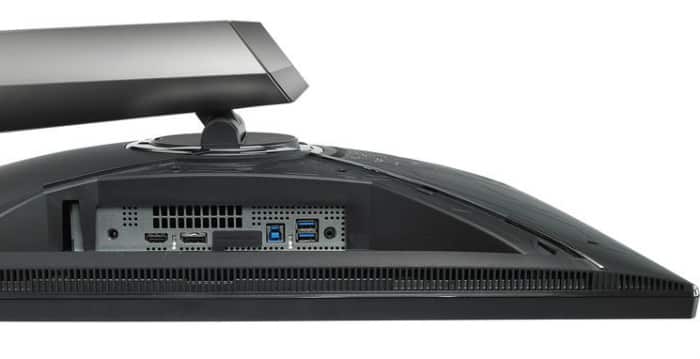 One of the key features of the Asus PG27UQ is its Aura Sync LED at the rear of the chassis which is bright enough to be considered a bias light. When turned off, the logo appears like an embossed metallic object, but it looks amazing when switched on. You can change the colors and themes or sync the lighting feature with your compatible gear such as an Asus motherboard.
The Asus PG27UQ is a G-Sync monitor so it includes a limited I/O panel with only two video input slots. You get a DisplayPort 1.4 and HDMI 2.0b which are capable of accepting 4K HDR signals. Take note that G-Sync and the 144Hz max refresh rate only works on the former. You also get two USB 3.0 ports for accessories such as thumb drives or wireless receivers.
Display and Performance
The Asus PG27UQ sports a 27-inch IPS panel with a 3840 x 2160 resolution, 144Hz refresh rate, and a 4ms response time. The native contrast ratio is still at 1000:1, but Asus claims that it can reach a peak of 50000:1 during HDR scenery. This AUO panel is accompanied by a 600cd/m2 Quantum Dot backlight that can enhance colors and pulse all the way up to 1000cd/m2 for HDR content.
The panel used for the Asus PG27UQ can produce 10-bit (8-bit with FRC) colors for maximum vibrancy and saturation. This model is surprisingly fantastic at producing volumes of tones, scoring up to 149% sRGB or 110% DCI-P3 when set to wide gamut mode. Color accuracy plays between DeltaE .4 to 1.5 for realistic and professional-grade color fidelity.
The Asus PG27UQ is one of the first few monitors to impress us with a panel this rich and eye-popping. The gamma curve sits at a perfect 2.2 while contrast averages at 1100:1 for SDR content. Unfortunately, we did not have a way to measure the limits of the screen when it displays HDR visuals. Games such as Battlefield 1 and Battlefront II appear more convincing with amazing clarity and out of this world light blooms and effects.
The FALD unit on the Asus PG27UQ also feels more responsive than what we've seen on the Dell UP2718Q and the Asus PA32UC. The lighting effects from explosions and the in-game environments look spot on with less uncontrolled blooms. Bright and dim elements appear more defined, plus visibility has improved drastically when compared to other HDR monitors we have tested.
Gaming with a 4K UHD monitor at 144Hz monitor is an experience by itself which we cannot define by saying its like a 1440p 144Hz display, but better. Our test system struggled to achieve high frames with this monitor, so we had to tweak in-game settings and lower them to maximize the screen. Remember, you don't lose the crispness and clean lines even if you drop settings like Anti Aliasing due to the pixel density.
The Asus PG27UQ's IPS panel has excellent color and brightness uniformity overall. We did not record any brightness variances that exceeded 8% on all quadrants, while it was difficult any unbalanced colors on the screen. However, there is a bit of deviation from the ideal D65 at the bottom, which again, does not affect gaming visuals considerably.
Input lag, on the other hand, is handled differently with the Asus PG27UQ. Latency was measured at 8ms at 144Hz, but it goes down by a millisecond if you limit the screen to 120Hz. The chroma subsampling at the max refresh rate probably has something to do with the difference, which in our opinion, shouldn't bother all gamers.
Finally, the Asus PG27UQ is a G-Sync HDR monitor which helps to smoothen the screen's output by synchronizing the refresh rate to the frame rate. The VRR tech is crucial to enjoying this gaming monitor since its 4K 144Hz specification which requires a truckload of GPU power.
Thoughts on the Asus PG27UQ
The Asus PG27UQ is the best gaming monitor you can buy on the planet right now. It's fantastic color fidelity, responsiveness, and HDR expertise can finally answer the hardcore gamer's call for a near-perfect HDR monitor. If you have a top-end PC and a 4K HDR console like the PS4 Pro, this is the monitor you should splurge on.
If we had a complaint, it would be the Asus PG27UQ's bombastic two-grand-plus price tag. The display itself is worth a whole new gaming rig, making it unreachable to the rest of us mortals who have to earn every buck. However, if you have the funds to burn, this monitor is definitely a must buy.