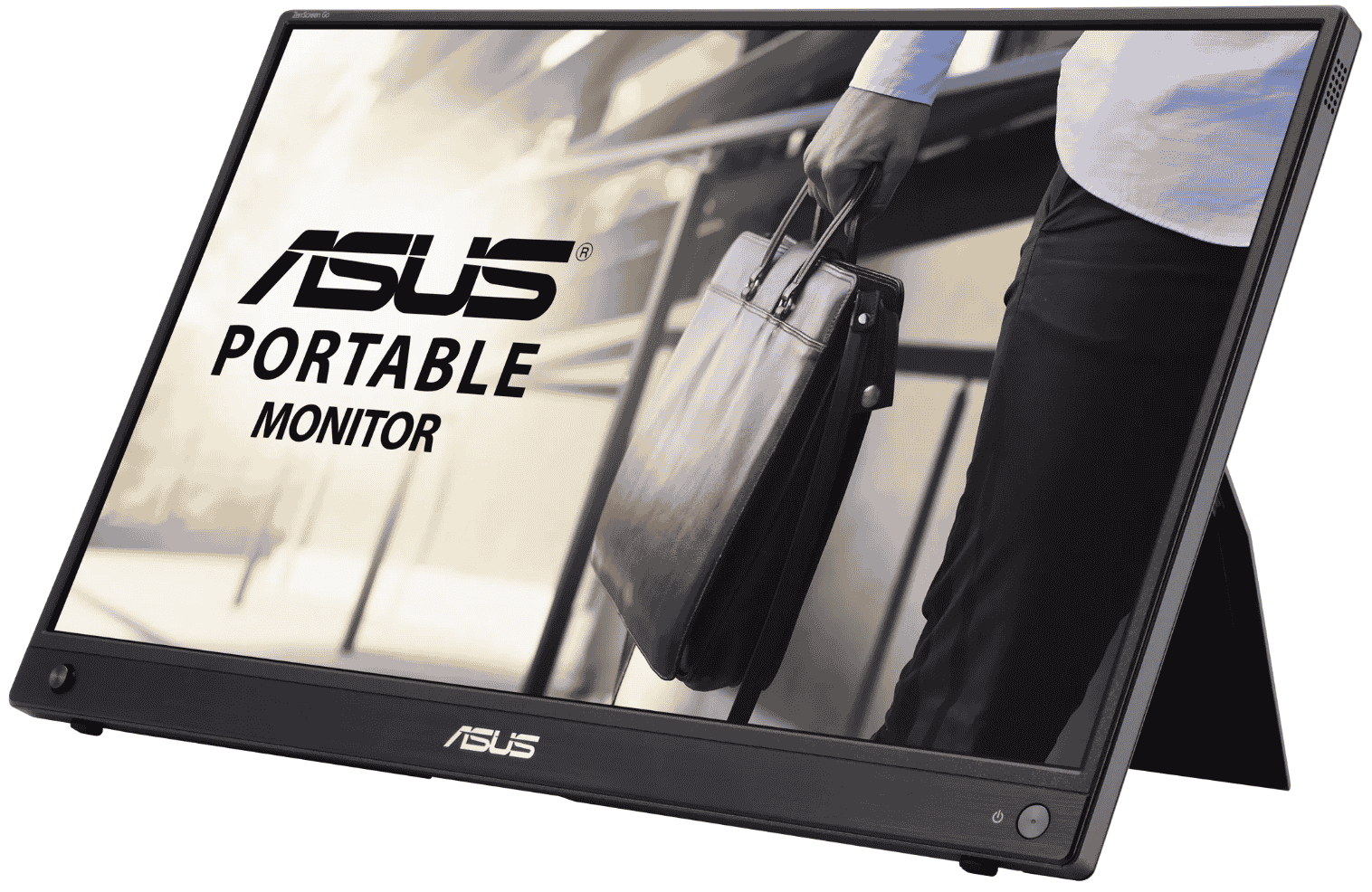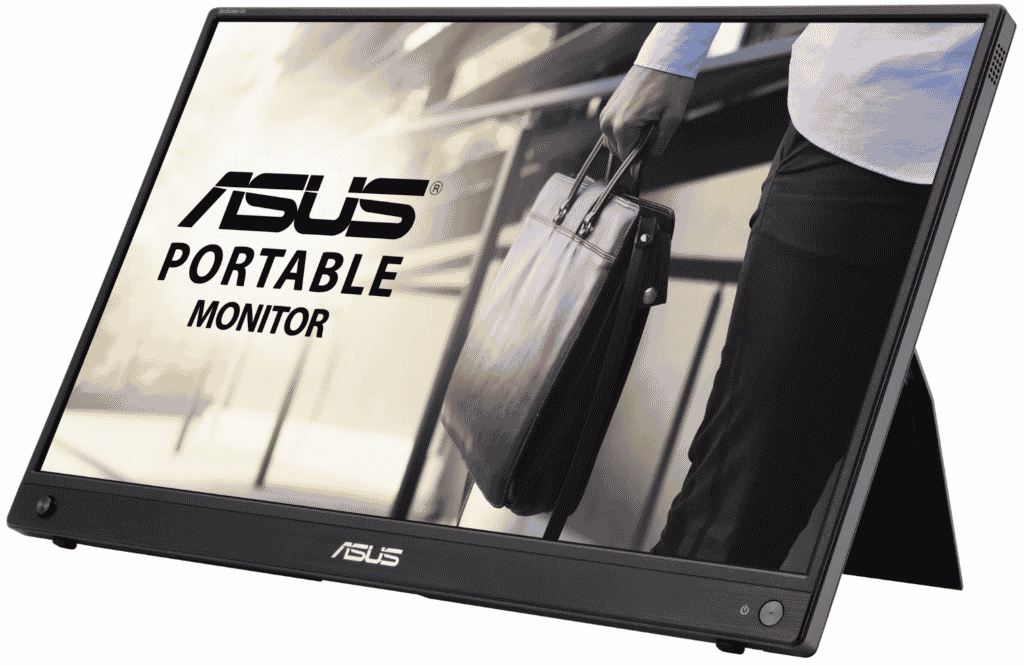 The Asus ZenScreen Go MB16AWP is a premium portable USB-C monitor that brings massive improvements compared to its predecessors. It brings features that were sorely missed from the older models, but it also packs new capabilities like wireless mirroring. However, it's quite expensive for a portable display so we should check it out first to know if it is worth it.

Asus ZenScreen Go MB16AWP Specifications
Screen Size: 16 Inches
Resolution:1920 x 1080 FHD
Aspect Ratio: 16:9
Panel Technology: In-Plane Switching (IPS)
Refresh Rate: 60Hz
Contrast Ratio: 1200:1
Brightness: 250 cd/m²
Built-in Speakers: Yes (2 x 1 Watt)
Stand: Height – No
Stand: Tilt – Yes
Stand: Swivel – No
Stand: Pivot – No
VESA Compatibility: No
Connectivity: USB-C x 1, Mini HDMI 1.4 x 1, 3.5mm Jack x 1
Dimensions With Stand (WxHxD): 14.09″ x 8.85″ x .45″
Weight: 2.40 lbs
Design and Features
The Asus ZenScreen Go MB16AWP sports a more conservative look than its ROG counterparts so it should mix in with your professional laptop nicely. It has a matte black finish that will never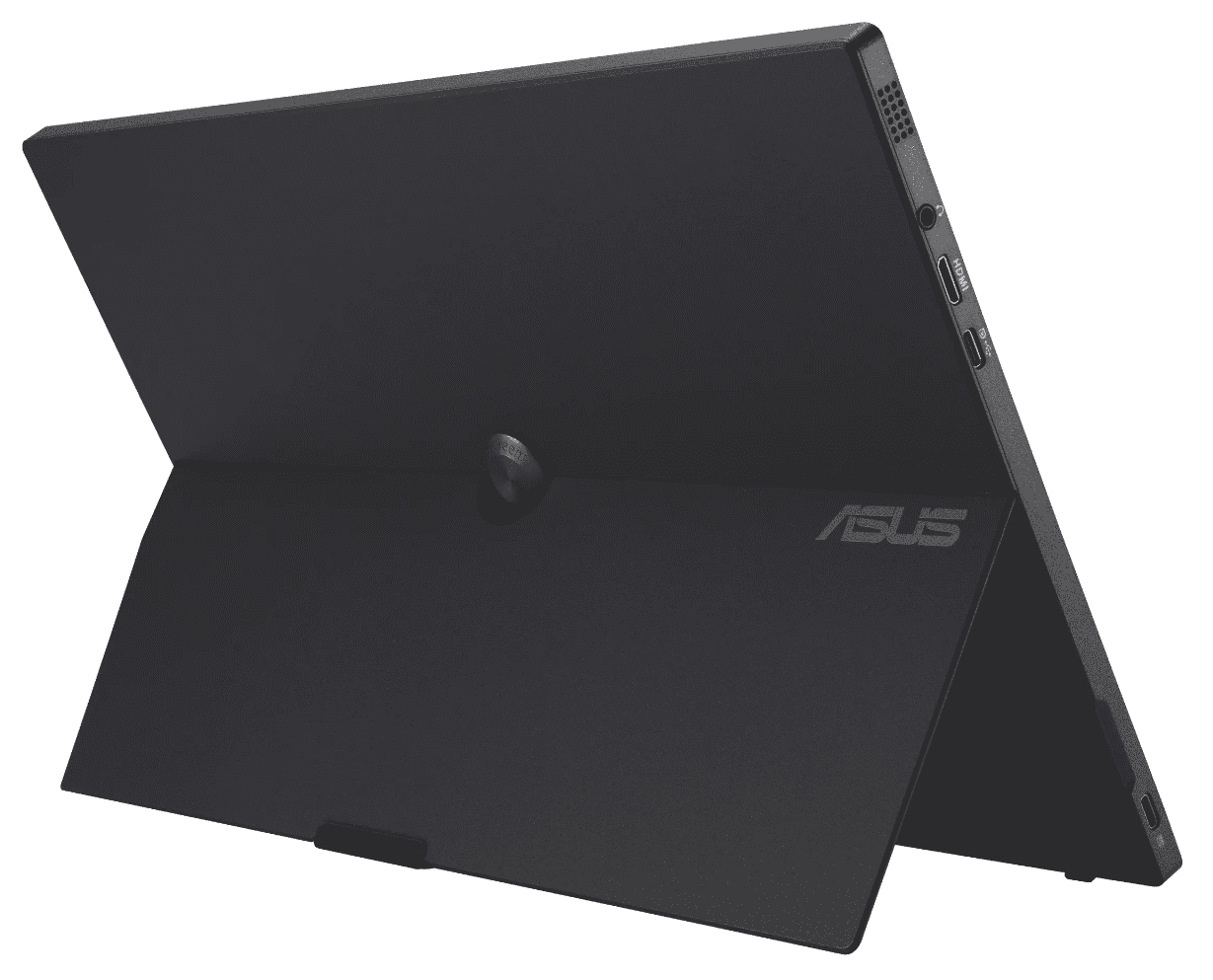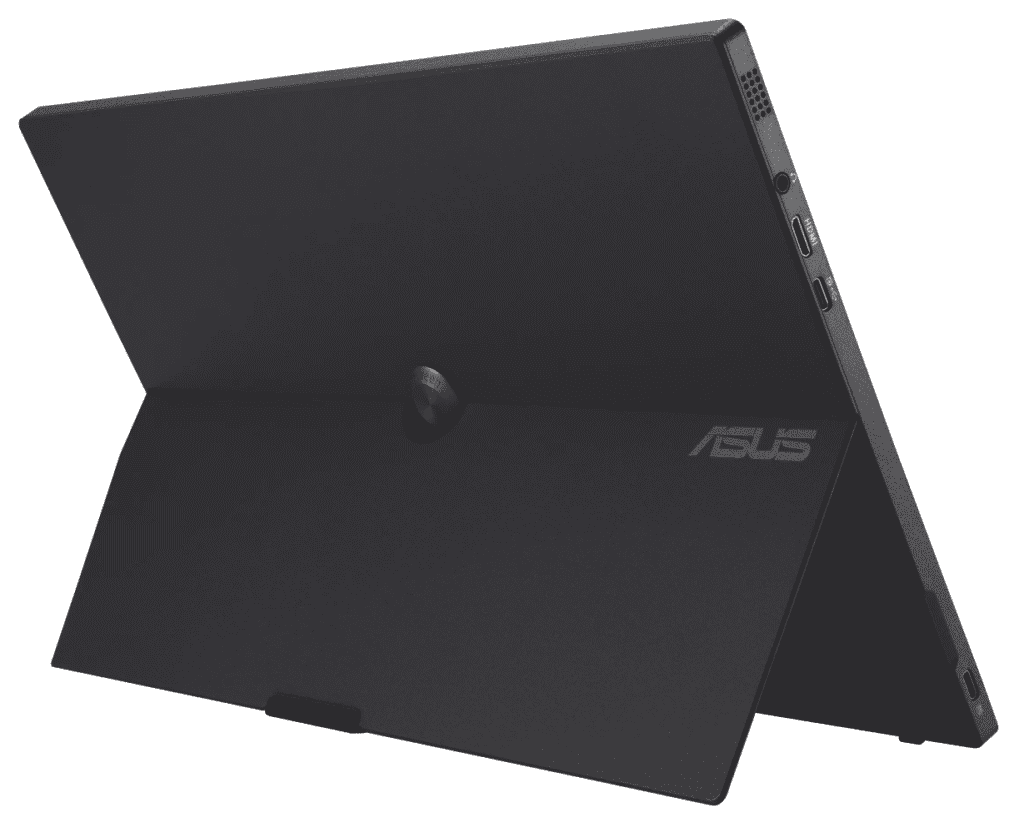 go out of style, plus it's quite resistant to scratches and grime. It has a bezel-free design on three sides, but you still get inner borders.
Its size didn't change, but this new model is slightly thicker and heavier than its predecessors. That's because it has more features, but it is mostly due to its internal battery pack which added more heft. It is about as big as your laptop's screen, so it should slide right into your laptop case or bag.
Its build quality is solid so there are no cosmetic defects or a cheap feel even though it's made out of plastic. There are no uneven seams or gaps between the panels, and it doesn't seem like the device will flex or crack if moderate force is applied. But the best part about it is its stand which is more stable than previous versions which used flip covers to prop the screen up.
The Asus ZenScreen Go MB16AWP has a five-way joystick and a dedicated power button to avoid confusion. It's easier to use than the scroll wheels you'd find on other portable monitors, but it sticks out and it can get snagged easily. There isn't much to calibrate on this monitor but having something fast and responsive to access the presets is handy.
We love the metal kickstand that's built into the chassis since it is stable and does a better job than the flimsy flip covers on other models. The downside is it only offers tilt, but that's standard for portable monitors. Asus did, however, add compatibility with its portable monitor tripod so you can still use it as a desktop monitor, but it is sold separately.


The Asus ZenScreen Go MB16AWP has a USB-C slot and a mini HDMI port for video inputs, along with a 3.5mm jack for earphones. However, its most important connectivity feature is its 5GHz wireless support which lends mirroring sport for Windows, iOS, and Android. It works flawlessly over a stable WIFI network but you can expect some input delays which are normal.
You also get a pair of built-in speakers with the monitor even if it is very thin and has barely any room for them. The downside is that they only have a watt of power each so their volume levels are very limited. They can't produce bass and can sometimes be inaudible if you are using them outside, so headsets or headphones will still be better.
Display and Performance
The Asus ZenScreen Go MB16AWP sports a 16-inch IPS panel with a 1920 x 1080 resolution, a 60Hz refresh rate, and a 5ms response time. the backlight has a 250 cd/m2 maximum while the contrast ratio is listed at 1200:1. The latter is quite ambitious considering the results we've seen on portables, but it's advertised for use with Adobe products so it surely has imaging improvements.
The 16-inch screen on this screen only has a typical 1080p resolution, but it is just as crisp as most laptops. It works great for all types of use, although you can't expect it to have the extra space of 1440p and 4K variants. It was designed to provide that to you as a secondary display, but it can also be a larger main screen for other portables like the Nintendo Switch.
The Asus ZenScreen Go MB16AWP renders more than 100% sRGB and around 83% DCI-P3 for rich colors and saturation. That's considerably higher than previous models which only covered around 70% sRGB give or take. It's also decently accurate with a deltaE average of 1.23 so it can be used for content creation and some editing.
Its backlight reached a healthy 257 cd/m2 at 100% brightness, while its contrast reached 1211:1 at 100% brightness. That's certainly high for an IPS monitor, but it's still unable to produce deep blacks like VA or OLED panels can. This is a natural limitation of the panel type,  and you'd have to spend more if you want something better.
We also didn't see any major backlight bleeding on the sample so there were no clouding issues in dark scenes. Some variance in the backlight can become noticeable when it is used at night, but it's not a major issue while working. Of course, the IPS lottery concept applies here, so there are better and worse options out there.
One weakness of the Asus ZenScreen Go MB16AWP is its slow pixel response time and limited refresh rate. It's prone to blurring and smudges in fast-paced and contrasting transitions so it is not great for fast-paced games like shooters or racing. It is usable for casual games and even for portable consoles like the Nintendo Switch where anything above 60Hz will be overkill.
Other features that make this monitor special is its 7800 mAh battery and 5GHz wireless functionality. The former can power the monitor for a little under 3.5 hours without charging, but you can extend that further with lower brightness levels and by not using the speakers. it also works smoothly over a decent WIFI network, but there will be input delays which are normal.
Lastly, the Asus ZenScreen Go MB16AWP doesn't support Adaptive Sync or variable refresh rates. That's fine since this model isn't for gaming and most systems can run 1080p at 60Hz easily. Its input lag could not be measured accurately, but it feels the same with a regular office monitor if it's connected via HDMI or USB-C.
Thoughts on the Asus ZenScreen Go MB16AWP
The Asus ZenScreen Go MB16AWP is a great choice if you want a functional portable monitor with a vibrant IPS panel. It's better equipped with its metal kickstand, plus it's one of the few that fully covers the sRGB gamut. Its wireless screen mirroring mode works flawlessly, provided that you have a good WIFI network at home or in the office.
However, it's quite expensive for a portable monitor, it's heavier, and it is limited to screen mirroring only. You can't use it as a second monitor to extend your workspace unless it's connected via HDMI or USB-C. It performs great and it can be considered the best portable monitor around, but there is still room for some improvement, especially at this price range.
Pros:
Attractive Minimalist Aesthetic
Plenty of Features
Built-in Battery and Wireless Functionality
Vibrant IPS Panel
Cons:
Expensive
Battery Limited to 3.5 Hours
Wireless Function Limited to Screen Mirroring
About the Author: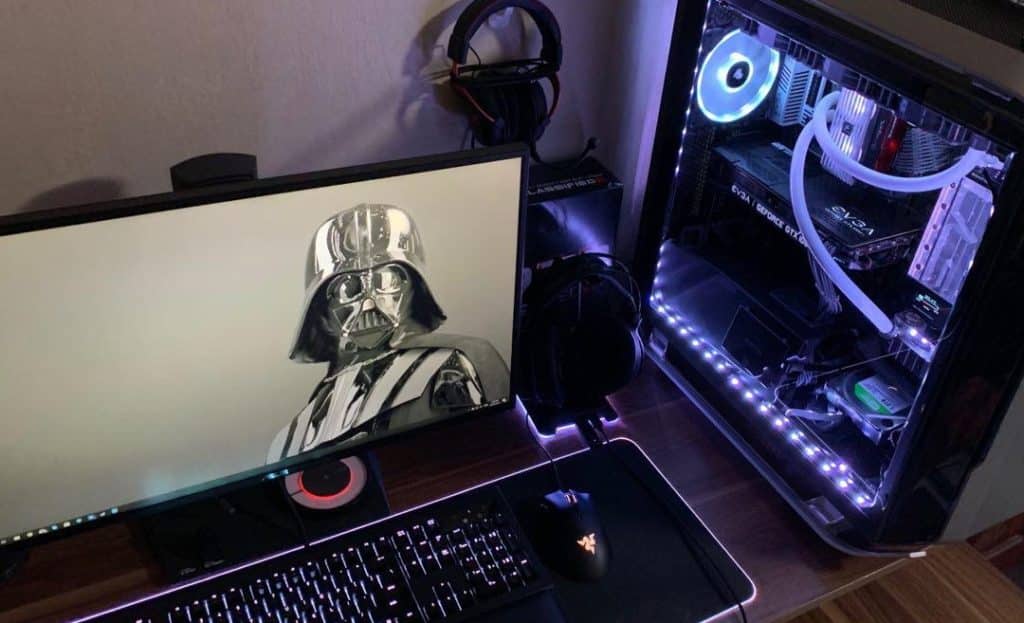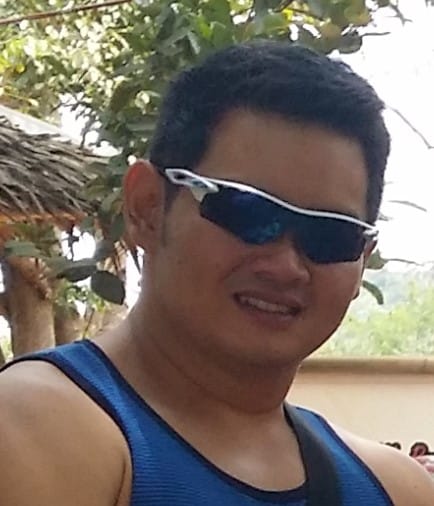 Paolo is a gaming veteran since the golden days of Doom and Warcraft and has been building gaming systems for family, friends, and colleagues since junior high. High-performance monitors are one of his fixations and he believes that it's every citizen's right to enjoy one. He has gone through several pieces of hardware in pursuit of every bit of performance gain, much to the dismay of his wallet. He now works with Monitornerds to scrutinize the latest gear to create reviews that accentuate the seldom explained aspects of a PC monitor.</span