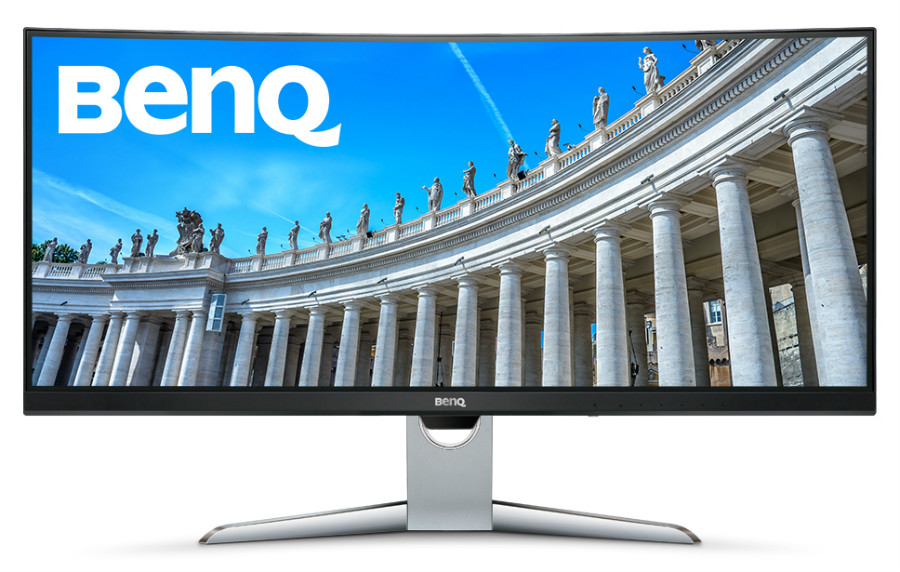 The BenQ EX3501R aims to provide a stunning visual experience with its 100Hz curved screen with impressive specifications and an implementation of HDR compatibility. This formula save for the HDR feature is already present in a lot of models, but BenQ's take is beautifully worthy of consideration due to its fantastic design and very capable performance. If you are in the market for an ultrawide monitor for gaming, entertainment, or business, the BenQ EX3501R is a top choice.

BenQ EX3501R Specifications
Screen Size: 35 Inches
Resolution: 3440 x 1440  UW-QHD
Aspect Ratio: 21:9
Panel Technology: Vertical Alignment (VA)
Refresh Rate: 100Hz
Response Time: 4ms
Contrast Ratio: 2500:1 (Static)
Brightness: 300 cd/m²
Built-in Speakers: No
Stand: Height – Yes (2.33 Inches)
Stand: Tilt – Yes (-5°/+20°)
Stand: Swivel – No
Stand: Pivot – No
VESA Compatibility: Yes
Connectivity: DisplayPort 1.4 x 1, HDMI 2.0 x 2, USB 3.1 x 2, USB-C x 1, 3.5mm Audio Jacks
Dimensions (WxHxD): 32.83″ x 19.84″ x 12.16"
Weight: 22.93lbs

Design and Features
Not to be biased or anything, but we always get a fuzzy feeling when we see, touch, and feel a new, well-designed monitor like the BenQ EX3501R. Most of the brand's gaming offerings already come with discrete and functional designs, but this model takes the sophistication to the next level. The silver and chrome materials add a luxurious touch while the thin dual-stage bezels do not pose as distractions to the awe-inspiring 35 inches of view space.
The most notable feature of the face is the thicker bottom bezel with the OSD buttons along with the sensor that sticks beneath it. The latter detects the ambient lighting in your room or environment which enables the Brightness Intelligence Feature to correct the color temperature relatively. We've seen this feature on the BenQ EW2770QZ, and it does have its merits.
The BenQ EX3501R's design proportions aren't as intrusive as most of its competitors since it only eats up 12 inches of depth. We can go as far as saying that the monitor can be decently mounted via its VESA mounts due to the slightly gentler 1800r curvature. But it is important to note that the product will consume almost 3 feet in horizontal space, plus you need to flex your muscles in case you want to lug this 23-pound beast around.
However, we find it unnecessary to stick the BenQ EX3501R to a wall despite having a VESA adapter kit for easy installation. The stand already includes a decent amount of articulation with 25 degrees of tilt and around 2.5 inches of vertical travel enabling most users to find a viewing sweet spot. It's also challenging to part with the chrome-finished mechanism since it adds the sexy executive touch that we love about the product.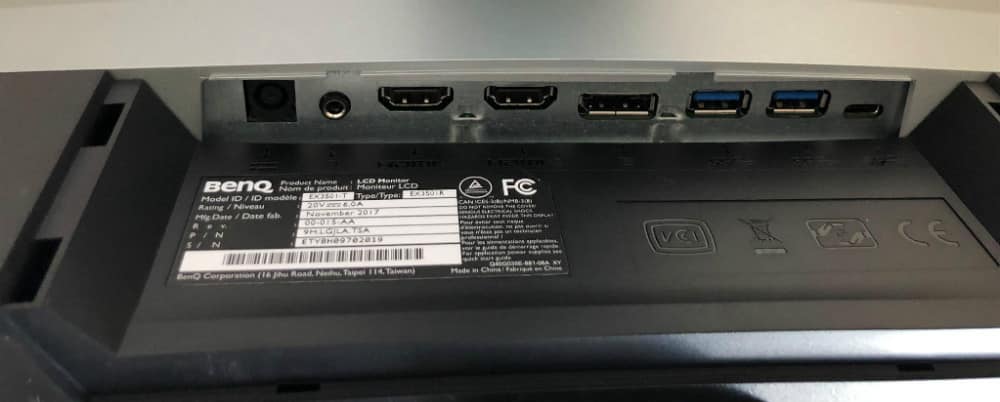 The connectivity suite on the BenQ EX3501R is well-equipped for most situations with its suite of the latest input standards. The layout includes DisplayPort 1.4, two HDMI 2.0 slots, and two USB 3.1 receptacles for convenience. You also get a USB-C port which can transmit data or switch to DP Alt mode to make your USB-C laptop the host device.
For easy arrangement, the I/O panel comes with a removable cover making it easier to conceal your connectors for a neat setup. If there were one thing missing, it would be a pair of aftermarket-tuned speakers for enhanced audio output.
Display and Performance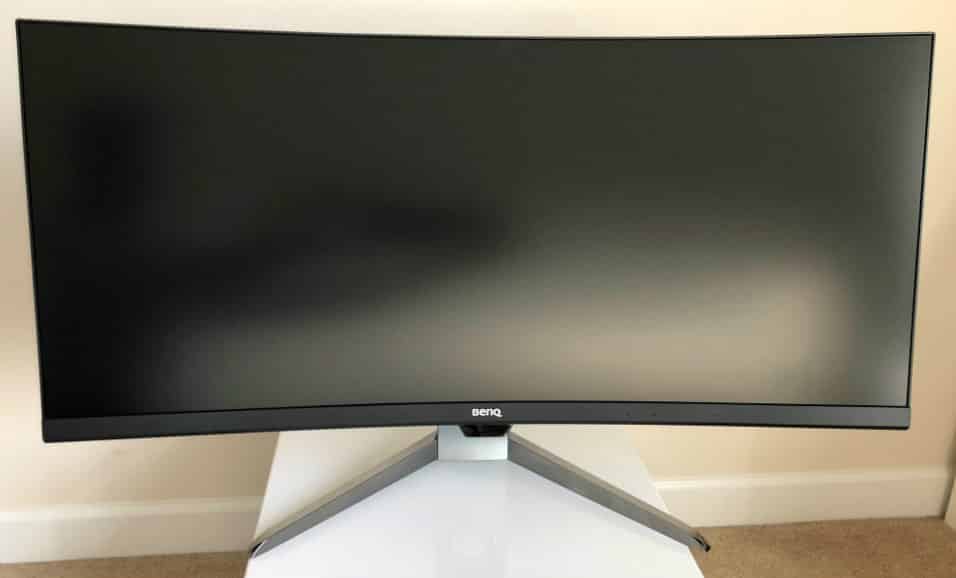 The BenQ EX3501R boasts a 35-inch curved VA panel with a 3440 x 1440 resolution, a 100Hz refresh rate, 4ms response time and 2500:1 contrast ratio. The module only utilizes 8-bit color and a 350cd/m2 backlight, instantly indicating that the HDR compatibility is software-based or emulated. It is important to note that true HDR requires a more complex backlight array with a higher output and a more comprehensive gamut coverage.
However, we cannot dismiss the BenQ EX3501R just yet since it posts a commendable 100% sRGB coverage which translates to around 81% in Adobe RGB. Frankly, we expected oversaturation since this model comes with a VA panel, but the score tells us that this monitor will be able to display lifelike images. However, accuracy is where this model drops the ball with a Delta E average of 3.22 which will produce an image that is slightly off, mainly warm, than it actually looks.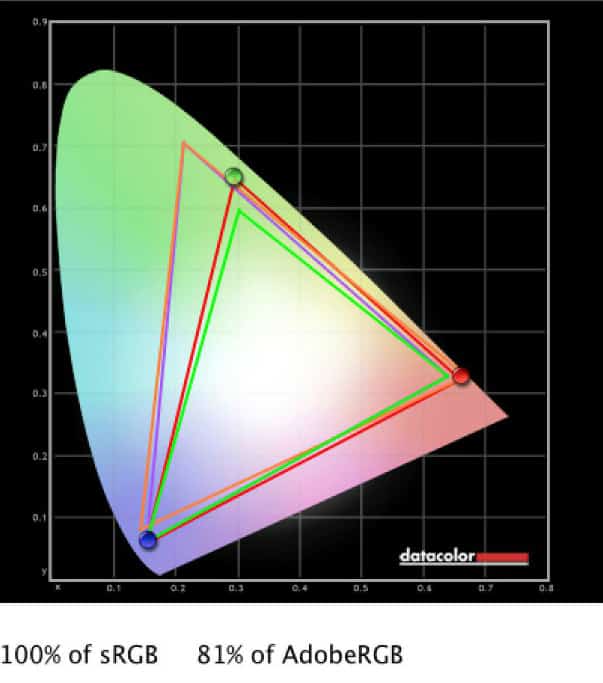 The low score is due to oversaturation in reds, greens, and cyans, but on a positive note, white and black balance is exceptionally on point. Professionals who need a monitor for color-critical work might have to look elsewhere, but for gaming and entertainment, these minor errors should not be an issue. There are also several other factors which affect accuracy, and in our opinion, it will be a worthy trade-off for some.
However, turning on the HDR feature revealed some interesting developments in the BenQ EX3501R's scores. Color accuracy is improved to Delta E 2.75 on average to present a slightly more accurate tone. This mode also added a slightly cooler tint, which some may like for movies and games more than the warmth of a sRGB filter.
Panel uniformity is superb for an ultrawide monitor, and we did not notice any detrimental bleeding during our time with the BenQ EX3501R. The deviance from the center averages at 15% which is unnoticeable at comfortable brightness settings, so dialing in around 30% is the best option. At this level, our Spyder 5 Elite recorded a contrast ratio of 1005:1 and a gamma score of 2.4 which is reasonable for the monitor's intended uses.
The BenQ EX3501R includes several images presets, however only the included sRGB and HDR mode are of interest since they provide the best possible imaging outputs. sRGB adds some warmth to the slightly darker tone of the screen which we prefer for watching movies. HDR mode, on the other hand, is a whole different story.
Testing the BenQ EX3501R and its HDR implementation provided us with mixed results depending on the title we played. Forza Motorsport 7 and Call of Duty World War II benefited the most with enhancements in the ambiance and environmental aspects, adding depth to the graphics presented by the titles. On the other hand, Destiny 2 suffered a bit since the overall appearance of the game became too dark for our taste.
These results tell us that BenQ's HDR emulation is one of the best we have seen outside of FALD-equipped variants, bringing the fault over to the messy implementations between game designers and developers. Windows 10 HDR still needs a lot of work, and the industry needs to come together to bring out the full potential of monitors like the BenQ EX3501R.
Another excellent feature of this model is the exclusive Brightness Intelligence Plus feature that auto-adjusts the brightness according to your ambient lighting. While in use, Brightness Intelligence helped with eye comfort throughout our multi-hour gaming session with the BenQ EX3501R. Eliminating the need to adjust the screen during day and night is a huge bonus especially for plug and play users. The patented B.I. is fast and responsive to changes in ambient light and provides a nice steady luminescence, presenting an improvement over the BenQ EW2770QZ's implementation.
The only complaint we have is that there are inaccuracies during transitions which at times, turned the screen overly bright or dark according to one of our testers. We like the convenience factor of the Brightness Intelligence Plus feature, but the BenQ EX3501R is already reasonably good for gaming and movies, virtually eliminating the need for it. Some may personally prefer a calibrated setting for day and night usage which you will need to do anyway with the BenQ EX3501R.
Finally, what we love about the BenQ EX3501R is its gaming performance with FreeSync compatibility which is surprisingly brilliant despite the heavy advertisement as a video enjoyment monitor. We did not notice any delays or ghosting during our Call of Duty WW2 session, plus there were no felt delays. The input lag average of 13ms is an excellent pair for the 100Hz refresh rate to create that snappy gaming experience we all crave in a high-end display.
Thoughts on the BenQ EX3501R
The BenQ EX3501R has some slight imperfections which are revealed by rigorous testing and meticulous eyes, but it is an excellent monitor for the money. The gaming and HDR implementation performance are easily in the top 10 we have seen in the market, enhancing the value of this attractively-priced offering. The Brightness Intelligence Plus features ups the convenience and safety factor of the monitor for extended use, but it has its limits depending on each circumstance.
At the time of this review, the BenQ EX3501R goes for a little under $900 in our favorite retailers. This price point pits it against heavyweights such as the Asus XG35VQ, however, choosing the former's HDR capabilities over the RGB-infused design and a slightly tighter performance is more practical in our books. If you are interested in this HDR gaming and entertainment display, you can enjoy a 15% with the promo code EX3501R on the buy link below.
Note: For more information on the BenQ EX3501R and the brand's other exciting monitors, you can visit their official website here.  For a limited time, monitornerds.com users can use the following discount code at Amazon for 15% off :15EX3501R