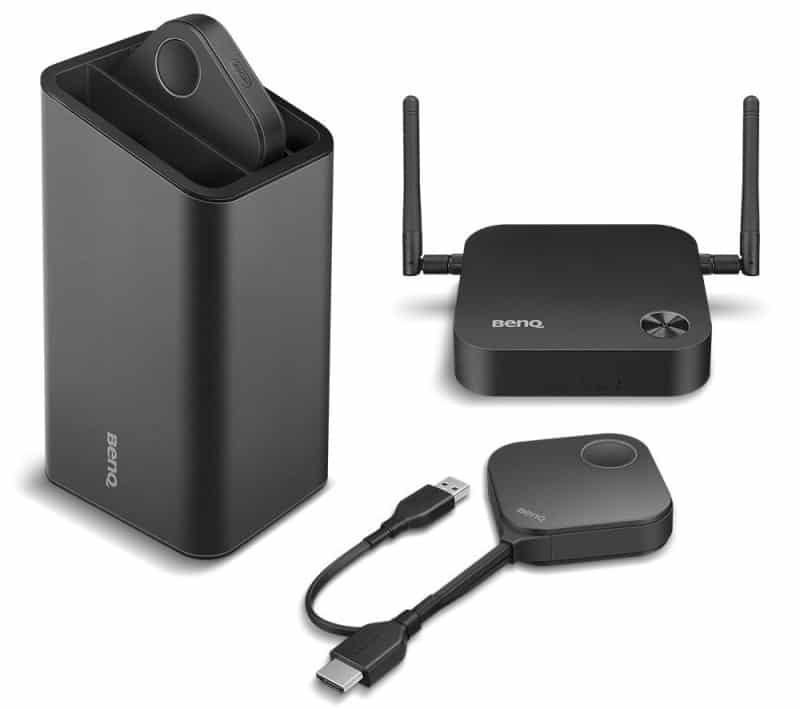 The BenQ InstaShow WDC10 aims to make conferences at thinktanks run painlessly via a wireless solution that is seamlines and lightning fast. The device doesn't require much to get started since BenQ designed every aspect of it to be plug and play. The multi-awarded BenQ InstaShow WDC10 is a must have for spaces where ideas and leadership skills flourish but is it worth its hefty price tag?

BenQ InstaShow WDC10 Specifications
Support Platform: Windows, MAC, Chrome (Any OS with HDMI 1.4 Compatibility)
Connectivity: HDMI 1.4, USB 3.0, RJ45 Ethernet Port
Output Resolution: 800 x 600, 1280 x 720 (720p), 1024 x 768(XGA), 1280 x 800(WXGA), 1280 x 1024, 1280 x 960, 1360, 768, 1440 x 900, 1400 x 1050, 1580 x 1050, 1920 x 1080(1080p)
Input Resolution: 1920 x 1080 (Max)
Maximum Connections: Up to 16 Buttons
Data Rate: Up to 400MBPS
Frame Rate: 30 FPS (Max)
Range: 8 Meters (Max Between Host and Buttons)

Design and Features
The BenQ InstaShow WDC10 package is composed of a router-sized host device with two antennas and two wireless remotes called Buttons. All of the devices come with a hard matte black finish that will not degrade or scratch easily with regular use. There is also a cradle or holder for your Button remotes, so keeping them where they need to be is convenient and aesthetically pleasing.
You will also find several accessories such as velcro straps and cables with the box, so you don't have to buy any other items initially. The only hindrance we see is if you are using a laptop that uses smaller form factor connectors like micro USB or mini HDMI since the BenQ InstaShow WDC10 uses the regular male dongles. The brand could have included adapters for less trouble, but it's a minor issue that's worthy to be mentioned.
It's also worth mentioning that while the BenQ InstaShow WDC10 is fantastic for laptops and desktop PCs, its design makes it a weak choice for mobile devices such as tablets or phones. It's doable, but you are going to need several adapters which will defeat the purpose of the product.
What's fantastic about the BenQ InstaShow WDC10 is it doesn't need all the complications of a full-sized AV system. You only need to connect the Host via HDMI to a projector or a display and use the included 5v adapter or a USB slot to power it. The ethernet port is for connecting the device to your office network so it can be controlled by an administrator or update its firmware.
The Button, on the other hand, requires an HDMI and USB connection to get power and transmit audio and video signals over the Host's wireless network. The large button at the top is for connecting the BenQ InstaShow WDC10 to the host device and switching the video to your laptop's screen. This makes sharing work and information easier and seamless since you don't have to unplug and plug several laptops or tablets to the projector.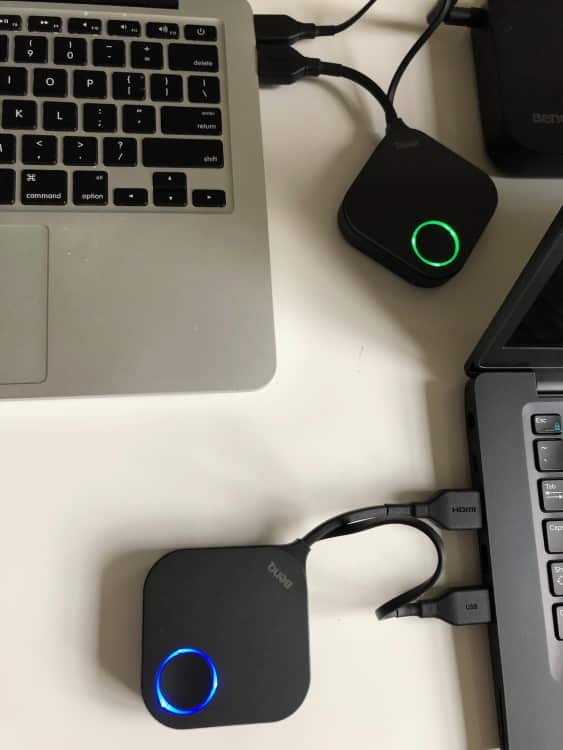 The button on the remote glows red when it's not connected, but once it switches to green in a few seconds, you are ready to go. Pressing it again will turn it blue this time which indicates that you and your laptop have the stage. We also love that the cables on the Button have magnets in them which locks them together if they aren't connected to their respective slots.
The mode button on the side of the remotes toggles between the BenQ InstaShow WDC10's Presentation and Video modes. We recommend switching to the latter for the best possible framerates if you want to watch HD clips, but frankly, its 30FPS cap isn't sufficient for watching movies or games.
Performance and Reliability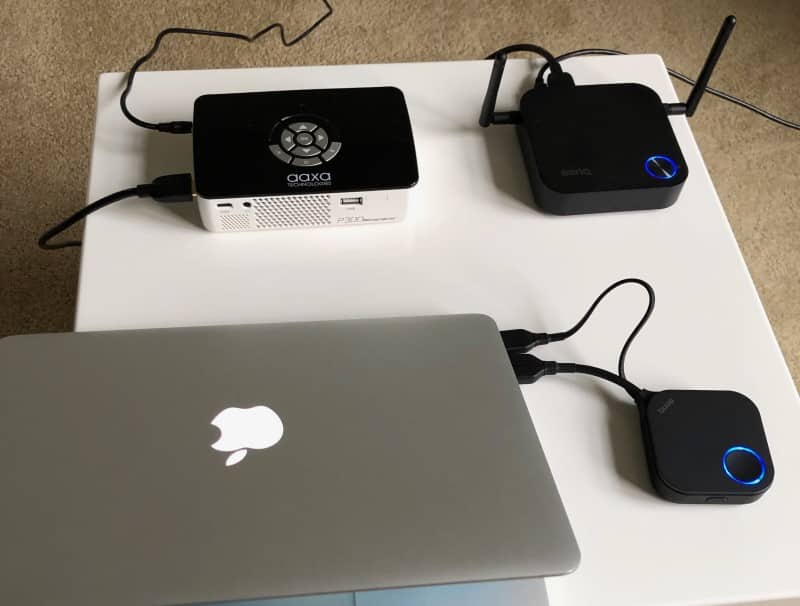 The BenQ InstaShow WDC10 works instantly and flawlessly once you connect the Host and the Button to their respective ports. It's fantastic that you don't have to tinker with settings to get the device to work since it automatically detects video signals before translating it to an output resolution that's listed above. Video clarity is as good as your projector's output, although the 30 FPS limit makes this model unsuited for entertainment and gaming purposes.
We also noticed that there is no lag while switching between laptops that are connected to the BenQ InstaShow WDC10's Button. Projectors and displays will display your desktop within a few milliseconds of pressing the switch, so you better be ready beforehand. The 802.11ac connection is a key feature here, giving the gadgets sufficient room to work with each other perfectly.
Take note that up to sixteen Button remotes are supported by a single Host, but needing more than the included two means you have to buy additional kits. Each upgrade package comes with two additional remotes and a dedicated cradle, so the added gadgets will always have storage space. USB-C laptops are not an issue since BenQ sells two versions which have a Type-A and Type-C connector respectively.
Audio is also included in the wireless transmission as long as you don't use adapters for the HDMI connectors on the Button and its Host. You also have to make sure that your laptop that's connected to the Button and the display or projector for the Host has audio functionality built into them. Some monitors that do not include speakers will require a bit of tweaking if you want to produce a signal via its 3.5mm jack.
The brand specifies that the BenQ InstaShow WDC10's flawless function is guaranteed at up to eight meters between the button and the host. However, we tested this in the office and found out that you can stretch it up to twelve meters as long as there is no interference from devices such as radios.
Thoughts on the BenQ InstaShow WDC10
The firm did an excellent job of replacing a messy and expensive AV setup with the BenQ InstaShow WDC10. The product works impeccably, and most if not all, will not run into trouble trying to set it up in the office or conference hall. Connectivity and clarity are superb, plus we did not notice any lag from the laptop to the projector and in between switches using the Button remote.
About the Author: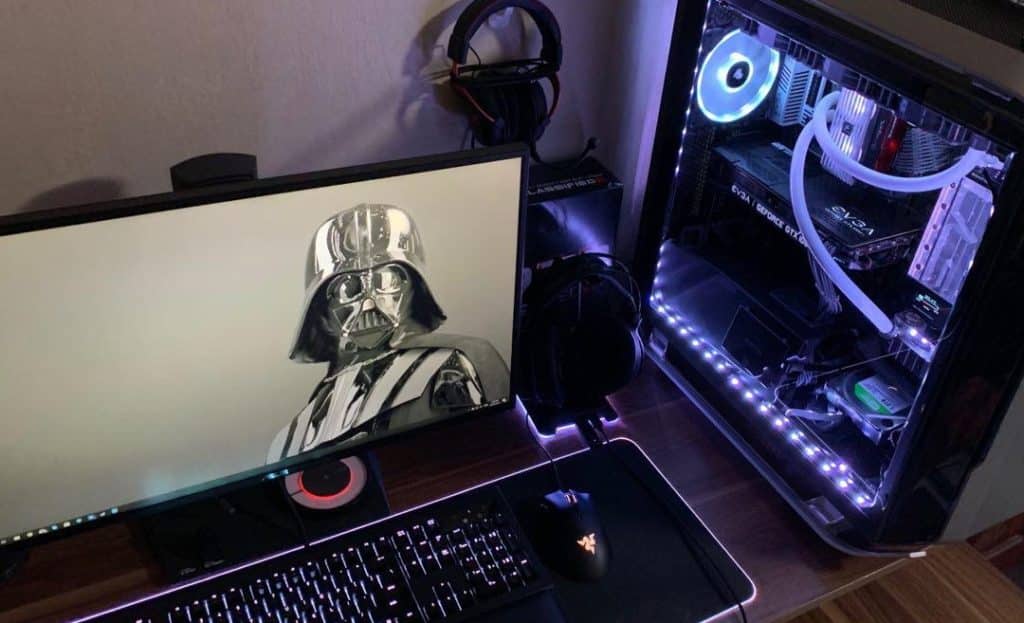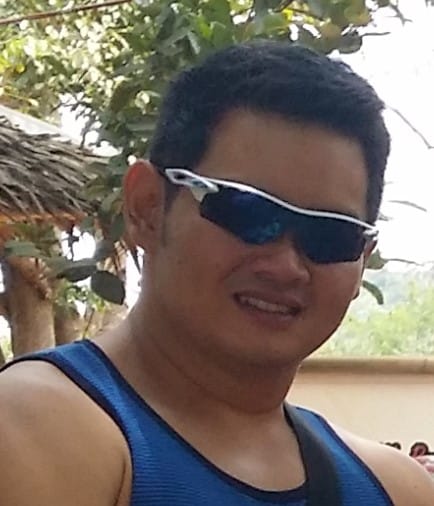 Paolo is a gaming veteran since the golden days of Doom and Warcraft and has been building gaming systems for family, friends, and colleagues since his junior high years. High-performance monitors are one of his fixations and he believes that it's every citizen's right to enjoy one. He has gone through several pieces of hardware in pursuit of every bit of performance gain, much to the dismay of his wallet. He now works with Monitornerds to scrutinize the latest gear to create reviews which accentuate the seldom explained aspects of a PC monitor.