A BenQ monitor for gaming is one of the best displays we have seen.  With the company's flair for both performance and aesthetic, it's not surprising that Benq monitors have an 80% presence in the professional gaming scene. But aside from the dazzling specs, the most interesting part of the brand in this spotlight is its colorful history of being a subsidiary of another tech giant to becoming one of its top competitors. BenQ has come a long way from its roots, and through the years, the company has gained a lot of ground to be able to produce some of the best gaming monitors we buy today.
BenQ's History – A Tech Giant's Humble Beginnings
BenQ started out as Acer's contract manufacturing division for OEM peripherals in Taiwan back in the 1980's. In 1984, the subsidiary was established as Continental Systems before changing to Acer Continental in 1986, and finally Acer Peripherals in 1989. At this point in that decade, this group's sole purpose was to manufacture peripheral products for business such as office monitors.
In the early years of the following decade, Acer Peripherals opened production subsidiaries in Malaysia and China and shortly followed through with opening a marketing arm in the United States. After success in their ventures, the company goes public with the Acer Peripherals name in 1996 and creates the Acer Display Technologies group to manufacture LCD panels for their products.
A year later, the blossoming company introduces their first LCD monitor while venturing into other industries such as the mobile phone business while expanding their product range to include gadgets such as scanners, printers CD-RW drives and even digital projectors.
As the world faced the predicted but non-existent woes of the Y2K bug, Acer Peripherals was re-organized into an entirely different company while changing its name to Acer Communications and Multimedia. In doing so, the brand groups its manufacturing arms while acquiring smaller tech companies to enrich its portfolio.
This move was Acer's response to disputes with its competitors who also rely on their OEM divisions for their products which share the market with the company's main products. With the newly-found evidence, the company's chief, K. Y. Lee makes the best decision to help establish a global presence by working to combine Acer Display Technologies with Unipac Optoelectronics. This union creates a love-child monitor enthusiasts know too well; AU Optronics, the manufacturer responsible for most of the 144Hz panels we see on gaming screens today.
In 2002, K.Y. Lee decided to take the company's foothold in the global market by creating the BenQ brand name, an acronym of the new slogan: "Bringing Enjoyment and Quality to Life." By then, BenQ became one of the leading companies in the peripheral business, including monitors. The company's revenue exponentially soars from $1.7 billion in its first year to more or less $4 billion by 2004.
During this year, BenQ becomes Taiwan's leading consumer electronics company, while BenQ monitors steal the number two spot in LCD sales, second only to Samsung from Korea. During this prosperity, the company reaches beyond its borders to multinational markets in Asian countries such as Japan and India, while also pushing to penetrate the US and EU markets.
Birth of BenQ Zowie – A leading E-Sports Brand

After garnering enough revenue and business scale, BenQ again decides to reorganize into Qisda Corporation to handle its manufacturing divisions while creating a 100% owned subsidiary to take the BenQ Corp name as a dedicated peripheral brand.
BenQ continued its passion and persistence for dominance of the digital market by acquiring Siemens AG, a German mobile devices company to create BenQ mobile. Unfortunately, this union does not bear fruit which eventually causes the venture to go into bankruptcy before finally dissolving in early 2007.
BenQ still endeavored to continue its mobile phone business after a long pause in 2013 to try and take a slice of the booming smartphone pie. We all know how that turned out for BenQ since their smartphone products only have a limited presence in the UK market with examples such as the Harrier phone for EE Limited, a telecom service provider.
Before the year 2015 ended, BenQ then acquired Zowie Gear to create a dedicated gaming division. Zowie was a small company which started to make waves in enthusiasts community with its no-frills gaming mice, before becoming a staple sponsor for significant events while being loved by techies for their independent products which veered from the bland, repetitive and expensive offerings of established competitors.
After merging with BenQ, the re-established BenQ Zowie now creates a plethora of accessories meant to compliment a hardcore player's arsenal, including some of the best gaming monitors we have reviewed. After going through decades of experience and engineering key decisions to create a global leader in peripherals and E-Sports products, BenQ Zowie's 80% share of the competitive gaming market doesn't sound as surprising as it used to be.
The Best BenQ Monitors
We can't deny that some of our favorite gaming monitors come from BenQ Zowie. Even in the entry-level and prosumer segments, some of their offerings provide excellent performance and functional designs worthy of your hard-earned cash.
1. BenQ Zowie XL2540 – Flagship 240Hz E-Sports Monitors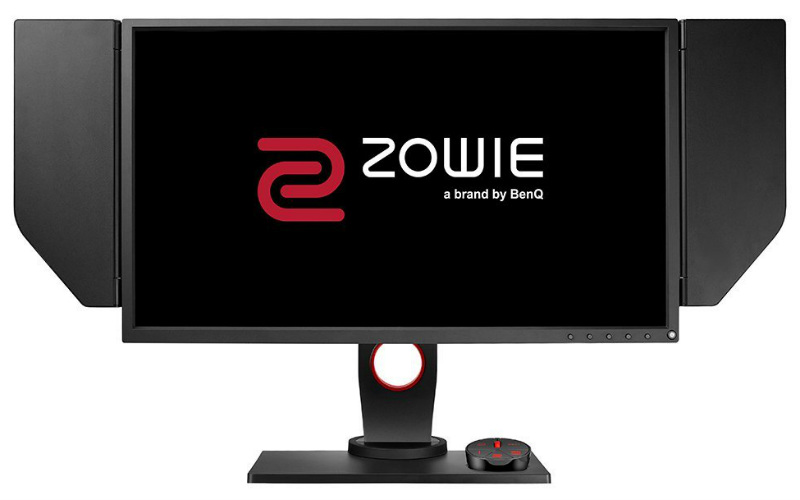 Buy Now From Amazon
The BenQ Zowie XL2540 is the company's current top contender for the ultimate E-Sports monitor crown with its top-ranking responsiveness and blazing 240Hz refresh rates which ensure every competitive gamer can take advantage of every split-second edge which can decide between taking down an opponent or kissing the cold floor of defeat.
The BenQ Zowie's design is as streamlined as its performance with every bit and piece designed for the convenience of ruthless competitors. Just like its siblings from the XL line of gaming monitors, this product also features the S-Switch Arc remote for hot swapping between modes and OSD tinkering, while the unique and functional stand and visual shields provide unrivaled versatility which builds up your gaming edge.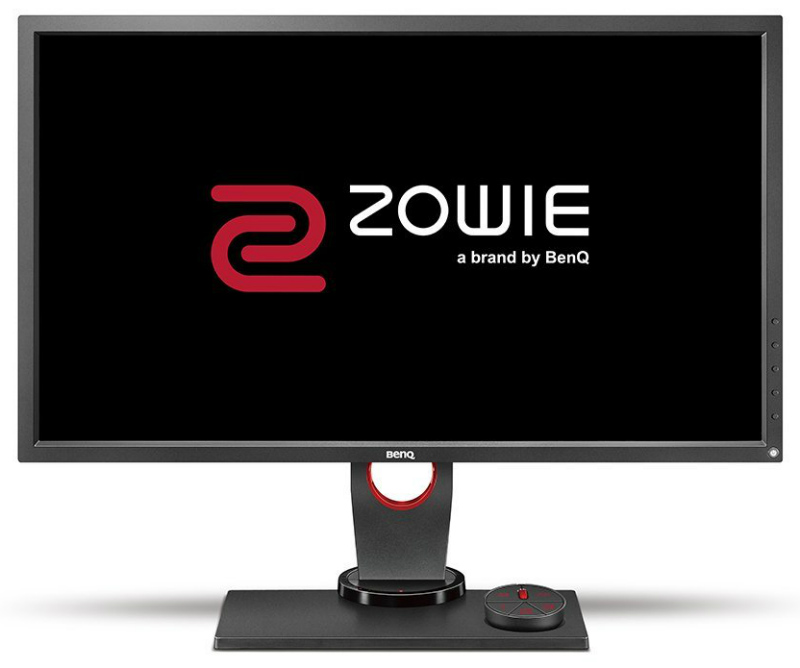 Buy Now From Amazon
The BenQ Zowie XL2730 is the quad-HD step up to the popular 24-inch XL2430. But despite the size and resolution difference, this option still provides the same sub-10ms input lag time twitch-aimers and avid first person shooter players love for accurate firing.
1440p can make your GPU break a sweat in some games, but thankfully, the BenQ Zowie XL2730 includes  AMD's Freesync technology into its rich feature set. As long as you have a compatible AMD card, your gaming sessions are secured from tears and stuttering so you can enjoy 1440p eye candy on your selected titles without any hassle.
3. BenQ SW320 – Premiere HDR Monitor for Professionals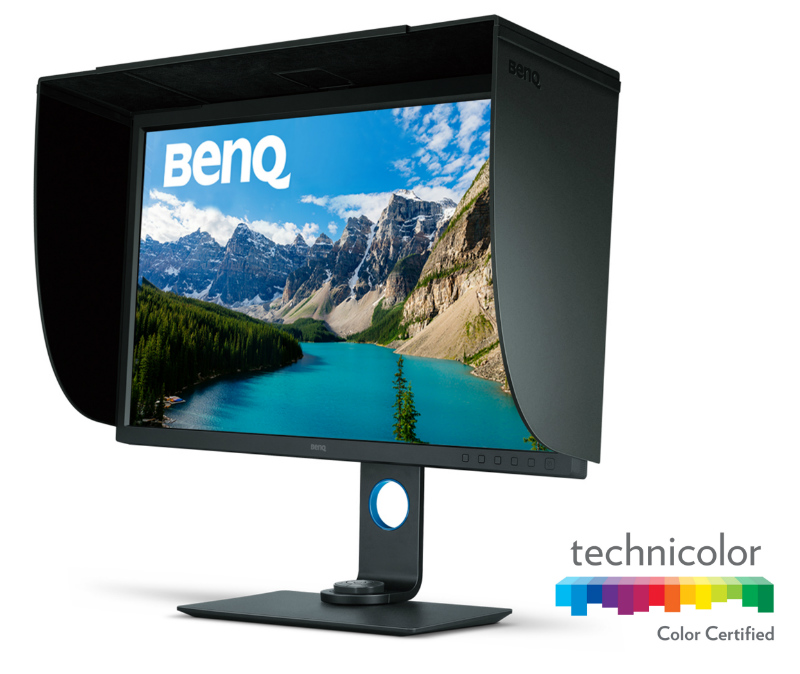 HDR is an up and coming standard for the next generation of photo and video processing since it provides unrivaled color vibrancy and contrast which enriches your media experience. The BenQ SW320 is the company's initial attempt into the world of HDR monitors while also being one of the first HDR-compatible displays the market has seen.
The BenQ SW320 complements its 4K native resolution with fantastic specs such as 99% Adobe RGB, 87% DCI-P3, and 100% sRGB gamut coverage made possible with its 10-bit interface. To guarantee its performance, BenQ also acquired certification from Technicolor, one of the agencies responsible for quality and accuracy guidelines for color performance. To top it all off, the BenQ SW320 is also calibrator-friendly with its instant compatibility with gadgets such as the Datacolor Spyder and the X-Rite DisplayPro.
4. BenQ RL2755 – Lag-Free Console Gaming Monitor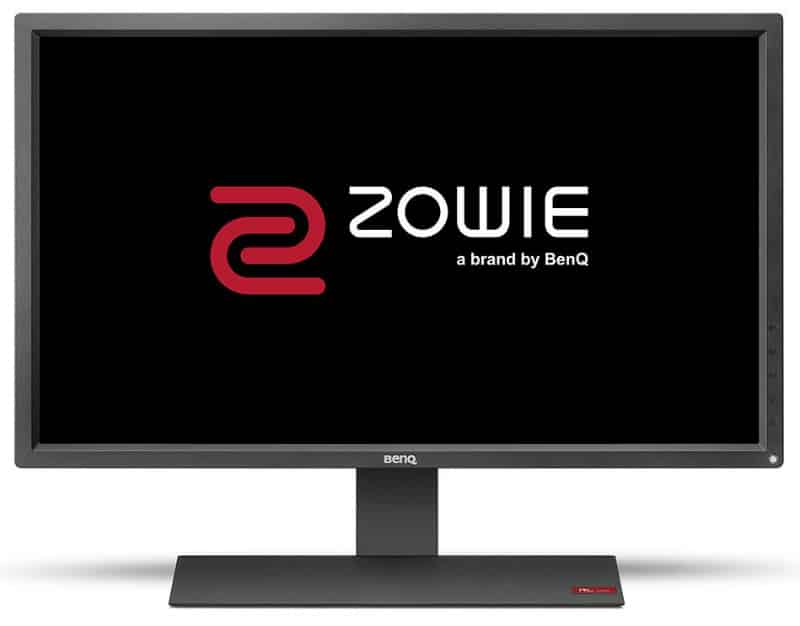 Playing games on consoles connected to LED TVs can sometimes get frustrating due to input delays which may obstruct your gaming glory especially if you play control-intensive fighting games such as Tekken and Street Fighter. The BenQ RL2755 is your solution since it displays 1080p 60Hz images with less than 10ms of input lag making it ideal even for console tournaments.
The BenQ RL2755 is also ideally sized to replace having a dedicated gaming monitor for your PC and a TV for your console especially if you have limited space. It's smart design, and rich capabilities provide excellent value for an all-in-one setup since it is affordable and intelligently designed.
5. BenQ GL2450HM – Essential Monitor for The Home and Office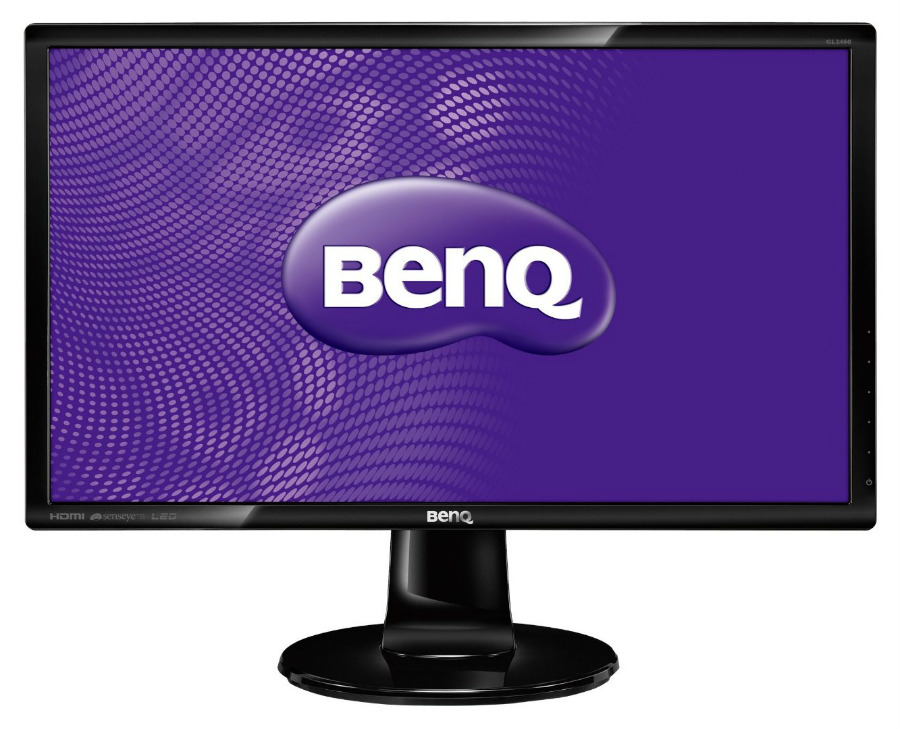 The BenQ GL2450HM is already discontinued by the brand, but the product still has enough staying power on retailer shelves, so the product still sells like hotcakes. For its low price, you get full HD at 1080p and a functional yet compact exterior. Most budget offerings come with external power bricks which are cumbersome, but this product instead includes the power supply in the thin cabinet for a mess-free setup.
The BenQ GL2450HM's color performance is satisfactory at best since its minor flaws in color and contrast are easily solved with minor tweaks on the OSD. But the best aspect we love about this monitor is its snappy response making it suitable for gaming, so you can enjoy being an after-hours warrior as soon as you come home from a hard day of work.
Thoughts
BenQ Monitors aren't perfect in every aspect, but the company does have tons of experience and expertise to create products which answer every category of need. The steps the company had to take through all those years to come out at the top tier helped the company to attain the rights consider itself a global leader in the technology market especially in the monitor segment.
It's fascinating how the company deserved to take such a huge chunk of the gaming market as well. Products like the BenQ Zowie XL2450 currently only have two other rivals: the Asus PG258Q and the AOC Agon AG251FZ. But you have to remember; these competitors use identical panels which come from AU Optronics–one of BenQ's subsidiaries.
Judging from these facts, one thing is for sure, If you do decide to get a BenQ monitor, whether, for your home, competitive gaming or professional applications, you won't be disappointed.