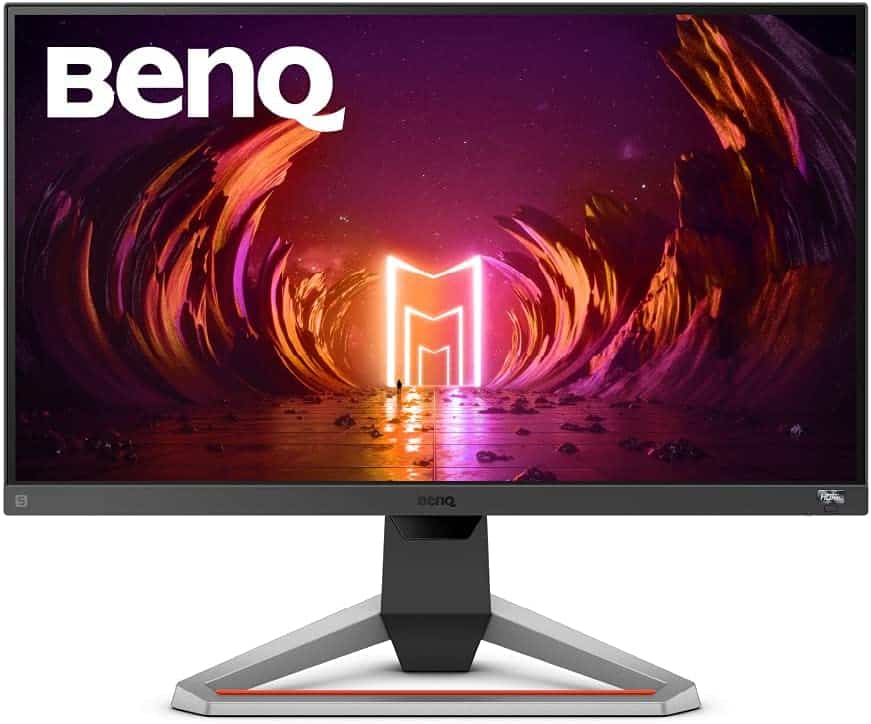 The BenQ Mobiuz EX2510S is an upscale version of what a gaming monitor for E-Sports is supposed to be in both design and performance. It has a very capable Fast IPS panel and it's designed to impress while offering the best possible quality at its price range. However, the BenQ Mobiuz EX2510S is only a minor upgrade to the BenQ Mobiuz EX2510, so we should scrutinize it to see if it's an improvement.

BenQ Mobiuz EX2510S Specifications
Screen Size: 25 Inches
Resolution:1920 x 1080 FHD
Aspect Ratio: 16:9
Panel Technology: In-Plane Switching (IPS)
Refresh Rate: 165Hz
Response Time: 1ms MPRT
Contrast Ratio: 1000:1 (Static)
Brightness: 400 cd/m²
Speakers: Yes( 2 x 2.5 Watts)
Stand: Height -Yes
Stand: Tilt – Yes
Stand: Swivel – Yes
Stand: Pivot – No
VESA Compatibility: Yes (100 x 100)
Connectivity: HDMI 2.0 x 2, DisplayPort 1.2 x 1, 3.5mm Jack x 1
Dimensions (W x H x D): 21.9" x 20.5" x 8.5"
Weight: 12.4 lbs

Design and Features
The BenQ Mobiuz EX2510S sports the same aesthetic as the previous version, but that isn't such a bad thing. The monitor has a matte black chassis that's mated to a silver stand which has a discrete red strip at the front of the base. The display is bezel-free on three sides, but you will still see minimal inner borders when it's in use.
If you are upgrading from an older BenQ monitor, you'll notice that the Mobiuz variants are visibly sleeker. Its base is bigger than what's necessary in our opinion, but it adds a nice look, and it is blank in the middle so it can hold small items or peripherals. The monitor doesn't weigh a lot and it's compact by today's standards, so setting it up shouldn't be too difficult for a single person.
We never had any bad experiences with the brand's monitors before, and the BenQ Mobiuz EX2510S isn't an exception. It uses strong plastic panels that will not flex or crack for as long as you own and use the monitor. The stand is firm and stable so it won't shake or sag on you while you are in the heat of battle.
You will also notice a notch under the monitor's logo which holds the IR sensor for its Brightness Intelligence+ function. What this does is adjust the monitor's brightness level according to your ambient lighting for eye safety purposes. It also works with the monitor's HDRi feature, but its effectiveness and usefulness will be subjective and dependent on every user's taste.
Older BenQ gaming variants like the XL2430 had remotes called S-Switches for the OSD, but they have been phased out in recent releases. However, this model already has an easy-to-use joystick that's flanked by hotkeys for your convenience. The latter's functions can be assigned according to your needs so you spend less time trying to get to commonly-used settings.
The stand included with the BenQ Mobiuz EX2510S offers tilt, swivel, and height adjustments for your convenience. It is easy to get your preferred viewing angle, although the monitor can't be used as a portrait display by default. You are going to need a VESA mount to do that, but it is mostly unnecessary for typical gaming setups.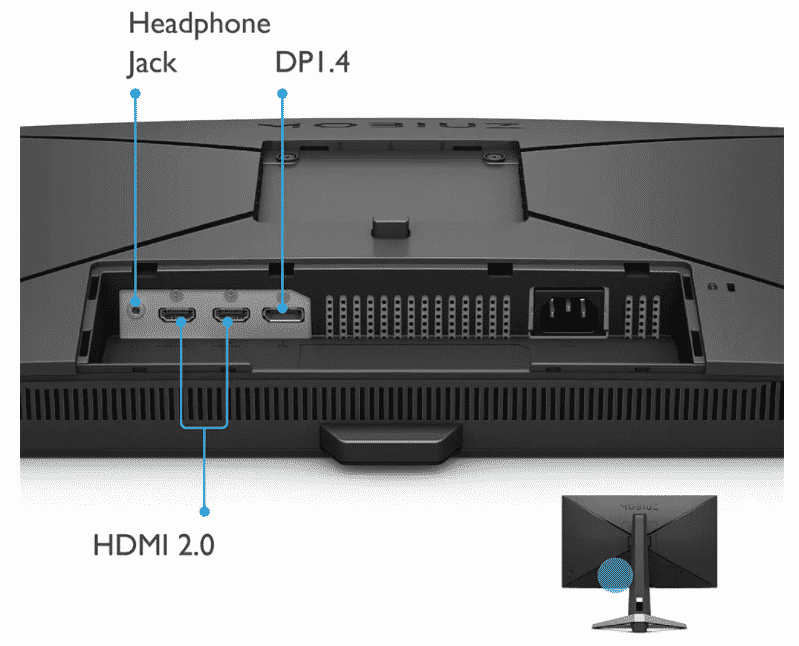 The BenQ Mobiuz EX2510S doesn't have extra connectors, but it does include the essentials for gaming purposes. The layout at the rear includes DisplayPort 1.2 and two HDMI 2.0 slots that support 120Hz Performance Mode on the next-gen consoles. You also get a 3.5mm jack for headphones, but those rarely get used since motherboard ports usually have cleaner signals.
The BenQ Mobiuz EX2510S also has a pair of built-in speakers, but they are unusable for gaming. They sound tinny and weak, plus they will distort if the volume is set high enough. This is okay since the intended users will most likely have headsets, but it is still nice to have an extra feature that you can use for basic tasks.
Display and Performance
The BenQ Mobiuz EX2510S sports a 25-inch Fast IPS panel with a 1920 x 1080 resolution, a 165Hz refresh rate, and a 1ms MPRT response time. The backlight has a 400 cd/m2 maximum while the contrast ratio is listed at 1000:1 like most IPS panels. This model doesn't advertise DisplayHDR capabilities, but it lists HDR10 compatibility along with its HDRi feature.
1080p monitors are still common since they are considered a universal standard for all things related to computing. You see them in schools, offices, and homes, plus they are even used for prestigious E-Sports events up to this day. It's easier to read walls of text on 1080p screens and it's not too demanding on GPUs so you can always get high framerates with most card tiers.
The BenQ Mobiuz EX2510S renders a little over 100% sRGB and around 75% of DCI-P3 which is more than enough for its primary purpose. Its default accuracy could use some improvements since the deltaE average is 2.65. However, that's accurate enough for daily use and gaming, so most users won't notice the discrepancies unless they have a better monitor to compare it with.
Calibrating the BenQ Mobiuz EX2510S reduced its dE average to 1.65 which isn't perfect, but excellent for a gaming monitor nonetheless. However, the improvement isn't as drastic as the numbers dictate, and most would still not notice the difference. It is not worth buying a colorimeter to tweak this monitor, so we recommend trying the OSD out so you can find a favorable setting that suits your taste.
The BenQ Mobiuz EX2510S's backlight reached 312 cd/m2 in SDR and it peaked at 409 cd/m2 when HDR is active. Its contrast ratio, however, only managed to reach 1121:1 at 60% brightness which means it cannot produce deep blacks like most IPS panels. It's a known limitation of the panel technology, and it doesn't help HDR performance unless a special backlight is used.
Panel uniformity for the BenQ Mobiuz EX2510S sample did not exhibit any issues such as backlight bleeding or clouding issues. There are some variances in the spread of the backlight, but it was only noticeable under the scrutiny of a colorimeter. Take note that this could vary between every monitor since not all IPS panels are made equal.
Its pixel response time is also impressive since blurring isn't an issue when it's running its maximum refresh rate. You only need to set its AMA or Advanced Motion Accelerator feature to its number 2 setting to reduce the persistence further. It's a fantastic pick for fast-paced games, and only 240Hz monitors are better in this regard.
The BenQ Mobiuz EX2510S is compatible with both FreeSync and G-Sync so you won't miss out on their benefits. Monitors that are dually compatible like this are must-haves since GPU stocks and pricing aren't stable for quite some time now. Input lag sits at 4ms at 165Hz, so there is no need to worry about delays while gaming competitively.
Thoughts on the BenQ Mobiuz EX2510S
The BenQ Mobiuz EX2510S is a great choice if you want a robust gaming monitor with a nice IPS panel for E-Sports. It's fast and it offers great imaging performance, although its HDRi feature isn't as effective as the upper-class models with sophisticated backlights. It is lacking a few extras when compared to older BenQ monitors, but it's well-designed with all the essentials.
The biggest downfall of the BenQ Mobiuz EX2510S is its higher price which can cost more than a hundred bucks versus best-selling monitors like the AOC 24G2. It also has a predecessor which has a slightly lower refresh rate but is expectedly discounted since the newer variant arrived. It's a great gaming monitor, but you have to catch it with discounts for it to be a practical purchase.
Pros:
Fast and Responsive
Excellent Design
Great Gaming Performance for PC and Next-Gen Consoles
FreeSync/G-Sync Compatible
Cons:
Mediocre Contrast and HDR Performance
Expensive
No Pivot
Not a Big Upgrade Versus EX2510
About the Author: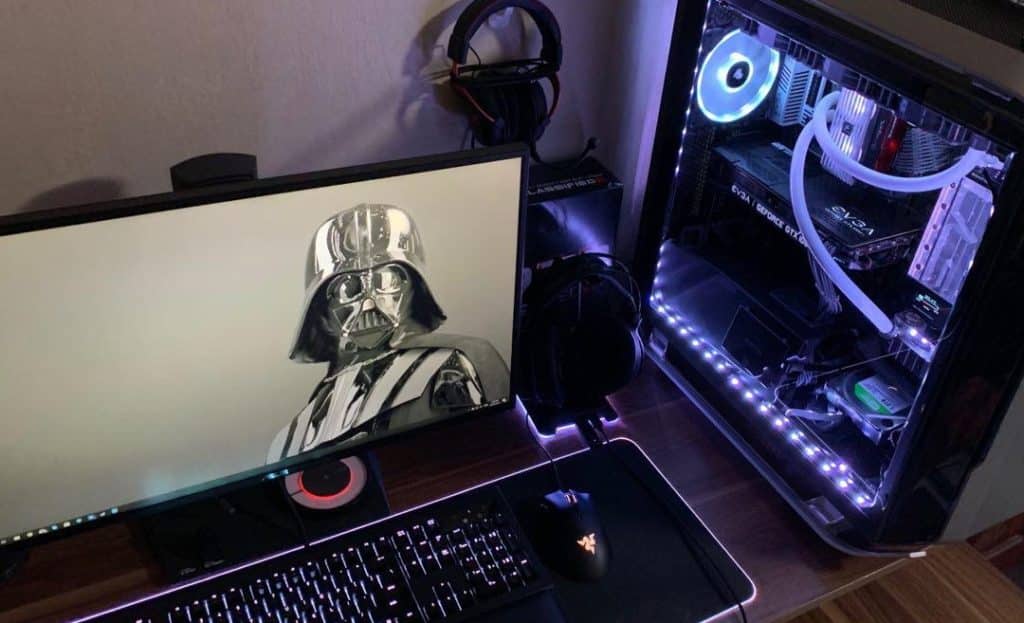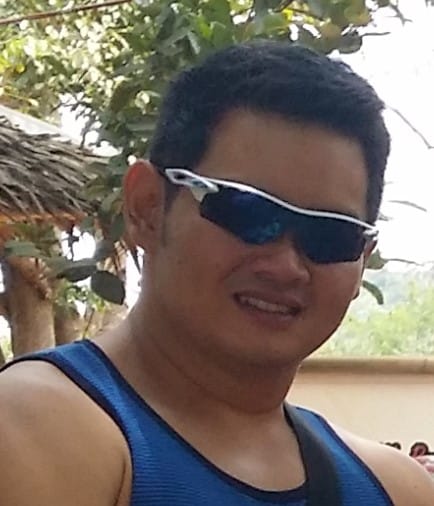 Paolo is a gaming veteran since the golden days of Doom and Warcraft and has been building gaming systems for family, friends, and colleagues since junior high. High-performance monitors are one of his fixations and he believes that it's every citizen's right to enjoy one. He has gone through several pieces of hardware in pursuit of every bit of performance gain, much to the dismay of his wallet. He now works with Monitornerds to scrutinize the latest gear to create reviews that accentuate the seldom explained aspects of a PC monitor.