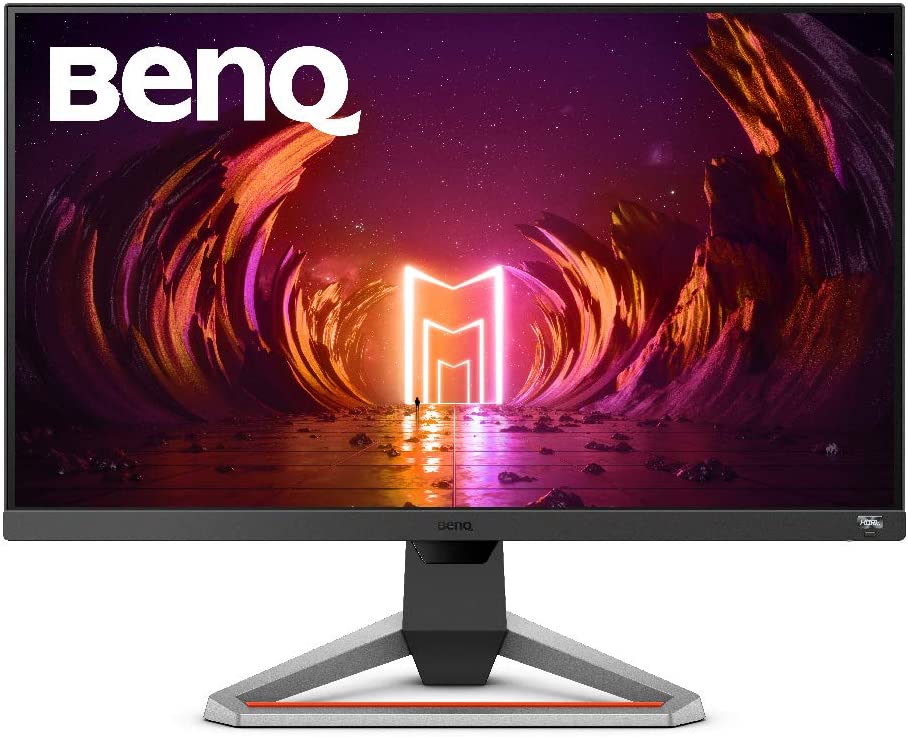 The BenQ Mobiuz EX2710 is the redesigned E-Sports monitor from the brand that now includes a Fast-IPS panel for better angles and color consistency. The company is a household name in the competitive monitor category with an established formula, but it has integrated new tech into its latest offering this time around. The BenQ Mobiuz EX2710 sits at a slightly higher price point than its competitors, so let's check out if it presents an advantage or if you are simply paying a premium tax for it.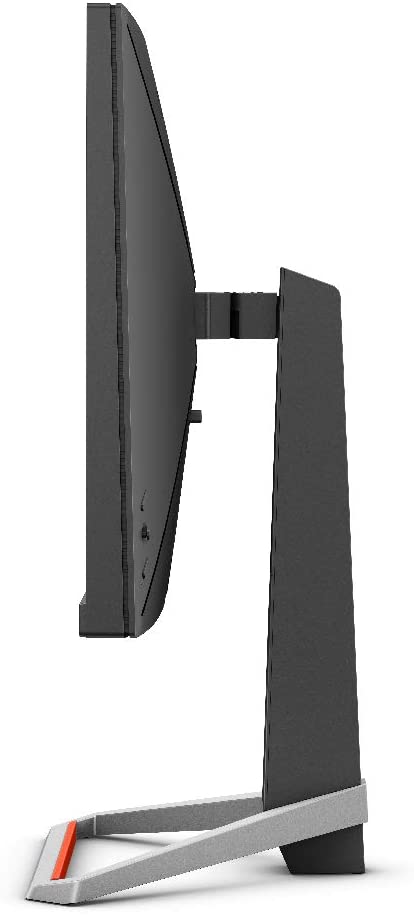 BenQ Mobiuz EX2710 Specifications
Screen Size: 27 Inches
Resolution:1920 x 1080 FHD
Aspect Ratio: 16:9
Panel Technology: In-Plane Switching (IPS)
Refresh Rate: 144Hz
Response Time: 1ms MPRT
Contrast Ratio: 1000:1 (Static)
Brightness: 400 cd/m²
Speakers: Yes( 2 x 2.5 Watts)
Stand: Height -Yes
Stand: Tilt – Yes
Stand: Swivel – Yes
Stand: Pivot – No
VESA Compatibility: Yes (100 x 100)
Connectivity: HDMI 2.0 x 2, DisplayPort 1.2 x 1, 3.5mm Jack x 1
Dimensions (W x H x D): 24.2" x 21.2" x 8.5"
Weight: 13.67 lbs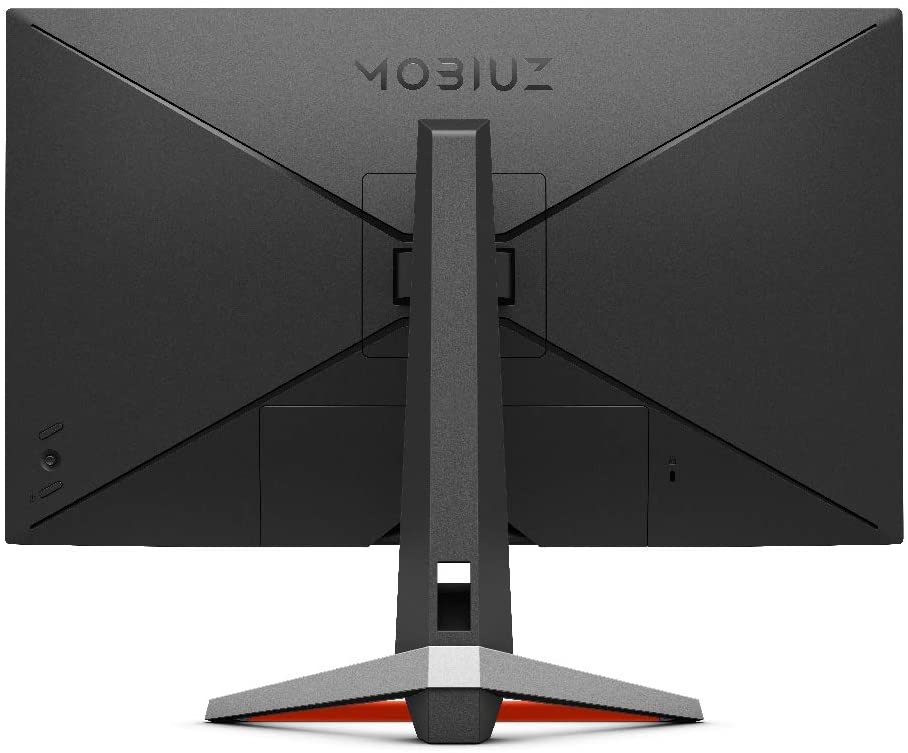 Design and Features
The BenQ Mobiuz EX2710 looks quite different from the older previous models like the XL2740 which has one of our favorite designs. This new model is dominantly finished in matte black, but its stand has a metallic base with a red inner garnish to give it some contrast. The display is bezel-free on three sides, but you will still see inner borders when the display is in use.
What's great about the changes the BenQ Mobiuz EX2710 received is it essentially became leaner than the XL variants. The device only needs 8.5 inches of depth when fully assembled and its pretty lightweight at 13.67 pounds for a 27-inch model. This is great for those with limited space or users who have several peripherals to contend with in their gaming or streaming builds.
The BenQ Mobiuz EX2710 is one of the best when it comes to build quality and you'd know that the brand did not cheapen out on any of its parts. The chassis feels durable with its thick plastics, while the stand can keep the screen upright and steady. The adjustment mechanism is smooth yet it's firm enough to hold the angle you've set until you feel the need to change it.
The BenQ Mobiuz EX2710 doesn't have any additional decorative features such as RGB lighting, but you will notice a small device at the bottom. It is actually the sensor for the monitor's Brightness Intelligence Plus technology which can automatically adjust the screen according to your ambient light. This comes in handy for those long working hours, but it's less ideal for gaming since it can change the color quality drastically while playing.
You will also find a powerful OSD joystick on the BenQ Mobiuz EX2710 which handles its functions plus a few more tricks. You can use the monitor's Extreme Control feature that allows you to map presets to an input for easy access. This can take some time, but it's the only alternative you have for adjustments on the fly since the monitor doesn't offer the S-Switch Arc remote anymore.
The stand included with the BenQ Mobiuz EX2710 offers tilt, swivel, and height adjustments so you can set your preferred angle easily. The base isn't merely decorative since it was designed to hold a controller or small peripherals. You can swap this part out with a VESA mount, but we think it's only necessary for multiple-screen setups or if you absolutely need to save the space.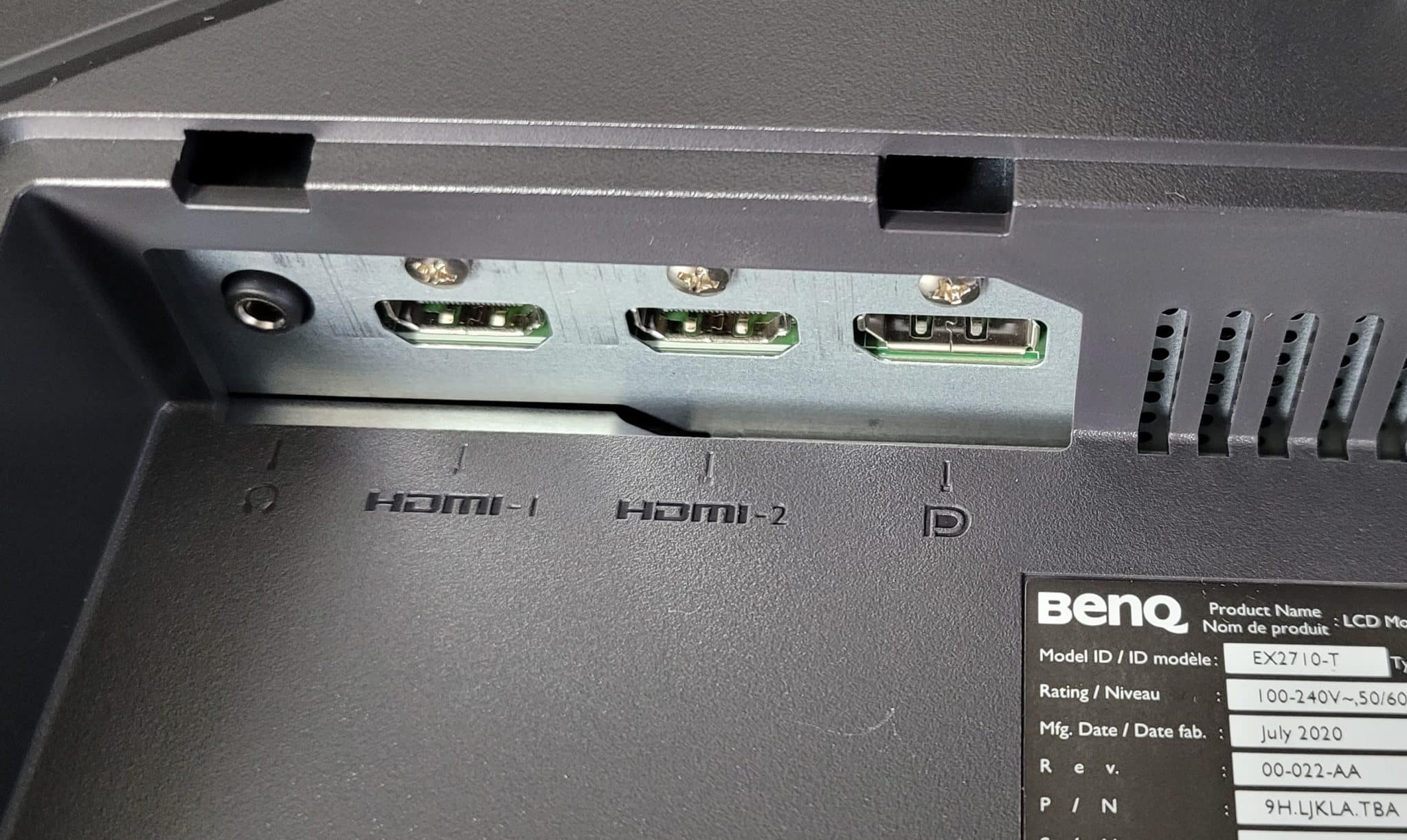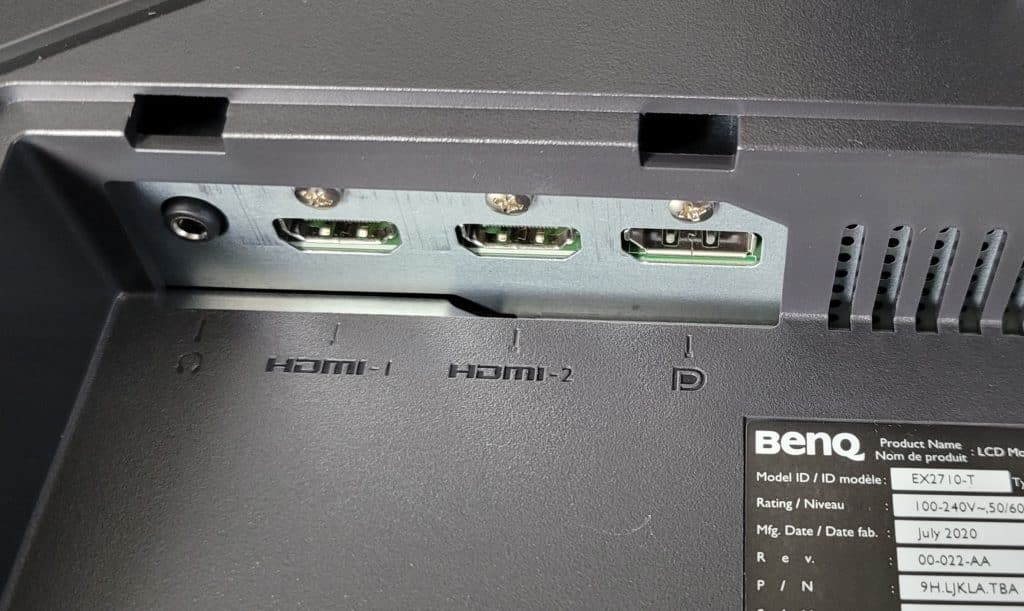 One of the aspects the brand skimped on for the BenQ Mobiuz EX2710 is its connectivity layout. It is limited to a DisplayPort 1.2 slot and two HDMI 2.0 ports, along with a 3.5mm jack for headphones. Its enough for users with a gaming PC and a console or two, but USB ports would be handy for peripherals and cable management.
The BenQ Mobiuz EX2710 includes a pair of treVolo speakers that are tuned for greater audio quality. They can get louder than your usual built-ins, and they sound better with cleaner highs along with a wider mid-range. You also get a slight hint of bass from them, but they won't be as immersive as a dedicated headset or a more powerful pair of bookshelf speakers.
Display and Performance
The BenQ Mobiuz EX2710 sports a 27-inch IPS panel with a 1920 x 1080 resolution, 144Hz refresh rate, and a 1ms boosted response time. The backlight hits 400 cd/m2 at maximum while the contrast ratio is still limited to 1000:1 like most IPS monitors. The monitor is HDR10 compatible so it can only emulate it, but it comes with BenQ's HDRi feature which is better at that job.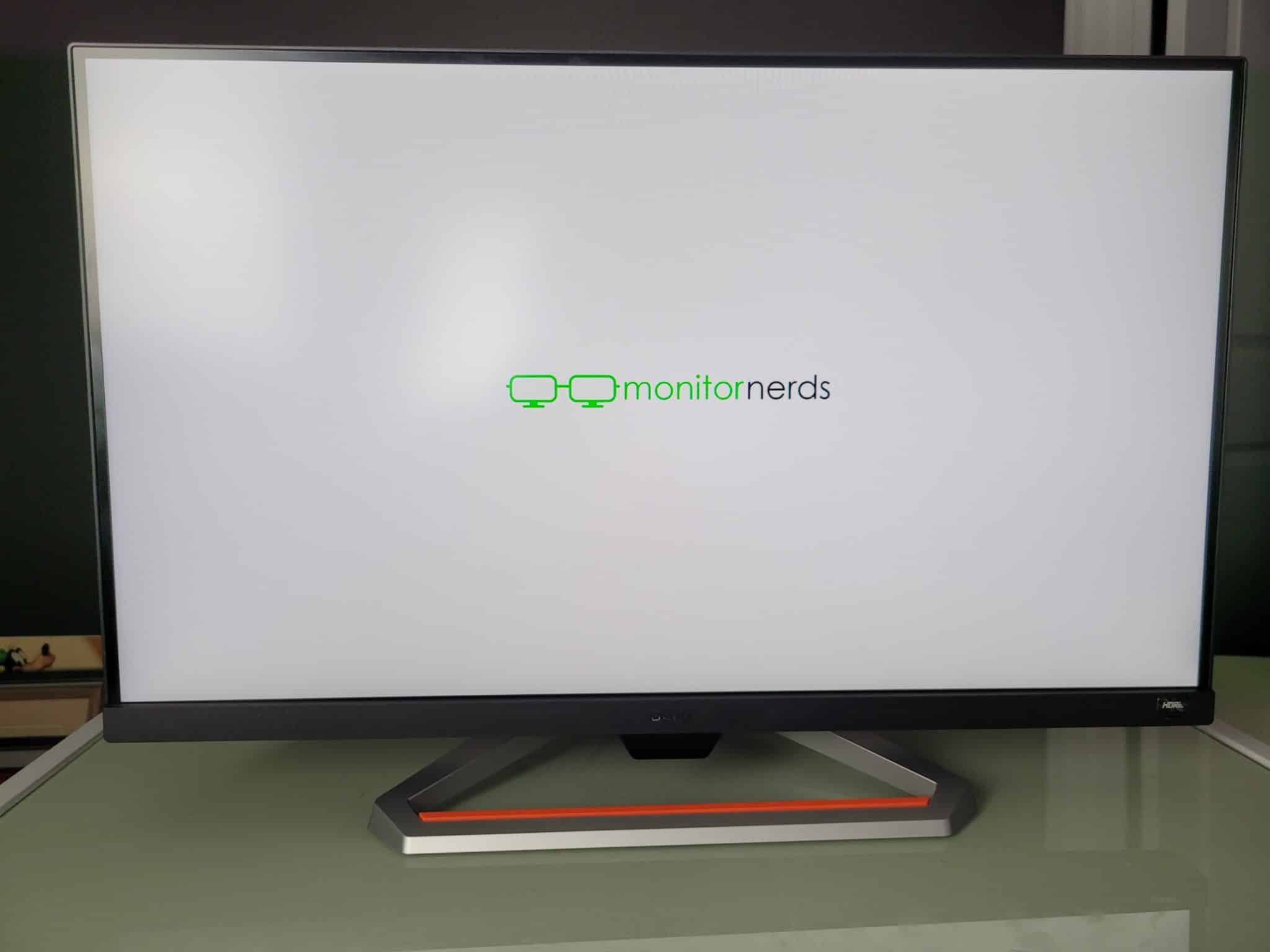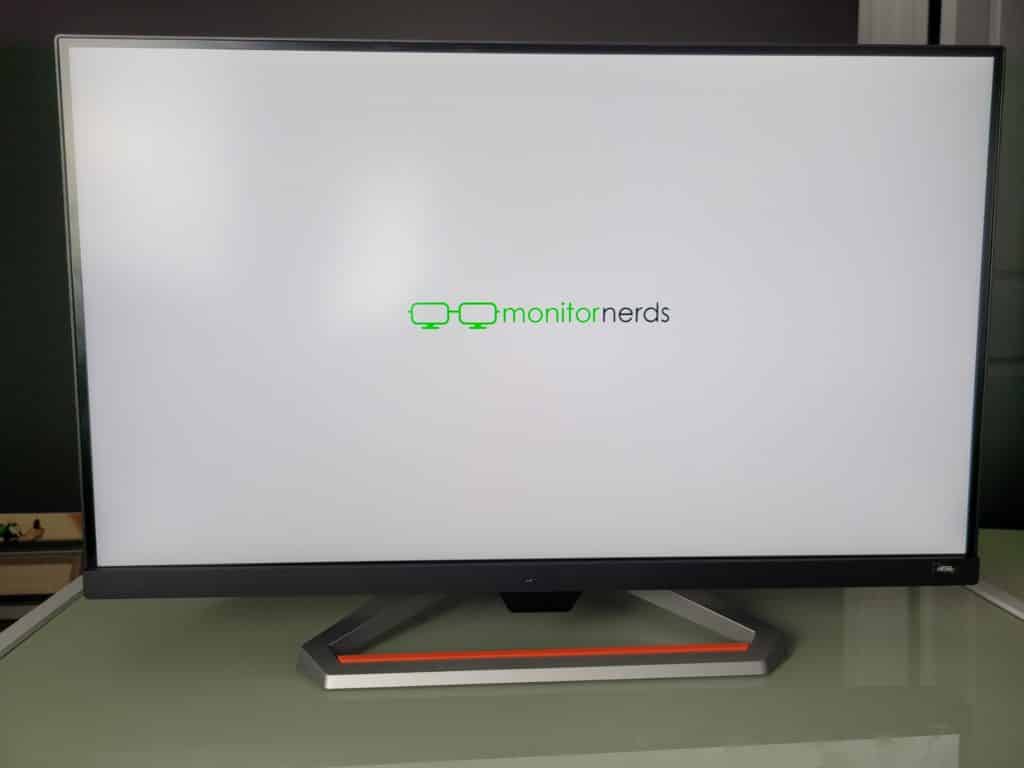 1080p in 27-inch screens isn't the most ideal nowadays since the pixel density is noticeably looser and less detailed. However, visibility is better and legibility is easier on your eyes, so you won't struggle with smaller or distant objects in both gaming and productivity. It is also easier to run most games with midrange GPUs at high framerates so it makes E-Sports-grade performance reachable at lower budget limits.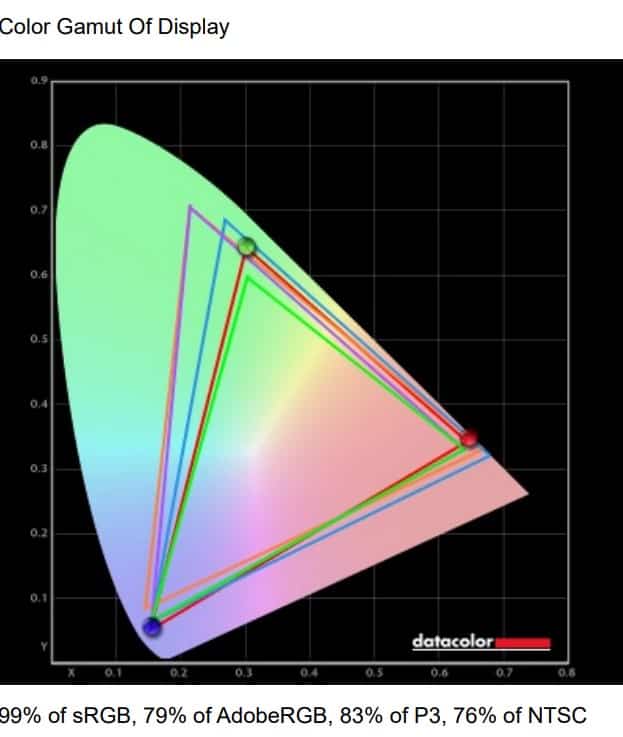 The BenQ Mobiuz EX2710 pours out 99% sRGB gamut coverage and 83% for DCI-P3 which is decent for games and general use. However, accuracy is slightly over the place with a deltaE average of 3.84 which makes deviances noticeable. Its caused by high errors in grayscale and in the gamma curve, so the monitor could use some tweaking.
Calibrating the monitor provides excellent results since a considerably better dE average of 0.9 is attainable, but you need a colorimeter to get it. It is possible to get a better picture by tweaking the settings, especially the backlight. The monitor has a lot of features as well such as its Light Tuner which can help in making colors pop according to the game you are playing and your needs.
Another limitation on the BenQ Mobiuz EX2710 is its contrast ratio which maxed out at 920:1 at 60% brightness. The backlight is limited to 298 cd/m2 but activating the monitor's HDRi feature can boost it to 395 cd/m2. However, that's not enough for true HDR performance, so we have to contend with the monitor's simulation of that feature.
Activating the BenQ Mobiuz EX2710's HDRi feature offers mixed results since the monitor isn't equipped with the hardware for true HDR. You get a slight boost in vibrancy in some scenes along with a small increase in detail, but it's not as stirring as a more capable screen like the Acer CP7271K. It's a nice to have feature along with the others like the Light Tuner and Color Vibrance add-ons since they give you more room for playing around with the image settings.
Panel uniformity on the BenQ Mobiuz EX2710 could use some improvement since the bottom part of the screen is slightly dimmer than the center. It's not as noticeable and there are no backlight leaks, but dark scenes can reveal the difference if you look close enough. Colored images and their temperature or accuracy aren't as affected, but this can vary between every unit made due to the nature of IPS technology.
Pixel responsiveness is one of the BenQ Mobiuz EX2710's strongest qualities since blurring isn't readily visible even at default. Setting the AMA to its 2 setting does a good job of reducing the persistence, but maxing it out will clear all of it at the expense of very minor overshoot which isn't noticeable at 144Hz. The monitor is great for competitive gaming and is on-par with some of the best Fast-IPS monitors we've reviewed.
The BenQ Mobiuz EX2710 is a FreeSync Premium gaming monitor, but it's not certified by Nvidia to be G-Sync compatible. You can force it via Nvidia Control Panel, but we can't guarantee that everyone will get any issues while running different cards, drivers, and games. The calculated input lag sits at 4ms at 144Hz, so there is no need to worry about delays or de-synced instances.
Thoughts on the BenQ Mobiuz EX2710
The BenQ Mobiuz EX2710 is a great fast-IPS gaming monitor that's equipped with plenty of features you can utilize you maximize your gaming experience. The monitor isn't very accurate out of the box, but a little tweaking or using a colorimeter if you have it can go a long way. We like the new design and its simplicity, but we miss the S-Switch Arc that's included on the XL variants.
However, the BenQ Mobiuz EX2710 is quite expensive compared to lesser-equipped models like the AOC 27G2 which has a better overall performance in image quality. It's nice to have the add-ons such as the HDRi mode and Brightness Intelligence Plus, but the cost is always the biggest factor for consumers. The BenQ Mobiuz EX2710 is an excellent buy if you want customizability, but you have to shell out a few extra bucks for what it offers.
Pros:
Lots of Extra Features
Fast IPS with Quick Draw Times and Pixel Response Time
Attractive and Functional Design
Low Input Lag
FreeSync Premium
Cons:
Poor Default Accuracy
Limited Contrast
Higher Price than Closest Competitors
HDR Capability is Limited
-About the Author: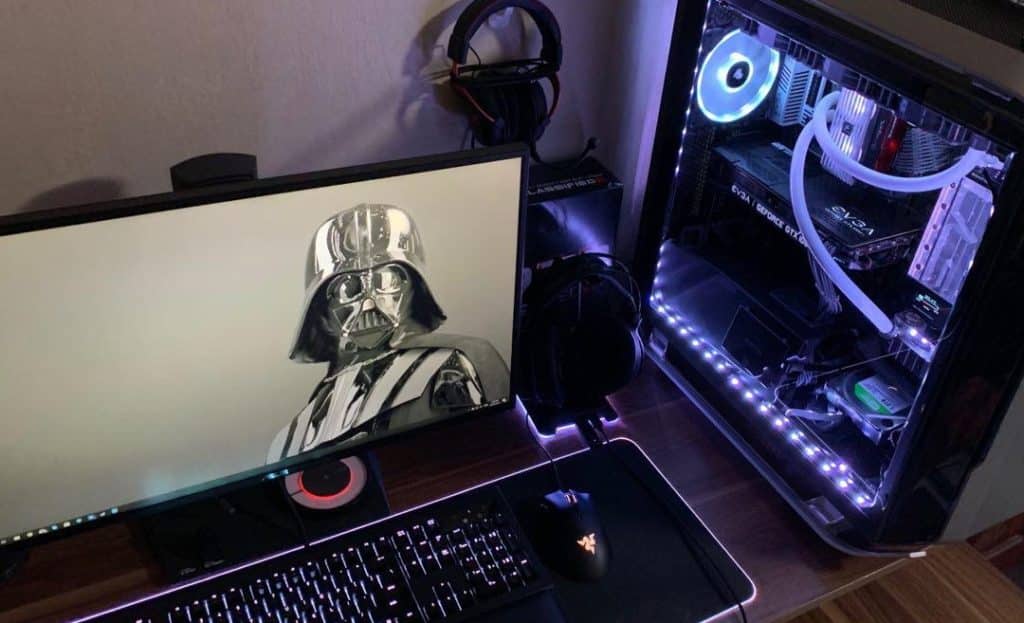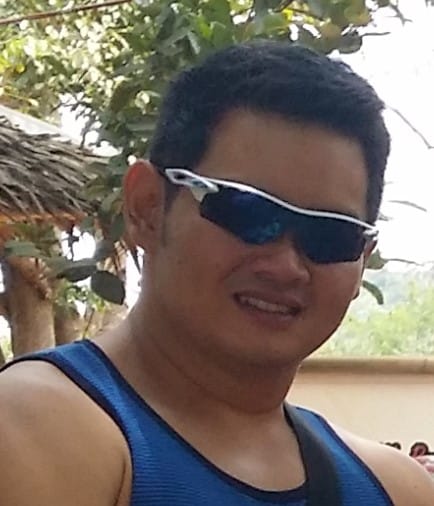 Paolo is a gaming veteran since the golden days of Doom and Warcraft and has been building gaming systems for family, friends, and colleagues since his junior high years. High-performance monitors are one of his fixations and he believes that it's every citizen's right to enjoy one. He has gone through several pieces of hardware in pursuit of every bit of performance gain, much to the dismay of his wallet. He now works with Monitornerds to scrutinize the latest gear to create reviews that accentuate the seldom explained aspects of a PC monitor.