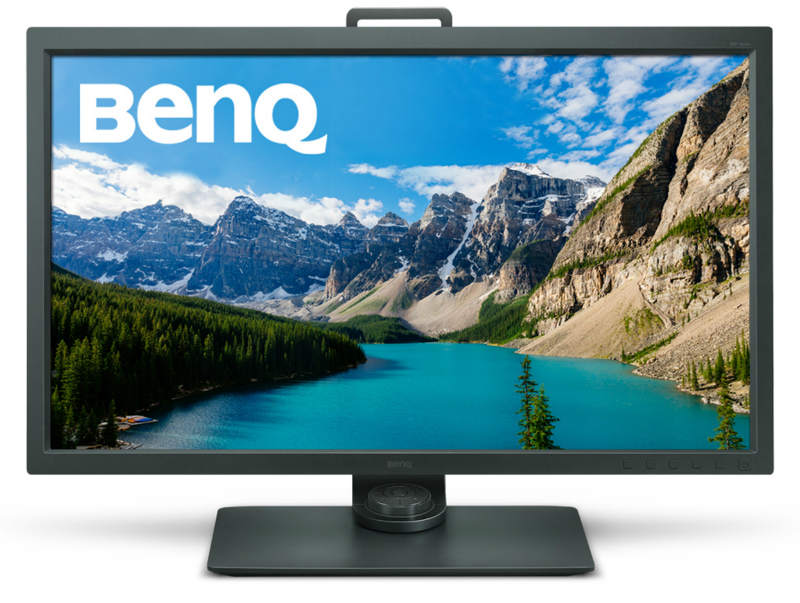 The BenQ SW320 is one of the best options you can get for photography or editing due to its comprehensive color output and hardware calibration features. The monitor was launched as an HDR-compatible monitor, but it does have a few shortcomings when compared to today's known standards. However, that doesn't stop the BenQ SW320's position as a high-grade, calibration-friendly prosumer monitor for designers and creators.

BenQ SW320 Specifications
Screen Size: 32 Inches
Resolution:4K UHD
Aspect Ratio: 16:9
Panel Technology: In-Plane Switching (IPS)
Refresh Rate: 60hz
Response Time: 5ms
Contrast Ratio: 1000:1
Brightness: 300 cd/m²
Built-in Speakers: No
Stand: Height – Yes (5.9 Inches)
Stand: Tilt – Yes (-5°/+20°)
Stand: Swivel – Yes (-45°/+45°)
Stand: Pivot – Yes (90°)
VESA Compatibility: Yes (100 x 100)
Connectivity: DisplayPort 1.4 x 1, HDMI 2.0 x 1, USB 3.0 x 3, USB 2.0 x 1, Card Reader  x 1
Dimensions with Stand(WxHxD): 29.42″ x 19.77″ x 8.8″
Weight: 44lbs

Design and Features
The BenQ SW320 looks perfectly identical to its smaller, 27-inch sibling; the BenQ SW271. The monitor comes with a matte black finish all over for a sleek, and sophisticated look. The monitor's proportions are more than decent since the cabinet is thin enough to be flush-mounted to a wall.
There are thicker than most bezels around the BenQ SW320 which we know many will dislike. The SW271 is borderless, but that design wasn't common when this model was conceived. The monitor also ships with a calibration hood which works well in deflecting unwanted glare.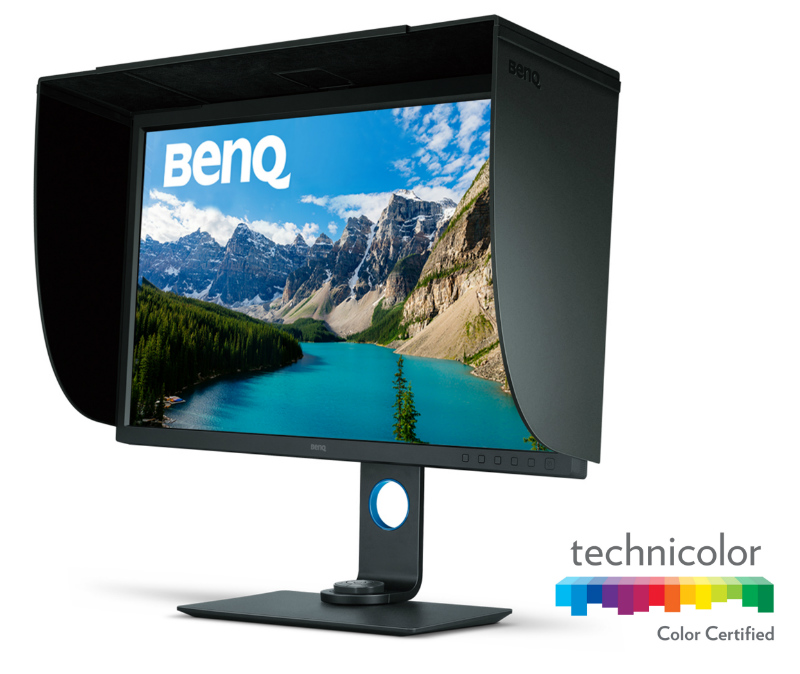 You can also remove the BenQ SW320's hood since we think it cramps up the massive screen's view area. Its orientation is also customizable, so it will work with your needs even if the display is in portrait mode.
Build quality is just as we expected from a premium BenQ monitor which most of the time passes through a meticulous QC process. The cabinet is free from uneven seams and creaking, while the device stands stable without wobbling. Its 32-lb total weight is another considerable factor, making the device feel as if it's built like a tank.
The BenQ SW320's connectivity suite is as impressive as its specifications. The monitor is one of the first few to offer DisplayPort 1.4 for video inputs, but it also comes with a mini DP 1.4 connector and an HDMI 2.0 slot for secondaries. There is also a multi-card reader on the hub at the side and a total of three USB 3.0 receptacles for accessories.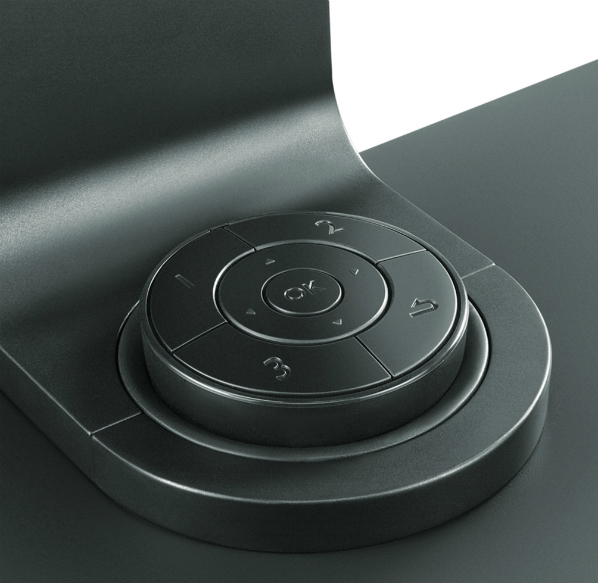 The BenQ SW320's native OSD controls use dated buttons which are snappy and responsive, but at time confusing and tiring to use. Thankfully, the full-featured display comes with a Hotkey puck which is a signature feature of the brand's flagship display products. You can easily switch between presets and navigate with this remote, so it eliminates the regular use of the mentioned buttons.
The BenQ SW320 is supported by a fully-flexible stand that tilts, swivels, pivots, and provides a height adjustment of five inches. It's also designed with a carry handle at the top of the upright and a holder for the Hotkey at the bottom to address its weight and the neatness of your setup. You can also remove this mechanism to reveal 100 x 100 VESA mounts if you prefer a monitor arm or wall mounting.
The BenQ SW320 doesn't have speakers which are fine since it isn't meant for entertainment. However, we think that BenQ could have squeezed in a pair considering the price, plus, we know its nice to listen to some music while working.
Display and Performance
The BenQ SW320 boasts a 32-inch IPS panel with a 3840 x 2160 resolution, 60Hz refresh rate, and 5ms response time. The display is supported by a 350cd/m2 backlight and is rated to have a 1000:1 contrast ratio which is typical for modern IPS screens. These specs are common, but they fall short of today's high-end HDR standards which have at least a 600cd/m2 backlight.
4K is much friendlier on the eyes in this size since scaling isn't required for text and smaller objects. The crispness and sharpness are still there, so the form factor isn't detrimental to the monitor's selling points. Lines are still clean and straight, but the best thing is you don't have to squint.
BenQ SW320 Video
The BenQ SW320 provides excellent color output thanks to its high-end IPS panel and the brand's superb factory tuning. The monitor covers 99% of sRGB and 98% of Adobe RGB easily, with DeltaE scores of 1.70 and 1.40 respectively. You can squeeze these scores down to DE .5 if you have access to a colorimeter that is compatible with BenQ's Palette Master app.
Gamma tracks perfectly at 2.2 for all modes including post calibration, but contrast dips to 720:1 in sRGB and goes up to 920:1 in Adobe RGB mode. Calibrating tops it out at 930:1 which is decent for an IPS panel, but it does make blacks slightly grayish in dark rooms.
It's also difficult to get the ideal 6500K with this monitor especially if you prefer to use other calibration platforms like DisplayCAL. We recommend setting the target temp lower in case your calibration faces issues like this.
Panel uniformity isn't one of the BenQ SW320's strongest points since of its IPS module. The review unit suffered from slight tints on the corners along with a faint backlight bleed. It's difficult to notice these flaws, but trained professionals might dislike it enough to send the monitor in for replacement.
The BenQ SW320's HDR mode is also a limited add-on compared to the brand's other HDR-compatible offerings.  What this does is it sets the display to maximum brightness once it receives HDR10 signals and tries to translate it to an SDR output. There is a perceived improvement in the image's range, but it isn't sufficient to be treated as one of the selling points of the display.
The BenQ SW320 doesn't have any gaming features since its solely purposed for professional endeavors. The monitor doesn't have Adaptive Sync features or filters, so you won't be able to rely on G-Sync or FreeSync to keep frames smooth. Although we're glad that the IPS panel's pixel response time was fast enough to provide good motion handling, keeping blurring and smudging minimal at best.
The display's input lag of only 9.5 ms makes it a decent choice if you are in the market for a editing display with casual gaming on the side. The monitor doesn't feel laggy or delayed even when playing games like Apex Legends or Bioware's Anthem. The biggest limitations here are the lack of Adaptive Sync and the 60Hz refresh rate, but its not a fault of the product.
Thoughts on the BenQ SW320
The BenQ SW320 is an excellent 4K IPS monitor professionals if you know your way around its hardware calibration features. The display has a few fixable flaws, but its post-calibration state is one of the best we have seen. If you do get a unit with uniformity issues, we recommend giving the monitor a chance and have it replaced with another with hopefully, less or no imaging issues.
The BenQ SW320 isn't suitable for gaming, but its responsive enough for casual play, including on consoles like the Xbox One X. However, we don't recommend buying this grand and a half display for that kind of use, wasting its true potential. The BenQ SW320 is an excellent prosumer monitor if you regularly calibrate your work screen to get the best color accuracy and quality.