Review of BenQ XR3501
The BenQ XR3501 might be one of the best curved gaming monitors. It is a 144 hertz 35 inches of glory. Whoever says size doesn't matter clearly never had a gaming monitor like this. This ultra-wide curved monitor is one of the most curved monitors on the market right now with a 2000R rating. What's 2000R you may be asking? It's essentially the theoretical radius of the circle if you had enough monitors to form a circle. The panel is an AMVA (VA) panel with a 144-hertz refresh rate. The monitor come pre-assembled and packed in on of the biggest monitor box we've ever seen. It's also one of the heaviest monitors we've tested but the stand can easily support its weight. The thick metal legs prevent almost all wobbling even on a good cheap gaming monitor like this. One downside is that you can only tilt the monitor there's no swivel, height adjust or rotation here. But if you ever think about it why would you ever want to rotate a curved screen.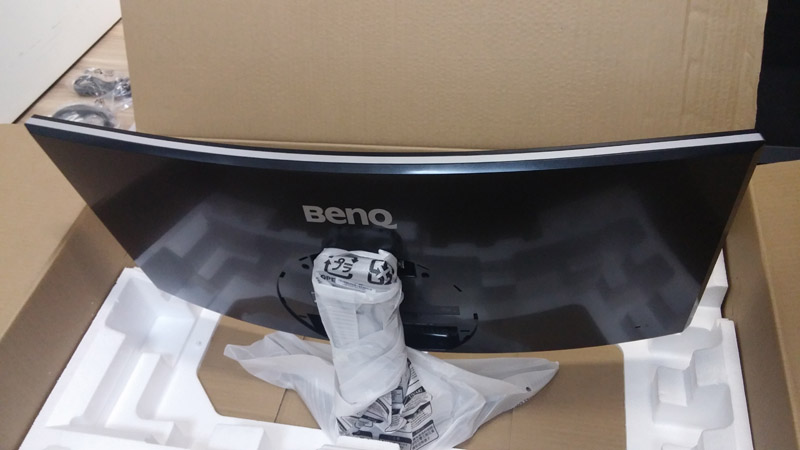 On the back, you'll find two HDMI ports, one display port, one mini display port, a headphone jack and one thing we rarely see in monitors an audio passed through. We found them kind of hard to use since there 's not really much room to actually fit an entire cable connector inside. Our display port and HDMI cables all had trouble fitting inside without a pretty sharp kink. BenQ also includes a cover that snaps on top to hide all the connectors like other hi-end BenQ monitors they include a cable for each port on the monitor.


Back to that great panel I mentioned before. This AMVA panel has 4 milliseconds gray-to-gray response time which is pretty respectful even for hardcore gamers. We ran it through a calibrator and it came out with a hundred percent sRGB accurate display even before calibration the monitor actually managed to hit a 98% accuracy rating rate out of the box. BenQ also includes all the regular gaming features in this monitor such as black equalizer, color vibrancy enhancer, and low blue light mode. But there is one downside to this monitor, the resolution. Unfortunately, it's only 2560×1080. If you are buying this monitor for work or productivity then look elsewhere, the pixel density is just too small to be useful compared to the 3440×1440 panels on similar sized monitors. After all, you can find 25-inch ultra wide monitors with the same 2560×1080 resolution.


But for gaming and movies this thing is among some of the best-curved gaming monitors on the market. It is great for movies because there's no difference in quality between 1440p and 1080p panels when watching a movie but in games yes the resolution is too small for this size. There's a simple solution here, super sampling. We tested it out with the 10x and had our games running at 3620×1527 already higher than 1440p. You can even go all the way to 5120 x2160 if your heart so desires. Yes, your frame rate will take a big hit but there is one important thing to remember you can use both supersampling and a 144 hertz at the same time. That is, of course, not as good as a true high-resolution panel, but it gets closer to it. We ran a bunch of different games, and we could barely tell the difference most of the time. Once you add in fast-paced action you'll be so mesmerized by the high refresh rate goodness that you don't notice the pixel density. Overall the BenQ XR3501 is a fantastic curved 144hz monitor. Yes, it is still expensive, but that's the price you pay for quality. Yes, it has its flaws too, but it's also a sign of what's to come from monitor manufacturers shortly. More and more companies are focusing on wide screens monitors and high refresh rate.
Note: The BenQ XL2420G has been discontinued by the company but will soon be replaced with a new and improved model. Stay tuned!