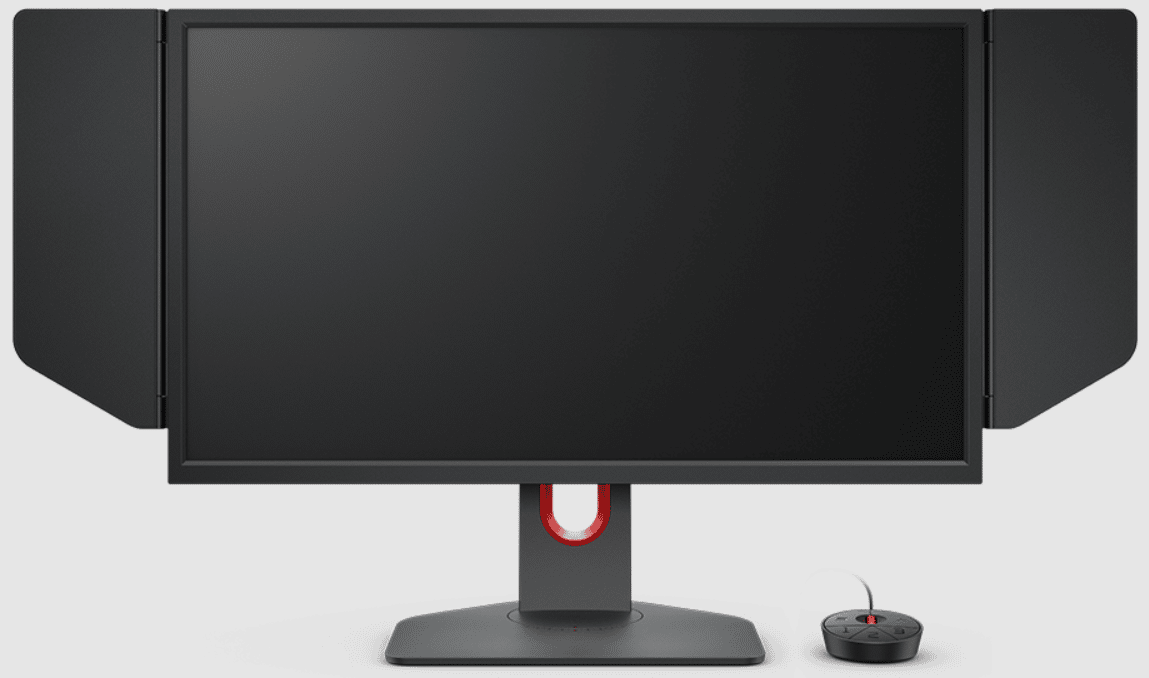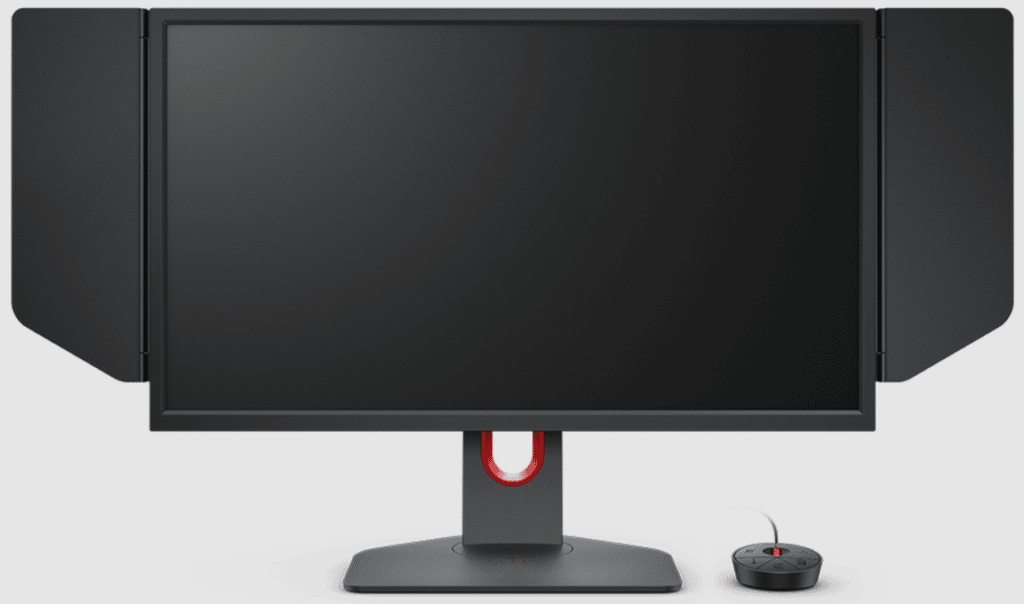 The BenQ Zowie XL2566K prioritizes smoothness and clarity over anything else the brand's flagship competitive gaming monitor. It might be strange now, but this model uses a TN panel instead of the currently more popular Fast-IPS modules, giving it an advantage in pixel response time. Let's check if the BenQ Zowie XL2566K is the speed king that should be on your shopping list if you are serious about E-Sports.

BenQ Zowie XL2566K Specifications
Screen Size: 25 Inches
Resolution: 1920 x 1080 Full HD
Aspect Ratio: 16:9
Panel Technology: Twisted Nematic (TN)
Refresh Rate: 360Hz
Response Time: 0.5ms
Contrast Ratio: 1000:1 (Static)
Brightness: 320 cd/m2
Built-in Speakers: No
Stand: Height – Yes
Stand: Tilt – Yes
Stand: Swivel – Yes
Stand: Pivot – Yes
VESA Compatibility: Yes (100 x 100)
Connectivity: DisplayPort 1.4 x 1, HDMI 2.0 x 2, 3.5mm Jack x 1
Dimensions with Stand(WxHxD): 22.48" x20.51" x 7.87"
Weight: 13.67 lbs

Design and Features
The BenQ Zowie XL2566K sports a simpler aesthetic than its Mobiuz siblings, so some can consider it less distracting. The monitor has an all-black finish so it looks cleaner, but it still has a few red accents because of the Zowie branding. The display isn't bezel-free like all the Zowie monitors, but it's noticeably thinner on this model versus the older ones.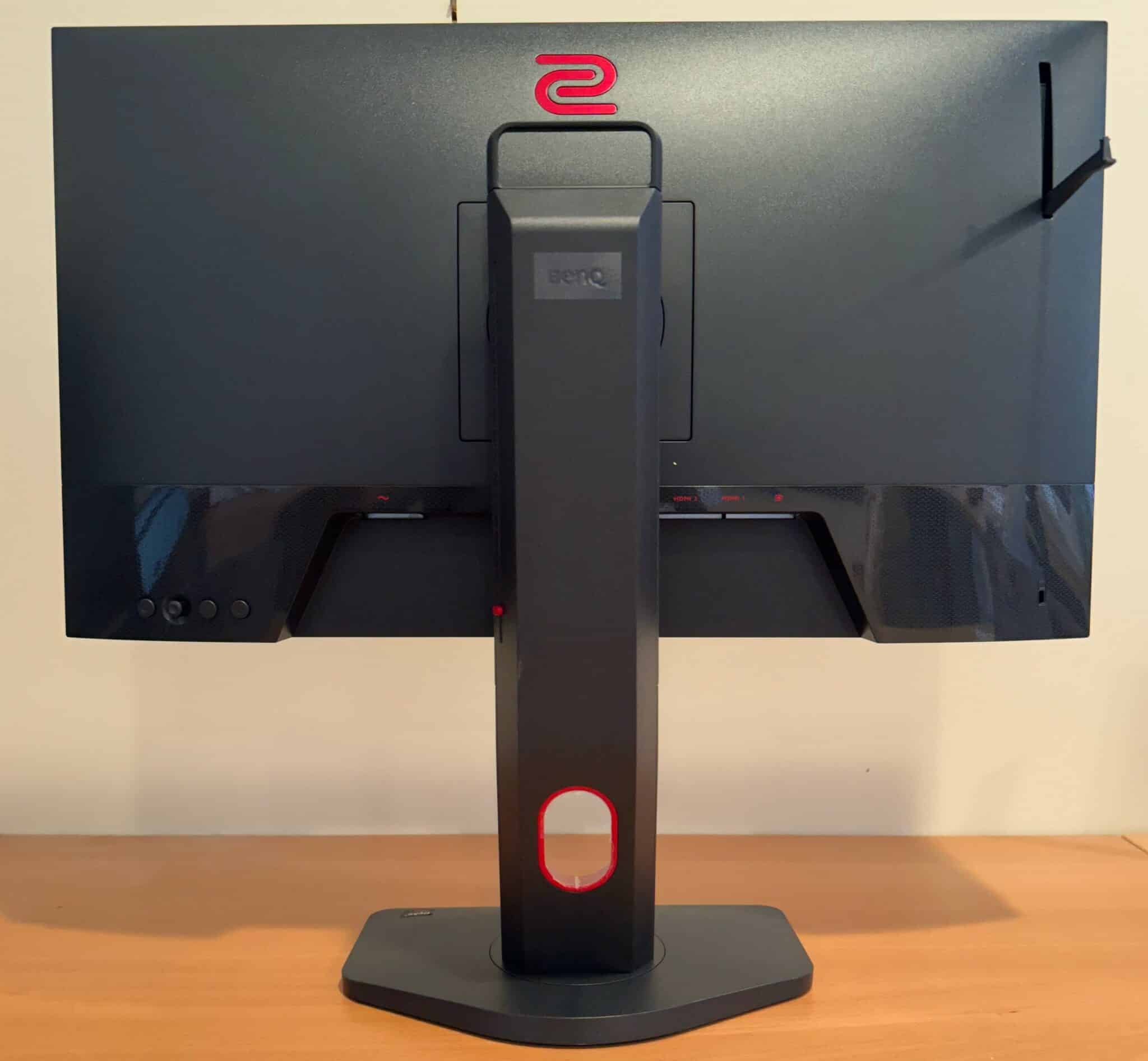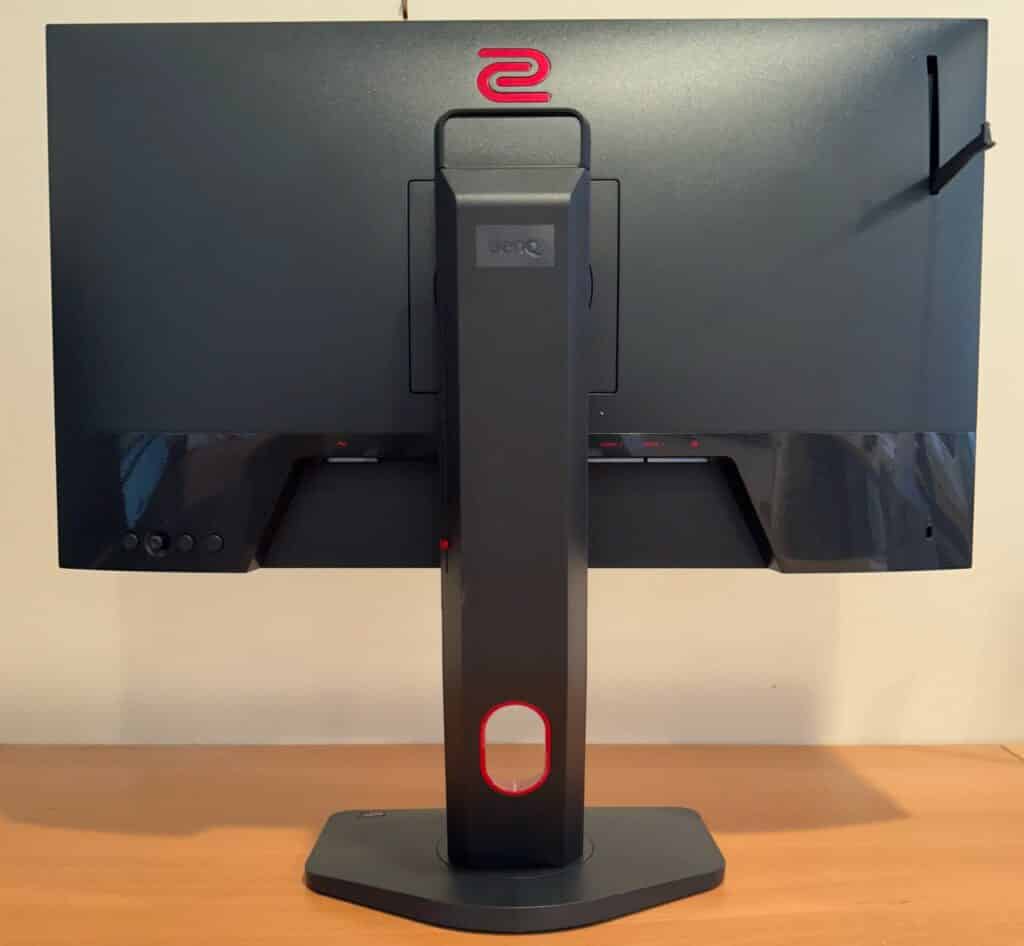 It is sized just like any other monitor you'll encounter at work or in school, so placement shouldn't be an issue even if you have a smaller desk. It only needs 7.87 inches of depth, unlike its predecessors which used larger bases. It's lightweight for its size, so you can easily take it with you to tournaments and LAN parties.
Its build quality is just as good even if this latest model is one of the lightest in the brand's entire lineup. The plastic panels are thick and sturdy to prevent flexing or cracking, plus there were no cosmetic defects anywhere. The included stand is firm and stable so the screen won't sag or wobble during crucial moments in your game.
The BenQ Zowie XL2566K has an OSD joystick at the back, but what's great about it is its S Switch puck. It's basically a remote that lets you adjust some settings on the fly like switching between profiles, so you spend less time tweaking it. It is not wireless, but it's a minor inconvenience, but it is worth it since it's very convenient and intuitive to use, especially while you are already gaming.
The stand included with the BenQ Zowie XL2566K offers tilt, swivel, pivot, and height adjustments for your comfort and convenience. It's easy to get a good viewing angle that's crucial for focus and a TN panel that color-shifts at the slightest movement. You can use VESA mounts, but that only becomes necessary in select instances, such as when you have multiple screens.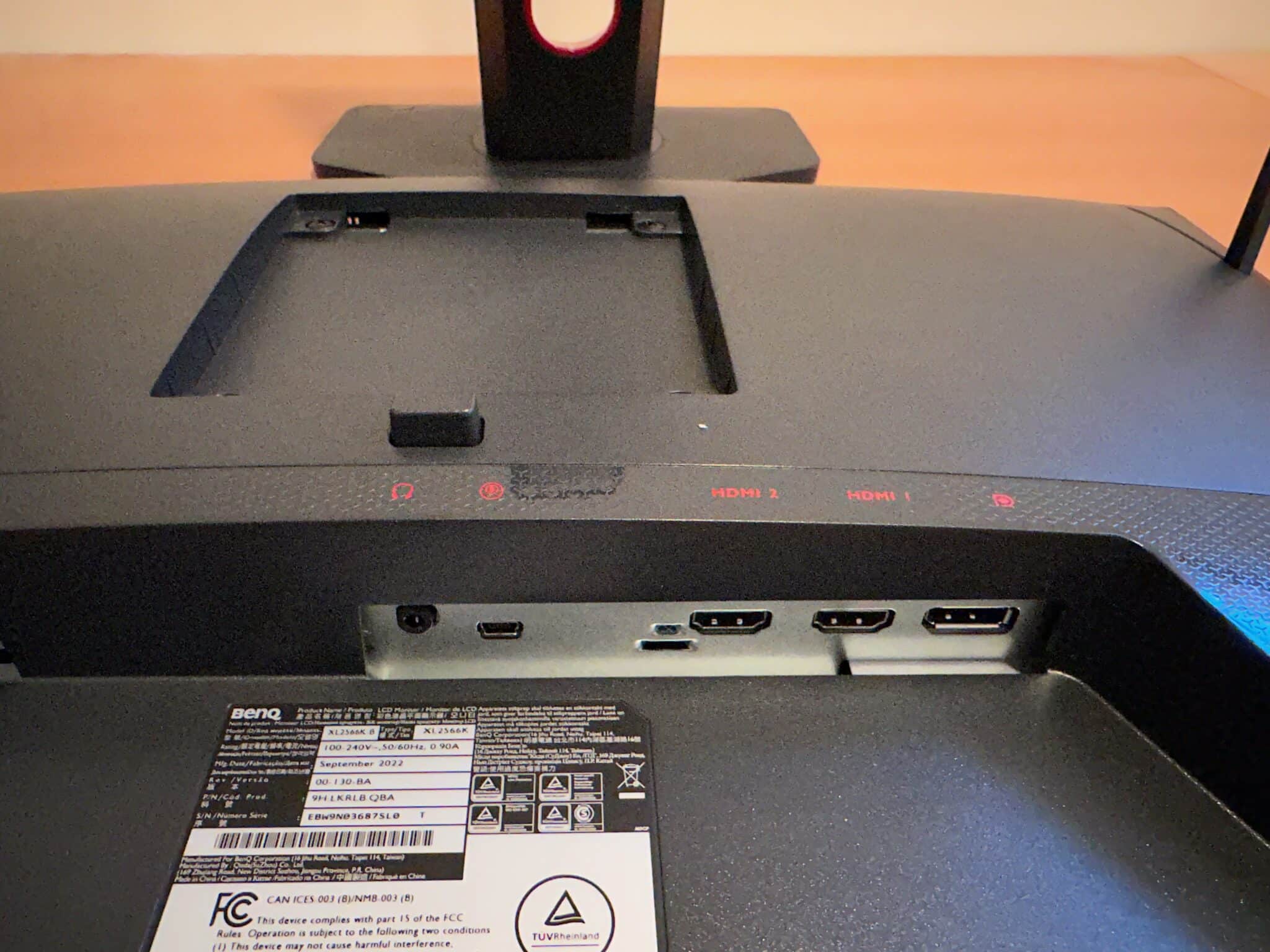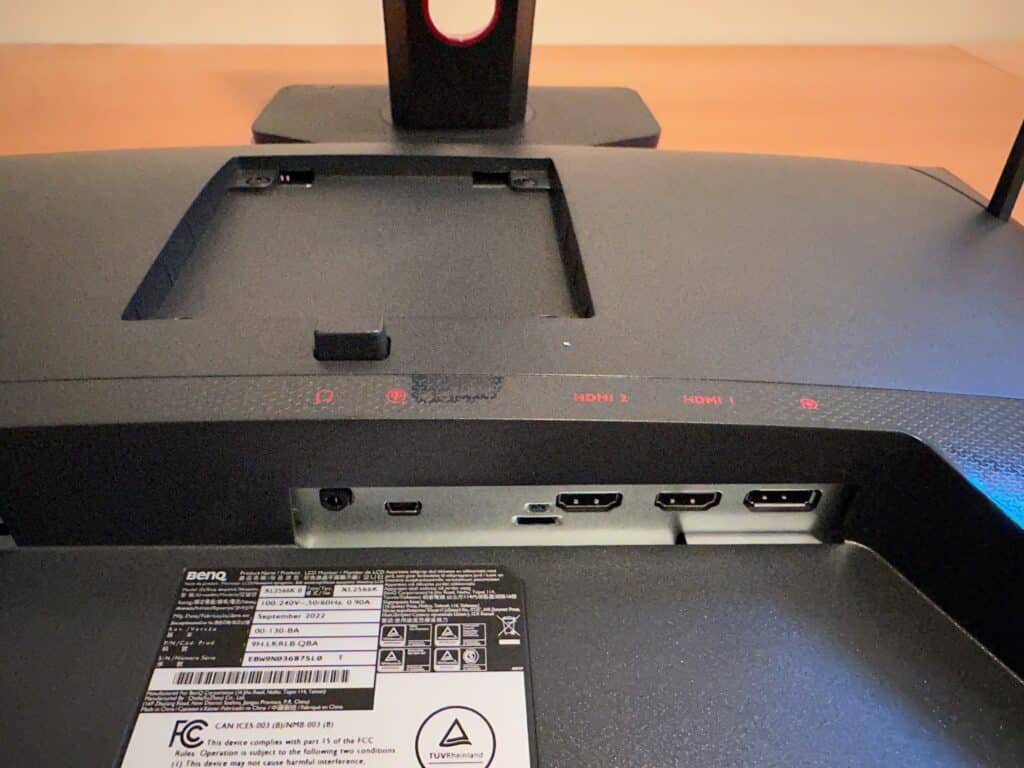 Its connectivity layout only includes DisplayPort 1.4 and two HDMI 2.0 slots, along with a 3.5mm jack for headphones. The 360Hz refresh is only available on the DP slot, but the good news is both the HDMI slots will support 120Hz modes on the PS5 and Xbox Series X. it also doesn't have USB ports, but that's acceptable in most cases.
It also doesn't have speakers, but that's understandable since headsets will be a better match for this monitor. They are great if you want to drown out the background noise and focus or if you want to enjoy a game's well-made score and soundtrack. Built-ins should be included in the price without a doubt, but they won't get too much use anyway.
Display and Performance
The BenQ Zowie XL2566K sports a 24.5-inch TN panel with a 1920 x 1080 resolution, a 360Hz maximum refresh rate, and a 0.5ms minimum response time. The backlight has a 320 cd/m2 typical output and a 1000 cd/m2 contrast ratio. This monitor drops special features in favor of fast response times and technologies like DyAc to support it.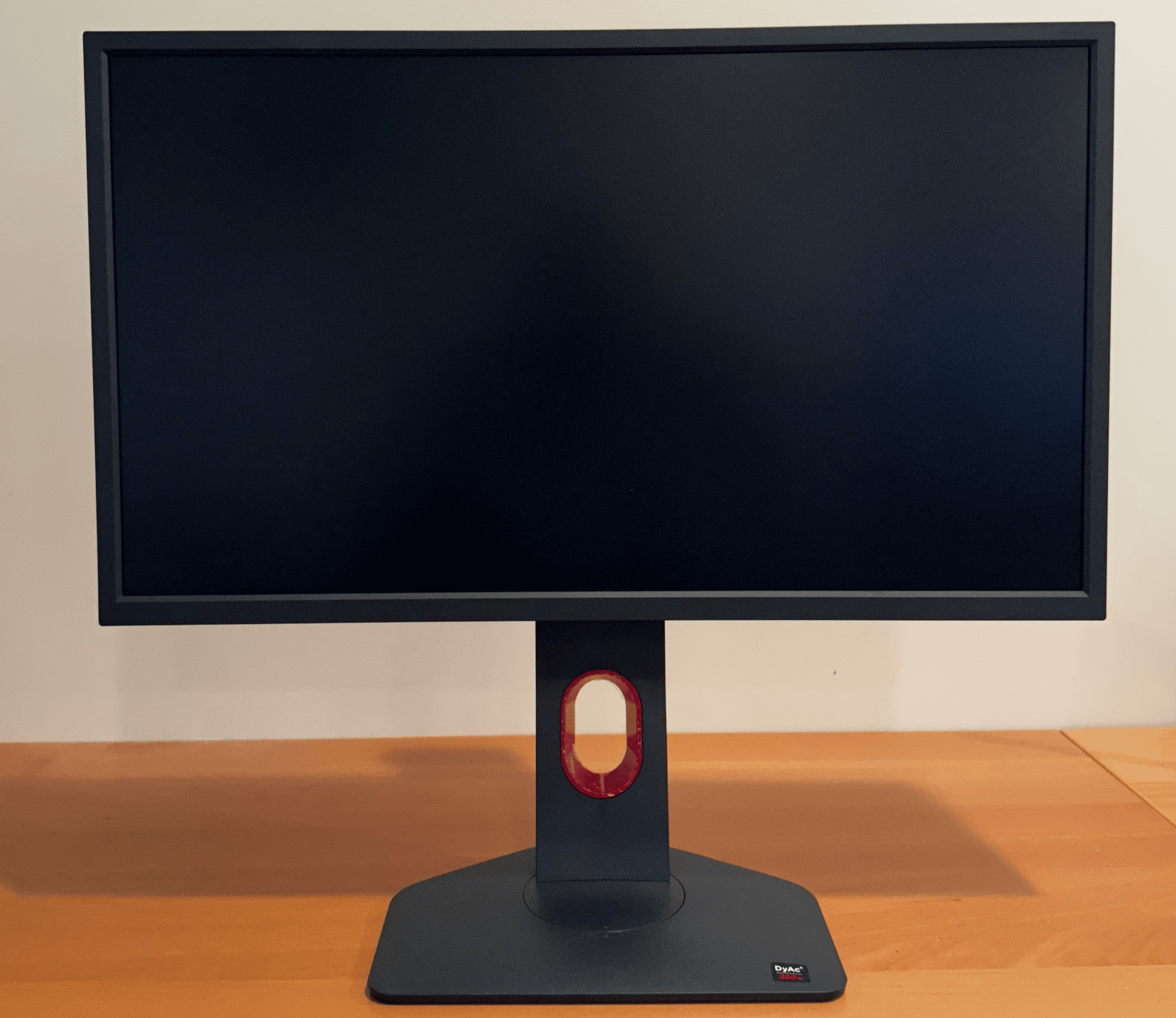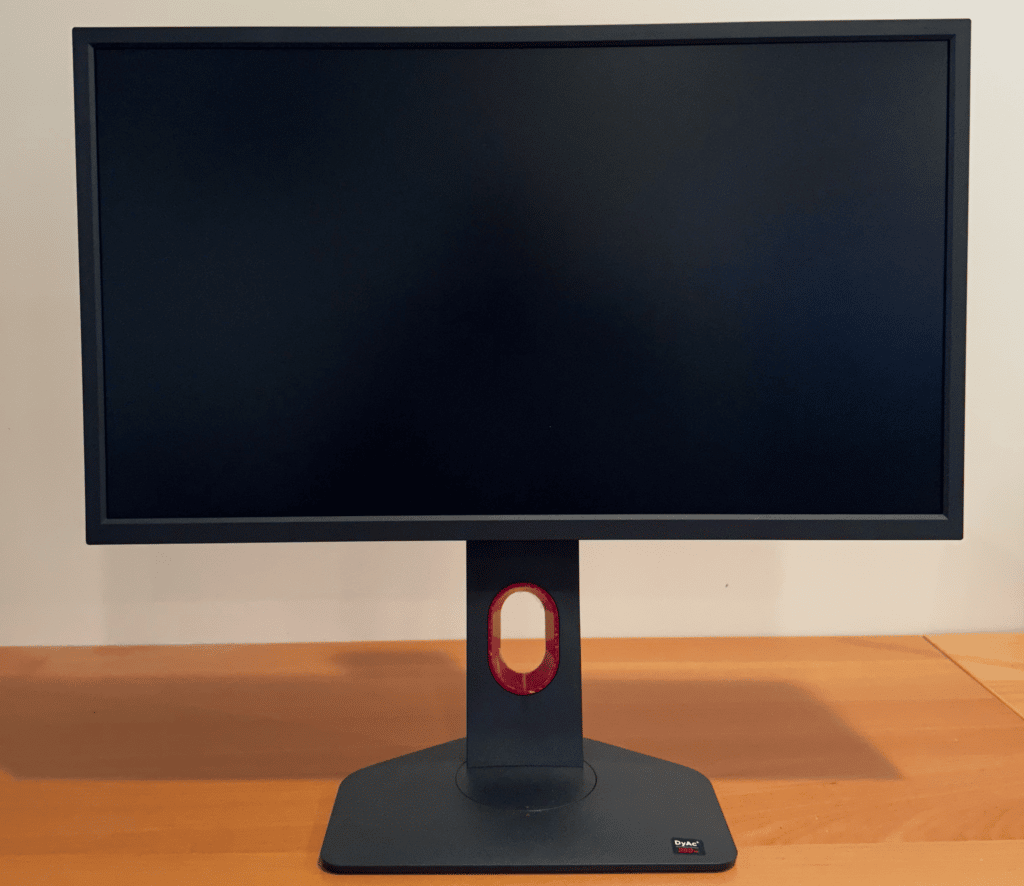 1080p monitors of this size are popular because the category is still the universal format for E-Sports and the professional organizations behind it. It is easy on the eyes as well, so it's more comfortable to use for reading and document processing. But the absolute sweet spot about it is its reasonable GPU requirements, although you will need a potent CPU and GPU combination to get to 360Hz.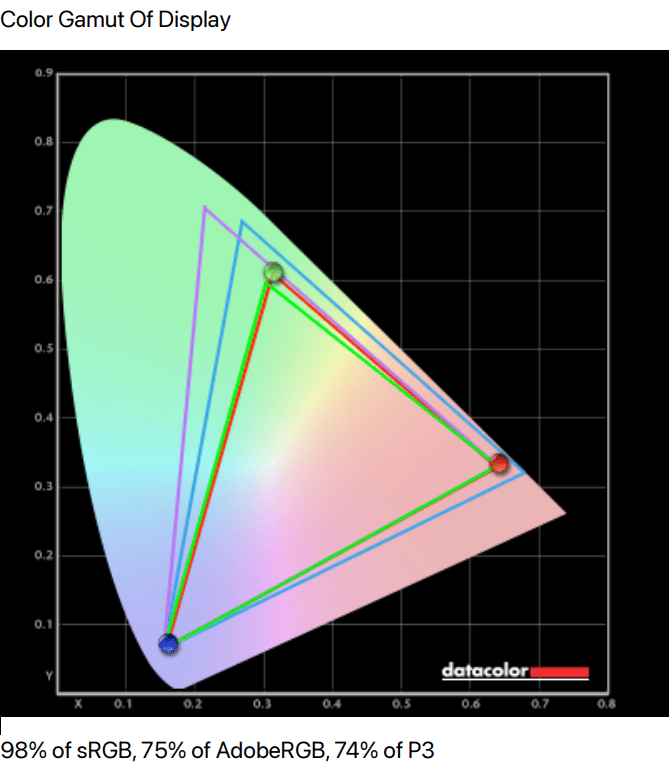 The BenQ Zowie XL2566K renders 98% of sRGB and 74% DCI-P3 which is excellent for a TN panel, but weak compared to IPS and VA models. It has a decent deltaE average of 2.13, so most users can make do without calibration. The color looks whiter or washed out, but BenQ said that they tuned it that way to improve visibility in competitive games like CSGO and Valorant.
Calibrating the monitor resulted in a much better 1.03 dE average which is considerably better than the default setting. However, you need a colorimeter to get the same level of results like this and confirm them. But the gadget isn't cheap, so it's not worth getting one for gaming and typical daily purposes like reading or browsing.
Its backlight reached 360 cd/m2 at 100%, so there is some room left if you want to use its DyAc feature. The panel's contrast ratio is limited to 850:1 at 60% brightness, so it is incapable of deep blacks like IPS monitors. The monitor has an enhancer for this, but it skews the image quality, so we'll leave it up to you to choose which is best.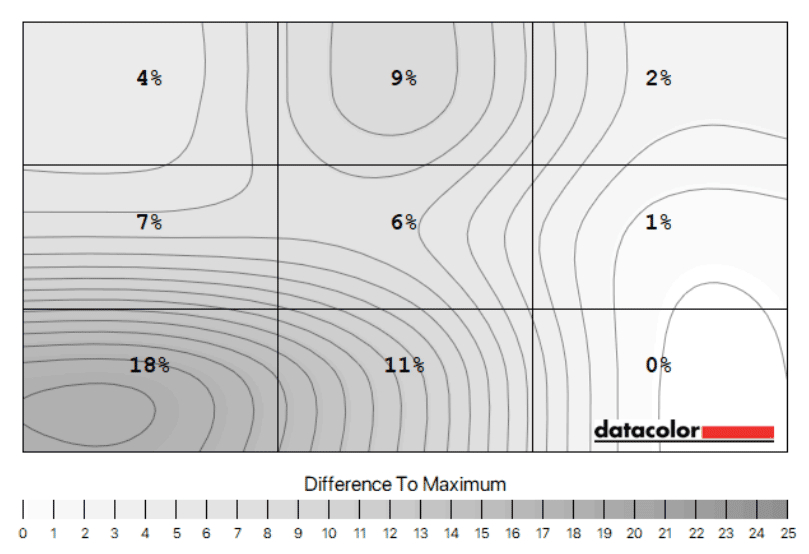 Panel uniformity from the BenQ Zowie XL2566K test sample had some issues in the lower left corner of the screen. It looked dimmer than the opposite side, so it's quite noticeable in dark scenes where this matters the most. Note that this can vary between every monitor made due to tolerances, so there are better units out there.
The best part about the BenQ Zowie XL2566K is its excellent pixel response time which beats out every 360Hz fast IPS panel. It barely shows any blurring by default, but you can further enhance that with its overdrive setting. You can also use its DyAc feature for further clarity, which is great since it doesn't lower or lock the brightness like other strobing solutions.
The BenQ Zowie XL2566K is still compatible with both FreeSync and G-Sync if you need protection from stuttering and tearing. However, it will lock out the monitor's DyAc feature, so you need to pick one or the other depending on the games you play. Input lag sits slightly above 2ms, making this one of the fastest E-Sports monitors around.
Thoughts on the BenQ Zowie XL2566K
The BenQ Zowie XL2566K is a fantastic choice for E-Sports gamers who want the fastest and the best gaming monitor for competitive applications. It is not the best in color quality, but it beats its Fast IPS counterparts in pixel response time. It is practically blur-free, but it even has features to enhance that, plus it's built quite well like most BenQ monitors.
However, the BenQ Zowie XL2566K is pricey compared to some Fast IPS models, but that's because it's the only one that uses this special TN panel. It's not the best monitor for everyone, but we know serious competitors can overlook its limitations in favor of its excellent pixel response time and motion clarity. It's a great buy for avid E-Sports users, but those who want better eye candy should go with a fast-IPS variant instead.
Pros:
Excellent Pixel Response Time and DyAc Functionality
Blue Free and Low Input Lag
Superb Build Quality
FreeSync and G-Sync
Cons:
Pricey
Limited Color Coverage and Contrast
No USB Ports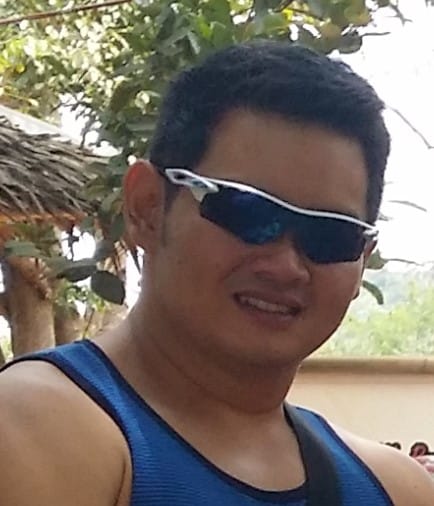 Paolo is a gaming veteran from the golden days of Doom and Warcraft. Since junior high, he has been building gaming systems for family, friends, and colleagues. High-performance monitors are one of his fixations; he believes that every citizen's right to enjoy one. He has gone through several pieces of hardware in pursuit of every bit of performance gain, much to the dismay of his wallet. He has also spent half a decade researching, reviewing, and writing about these products and now has over 1400 articles about the best gaming tech under his belt.