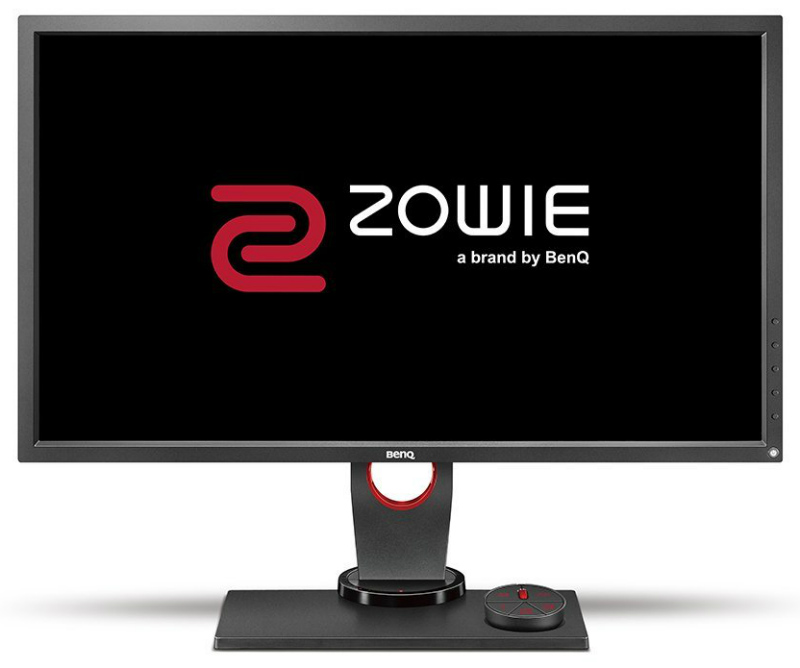 BenQ Zowie XL2730 Review
MonitorNerds

PCmag

Newegg Customers
Review of BenQ Zowie XL2730
In the computer market, it's safe to say that the most exciting arena for us consumers is in the gaming niche. Companies have been going at it with new product releases that either has new tech to show off or incremental increase in capabilities from the previous models. BenQ Zowie, a partnership between two manufacturers, has been recently wrestling for the top spot by focusing its products in E-sports. Their XL line, a continually evolving product line focused on competitive applications, is filling the gaps in the marketplace with new products with high-tech capabilities and outstanding performance. This piece focuses on their second 27-inch offering from the XL series, the Benq XL2730 144hz E-Sports monitor that carries AMD's Freesync technology. The display aims to claim another slice of the gaming pie by providing die-hard gamers with a competition-grade display with a hair-raising 1ms response time and a 2560×1440 (WQHD) resolution.
BenQ Zowie XL2730 Technical Specifications
Screen Size: 27 Inches
Resolution: 2560 x 1440 at 144Hz
Aspect Ratio: 16:9
Panel Technology: Twisted Nematic Film (TN)
Refresh Rate: 144Hz
Response Time (Gray to Gray): 1 milliseconds
Contrast Ratio: 1000:1
Brightness: 350 cd/m²
Built-In Speakers: No
Stand: Height: Yes (5.5 inches)
Stand: Tilt: Yes -5°/+20°
Stand: Swivel: Yes -45°/45°
VESA Compatibility: Yes (100×100)
Connectivity: DVI-DL, HDMI x 2, DisplayPort 1.2, Headphone jack, Microphone jack
Weight: 24.25lbs USB 3.0 x 3 (Upstream), USB 3.0 x 1 (Downstream)
Dimensions: With stand: 21.93" (+2.74") x 24.92" x 8.9″
Power Consumption: 65 watts ( Energy Star qualified)
Design and features of  BenQ Zowie XL2730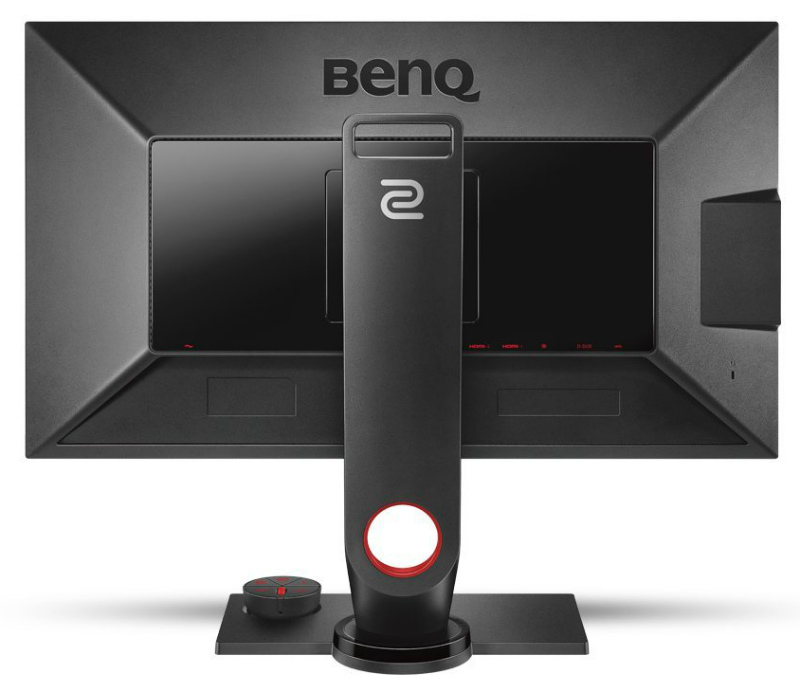 The BenQ Zowie XL2730's overall appearance is inherent of the XL range's sleek looks. For some, it may seem a bit too chaste, but the company is focusing the design on a minimal and less distracting aspect. After all, users are meant to keep their eyes glued to the screen instead of unnecessary bling. The cabinet has a clean matte-black finish that is straightforward and refined. It's an ideal texture for this type of product since adjusting the stature of the display may become regular for some users as it does not attract fingerprints and is grippy. The finish also does not reflect light or glare whatsoever, but that is negligible if you are looking directly at the screen since the bezels are thin enough to be discreet especially in a monitor of this size.
The bezel holds five OSD buttons on the lower right-hand side, and I found that to be a redundant and outdated design consideration since the newer XL series carries their signature S-Switch arc. The gadget serves as a convenient way to control the OSD with its five buttons and a scroll wheel. BenQ could have placed the bezel buttons on the underside, to keep it discrete if they truly wanted a no-distraction appearance for this product since most users would opt to use the remote instead of endlessly pressing the physical buttons. On the contrary, some users may find these buttons attractive since they glow white when the display is in use, and a light amber when it is on standby. This lighting, however, can be disabled or adjusted in the OSD. On the left side of the cabinet, BenQ has provided two USB 3.0 slots for additional data accessories and audio jacks for your listening devices. The stand-out feature found only in the XL line is the headphone hanger that pops out and retracts with a light press. At more than 7cm long, this is a lovely and convenient addition to the XL2730. You can hang your expensive headsets here, so they don't flop around.
The XL2730 comes standard with the XL series stand. Even if the stand is one of the least noticed features in a product, the included mechanism is one of the best-designed in the market. Featuring a smaller footprint that it's predecessor, the base is made of aluminum alloy. Despite being smaller, it provides a solid footing for the screen since it has some weight to it. On the surface, it has a circular indent to hold the S-Switch Arc, but if you aren't using the remote you can use it for coins, keys or other small stuff you keep on your desk.
The neck and mount are one of our favorite inclusions in this package. The contraption allows an excellent range of articulation for most uses. The screen can tilt, swivel and rise quickly, even with the lift of only your fingers. The articulation points on the stand have markings in increments so you can easily remember your anthropometric preferences. Adjusting the screen in the different positions feels smooth, but stiff enough not to feel flimsy or weak. Overall changing the display orientation to suit different users is quite a breeze and satisfying. There is also a circular hole accented with red for cable management, and a convenient carry handle at the top. Finally, the mount can also detach from the panel itself via a quick detach button. Doing so reveals 100 x 100 VESA holes if you want to attach this to an aftermarket option.
Moving on to the connection options, the XL2730 brings numerous options to cater to your needs. There are two HDMI slots, a DisplayPort 1.2, DVI-DL port, an USB 3.0 upstream and downstream ports and a D-Sub port for legacy applications. Take note that one of the HDMI ports is 2.0, so it supports the full WQHD resolution at 144hz together with the DisplayPort. All of these connectors are facing downwards so cables can run through the cable management hole, although on the contrary some may find it inconvenient to peek under or turn the monitor upside down just to see which is which. This orientation has become the standard for most modern products since it cuts the total depth significantly. BenQ Zowie is generous in the inclusion of these options, but this is mainly due to the monitor's Freesync-certified module which allows more choices as compared to G-Sync offerings that usually only have a DisplayPort that supports the full capabilities of the product.
Display Features and Performance
The XL2730 features a 2560×1440 resolution TN panel capable of 144hz and 1ms of response time. It has an anti-glare coating that does quite a good job of countering reflections, even if the monitor sits in front of your window or if you are using it in a well-lit room. It does give the picture a slightly grainy look, but at a considerable distance, this fact is negligible. At the product's native resolution of 2560×1440, details are sharp and crisp but not too tiny compared to 4k displays. It may take some getting used to especially if you are coming from a standard 1080p monitor, but once you get used to it the tight pixel pitch and 70% increased desktop real estate, this product is an incredible upgrade. Overall this resolution fits the 27-inch screen like a match made in heaven.
However, using this monitor at its native resolution may prove to be taxing on usual computer builds. Some AAA titles such as Battlefield 1 may not produce the adequate 144 FPS on ultra settings (Highly dependent on your gaming rig specs particularly the GPU). So you might end up downplaying the settings a bit (High settings will do instead of Ultra) or use this product at 1080p. At FHD, the overall picture is still clear and reasonable, but you might sacrifice a little detail on the edges and encounter fuzziness on small objects such as text on the screen.
Au Optronics provided the panel utilized by the XL2730 and based on specs it has similar performance and characteristics with the one found on the Asus PG278Q; which is one of the XL2730's direct competitors. It is capable of 16 million colors and has an 8–bit interface with an acceptable color coverage of the sRGB color space. This spec isn't impressive regarding color-critical performance since this display was meant to have a fast output instead since it's purpose is for high-intensity games. The OSD also carries a Color Vibrance option to enhance color saturation in games further. This setting does not affect the sRGB color space, so enabling this option may improve the richness of the color but may affect accurate color representation.
Having a WLED backlight does not help it either in color reproduction, but in fairness to BenQ, this model has so little backlight bleeding on the sides compared to other samples we have reviewed. This fact, however, may vary from unit to unit. Another good thing about this product is its contrast capabilities. After calibration, the advertised 1000:1 contrast ratio is quite reachable at around 960:1 for deeper blacks and better shade transition in the picture. This result is even better than what the Asus PG278Q offers and is also a significant improvement over the XL2730's predecessor, the XL2720. Setting a correct gamma level is critical to this performance, and you can adjust this via the OSD in standard mode only. The OSD comes built in with a Black Equalizer option, unique to BenQ Zowie monitors to help with contrast reproduction as well. This feature helps produce better contrast in different lighting circumstances in the game, such as dark areas. However, if you want an accurate representation, it is best to leave this off and adjust the gamma levels yourself.
Aside from the characteristics above, BenQ Zowie made this monitor with a 144hz refresh rate capability, 1ms response time and Freesync. To take advantage of Freesync, you will need a compatible AMD card. The problem with this monitor's native resolution and the AMD requirement is that the RX480 (Currently AMD's top end GPU offering) is not capable of sustaining high frame rates at high to ultra settings for graphic-intensive games at WQHD. Crossfiring two of these cards might do the trick, but in some situations, the GPU limitations of AMD defeats the purpose of this monitor. Freesync does wonders at respectable refresh rates, but even if this tech is activated, deep dives in FPS rates will still show skips and tearing. A solution to this is to lower your settings bit by bit until you reach a stable FPS output. But if your setup is capable, then you can enjoy a better viewing and gaming experience with maximum graphics and all the benefits of the valuable addition of AMD's technology. Take note that while enjoying the benefits of Freesync, activating the built-in solutions such as AMA are blocked off. This downside is a known limitation of this implementation, and hopefully, AMD and Benq Zowie offers a patch or fix for this issue.
Another option would bet to resort to a Nvidia GPU. But surely, you can't use Freesync. Not to worry though since you can make up for the loss in the settings of the OSD. Tests have shown that setting the AMA (Advanced Motion Accelerator) to high option in the OSD alleviates tearing and blurring problems when Freesync is not active. Setting it to the maximum(Premium setting) might result in overshooting (reverse ghosting) so only the high setting is recommended. Another tool to cure issues is BenQ Zowie's OSD option called Blur Reduction. This is a strobe function that compensates for the frame skips by timing the backlighting to the framerate. In this model, the strobe feature can be adjusted accordingly to the set refresh rate on the display. This is an improvement over previous models since you would need an external strobe controller application to do this (like in the older XL2720).
Despite the issues mentioned above (mostly hardware related and limited), pixel and gray to gray response times are excellent. Instead of the advertised 1ms, the actual number is at around 3 to 3.5ms after tweaking the monitor.  Despite being lower, that still is an incredible speed considering most users won't be able to tell the difference between 1ms and 5ms. There is only so much the human eyes can capture for the brain to decipher. In this regard, the XL2730 does an excellent job even if compared to similarly priced gaming monitors (such as the Asus PG278Q). If calibrated correctly and if the result meets the conditions mentioned above, this product provides excellent, buttery-smooth gaming on different types of games.
You can locate all the tweaks mentioned previously in the proprietary OSD made especially for BenQ Zowie's XL E-Sports series monitors. Please do take note that you cannot adjust the factory preset settings with the options above, you need to set it to the standard settings first then save your presets into the three built-in slots. While offering a good range of adjustments including eye care technologies such the low blue light filter and flicker-free operation, the default settings leave something to be desired. Out of the box, the factory calibrated FPS1 setting (default preset as shipped) does not perform up to acceptable stands when compared to adjusted settings. Blacks and luminance are way off, and colors are either oversaturated or pale. The Good thing is that there are three save slots for custom presets so you can switch between different preferences according to what suits your taste.
Conclusion
When compared to competitors and predecessors, the XL2730 performs admirably. Even if it goes head to head with the acclaimed Asus PG278Q, Benq Zowie's contender outshines the latter in some vital details such as the actual contrast ratio. This product has improved the XL series capabilities in color and contrast quality without sacrificing the speed and performance attached to the product line. The limitations of having a TN panel are quite acceptable considering the resolution and the performance that goes with it, but as with today's screen tech preference, an IPS panel would have done wonders for the overall image quality this display provides.
Also, the Freesync implementation is a welcome addition to the monitor's high-performance operation without bumping up the price tag too high like Nvidia's G-Sync does to its unshared monitors.  The only questionable fact here is that Freesync disables acceleration features of the product itself (AMA and Blur Reduction). On the other side of things, The XL2730 will perform greatly with non-AMD systems after additional tweaking is involved. This versatility makes the total package excellent regarding value since it does not offer the limitations G-Sync sets on its related products.
Finally, aside from some bugs in the blur reduction and minor ghosting in the acceleration features that occur in FPS hiccups, the disappointing aspect of this product lies in the factory calibration out of the box. The built-in presets are way off regarding brightness, contrast, and color representation making this product unsuitable for plug and play users. Also, gaming at 2560×1440 at 144hz is a rewarding experience itself, but not without the cost of a high-end setup. Most builds might require lower settings to achieve the XL2730's specifications. Even if this is not an issue for E-Sports applications (most competitors play at low settings to maximize frame rate), this will, however, affect casual gamers who prefer to play at max settings but own systems that cannot cope with the native resolution of this monitor.
Note: The BenQ XL2730 has been discontinued by the company but will soon be replaced with a new and improved model. Stay tuned!