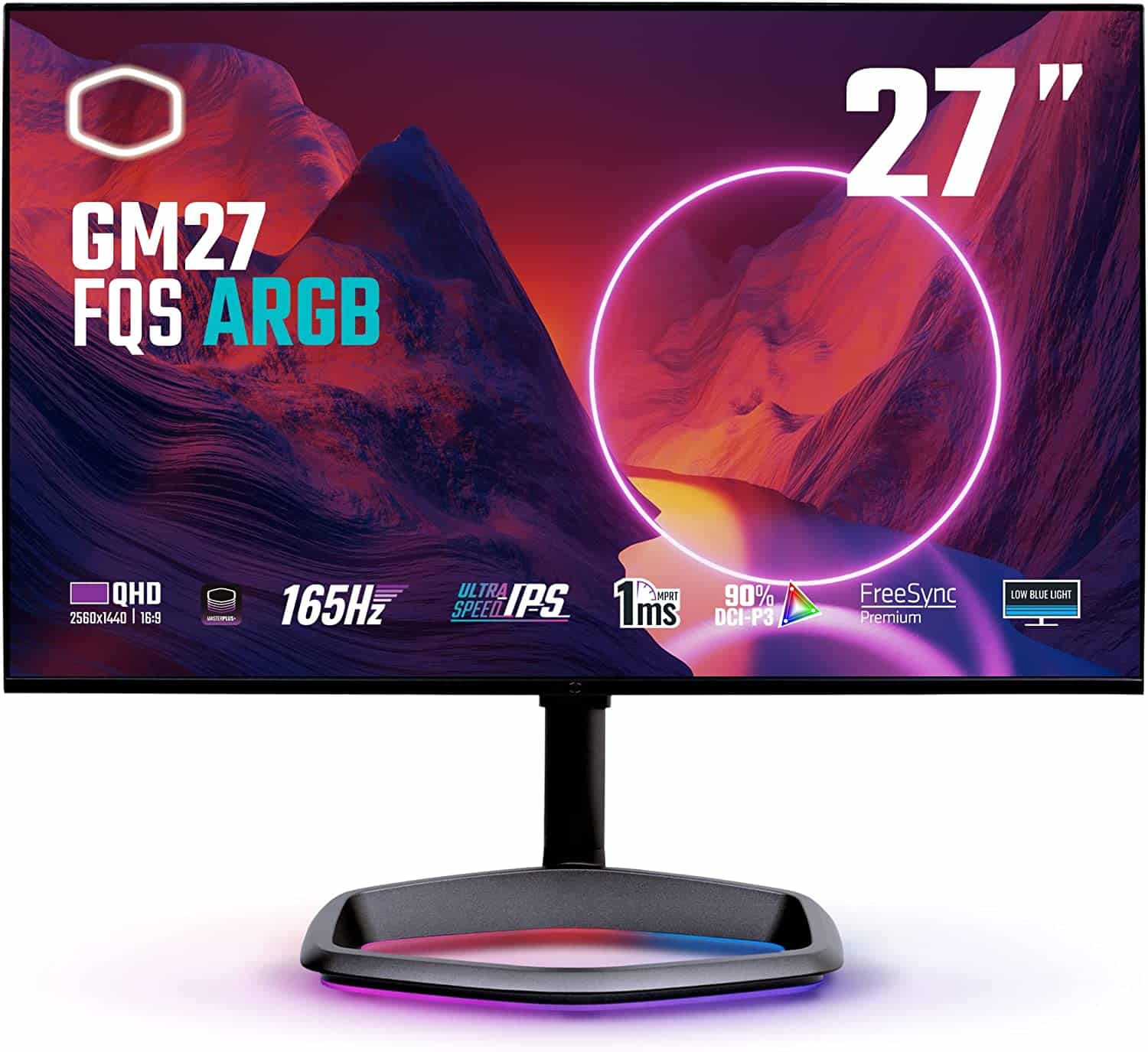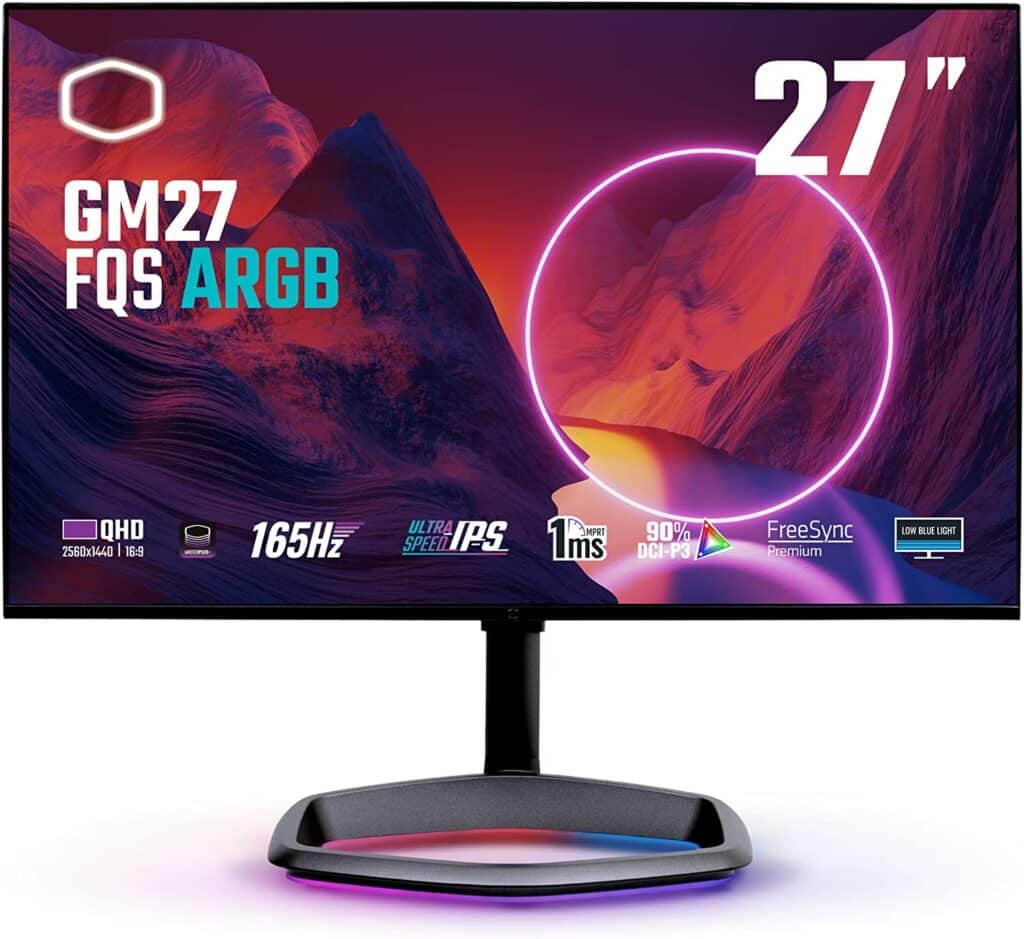 The Cooler Master GM27-FQS promises excellent image quality and an attractive design that won't cost you an arm and a leg. It has a desirable 27-inch 1440p screen, ARGB lighting, and a clean design which fans of the brand will love for their setups. The Cooler Master GM27-FQS is playing in a very competitive field so it's worth a closer look to know if it comes out at the top.

Cooler Master GM27-FQS Specifications
Screen Size: 27 Inches
Resolution: 2560 x 1440 QHD
Aspect Ratio: 16:9
Panel Technology: In-Plane Switching (IPS)
Refresh Rate: 165Hz
Response Time: 1ms MPRT
Contrast Ratio: 1000:1 (Static)
Brightness: 300 cd/m²
Speakers: None
Stand: Height -Yes
Stand: Tilt – Yes
Stand: Swivel – Yes
Stand: Pivot – No
VESA Compatibility: Yes (100 x 100)
Connectivity: HDMI 2.0 x 2, DisplayPort 1.2 x 1, USB-C x 1, USB 3.0 x 2, 3.5mm Jack x 1
Dimensions (W x H x D): 24.2" x 23.2" x 10.8"
Weight: 11.24 lbs

Design and Features
The Cooler Master GM27-FQS sports a sleeker design than its predecessor, but its brand-defining aesthetics are still there. It has a matte black aesthetic and a gunmetal stand which would make it look nicely suited next to a CM Cosmos case or something similar. The screen has a bezel-free design, but you still have a bottom strip and inner borders just like any other monitor.
27-inch monitors are quite common, and we don't think most will have issues with their size or even the weight. The device needs almost 11 inches of depth, but its base is hollow so you can place your small peripherals in the middle. The monitor only weighs 11.24 pounds so it is portable enough if you want to bring it to LAN parties or gaming conventions.
Its build quality is just as great as the other Cooler Master offerings, so you are getting your money's worth. It's mostly made of plastic, but the panels are durable, and they didn't have any cosmetic defects or uneven seams. The included stand is also firm and stable, so the screen doesn't sag or wobble while it's in use.
One downside of the Cooler Master GM27-FQS's physical design is its use of buttons for its OSD. Special models like this should always have a more convenient joystick for enthusiasts who love to tweak their gear. It's a minor inconvenience, but it's the little things that count in a very competitive segment of the gaming industry.
The stand included with the package offers tilt, swivel, pivot, and height adjustments for your comfort and convenience. its base also has the monitor's ARGB lighting so you can sync it with other gear that has the same lighting system. You can use a VESA mount instead, but we think it's only worth doing that in special cases such as when you have a dual or triple monitor setup.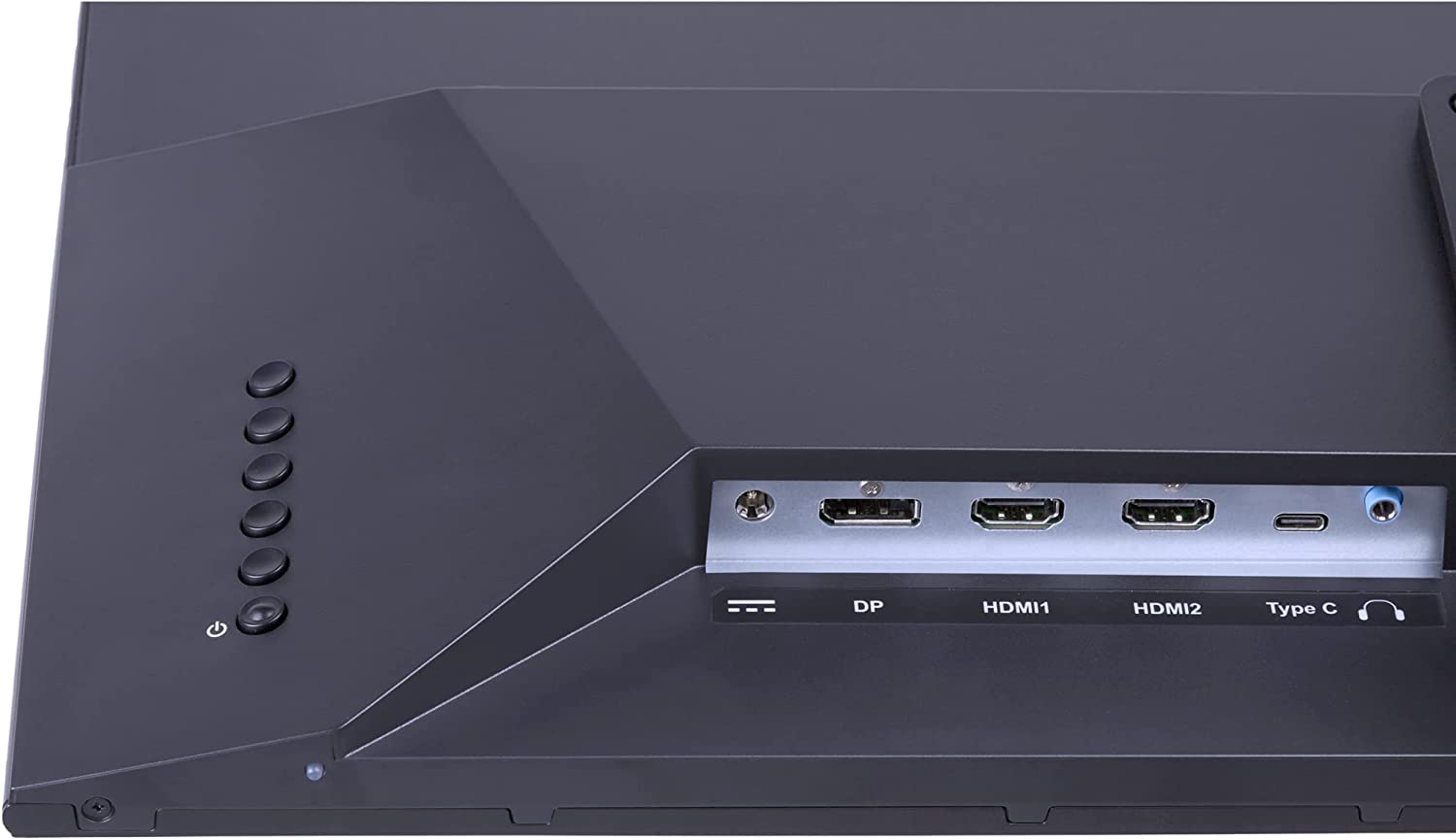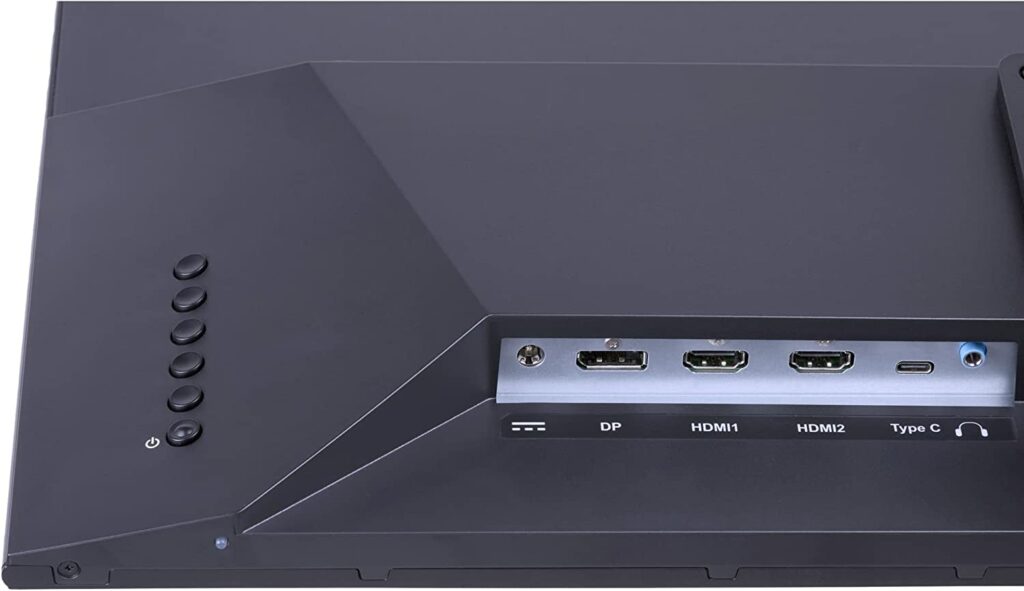 The Cooler Master GM27-FQS's connectivity layout offers just about everything you will need for a gaming and work setup. It has a DisplayPort 1.2 and two HDMI 2.0 ports, plus a USB-C port with DP Alt Mode for your work laptop. You also get two USB 3.0 ports for accessories, a USB-B slot for upstreaming, and a 3.5mm jack for headphones.
However, speakers are not part of the package so you have to buy a desktop set or headphones if you don't already have them. It's okay since gaming monitors are better with headsets since they are tuned specifically for the Cooler Master GM27-FQS's primary purpose. However, it's always nice to have the built-ins even if they aren't immediately needed so customers can always have a backup pair.
Display and Performance
The Cooler Master GM27-FQS boasts a 27-inch IPS panel with a 2560 x 1440 resolution, a 165Hz refresh rate, and a 1ms boosted response time. The backlight is limited to 300 cd/m2 while the contrast ratio is listed at 1000:1 like most IPS panels. This model lists HDR compatibility, but it's not certified since it lacks the backlight for it.
1440p monitors are great for almost everything since they present the perfect balance between sharpness and legibility or visibility. You get a noticeable upgrade in games since they look crisper and more detailed even if the graphics settings are lower. You also don't have to strain your eyes while reading, processing documents, and browsing since text and other small objects don't become microscopic.
The Cooler Master GM27-FQS renders 99% sRGB and 92% DCI-P3 so it has plenty of vibrancy for games and even some editing work. What's great about the monitor is its excellent factory calibration since the sRGB and DCI-P3 filters have deltaE averages of 2.09 and 1.89 respectively. Most users will be happy with the monitor even if it is used beyond gaming.
Calibrating it reduced the deltaE average to 1.44 which is slightly better, but a bit short of what other premium IPS gaming models can offer. You need a colorimeter to achieve this, and we don't the level of improvement is worth the extra spend. Note that calibrated results will always vary between every panel so it's theoretically possible to get a unit that performs better in this regard.
What's unimpressive about it is its backlight since only reached 281 cd/m2 at 100% output. It is still capable of fighting off glare, but that's a bit limited especially if the monitor advertises HDR capabilities. Its contrast was also unremarkable at 1055:1 at 70% brightness so it's incapable of deep blacks or deep and dark scenes.
Panel uniformity for the test sample had some backlight leaks on the upper edge of the screen. They result in clouding which becomes visible in dark scenes, but full-color images aren't as affected. This varies between every GM27-FQS made since there are manufacturing tolerances, so it is possible to get a better unit if you are lucky.
The Cooler Master GM27-FQS is just as good as any Fast-IPS gaming monitor when it comes to pixel response time. The monitor barely shows only blurring so you won't have to max out its overdrive for fast-paced games. Setting it too high will add overshoot which is counterproductivity to the minor persistence it has in the first place.
The Cooler Master GM27-FQS is compatible with FreeSync and G-Sync so you don't have to worry about tearing and stuttering. Having compatibility for both is indispensable now so you don't get stuck with one GPU brand when it's time to upgrade. Input lag sits at 4ms at 165Hz so the screen is snappy and responsive enough for competitive play.
Thoughts on the Cooler Master GM27-FQS
The Cooler Master GM27-FQS is a great choice if you want a vibrant and responsive gaming monitor to match your other Cooler Master gear. It is decently accurate and it can go toe to toe with popular options when it comes to speed and eye candy. It's well designed with just the right amount of features, plus it has ARGB lighting which we know many gamers will like.
There are a few minor issues with the Cooler Master GM27-FQS, but those can easily be overlooked. Gamers will love this monitor, and even those who are starting a career with color-critical work can also use it as well. But our favorite part about it is its price which makes it an excellent pick if you are in the market to upgrade your gaming screen.
Pros:
Affordable
Fast and Responsive
Wide Gamut Coverage
USB-C Included
Cons:
Low Contrast
Limited HDR Performance
OSD Buttons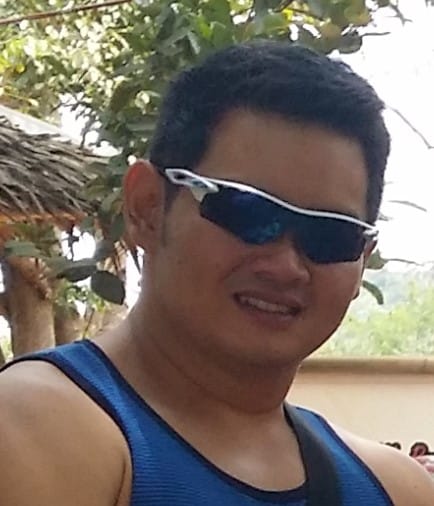 Paolo is a gaming veteran from the golden days of Doom and Warcraft. Since junior high, he has been building gaming systems for family, friends, and colleagues. High-performance monitors are one of his fixations; he believes that every citizen's right to enjoy one. He has gone through several pieces of hardware in pursuit of every bit of performance gain, much to the dismay of his wallet. He has also spent half a decade researching, reviewing, and writing about these products and now has over 1400 articles about the best gaming tech under his belt.