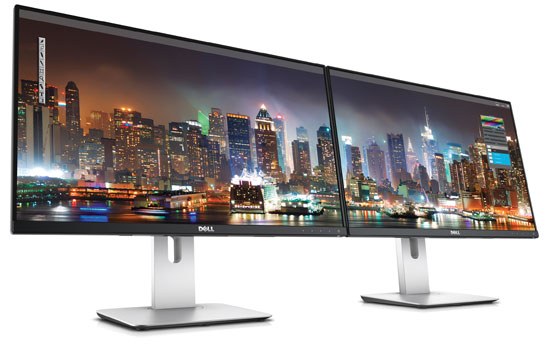 | | |
| --- | --- |
| Our Rating:           | 7/10 |
| Size | 27″ |
| Adaptivesync | No |
| Refresh rate | 60 Hz |
| Response time | 9ms |
| Panel | IPS |
| Resolution | 2160p UHD (4K) |
| Price | [maxbutton id="45″] |
| | |
| --- | --- |
| Pros | Cons |
| IPS panel ensures excellent color reproduction | Boring design |
| Multiple ports for connection | Needs strong GPU power to run 4K games |
| High quality stand and fully adjustable | Slow response time |
| Cheap for a 4K monitor | Limited color calibration options |
Conclusion
The Dell P2715Q has several advantages if you are keen on the 4K resolution. It comes with multiple ports for various connections and anti-glare coating. First thing to notice is the stand which gives the impress of stability and quality while you adjust. Besides the most common usages for a 4K monitor, when it comes to gaming, the monitor does quite well in keeping the FPS rate above 45 Hz at all times during testing. It should be noted that, to run a game on 4K resolution requires strong GPU power. Most recommended settings is 2 strong GPU's, however our testing is based on a single GTX980. During Metal Gear Solid 5 the GTX980 was able to produce above 60 fps with AA off. For photo and video editing the P2715Q does a superb job with the IPS allowing a range of more than 1 billion colors. All in all a very good 4K monitor which fulfills its purpose and can be achieved for a relatively cheap price.
Full Review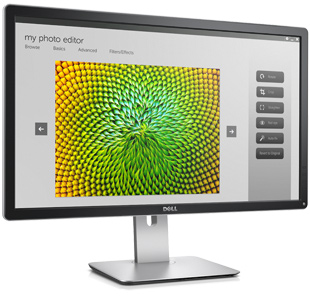 When Dell developed the DELL P2715Q you can tell that there wasn't much emphasis on the appearance of the monitor. It looks like a standard monitor and it is hard to tell whether it was designed for gaming purposes or not. However, looking at the specs, and putting two and two together you get an idea of to whom they designed this monitor. The IPS panel supports more than a billion colors and the 4K resolution is among the highest resolutions you can get in a monitor. It perfectly suits the needs of the video editor of photographer but gaming on a 4K monitor is a trending factor and even here, the P2715Q does well.
For the price, you get a 4K 27" monitor which supports multiple ports for connection including 4 USB 3.0. The stand is fully adjustable including the pivot portrait mode.
We tested its gaming capabilities on a GTX 980 GPU from nVidia during Metal Gear Solid 5. Anti-Aliasing is not necessary due to the excellent resolution, however, even though you won't not notice a difference in picture quality, the AA actually worsens the FPS rate when playing games. Enabling AA during Metal Gear Solid, makes the GPU produce at least 45 FPS while disabling it make the FPS minimum go to 60 Hz. Since the screen is 27", the pixel density on 4K resolution makes AA obsolete.
From a photographer's point of view, the DELL P2715Q excels, providing excellent picture quality and color production through the collaboration of the IPS panel and the 4K resolution. It supports 98 % of the Adobe RGB spectrum but if you're doing Illustrator work or Photoshop work, Lightroom work and sending to a printer for magazine printing or for high quality archival prints then you'll want a monitor that is closer to 100% Adobe RGB.
All in all a pretty decent 4K monitor from a quality minded brand, which has excellent service should your monitor experience dead pixels after usage. For the price, the P2715Q monitor suits the everyday gamer who values the color production of the IPS as well as enjoying a high pixel density for a cheap price.
All specs:
| | |
| --- | --- |
| Refresh Rate | 60 Hz |
| Response Time | 9ms |
| Input Lag Time | 9ms |
| Size | 27" |
| Aspect Ratio | 16:9 |
| Static Contrast Ratio | 1000:1 |
| Dynamic Contrast Ratio | 2,000,000:1 |
| Resolution | 3840 x 2160 (UHD/4K) |
| Panel Type | IPS |
| Adaptive Sync | No |
| Brightness | 350cd/cm2 |
| Blue Light Reduction | Yes |
| Anti-Glare | Yes |
| Anti-Reflection | No |
| Backlight | W-LED |
| Speakers | No |
| Color | Black |
| Ports | 1x DisplayPort 1.2, 3x Mini DisplayPort 1.2, 1x HDMI 1.4 (MHL), 1x audio line out, 4x USB 3.0, 1x USB 2.0 |
| Viewing Angle | 178/178 Degrees |
| Adjustability | Height 120mm, pivot, swivel 120 degrees, tilt 5/20 degrees |
| Brand-Specific Features | |
| Additional Features | |
[spacer height="10px"]
Check our list of other 4K gaming monitors.