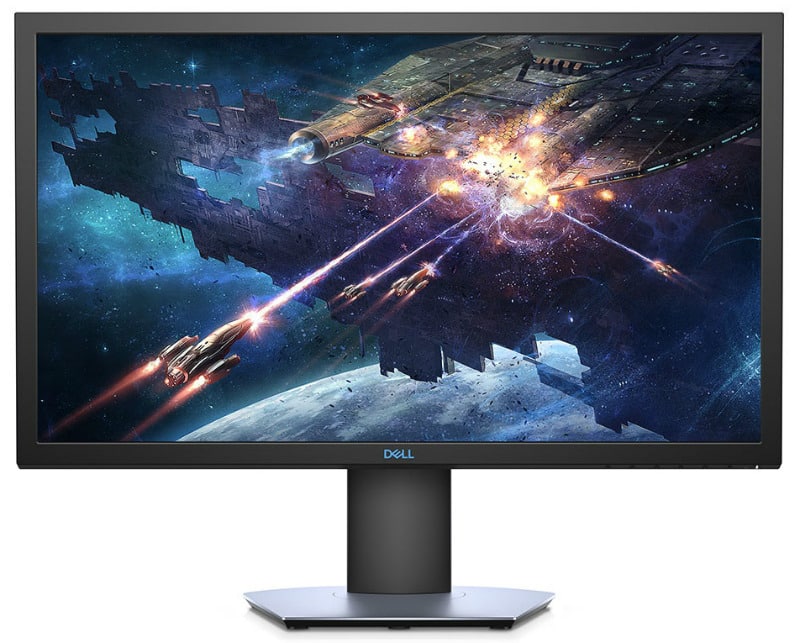 The Dell S2419HGF offers a reasonably-priced package that includes solid gaming performance and reliability in the package. This model also supports both FreeSync and G-Sync compatibility, allowing the product to punch above its price range and increase its attractiveness for a wider audience. The brand also advertises that the Dell S2419HGF uses a premium panel, making us even more curious as to what that means in imaging and responsive performance.

DellS2419HGF Specifications
Screen Size: 24Inches
Resolution: 1920 x 1080Full HD
Aspect Ratio: 16:9
Panel Technology: Twisted Nematic(TN)
Refresh Rate: 144Hz
Response Time: 1ms
Contrast Ratio: 1000:1 (Static)
Brightness: 350 cd/m²
Built-in Speakers: No
Stand: Height -Yes
Stand: Tilt – Yes
Stand: Swivel – Yes
Stand: Pivot– Yes
VESA Compatibility: Yes(100 x 100)
Connectivity: DisplayPort 1.2 x 1, HDMI 4x 2, USB 3.0 x 3, 3.5mm Audio Jack
Dimensions with Stand(WxHxD): 22.24″ x 14.51″ x 6.97″
Weight: 11.66lbs

Design and Features
The Dell S2419HGF sports the brand's signature no-nonsense design that makes the monitor easily mistaken as an office variant. The matte black and gunmetal finish has always been nice to have, especially if you don't like wiping down fingerprints and dust regularly. The downside is this model isn't bezel-free,  but the borders oh each side look reasonable and non-distracting.
Build quality for the Dell S2419HGF excellent since the materials feel durable, while the provided stand doesn't wobble. There are no uneven gaps in the seams or any cosmetic defects on the edges which means Dell's quality control doesn't weaken if the subject is produced for the budget segment. The adjustment mechanism doesn't creak and it's smooth, but it's also firm enough to retain the angle you've selected almost permanently.
One of the things we dislike from budget monitors like the Dell S2419HGF is its lack of an OSD joystick. The buttons are readily located on the right side below the bottom bezel, so they are within for most users. The problem is it's confusing and easy to miss-press something unwanted if you are gaming In the dark or if you are still unfamiliar with the key's functions.
What's fantastic about the Dell S2419HGF is unlike similarly-priced variants, it already includes a fully-ergonomic stand. You can tilt, swivel, pivot, and adjust the height of the display, so you can easily get a comfortable view angle that won't strain your neck. Adjustability is also crucial for TN monitors since it allows you to counter the panel type's poor viewing angles.
You can also swap out the included stand for a 100 x 100 VESA mount if you think you need to save the desk space the Dell S2419HGF will consume. It doesn't need a lot, but we know many who would prefer to have their displays floating above the table. However, we think spending the extra is unnecessary in this case, especially since it will break the value proposition of the product.
The connectivity features on the Dell S2419HGF isn't extravagant, but you do get everything you need plus a bit more. The DisplayPort 1.2 serves as the main input for 144Hz, while the two HDMI 1.4 connectors can be used for secondary devices such as gaming consoles. There is also a trio of USB 3.0 connectors for your accessories, but you need to connect the type-B slot to your PC for data transferring.
There are no speakers on the Dell S2419HGF, but you do get a 3.5mm audio passthrough jack for your headphones. We think it's fair that Dell omitted built-ins if you consider the price, but we know a few users would like to keep them handy for minor audio needs such as notifications or background music.
Display and Performance
The Dell S2419HGF utilizes a 24-inch TN panel with a 1920 x 1080 resolution, 144Hz refresh rate, and 1ms response time. The panel has a brighter, 350 cd/m2 backlight and a 1ms response time brought about by the panel type for excellent pixel responsiveness. These aren't special specifications by today's standards, but its the current widely-accepted format for competitive gaming and everything in between.
The Dell S2419HGF's size is just right for its resolution, and anything bigger will induce image softening and some pixelation in graphics. This format is perfect for daily use since you won't need scaling, plus games still look good without squeezing the life out of your GPU. Users will be able to run the full refresh rate with midrange cards easily which places this monitor as a great pick for budget to midrange builds.
The Dell S2419HGF provides decent performance in color quality, starting with its 96% coverage of the sRGB gamut. Accuracy out of the box is higher than we'd normally like at Delta E 2.95, but it's easy to improve it to Delta E 1.12 with a few tweaks in the OSD. Doing so will also correct the gamma to a more palatable 2.16 compared to the default 2.3 which makes images look slightly darker.
The screen's contrast of around 920:1 is decent for a TN panel, but it still lacks the black luminance that you can only get from VA variants. Black images will look slightly grayish in the dark, and you will see some clouding at the edges. Color separation and grayscale, on the other hand, are more than decent and within our expectations for a TN panel.
The Dell S2419HGF doesn't have any backlight bleeding, but its panel uniformity seems to have a few issues which lower the contrast in some quadrants. Colors are still within DE 3.0 of the D65 standard, so you won't notice any discolorations unless you are used to refined, high-end models.
Responsiveness is the strongest characteristic of the Dell S2419HGF since blurring is next to unnoticeable, even if you don't use the monitor's overdrive feature. Each level of the tool doesn't add any improvements compared to the default in blur reduction, so we recommend leaving it at its Normal setting. It's also worth noting that increasing the Overdrive levels will induce overshoot which is counter-productive if you want to have a clean screen in fast-paced games.
The Dell S2419HGF can provide FreeSync-protected gameplay on both HDMI and DisplayPort, so both the PC and Xbox consoles can enjoy buttery-smooth visuals. This model is also G-Sync compatible, but it's not guaranteed to work on the HDMI slots. Input lag sits at 5ms at 144Hz, so E-Sports players can enjoy a delay-free visual experience.
Thoughts on the Dell S2419HGF
The Dell S2419HGF is an excellent budget gaming monitor if you are looking to spend no more than two hundred bucks. There are some weaknesses in the image quality department, but the color quality is decent for the product's intended use. The monitor's responsiveness is comparable to high-end models, making it a very practical and enticing option if you simply want a fast gaming monitor.
This model also looks good despite the lack of gamer-centric extras such as RGB bling or sharp, vibrantly-colored accents. We've always loved this characteristic from Dell monitors since they look understated, but impressive if you check what's under the hood.
About the Author: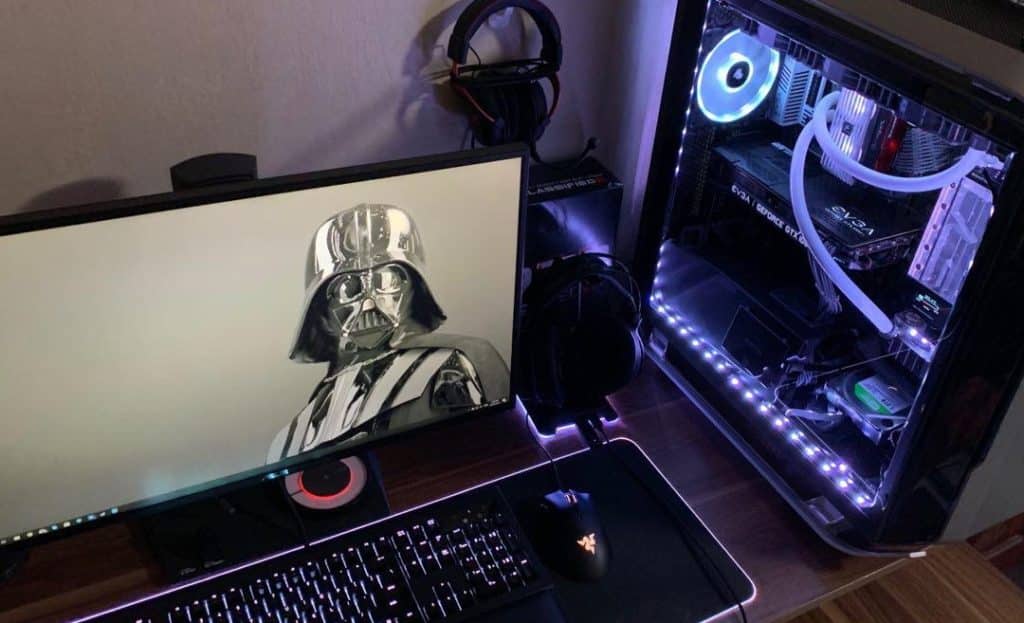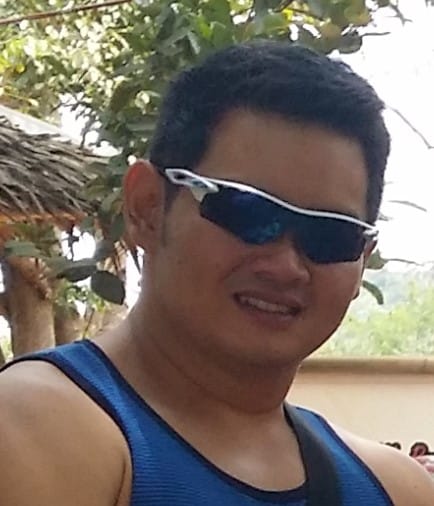 Paolo is a gaming veteran since the golden days of Doom and Warcraft and has been building gaming systems for family, friends, and colleagues since his junior high years. High-performance monitors are one of his fixations and he believes that it's every citizen's right to enjoy one. He has gone through several pieces of hardware in pursuit of every bit of performance gain, much to the dismay of his wallet. He now works with Monitornerds to scrutinize the latest gear to create reviews which accentuate the seldom explained aspects of a PC monitor.