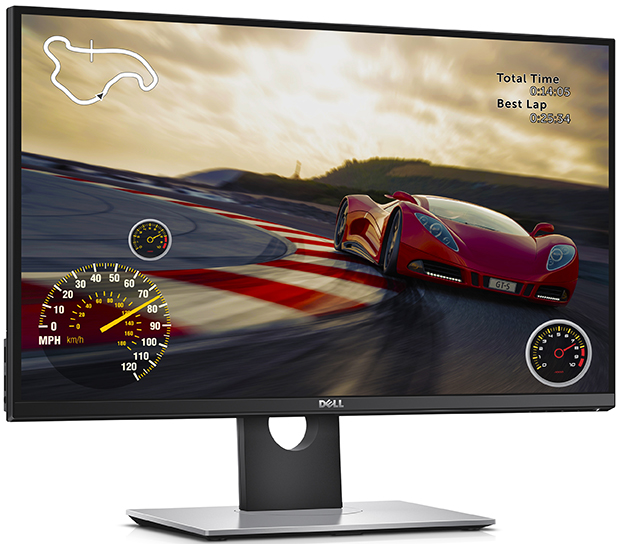 Editor's Note:  The Dell S2716DG has been replaced by the S2716DGR.  Click here for the latest information.
Dell S2716DG Review – Specifications
Size:                 27″
Refresh Rate:   144Hz
Resolution:        2560×1440 (Quad HD)
Contrast Ratio:  1000:1
Pixel Pitch:         0.2331mm
Response Time:  1ms
Bit Depth:          16.7 Million Colors
Aspect Ratio:     Widescreen 16:9
Viewing Angle:   170°( H )/160°( V )
Backlight:            LED
Recently Dell launches their first 1440p gaming monitor "Dell S2716DG" a 27-inch WQHD monitor that has G-sync. Gaming monitors appear to have been experimenting with their features for quite a while, but now it looks like big-brand panels are getting into more of the rhythm.
Dell's density and resolution match its competitors.  BenQ's XL2730Z has the same screen size and resolution, and the Asus MG279Q is an inch larger, so its thickness is a couple of points lower.
Around 3.68 million pixels is the resolution this gaming monitor offers, same as which most gaming monitors have these days. Looking at the top quality and overall performance it provides, 4K isn't much of demand from customers. However, the cost of this monitor would make more sense if it includes 4K resolution as compared to other monitors. 95% of those that purchased this monitor loved it! Even with G-Sync embedded in the S2716DG, the monitor continues to amaze many, and this explains why the monitor makes an obvious difference.
Functionality and Appearance
The design of this monitor is kept clean and simple. The rear and sides of the panel are made of glossy plastic material, and the base is a gunmetal smart component that's slightly risen from the desk. The base has got a circular spot where the screen rotates, and the monitor stand is punctuated by a cable-routing opening.
Dell did an awesome job in visual phase by building the monitor in an exclusive way that would be good for all types of computer users and also suite all types of computing purposes. Hence, no matter where the monitor is situated, either in your computer room or personal room, it will surely fit in perfectly. Many game enthusiasts will not have difficulty upgrading to Dell's S2716DG even though it's Dell's first attempt on a professional gaming monitor.
Setup
The simplicity of use follows through to the S2716DG's installation. The base connects to the monitor stand with a single screw, and the stand slots into the back of the panel and fastens in place with no screws; it can be detached by pressing a single button.
Manipulating the placement of the screen is easy too. The panel moves up and down easily via 125mm of height adjustment, and it moves left-to-right smoothly. You can bend it forward and backward also, and it can be moved around into portrait mode. It's also VESA 100mm compatible.
Connectivity
This S2716DG includes a DP 1.2 connector, a headphone port, HDMI 1.4 connector, an Audio line-out and 4 USB 3.O ports. The display Port enables around QHD( 2K ) resolution, but the HDMI connector can't reach that resolution. If you are a console gamer and considering getting this monitor, then you need to use an HDMI cable rather than an HDMI to DP cable if you have the motive of getting Quad HD resolution. 4 USB ports will be of use to you if you use devices that are powered by a portable battery and don't want to use any of your PC ports.
Inbuilt Audio
Please note that this monitor does not have inbuilt sound and is not completely different from monitors that have inbuilt sound as the sound quality from almost all monitors results in buyers making use of external speakers instead.
Accessories Included
USB 3.0 Cable
Power Cable
Display Port Cable
Drivers
Quick Setup Guide
Documentation Media
Safety Information
Conclusion
Dell S2716DG 27-inch is one of the best and faster gaming monitors. It gives high resolution, 144 Hz refresh rate and also supports NVIDIA's G-Sync technology. Additionally, it has high maximum brightness level, lacks PWM and quite accurate colors in sRGB mode.